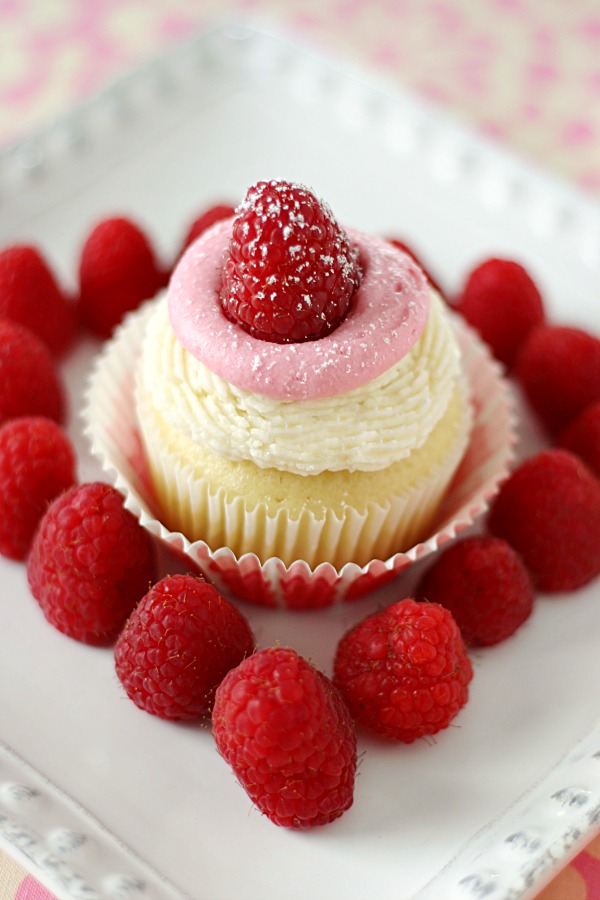 Decadent White Chocolate Raspberry Mousse Cupcakes for your sweetheart!  Luscious raspberry mousse fill these tender white chocolate cupcakes.  Lovingly frosted with a super light and airy vanilla butter cream and topped with tart raspberry icing.
My husband and I have never really been one's to celebrate Valentine's Day.  Number one, we have a rambunctious 3 year old and a wee 9 month old.  It's a little hard to get away for a romantic evening.  Also, its kind of difficult to get in the "mood" when you have dried poop in your hair.  (Not even exaggerating there.  It's happened to me not once.  Twice.)
Number 2, my birthday falls on the 13th.  My husband totally lucked out on that one.  My birthday kind of cancels out the day devoted to cheap candy and cheesy love cards.  Which is fine with me…I like to celebrate my birth more than Valentine's Day.  As long as I get a little bit of that cheap candy.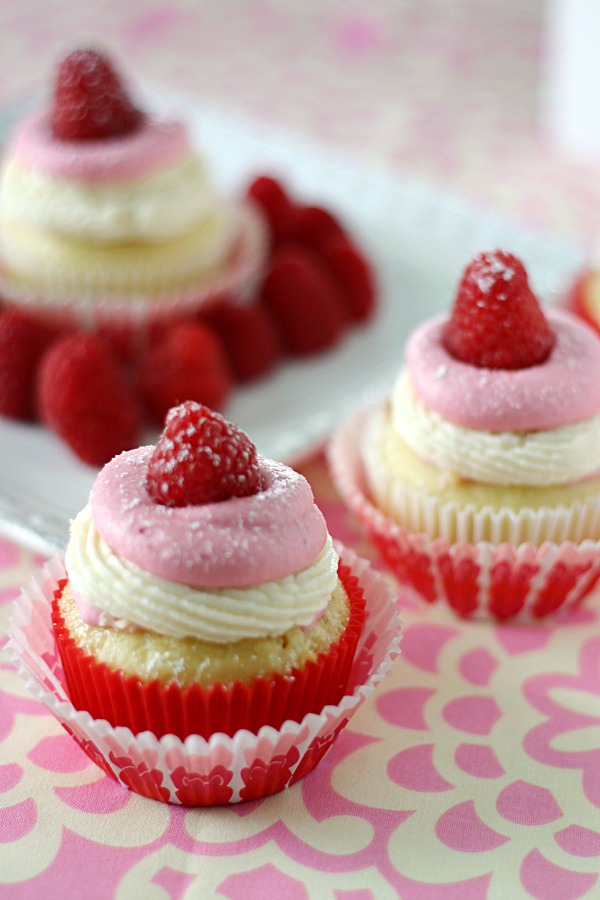 Raspberries are probably one of my favorite fruits to bake with.  Its super tart and has a gorgeous deep red color that's fun to play with.  I also feel luxurious eating raspberries.  Probably because they're 4.99 a container, and I'm a cheap-o.  I love raspberry mousse which is really the star of this cupcake.  I took the time and strained the seeds from the puree so you didn't have to floss after you devoured this beauty.  The Pioneer Woman (God I love her) posted a recipe for The Best Frosting I Ever Had.  So naturally I was totally intrigued.  The recipe was a little strange, calling for flour and milk in the frosting.
 It totally ROCKS.
 It's like fresh whipped cream, but heavy enough to pipe and it doesn't melt.  You just have to whip it like a crazy person.
Then to make sure you didn't forget you were eating a raspberry mousse cupcake, I topped the light, airy vanilla butter cream with a dollop of tart raspberry frosting and nestled a fresh raspberry, in all her glory, right on top.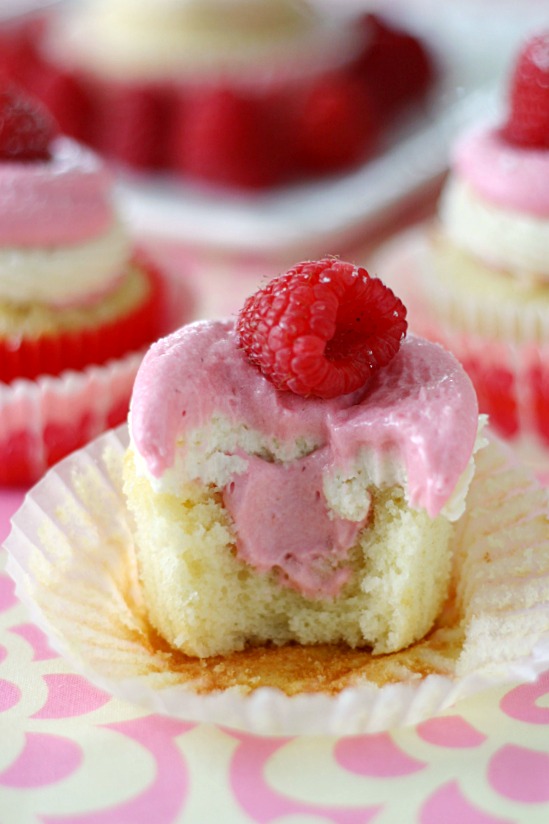 White Chocolate Raspberry Mousse Cupcakes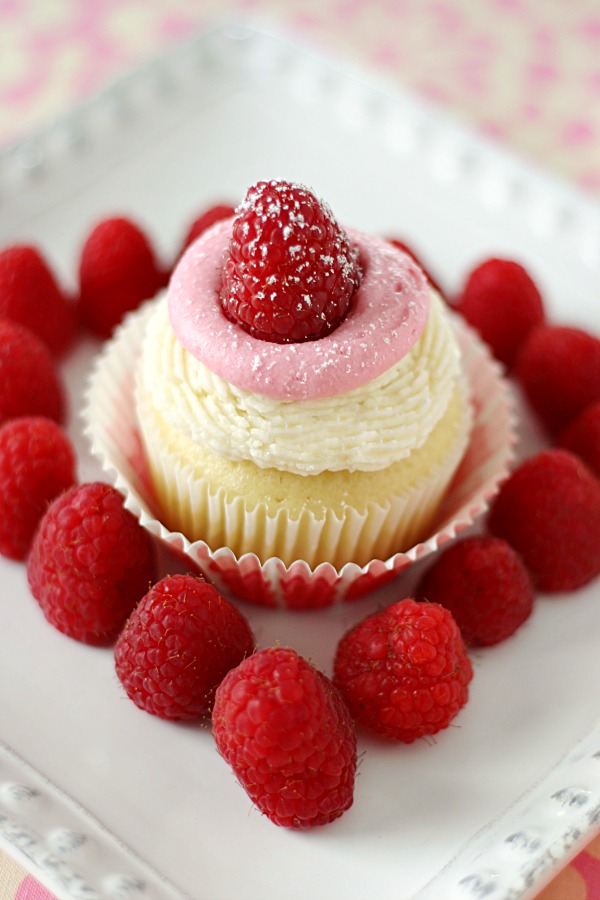 Ingredients
White Chocolate Cupcakes

1 1/2 cups all purpose flour
1 tsp baking powder
1/2 tsp salt
1/3 cup softened butter
3/4 cup white granulated sugar
2 large eggs at room temperature
4 ounces good-quality white chocolate, chopped and melted
1 tsp vanilla
1 cup plus 1 tbs milk (I used skim)

Raspberry Mousse

2 cups fresh raspberries
1/2 cup sugar
1 tablespoon lemon juice
1-1/2 teaspoons unflavored gelatin
1/4 cup cold water
1 cup heavy whipping cream

Vanilla Butter Cream

5 Tbs Flour
1 cup Milk
1 tsp Vanilla
1 cup Butter
1 cup Granulated Sugar

Raspberry Butter Cream

1/2 cup unsalted butter, room temperature
12 ounces of raspberries (fresh or frozen)
1/2 teaspoon fresh lemon juice
3 1/2 to 4 cups powdered sugar
pinch of kosher salt
1-2 tablespoons whole milk, room temperature (if needed)
Instructions
I first made the raspberry mousse so it could sit in the fridge for at least an hour to firm up.
Take your fresh or frozen raspberries and puree them in a food processor. Strain the seeds through a sieve and transfer to a large bowl. Mix in sugar and lemon juice. Set aside.
In a small saucepan sprinkle gelatin over 1/4 cup cold water. Stir over low heat until dissolved. Once cooled pour into raspberry mixture and whisk. Let sit in fridge for 1 hour or until thickened.
After an hour whisk raspberry gelatin mixture on high until foamy. In a separate bowl, whisk cream until thick peaks form. Fold into raspberries and refrigerate for another hour.
Set oven to 325 F.
For cupcakes, in a medium bowl, whisk together the flour, baking powder, and salt. Set aside.
In a large bowl beat together the softened butter and sugar until light and fluffy.
Add each egg one and time making sure to fully mix the eggs into the butter and sugar. Then mix in vanilla extract.
Beat in melted (making sure its not hot) white chocolate.
Alternate adding the dry ingredients and milk making sure to mix well after each addition.
Fill your cupcake tins 2/3 full.
Bake for 25 minutes and let cool before filling and frosting.
For vanilla butter cream, in a saucepan over medium high heat, whisk milk and flour until a thick paste forms. Keep whisking until lumps dissolve. (Don't worry if they don't. Just pop the paste in a food processor to get rid of them.) Remove from the heat and let cool.
Making sure it's completely cool, stir in vanilla.
In another large bowl, cream butter and sugar until light and fluffy. Then add the milk and flour paste and beat it like crazy.
Keep beating (seriously, like 7 minutes) until it resembles whipped cream. You will know its done when you can't feel the granules of sugar between your fingers.
For the raspberry butter cream, over medium heat cook raspberries in a saucepan until a sauce forms. Strain the seeds in a mesh strainer and then pour raspberry sauce back in the pan to reduce more. To about 1/4 cup. Set aside to cool.
In a bowl cream butter and then add 2 cups sugar, raspberry sauce, lemon juice, and salt. Mix until smooth. Add another cup of sugar and more if you want it thicker and sweeter. Use milk to thin it out if needed.
To assemble, cut little holes of of the tops of the cupcakes and fill with mousse. Pipe vanilla butter cream, then raspberry butter cream and garnish with fresh raspberry.
Eat while you cry because someone forgot valentine's but got a birthday card instead.
http://yummycrumble.com/white-chocolate-raspberry-mousse-cupcakes/
Cupcakes from Baking Bites,  raspberry mousse from Taste of Home, vanilla frosting from Pioneer Woman, and raspberry butter cream from Making Life Delicious.  Did I get everybody?
Just a tip…when the frosting seems like its separated from beating too long.
Keep whipping.
Whip it good.
Other treats with luscious berries…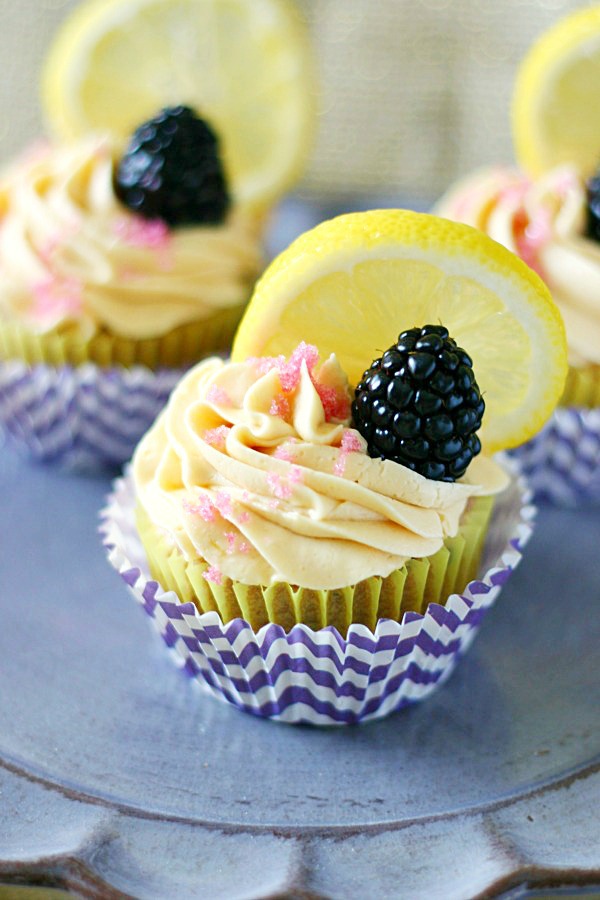 Lemon Blackberry Cupcakes with Sweet Tea Frosting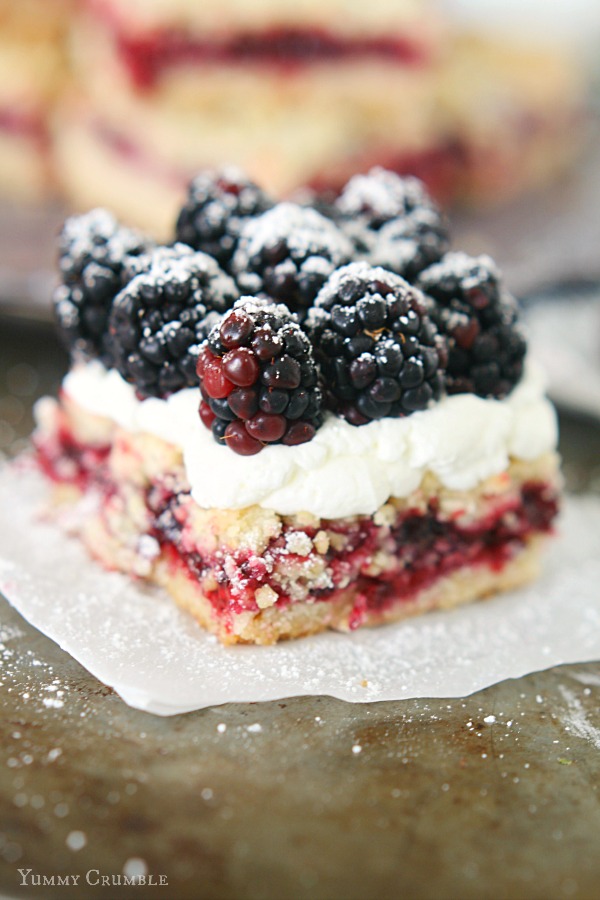 Blackberry Pie Bars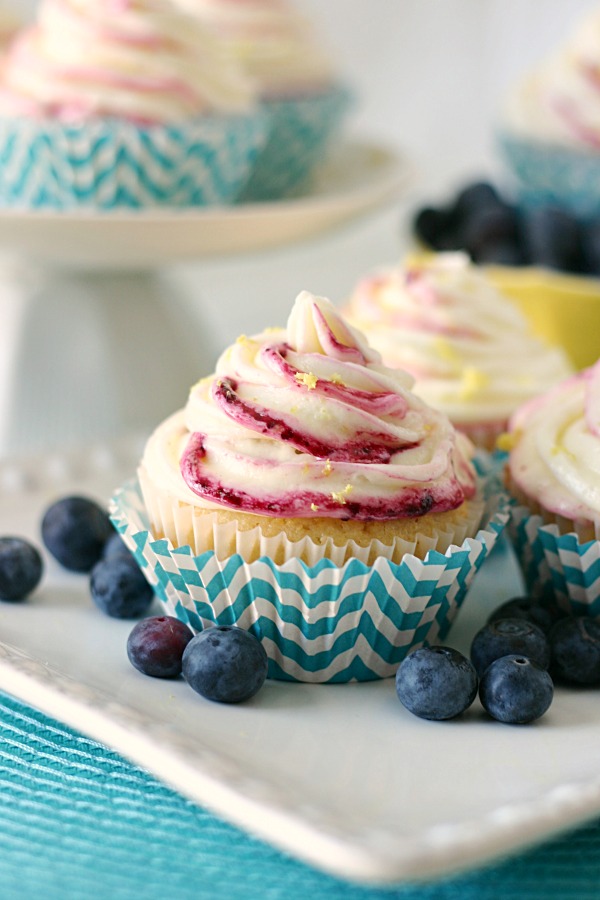 Blueberry Cornbread Cupcakes with Lemon Butter Cream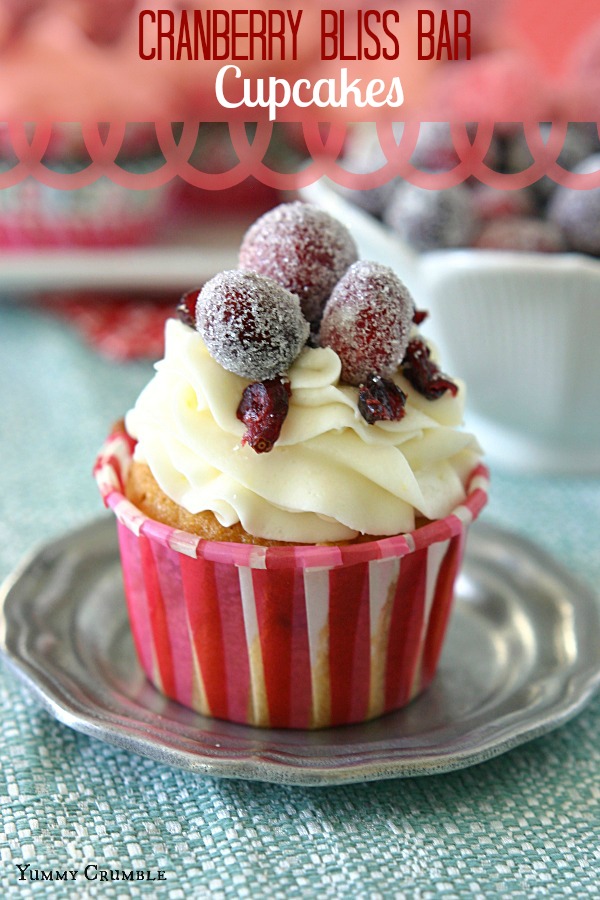 Cranberry Bliss Bar Cupcakes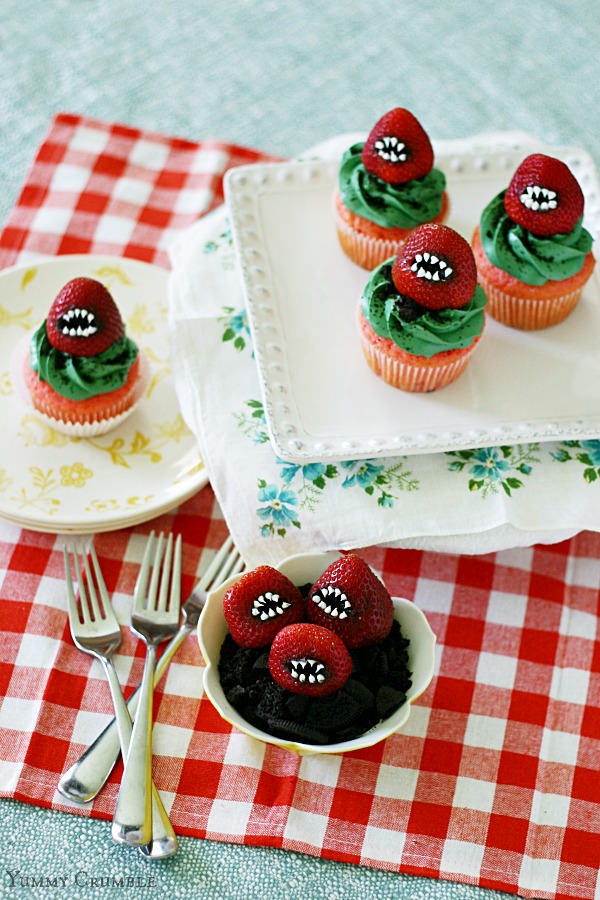 Monster Strawberry Cupcakes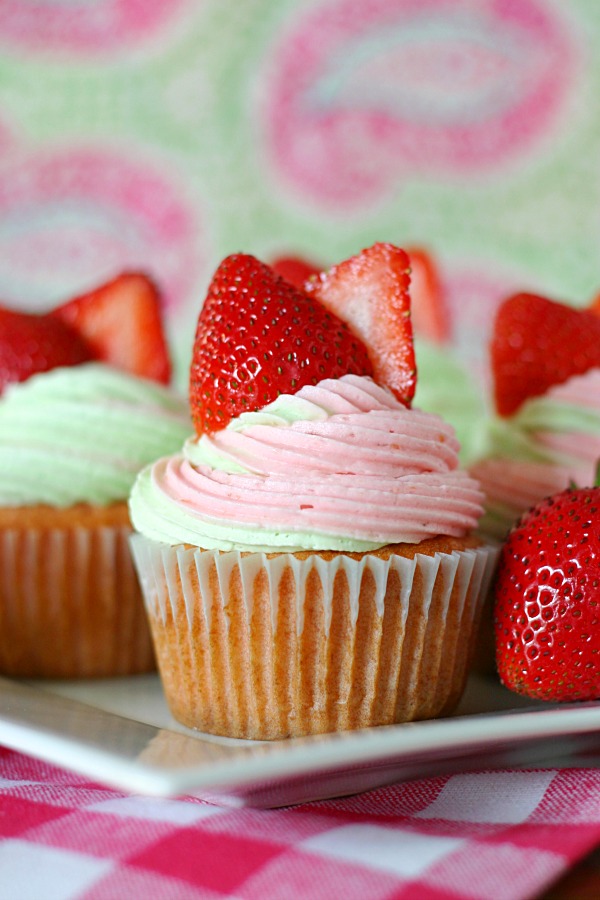 Strawberry Key Lime Cupcakes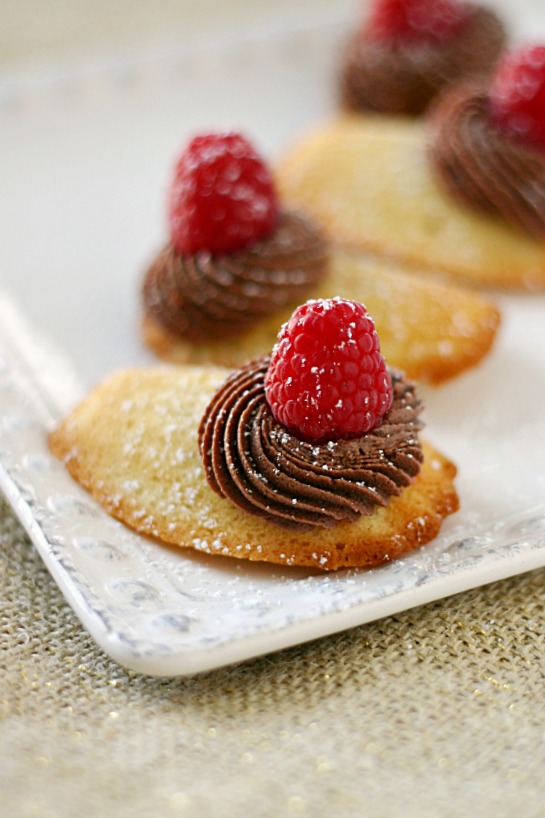 Vanilla Madeleines with Raspberry Mousse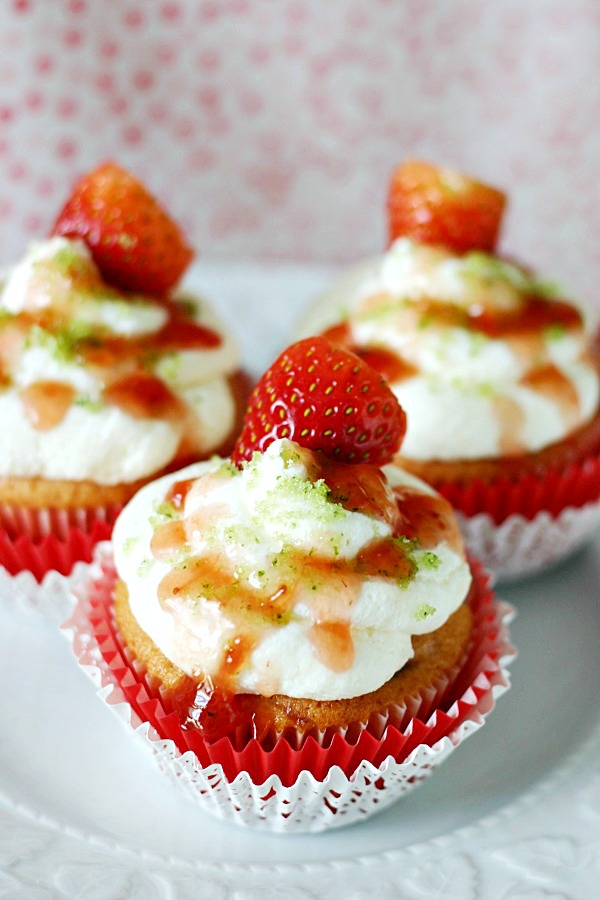 Strawberry Cupcakes