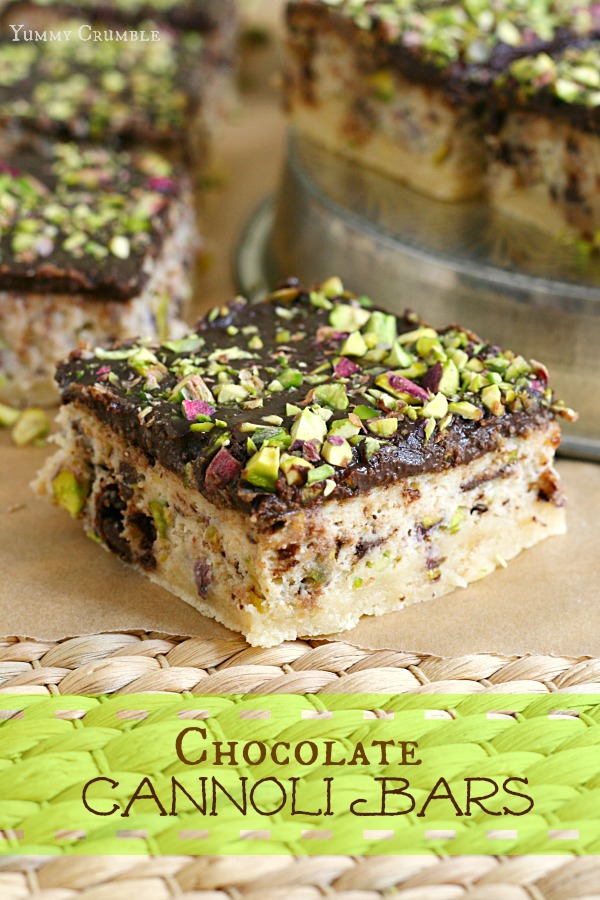 Three glorious layers come together for the ultimate cannoli experience.  These super easy Chocolate Cannoli Bars are still decadent and plus they look super fancy.  This is where you can go crazy with the pistachios.  Pistachios = Fancy.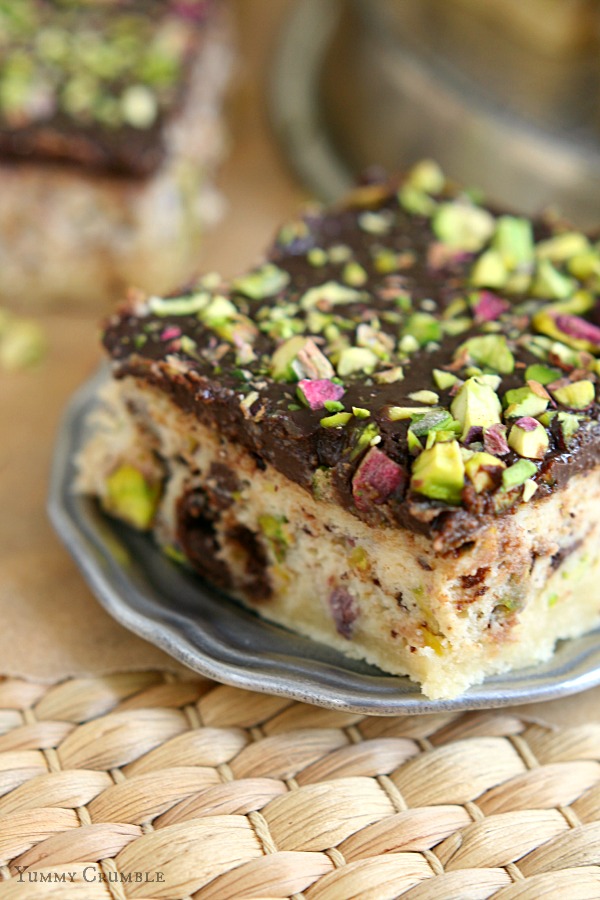 So I think I finally got the kiddos on a schedule.  Oliver goes to summer camp every morning from 8 to about 1:30.  Super amen to that!  Then it's just Jovi and me for what we call "mommy camp", which is just Jovi watching people play with Play Doh on Youtube.  Is that a thing?  There are like hundreds of videos of people making cupcakes with Play Doh, and her little two year old brain is hooked.  Then around 11 am I smell something funky, change that diaper and she's down for a nap.  Probably dreaming about Play Doh, I'm sure.  So for about an hour and a half it really turns into mommy camp.  I catch up on the blog, bake, and just soak in the sounds of nothing.  I love it.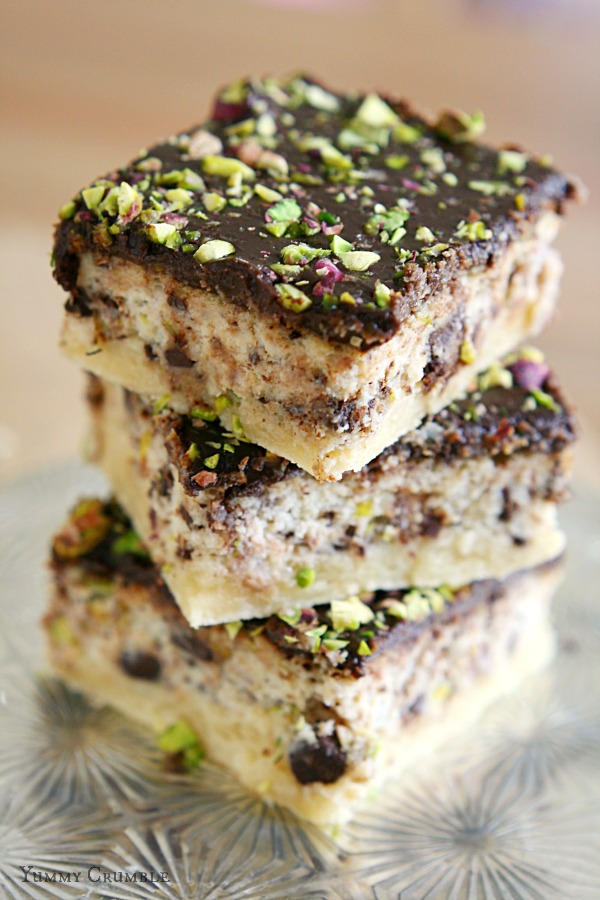 Getting settled here has been a challenge because you know, Dubai.  Dubai is so crazy.  But a good crazy.  It's a total adventure and we're loving it!  There have been a few bumps along the way.  We moved into a villa last month, which was in no way ready  for a family with kids to move into.  There was a huge termite infestation upstairs (let's collectively say "EWWW") in one of the wardrobes, leaks from the water heater in one bathroom causing mold, the banisters on the stairs were super unsafe and needed to be secured…the list goes on.  Things are slowly getting fixed because remember, Dubai.  We're on Dubai time right now.
For a moment, let's get onto Yummy Crumble time with these Chocolate Cannoli Bars.  They were so simple to make and I can honestly say that this has easily become one of my favorites.  I mentioned three glorious layers, remember?  First up is the bottom.  A chewy sugar cookie layer with almond extract, a moist middle cookie layer with ricotta, sweetened condensed milk, chocolate chunks and pistachios, and a rich dark chocolate ganache layer drowns the top.  And don't forget the fancy pistachios!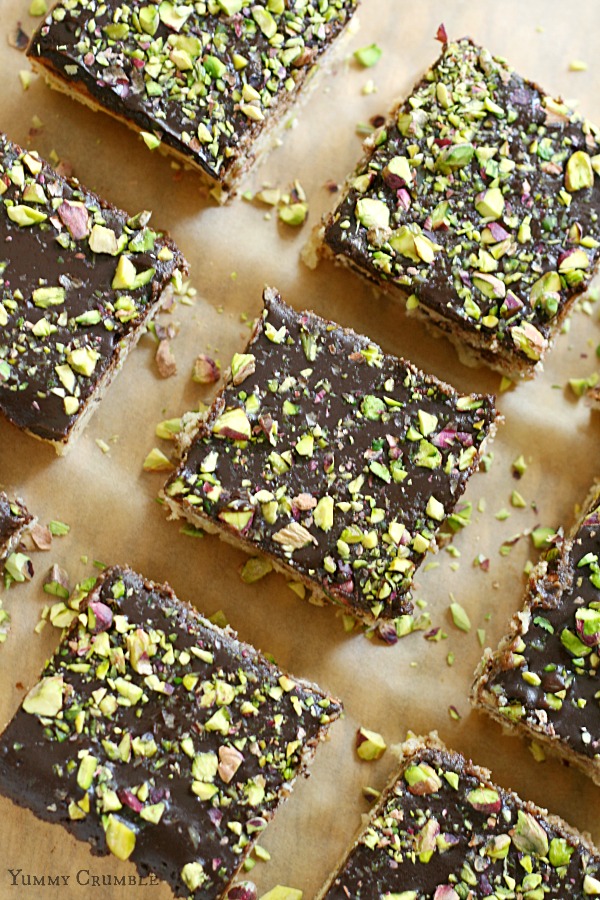 Chocolate Cannoli Bars
Ingredients
Cannoli Bars
1 (18.25 oz.) pkg. white cake mix, divided
¼ cup melted butter
4 large eggs, divided
1 (16 oz.) container (2 cups) whole milk ricotta cheese
1 (14 oz.) can sweetened condensed milk
1½ tsp. pure almond extract
1½ cup chopped dark or semi sweet chocolate
1 cup roasted pistachios, chopped
Chocolate Ganache
12 oz bag of dark or semi sweet chocolate chips
1½ cups heavy cream
Instructions
Cannoli Bars
Start by preheating your oven to 350 F and lining a 9x13 baking dish with foil. Spray the foil with cooking spray or rub generously with butter.
Take ½ a cup of the cake mix and set aside. You will be using this to mix into the second layer of the bars.
In a bowl, mix the remaining cake mix, melted butter, and 1 egg with an electric mixer until a dough forms.
Press the dough onto the bottom of the pan.
In a large bowl, blend together the ricotta, sweetened condensed milke, and almond extract until fully combined.
Mix in the ½ cup cake mix and 3 eggs until smooth. Fold in the chocolate chunks and ½ of the pistachios.
Spread over the layer of dough.
Bake for 45-50 minutes being careful to not over bake. Take out of the oven when the middle is barely set.
Place in refrigerator to fully cool.
Chocolate Ganache
In a medium bowl, place the chocolate chips and set aside.
In a saucepan, heat the heavy cream over medium low until a low bowl just starts.
Take off the heat and pour over chocolate chips.
Carefully fold until the chocolate is melted and glossy.
Pour over the cannoli bars and sprinkle with the rest of the pistachios and place in fridge overnight or for at least 4 hours.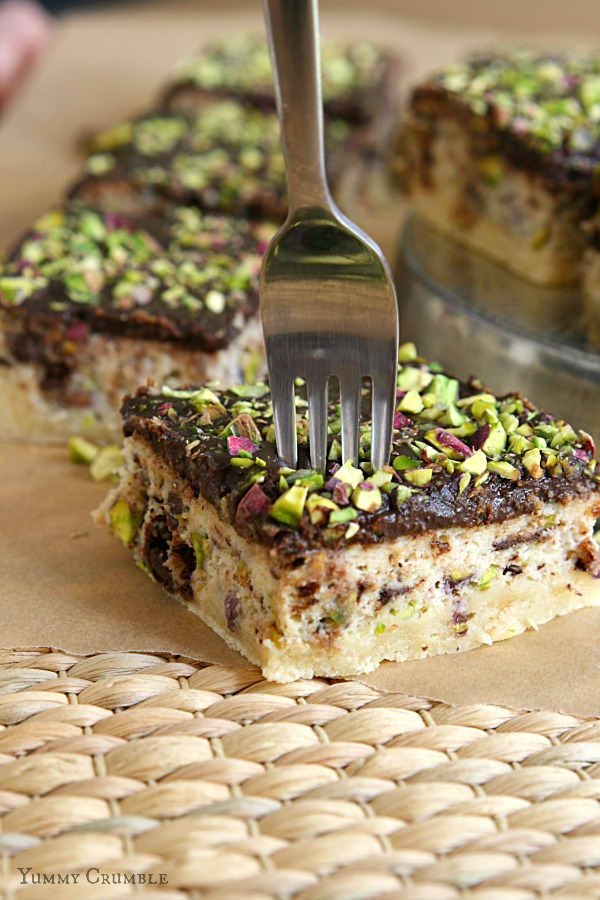 Some more fancy desserts: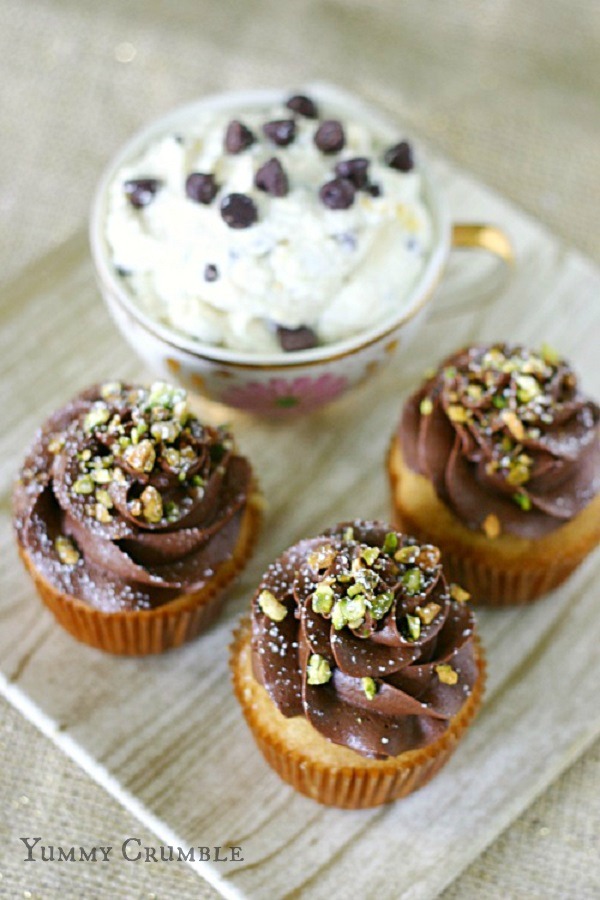 Cannoli Cupcakes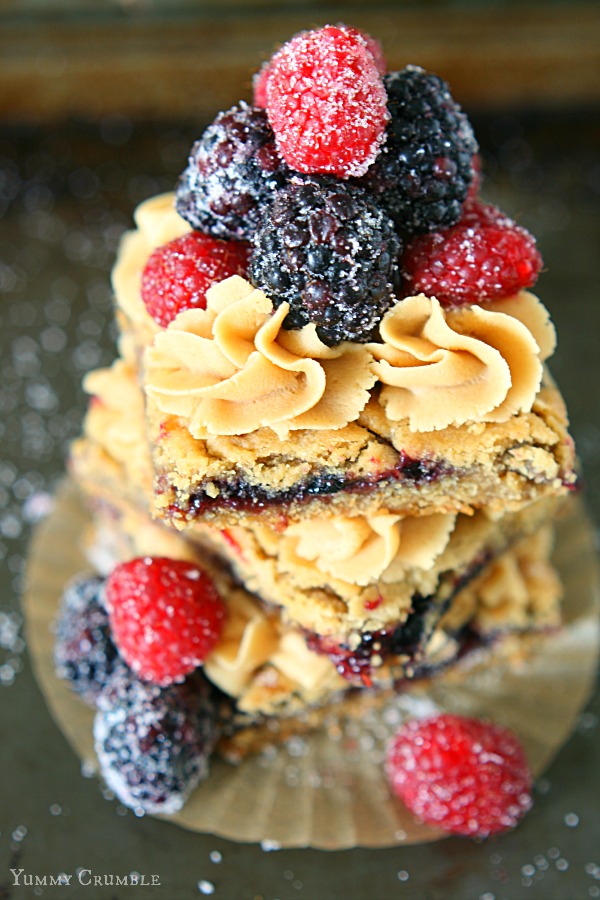 Peanut Butter Jelly Cookie Bars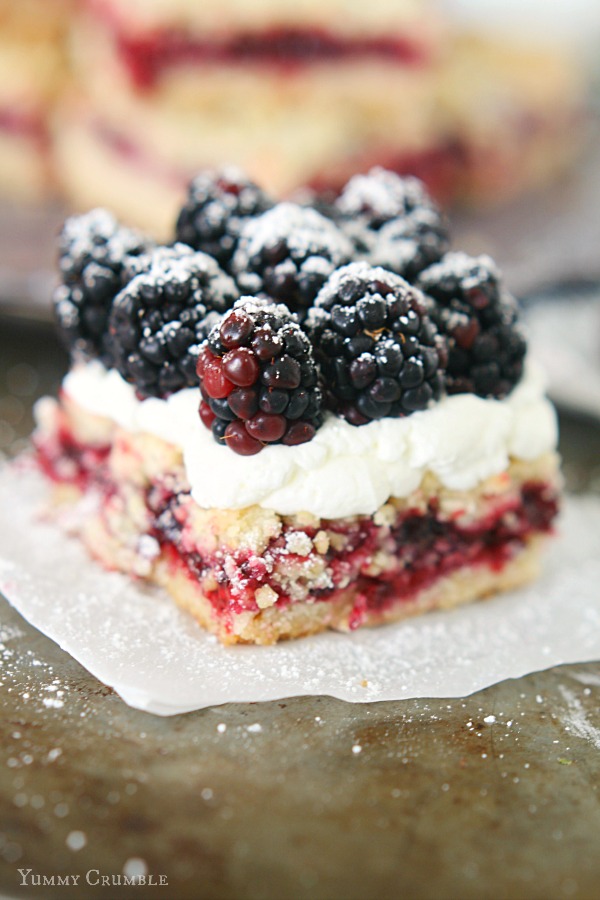 Blackberry Pie Bars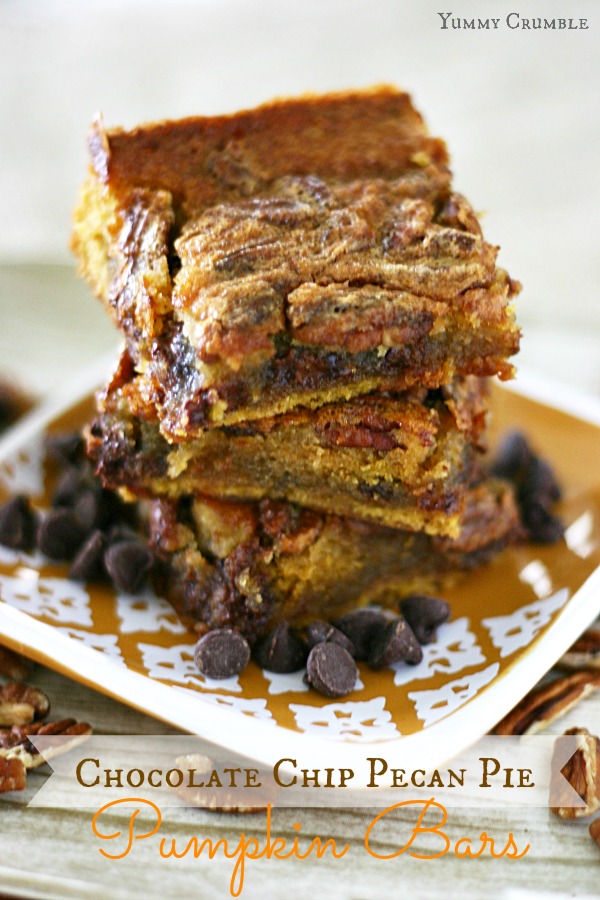 Chocolate Chip Pecan Pie Pumpkin Bars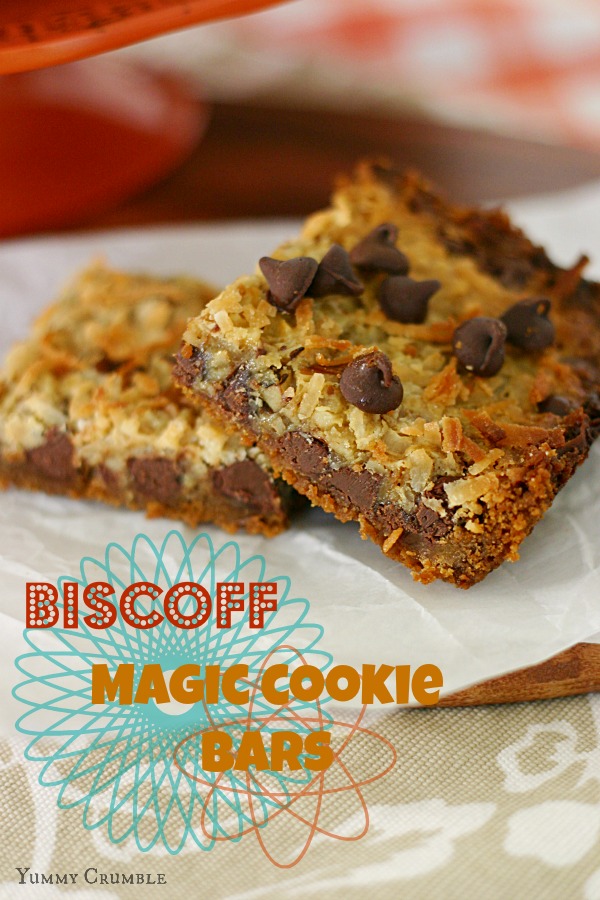 Biscoff Magic Cookie Bars