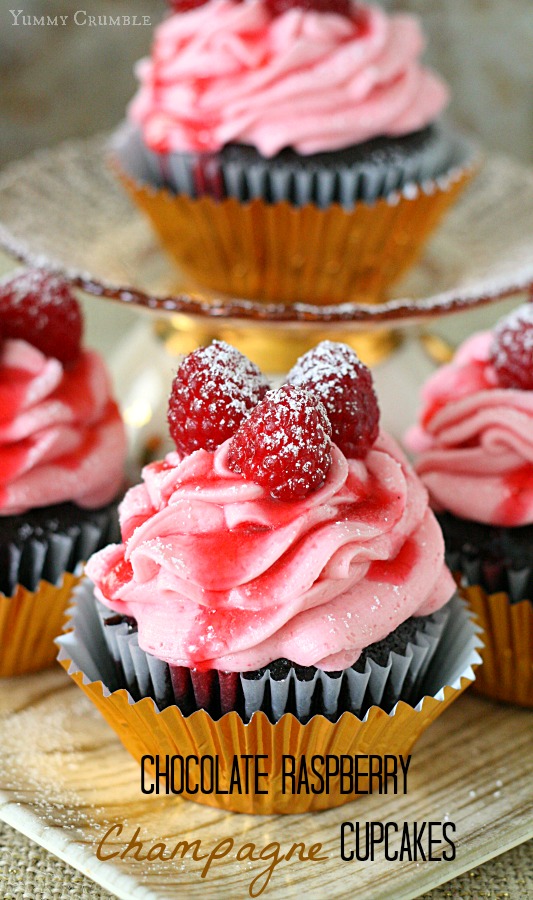 Romantic Chocolate Raspberry Champagne Cupcakes for Valentine's Day!  Divine devil's food cake cupcakes frosted with bright pink raspberry champagne frosting and topped with fresh raspberries and a raspberry champagne glaze.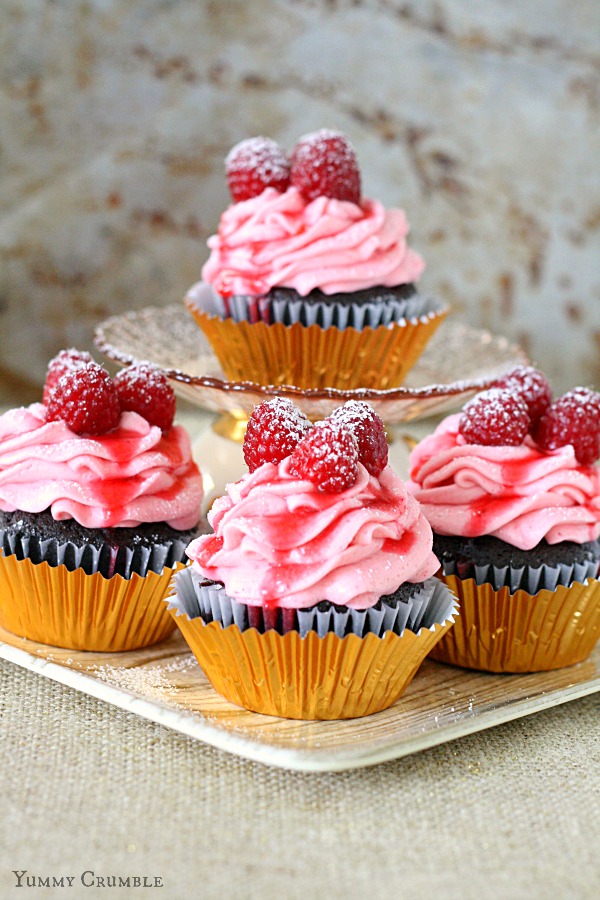 Let's talk about romance for a minute.  In my tweens, I pictured love to be just like the movies.  You know, the romantic comedies where the female lead accidentally runs into the handsome man.  She spills her coffee on his shirt while their dogs get tangled in each others leashes.  They laugh.  He whisks her off to Paris for a shopping spree.  Then it's candles, chocolate, and Barry White 24/7.  Oh, and these Chocolate Raspberry Champagne Cupcakes.  Definitely these cupcakes. Because these cupcakes have raspberry champagne glaze, and that is totally romance.
Every now and then my husband and I reminisce about how we met.  The mysterious band guy messages the silly college girl online.  They laugh.  He whisks her off to Super Walmart in his big white band van on a grocery spree.  Now it's giggling, chocolate, and Ella Fitzgerald 24/7.  Oh, and dirty diapers.  But I wouldn't trade my romantic comedy for anything, because I'm deeply in love with my best friend.  Well, maybe nix the dirty diapers. 🙂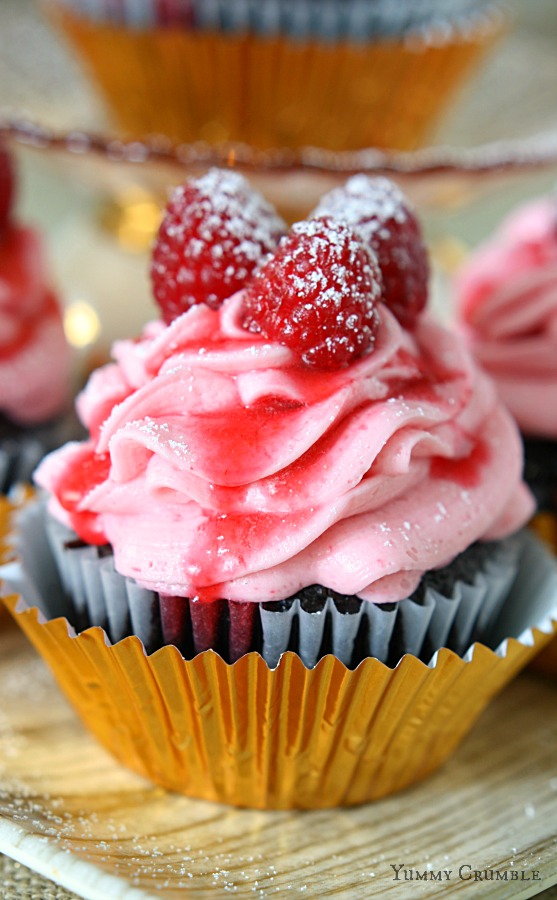 Anytime I want to experience a little romance I just pour that raspberry champagne glaze on everything.  Cereal.  The corn dog my kid wouldn't finish.  My toothbrush.  I gotta get that romance whenever I can, and it also makes me feel fancy.  I think it tastes best on these cupcakes though.  That rich extra dark chocolate devils food cake with the sweet and tangy raspberry butter cream.  Spiking it with the raspberry champagne really makes it extra sinful.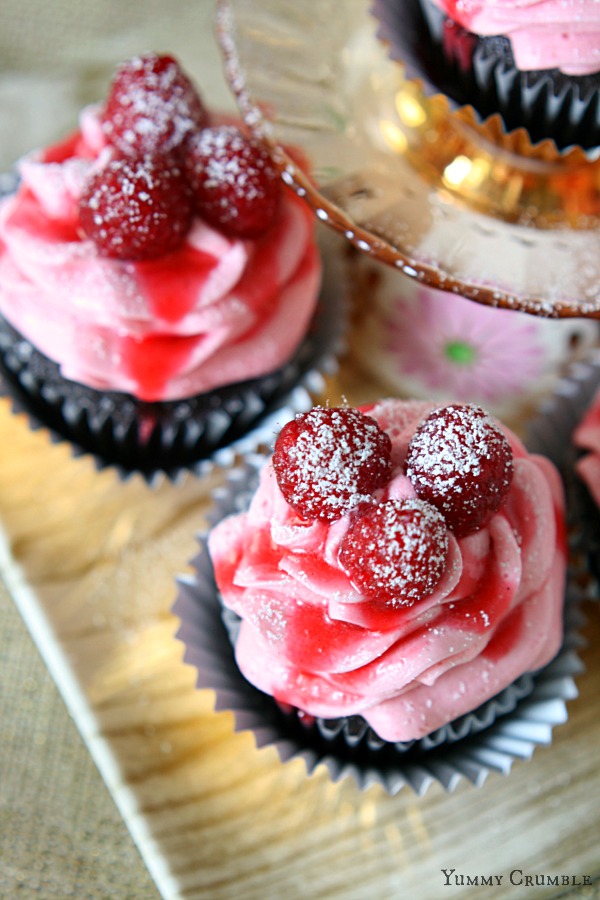 Chocolate Raspberry Champagne Cupcakes
Ingredients
Devils Food Cupcakes
¾ cup unsweetened Dutch-process cocoa powder
¾ cup hot water
3 cups all-purpose flour
1 teaspoon baking soda
1 teaspoon baking powder
1¼ teaspoons coarse salt
1½ cups (3 sticks) unsalted butter
2¼ cups sugar
4 large eggs, room temperature
1 tablespoon plus 1 teaspoon pure vanilla extract
1 cup sour cream, room temperature
Raspberry Champagne Butter Cream
1 cup softened unsalted butter (2 sticks)
¼ tsp salt
3 cups powdered sugar
1 cup raspberries
2-3 tbs raspberry champagne
Raspberry Champagne Glaze
2 cups raspberry champagne
¼ cup raspberries
1 tbs sugar
Instructions
Devil's Food Cupcakes
Preheat your oven to 350 F and line your cupcake pan with liners.
In a small bowl, whisk together the cocoa powder and hot water until smooth.
In another bowl, whisk the flour, baking soda, baking powder, and salt. Set aside.
In a microwave safe bowl, melt the butter in 30 second increments.
With an electric mixer with a paddle attachment, blend together the melted butter and sugar until the butter cools to room temperature. About 4 minutes.
Add each egg one at time, mixing well after each one making sure to scrape down the sides of the bowl with a spatula.
Add vanilla and the cocoa mixture and beat until combined.
Add the flour mixture in two separate batches alternating between the sour cream, mixing until just combined.
Fill each cupcake ¾ full and bake for 18-20 minutes or until an inserted toothpick comes out clean.
Transfer to a wire rack to cool.
Raspberry Champagne Buttercream
In a food processor or small blender, puree the raspberries until smooth.
Using a fine mesh strainer, push the raspberry puree through to separate the seeds.
Take the puree that's seedless (about 6-9 tablespoons) and cook on medium low in a small pot until it's reduced by half. Let cool completely by putting in freezer for a few minutes.
With an electric mixer and paddle attachment, beat the softened butter for 1 minute.
Add the salt and raspberry puree and beat for another 2 minutes.
Add the powdered sugar 1 cup at a time, beating after each cup.
Once all the sugar is incorporated, add the raspberry champagne. Add a little more sugar if you need to thicken it up a bit.
Beat on high until light and fluffy, about 3 minutes.
Raspberry Champagne Glaze
In a medium saucepan, cook the champagne, raspberries, and sugar on medium.
Stir every few minutes.
The glaze will be done once its reduced to half.
Take the glaze and run it through a fine mesh strainer to remove any seeds.
Add a touch more champagne if it needs to be thinned for drizzling.
Assembly
Pipe the raspberry champagne frosting with a star tip.
Place 3 fresh raspberries on top and drizzle with the glaze.
Top with powdered sugar with a sift.
Love is making me laugh so hard I peed my pants that one time.
Love is helping me take a shower after my cesarean and telling me I'm beautiful when I was terrified of being a new mom.
Love is doing the dishes and folding the endless piles of clothes for me.
Love is playing with my hair while we watch The Walking Dead every night.
Some more romantic lovelies:
Nutella Strawberry Cupcakes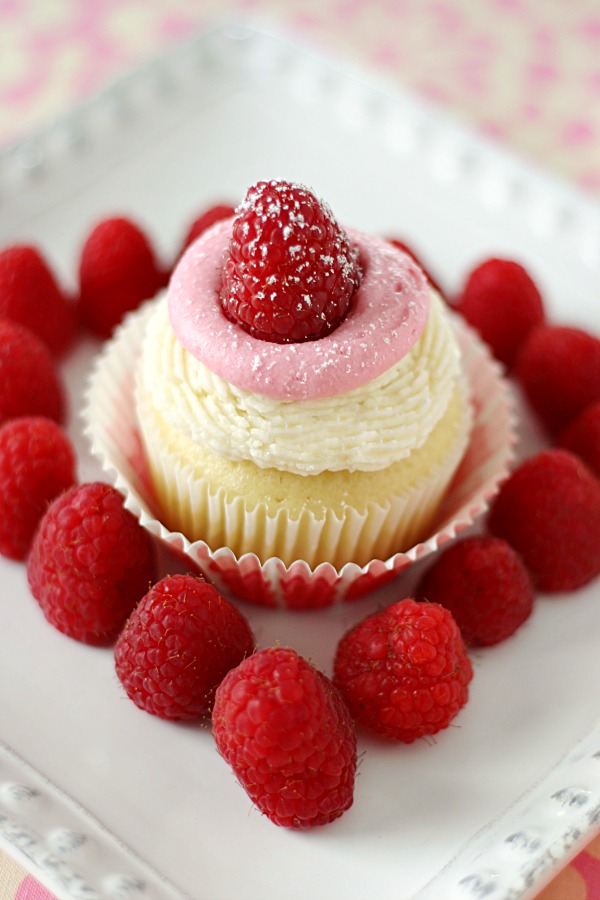 White Chocolate Raspberry Mousse Cupcakes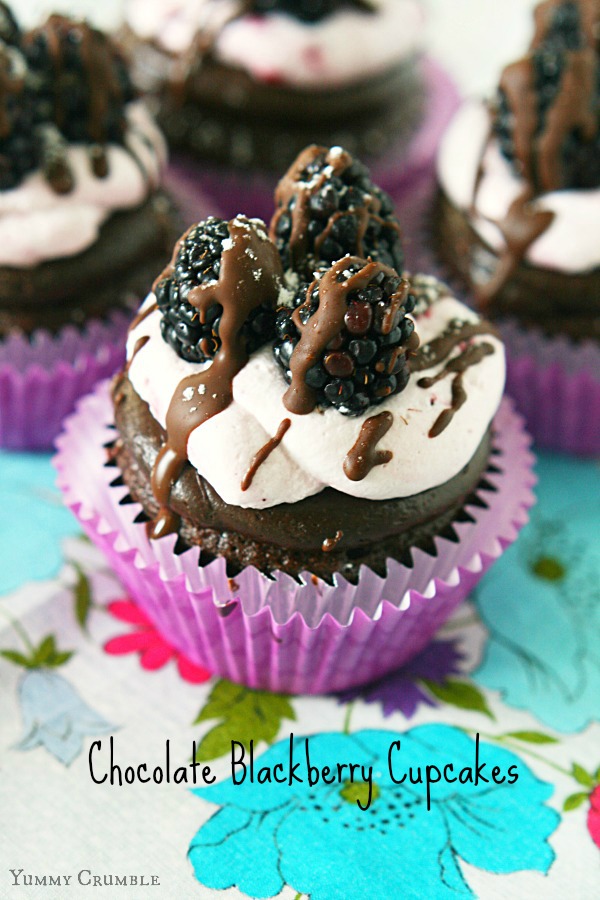 Chocolate Blackberry Cupcakes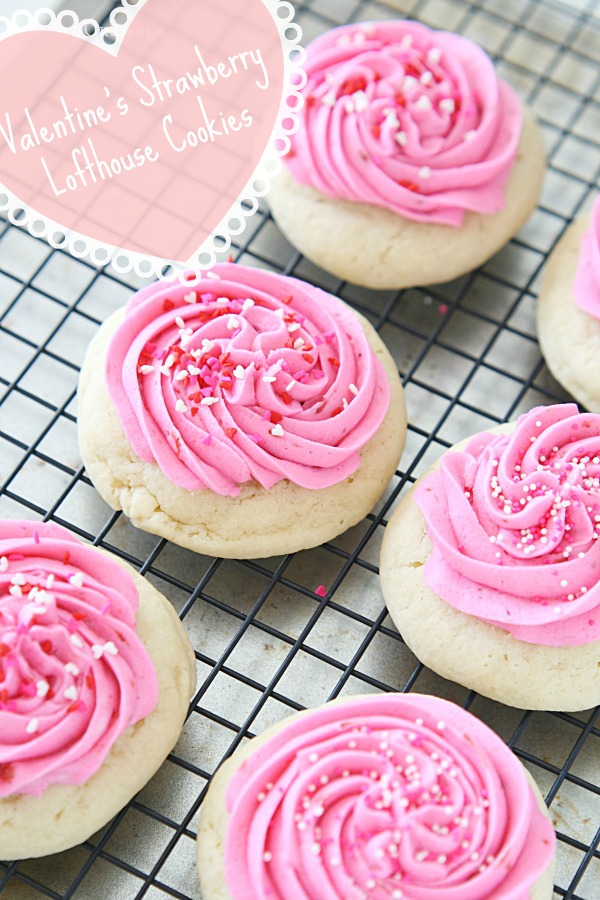 Valentine's Strawberry Loft House Cookies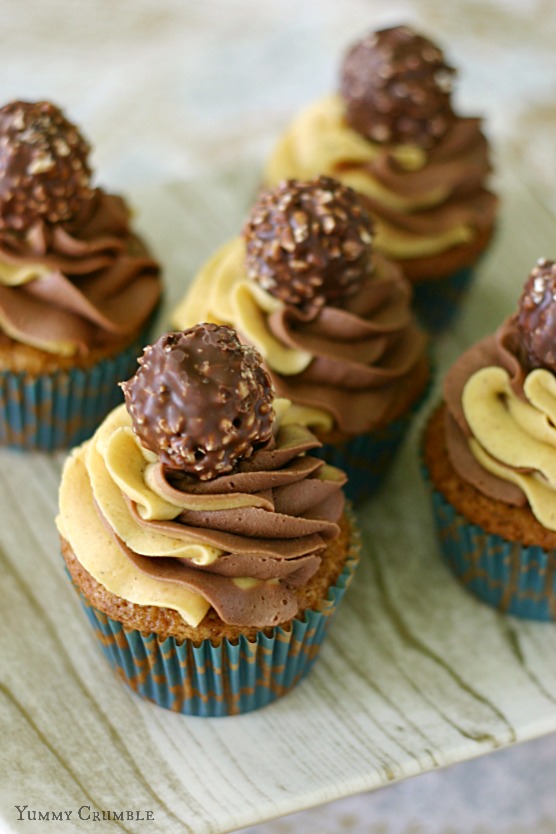 Nutella Pumpkin Cupcakes