Crispy and nutty Apple Cinnamon Baklava with luscious golden layers of crispy phyllo dough, walnuts, and apples.  A honey syrup made with spiced apple cider deliciously drench each layer.
While drudging my way through college in my freshman year, I managed to work two jobs.  One was a particularly arrogant clothing store which will remain nameless. I will give you a little hint.  It rhymes with Flabbercrombie & Itch.  Worst job ever.  My other job was a hostess for Acropolis Grill, a little mom and pop Greek restaurant where "Opa!" was shouted every 7.5 minutes.  Or just whenever someone had ordered the "Flaming Cheese", also known as Saganaki.  Which was every 7.5 minutes.  Very popular dish at the little Acropolis Grill.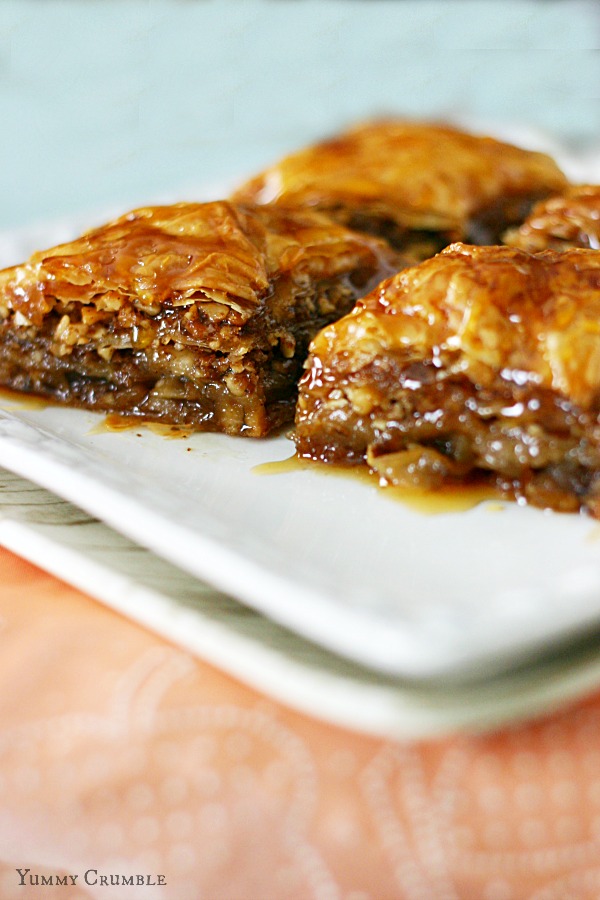 Baking baklava has always intimidated me.  For the longest time I had this misconception that Baklava was a frighteningly difficult dessert to bake.  With all its layers and layers of dough and hearing that "There's nothing worse than a dry Baklava.", I figured it wasn't worth the fuss.  Well, thank you Pioneer Woman!  She has a fantastic tutorial for Baklava.  Let me just say, thank the Gods for frozen phyllo dough.  I cannot imagine the time it would take to make some from scratch.  My inspiration for Apple Cinnamon Baklava came from Amy Bites.  She has a great tutorial as well.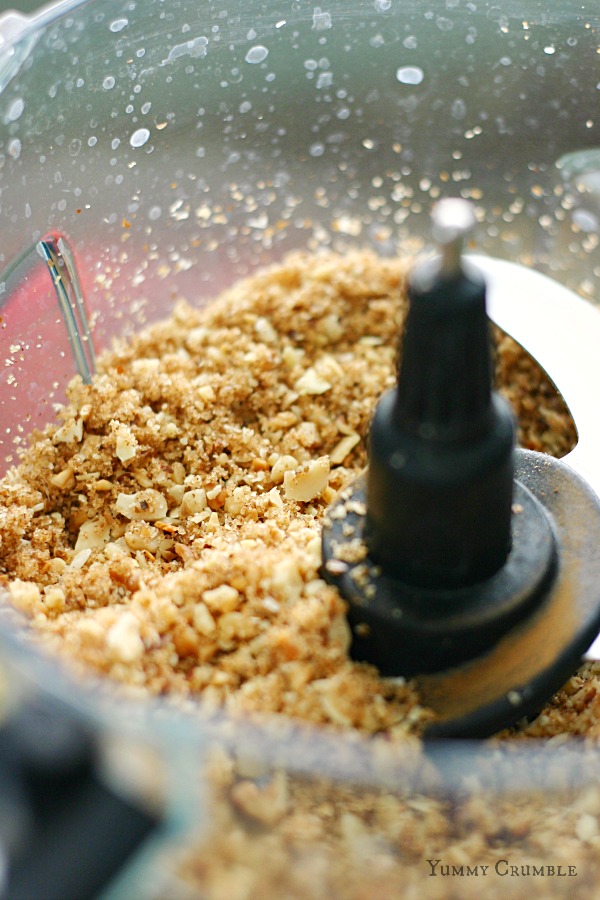 Here are the toasted walnuts and brown sugar just waiting to be nestled in the layers of yummy.  Please excuse the water spots.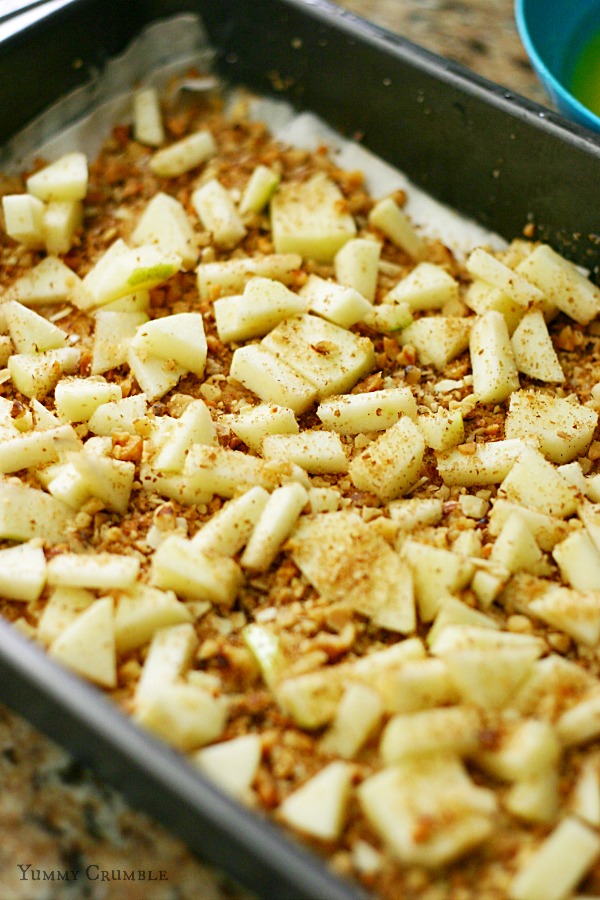 I chopped the apples and sprinkled them in the middle layer of the baklava.  It also makes it so much easier to slice the pre-baked baklava.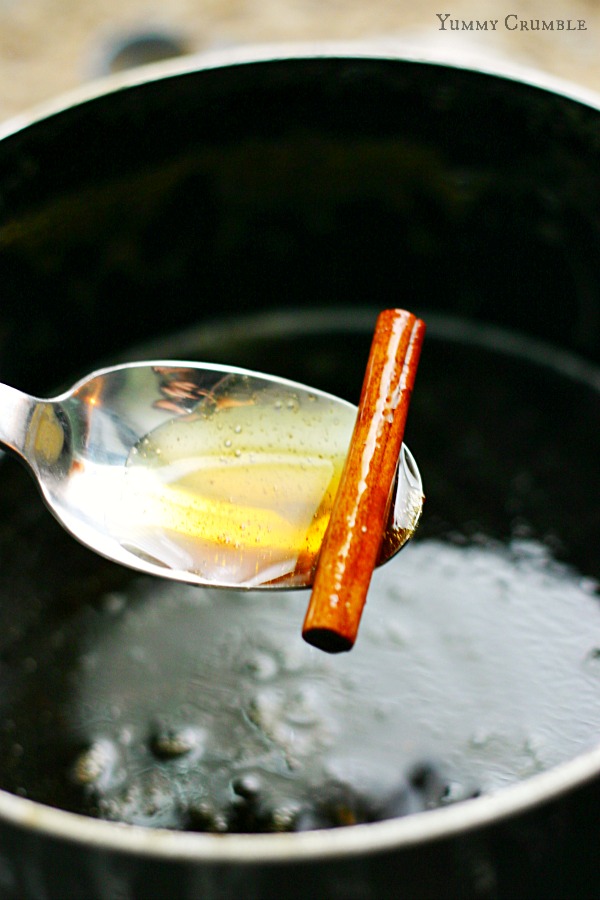 I just slightly adapted the honey syrup by subbing out the water for spiced apple cider.  The result was absolutely amazing!  It totally brought that cinnamon apple flavor to the next level.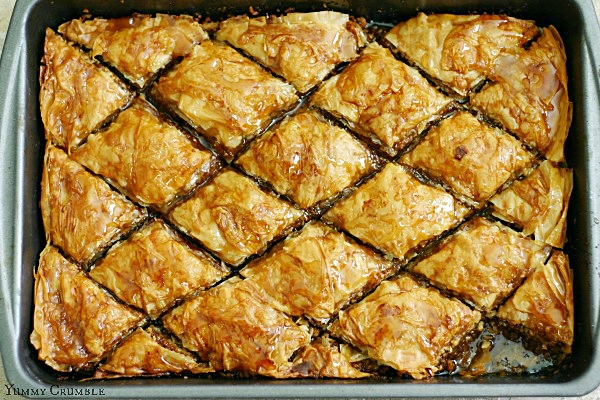 Here she is in all her glory.  Yes, I did in fact eat that slice before the photo.  Sue me.
Apple Cinnamon Baklava
Ingredients
For the Baklava
2 cups walnuts
1 cup pecans
⅓ cup packed brown sugar
1½ teaspoons ground cinnamon
1 large apple, peeled and chopped into ¼ inch cubes
1 roll frozen phyllo dough, thawed
1½ sticks butter melted
For the syrup
1 cup sugar
⅓ cup honey
1 cinnamon stick
½ cup apple cider
Dash ground ginger
Dash ground cloves
Dash ground nutmeg
Instructions
For the Baklava
Preheat oven to 350 F. Spread the nuts out on a cookie sheet and bake until toasted and fragrent. About 5-8 minutes.
Place nuts in food processor and pulse with brown sugar and cinnamon until texture is medium-fine. Set aside.
Lay out your thawed phyllo dough on the counter and lay a damp tea towel on top. This will prevent the dough from drying out. Every time you pull off the layers you need just place the damp towel over the rest.
Butter a 9x13 pan with melted butter and a pastry brush. Use this for every layer of dough.
Set two sheets into the pan.
Butter the top.
Place two more sheets of dough in the pan.
Butter the top.
Again place two more sheets in the pan. This will make 6 sheets in the pan. Butter the top.
Sprinkle ⅓ of the nut mixture on top with the apples.
Place two sheets of dough on top and butter.
Repeat the process until you run out of walnuts. I added apples to two layers of nuts and had 3 layers of nuts total. Make sure you have at least 4-6 sheets of dough as your final top layer.
Using a sharp knife, slice the baklava in a diagonal pattern. Butter the top
Bake for 45 minutes or until golden brown.
For the Syrup
In a small saucepan, combine all ingredients and bring to a boil. Simmer until it's reduced to half. Reduce heat to low.
When baklava is done baking, pour half the syrup mixture over entire Baklava. After a few minutes pour some more until its fully absorbed. Reserve the rest for serving.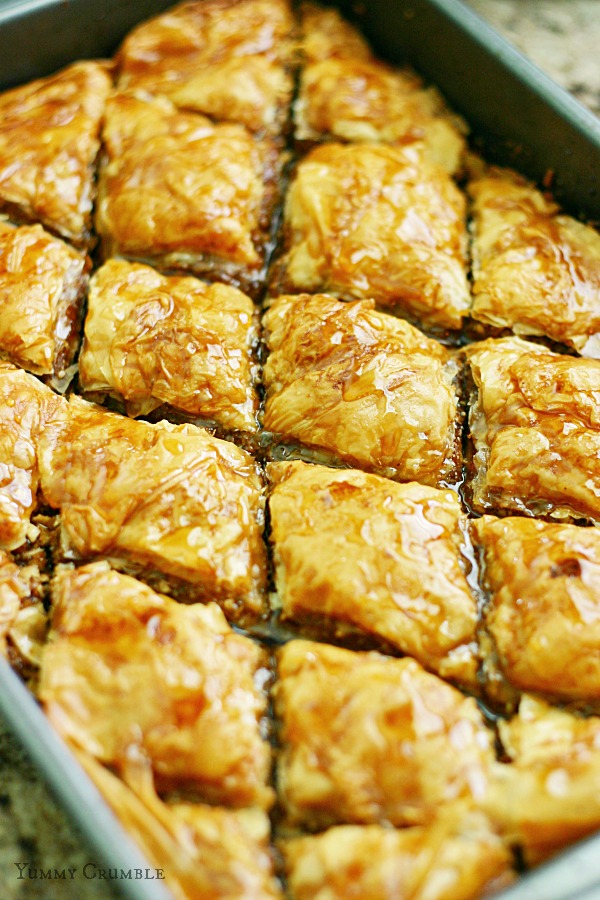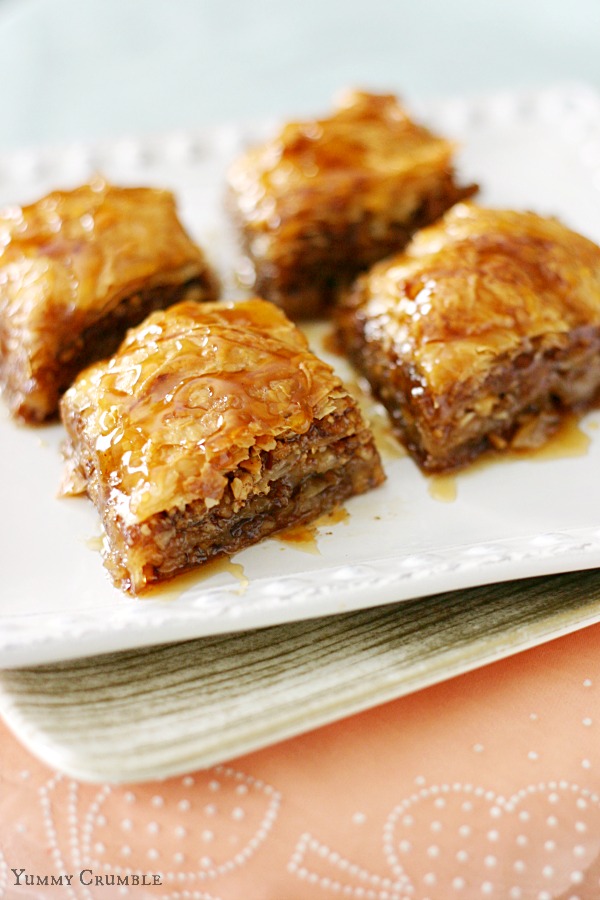 Here are some more scrumptious goodies: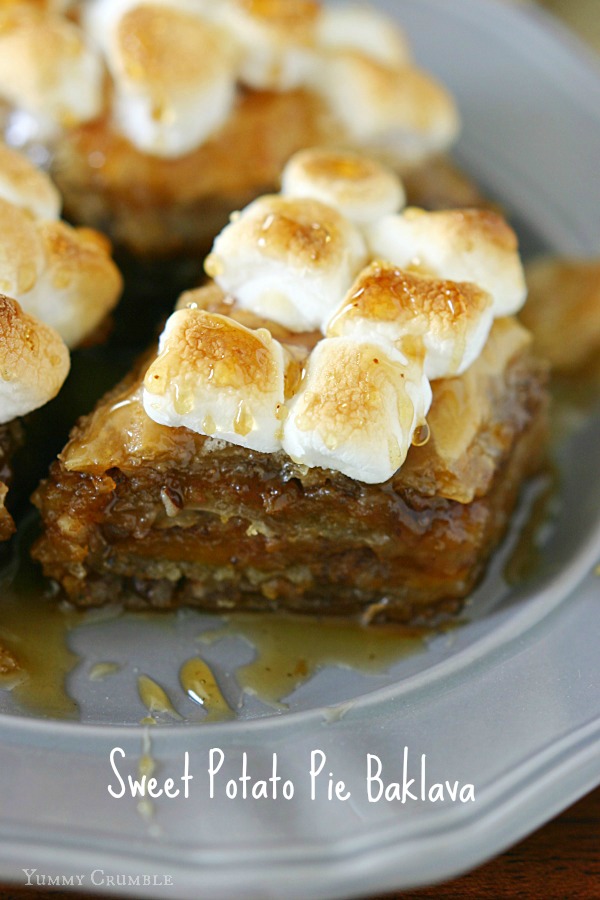 Sweet Potato Pie Baklava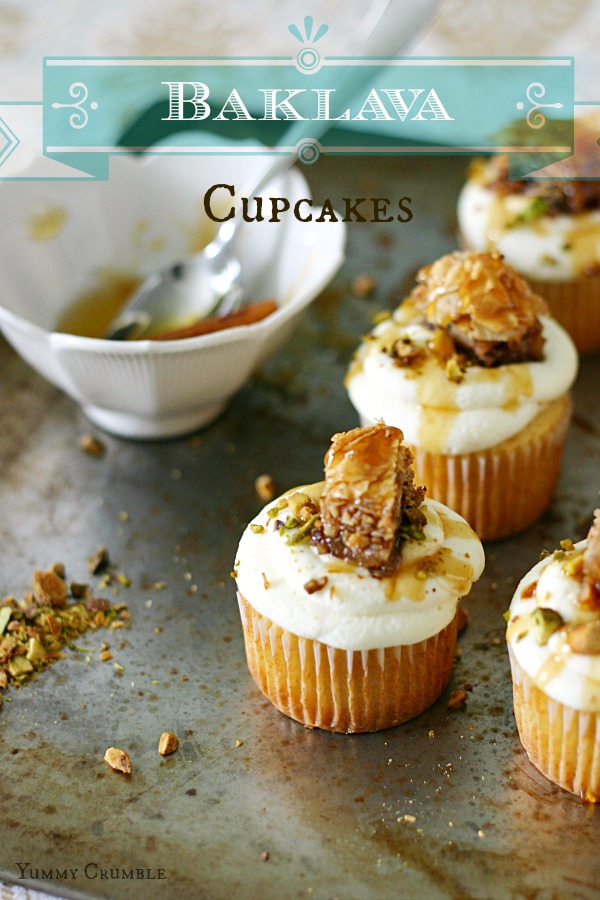 Baklava Cupcakes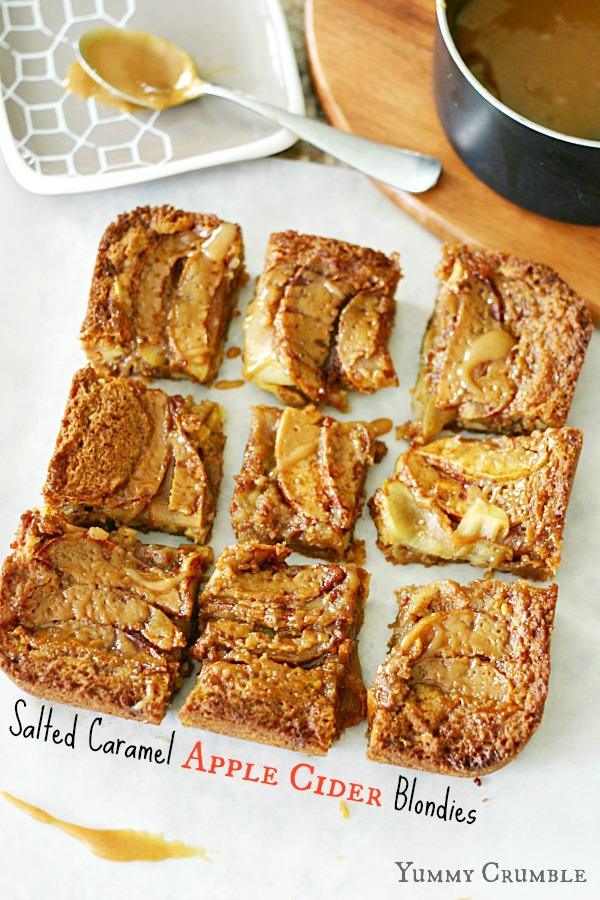 Salted Caramel Apple Cider Blondies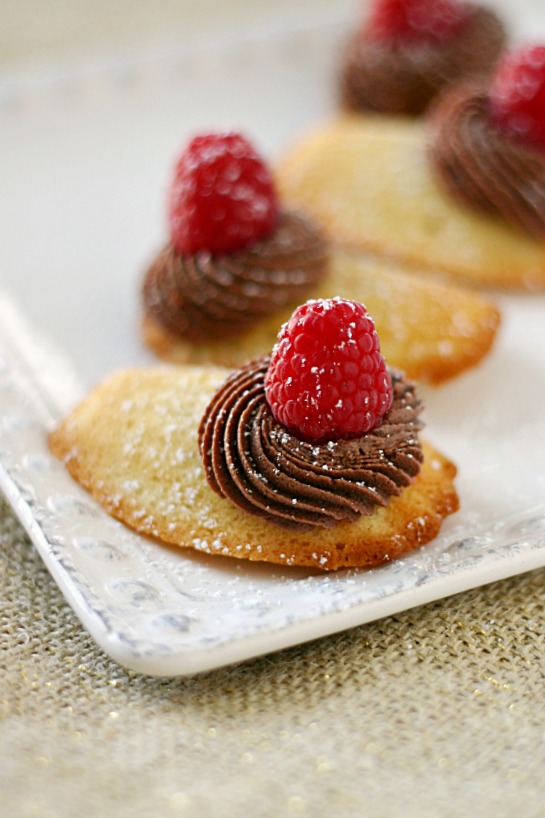 Vanilla Madeleines Filled With Raspberry Mousse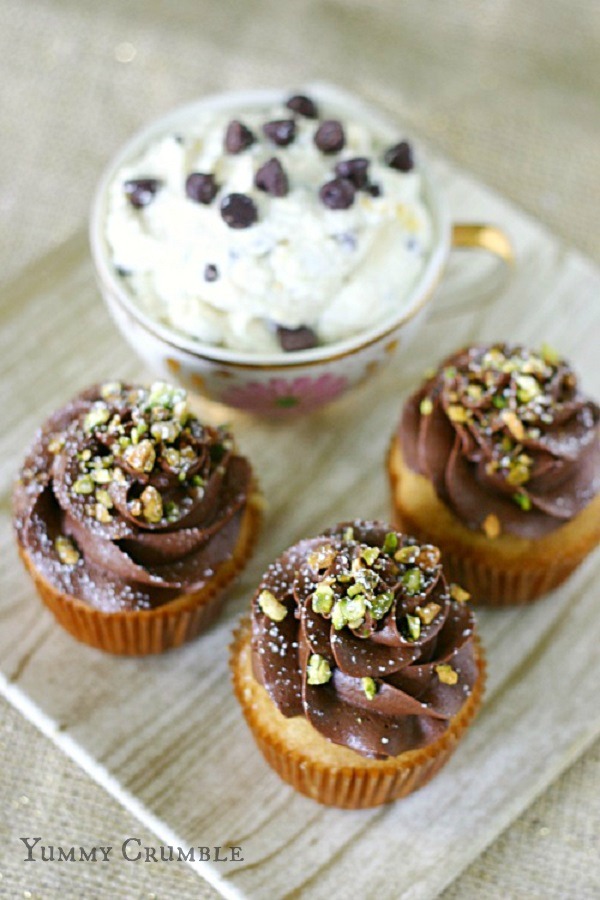 Cannoli Cupcakes with Chocolate Mascarpone