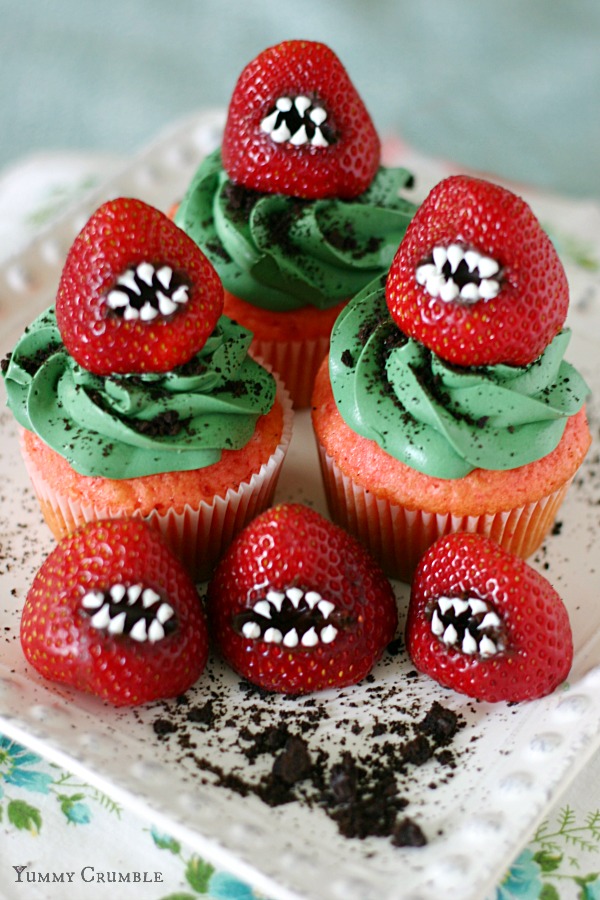 These strawberries have come alive!  Moist strawberry cupcakes with vanilla buttercream and crushed oreo cookies with a frightening strawberry monster.  These Monster Strawberry Cupcakes will make a killer impression at your next Halloween party!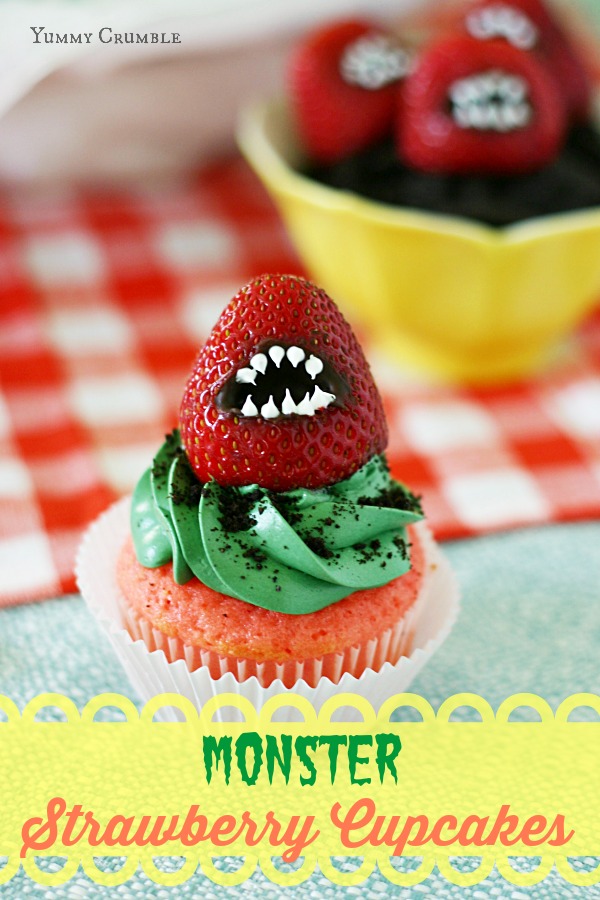 My kids are pretty young so we only have one Halloween season under our belt.  We waited until Oliver was older before we ventured out to ask our neighbors for sugary delights.  Last year we took him Trick Or Treating for the first time. He was a three year old Ollie-wan Kenobi and the little guy had the best time.  On the way home he bit straight through a tootsie roll wrapper because his anxious little fingers couldn't unwrap it in time.  He's just like his Mamma.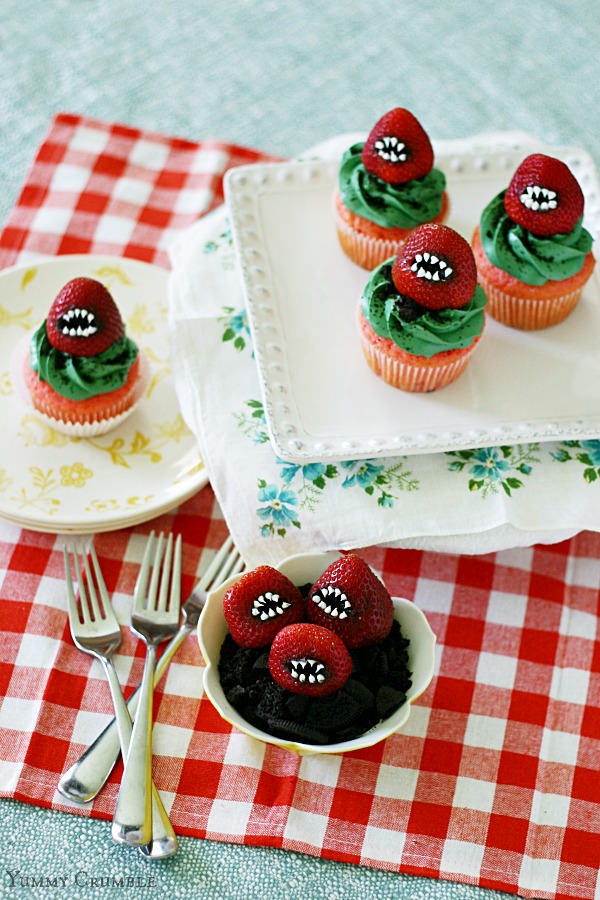 Monster Strawberry Cupcakes
Ingredients
Cupcakes
3 tbsp strawberry jam or preserves
⅓ cup chopped fresh strawberries
1¼ cups flour
¼ tsp salt
1¼ tsp baking powder
¾ cup of sugar
½ cup of unsalted butter, softened
3 egg whites
½ tsp vanilla extract
4 drops pink food coloring
⅓ cup milk
Vanilla Buttercream
1 cup room temperature unsalted butter
6-8 cups powdered sugar
½ cup cream
1 tsp vanilla extract
3-4 drops green food gel dye
Instructions
Cupcakes
Set oven to 350 F.
In small bowl mix together fresh chopped strawberries and preserves.
In another bowl mix together flour, baking powder, and salt.
In another bowl cream together butter and sugar.
Add egg whites, vanilla extract, and food coloring into fully incorporated.
Add dry ingredients with milk, beating on low speed.
Fold in strawberries and preserves.
Fill cupcake liners to ¾ full and bake for 25 minutes.
Vanilla Buttercream
With your paddle attachment of your electric mixer, beat butter until light and fluffy.
Add 6 cups of the powdered sugar with cream and vanilla.
Mix slowly until its blended well, then beat on high for 2-3 minutes.
Add more sugar one cup at a time until desired consistency.
Beat in green food dye.
Sprinkle with oreo crumbs and monster strawberries.
 For these Monster Strawberry Cupcakes, I used my favorite strawberry cupcake recipe and topped them with green vanilla buttercream.  Then came my favorite part…the freaky monster strawberries.  I owe all credit for my inspiration to Christine Mcconnell.  She is my idol in the baking world.  I adore her work and you should follow her.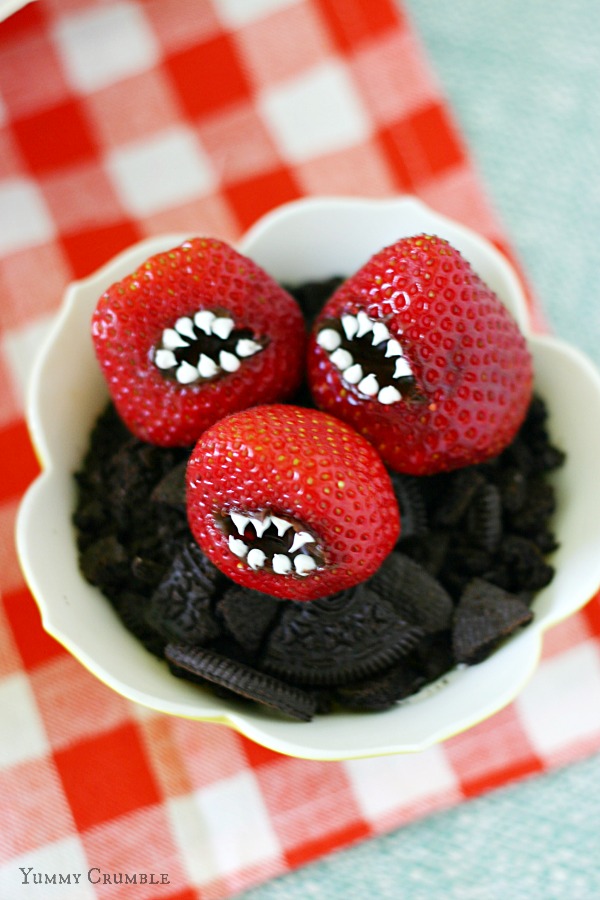 These freaky little guys were a blast to make.  I think the hardest part was carefully piping the little viscous teeth.  Oh, and not taking a bite before putting them on the cupcakes.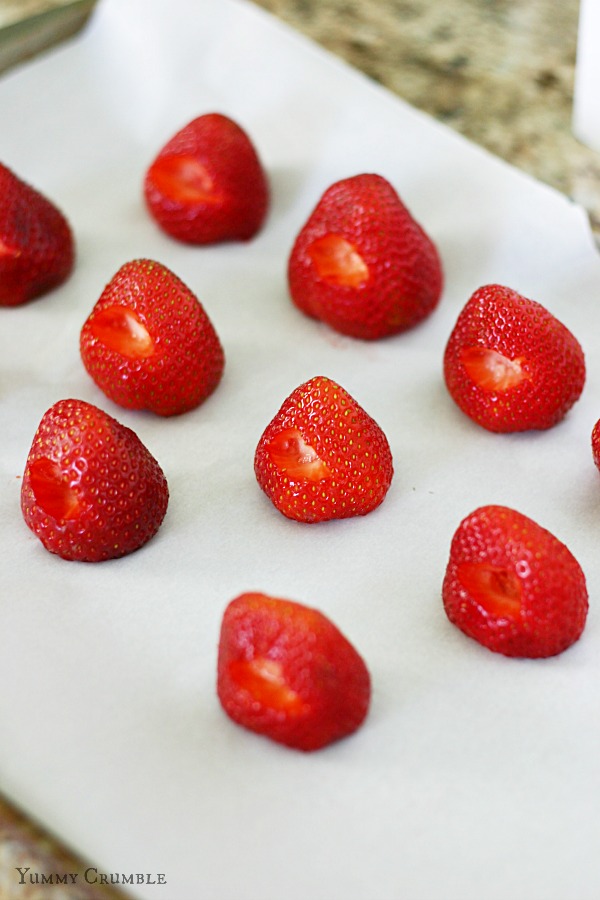 I started by slicing out little mouths.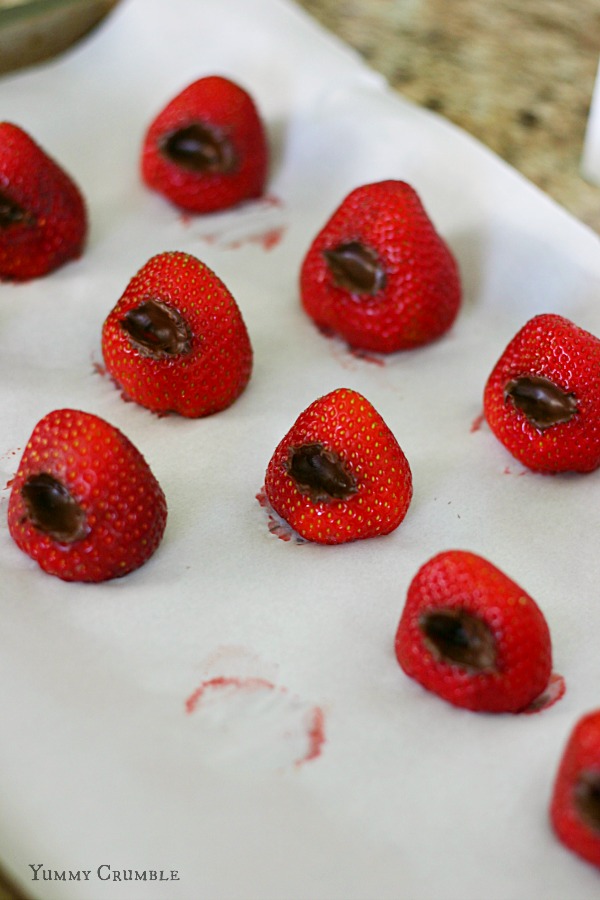 I covered each mouth in melted dark chocolate.  I put them in the freezer to harden.
Then with a Wilton #4 round decorating tip, I piped teeny tiny little scary teeth on each strawberry.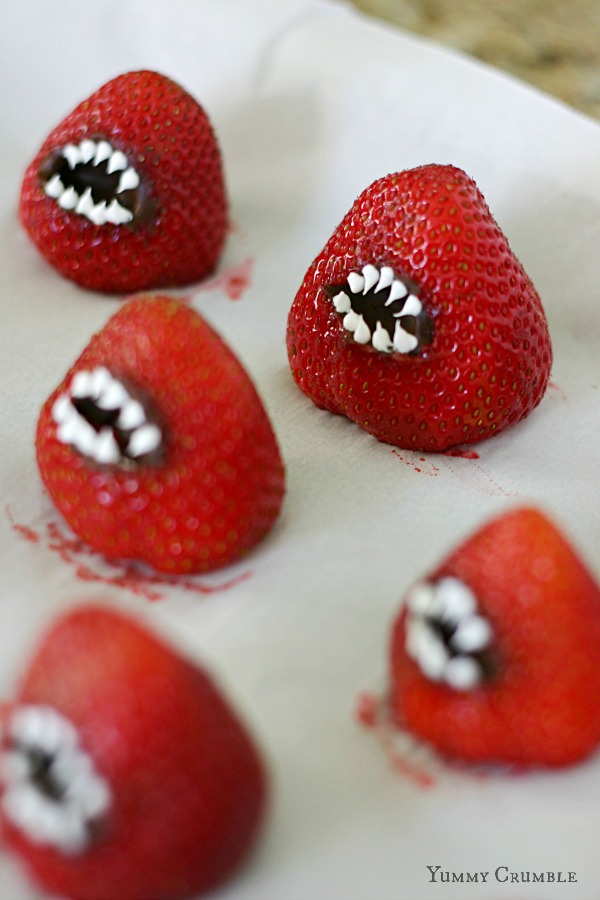 I don't know about you, but I think these guys are adorable.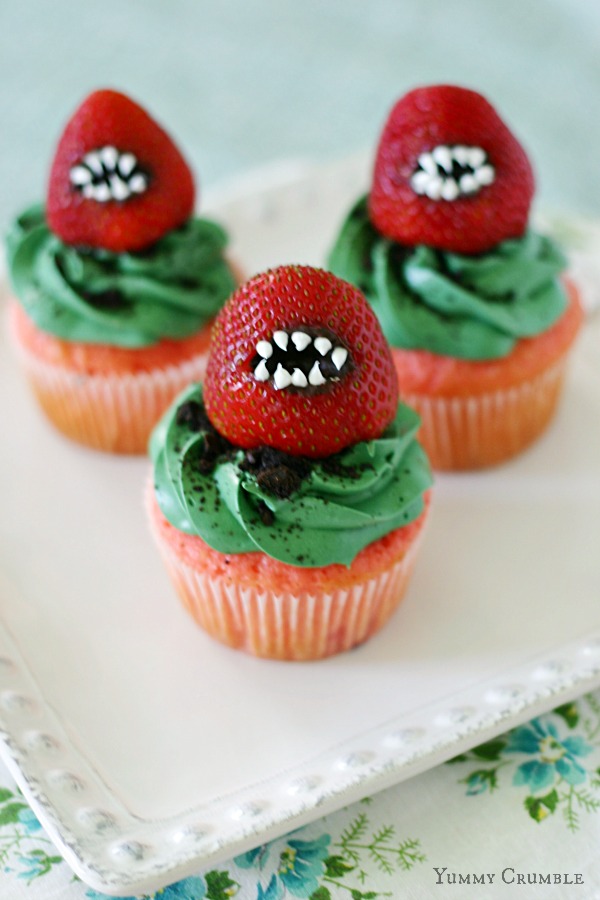 You might like these creepies too!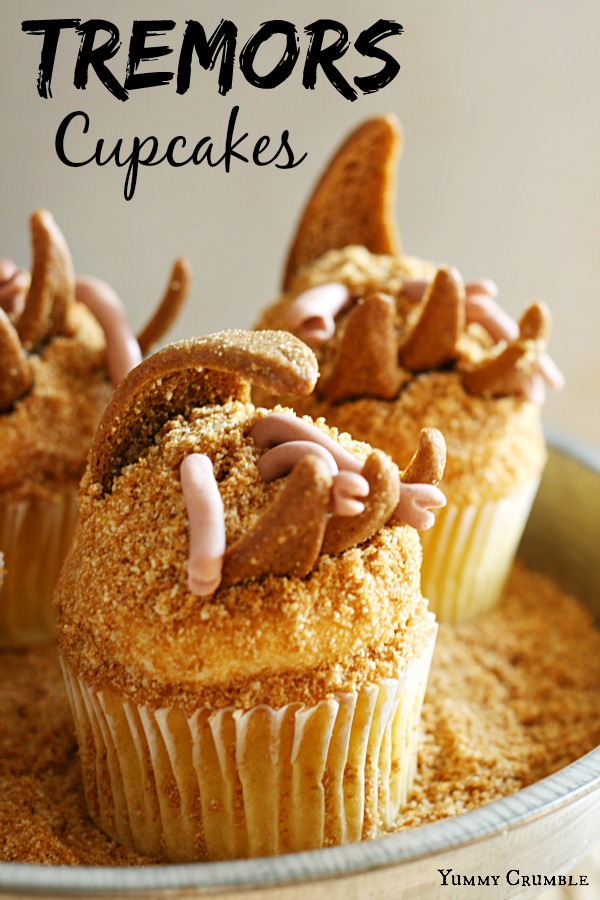 Tremors Cupcakes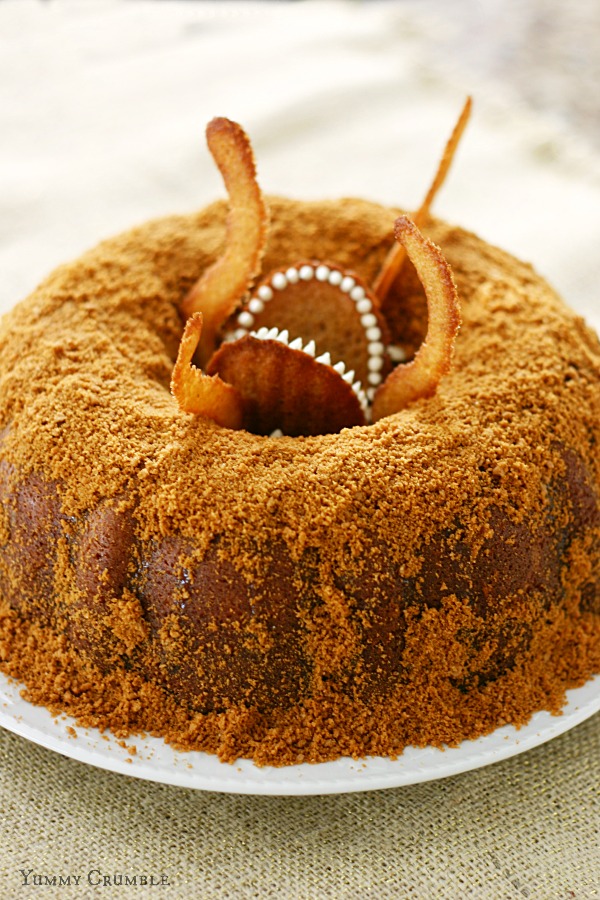 Star Wars Sarlacc Bundt Cake
Ferrero Rocher Chocolate Spider Tutorial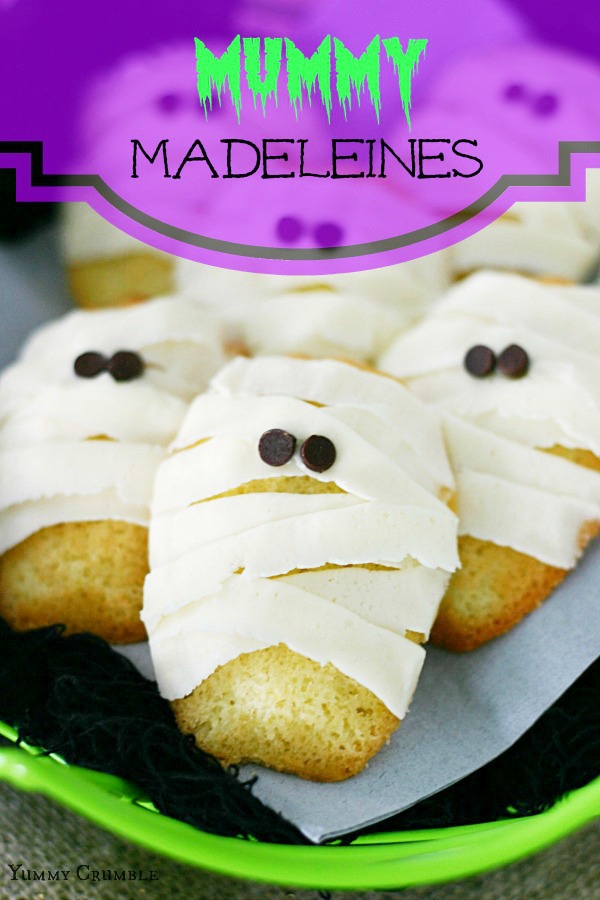 Vanilla Mummy Madeleines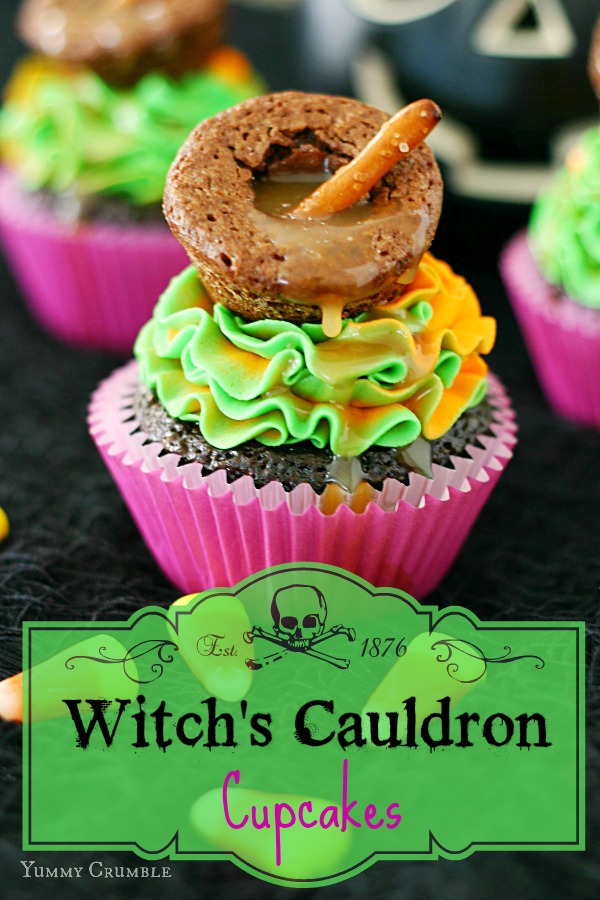 Chocolate Witch's Cauldron Cupcakes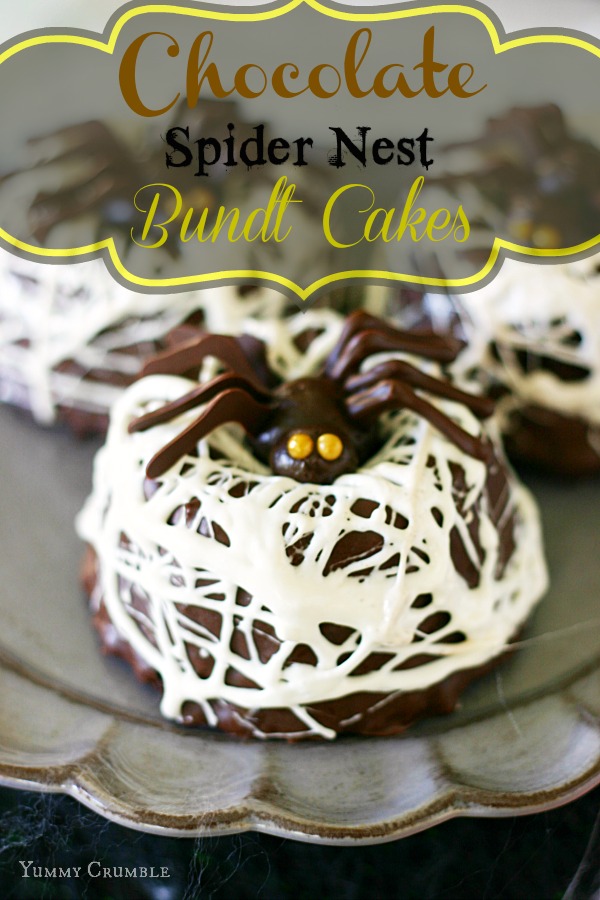 Chocolate Spider Nest Bundt Cakes