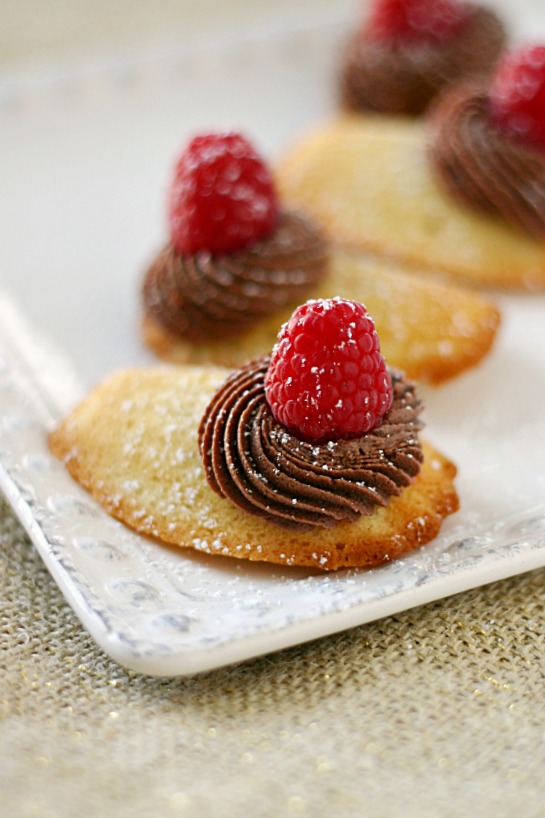 Vanilla Madeleines filled with fresh, tart, raspberry mousse and delicately topped with whipped dark chocolate ganache.  Take these simple french tea cakes to the next level.  I promise you won't stop eating them!
Simply put, french pastries are awesome.  There are so many different kinds it's pretty amazing.  You have the Tarte au Citron.  The Chocolate Eclair.  The Macaron (which I have yet to master).  I could go on for probably forever, but at the top of my list of favorites is the simple little delicate cookie daintily named the Madeleine.  Even the name is beautiful.  So beautiful that children are named after this gorgeous little cookie.  Actually, I'm pretty sure Madeleine is derived from Magdalene, but if I was a new mommy again I would name her after a cookie.  No regrets.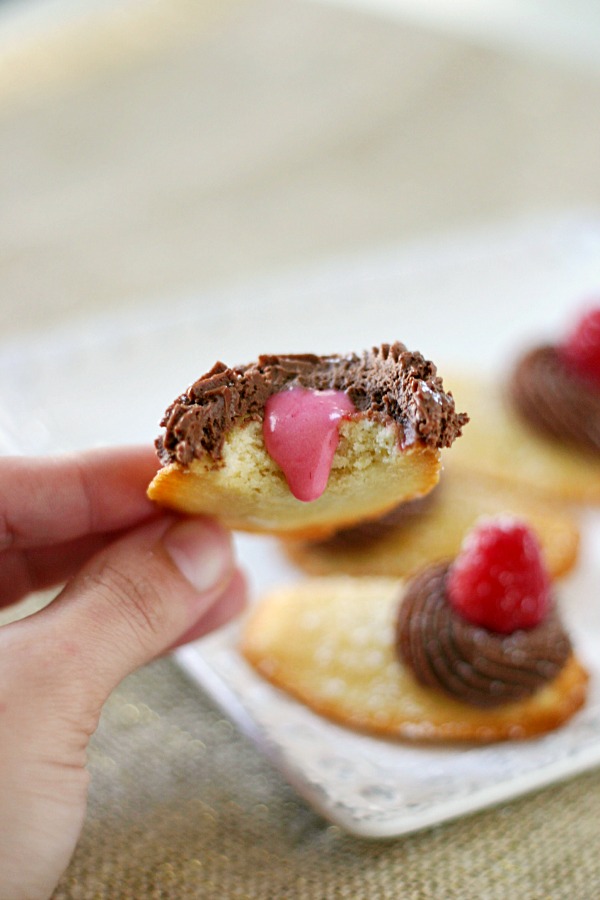 Right down the street from my house is a truly authentic French Cafe.  The owner is from Paris and everything is baked in house and fresh every morning.  His croissants are enchanting.  Crispy, flaky, buttery…they actually melt in your mouth.  Every Saturday and Sunday morning, my husband makes the 3 mile trek to purchase breakfast for our happy little family.  I look forward to it all week.  He has been chosen to make the pilgrimage because I will buy two of everything in their display window.  No lie!
They sell the most perfect madeleines, but they tend to put a little strain on my wallet.  So in order to appease my madeleine addiction I began baking my own.  I've tried many different recipes and variations on the classic vanilla madeleine, but they either turned out too starchy, too sweet, or not enough flavor.  I came across the "perfect" recipe at Baking Bites.  I use this recipe every time I bake madeleines and it never fails.  Its the perfect base to play with and go wild!  This time I filled them with a super tart raspberry mousse.  It paired perfectly with the light delicate vanilla flavor.  For a little extra flair, I topped them with some whipped dark chocolate ganache and a fresh raspberry.
Vanilla Madeleines Filled With Fresh Raspberry Mousse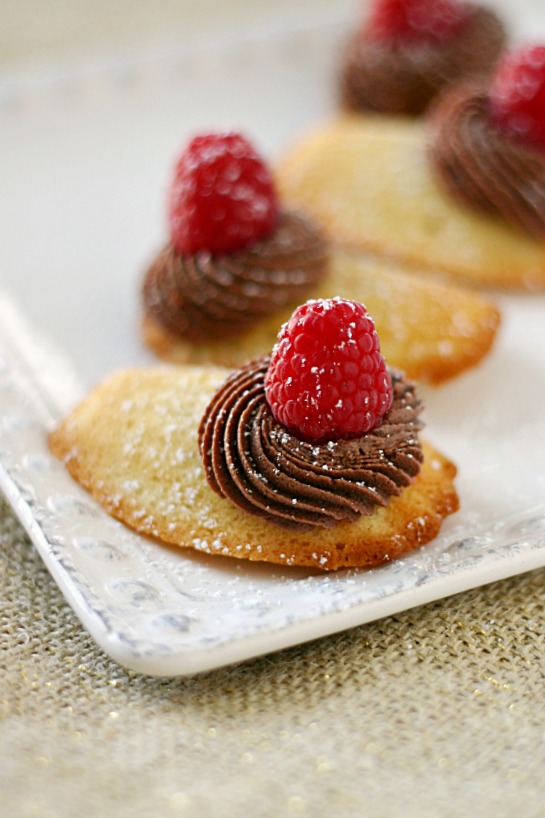 Ingredients
Madeleines

2 large room temperature eggs
2/3 cup granulated sugar
2 tsp vanilla extract
1/8 tsp salt
1 cup all purpose flour
1/4 tsp baking powder
8 tbsp butter, melted and cooled (I used unsalted, but salted would work too)

Raspberry Mousse

2 cups fresh raspberries
1/2 cup sugar
1 tablespoon lemon juice
1-1/2 teaspoons unflavored gelatin
1/4 cup cold water
1 cup heavy whipping cream
Instructions
Madeleines

Set oven to 375F.
Lightly grease and flour your madeleine pan.
Beat eggs and sugar together until thick.
Beat in vanilla and salt.
Sift flour and baking powder into bowl and fold together until mixed.
Stream in melted butter while mixing on low.
Spoon a tablespoon of batter into each cavity.
Bake for 12-14 minutes or until lightly golden brown. Be careful to not over bake.
Allow to cool for a few minutes before removing.
Make sure pan has cooled before baking the next batch.

Raspberry Mousse

Take your fresh or frozen raspberries and puree them in a food processor. Strain the seeds through a sieve and transfer to a large bowl. Mix in sugar and lemon juice. Set aside.
In a small saucepan sprinkle gelatin over 1/4 cup cold water. Stir over low heat until dissolved. Once cooled pour into raspberry mixture and whisk. Let sit in fridge for 1 hour or until thickened.
After an hour whisk raspberry gelatin mixture on high until foamy. In a separate bowl, whisk cream until thick peaks form. Fold into raspberries and refrigerate for another hour.
Using a piping bag with a slim piping tip (I used a wilton No. 230 round) pipe the raspberry mousse into each madeleine. Being careful to not over fill.
Yield is 2 dozen
http://yummycrumble.com/vanilla-madeleines-filled-fresh-raspberry-mousse/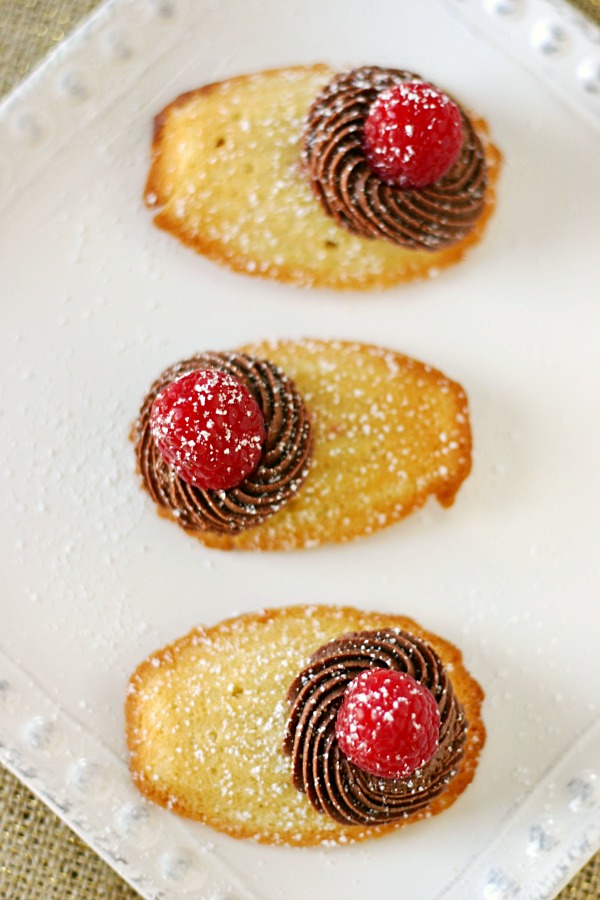 Vanilla madeleines from Baking Bites.  Raspberry Mousse from Taste of Home.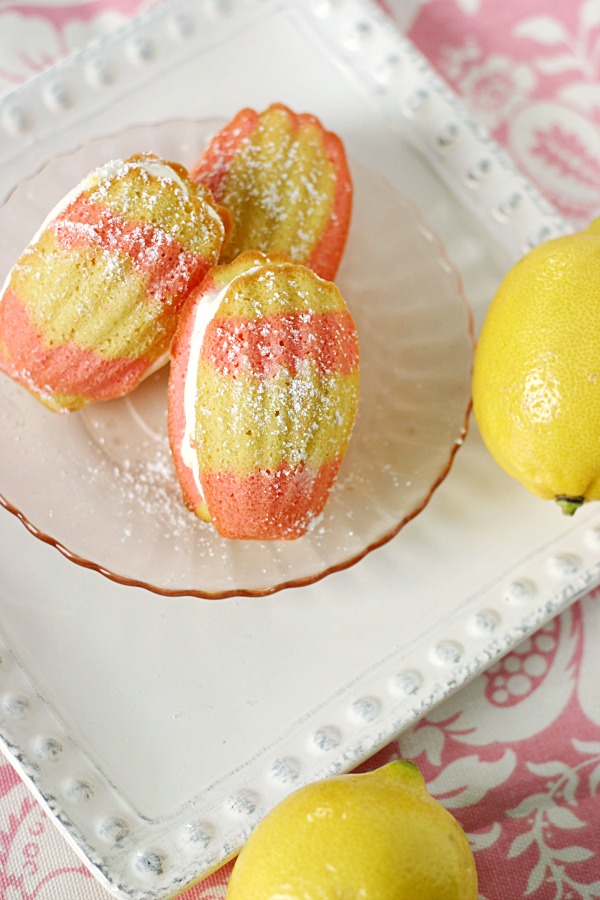 Pink Lemonade Madeleine Cookie Sandwiches