Crispy and nutty Apple Cinnamon Baklava with luscious golden layers of crispy phyllo dough, walnuts, and apples.  A honey syrup made with spiced apple cider deliciously drench each layer.
While drudging my way through college in my freshman year, I managed to work two jobs.  One was a particularly arrogant clothing store which will remain nameless. I will give you a little hint.  It rhymes with Flabbercrombie & Itch.  Worst job ever.  My other job was a hostess for Acropolis Grill, a little mom and pop Greek restaurant where "Opa!" was shouted every 7.5 minutes.  Or just whenever someone had ordered the "Flaming Cheese", also known as Saganaki.  Which was every 7.5 minutes.  Very popular dish at the little Acropolis Grill.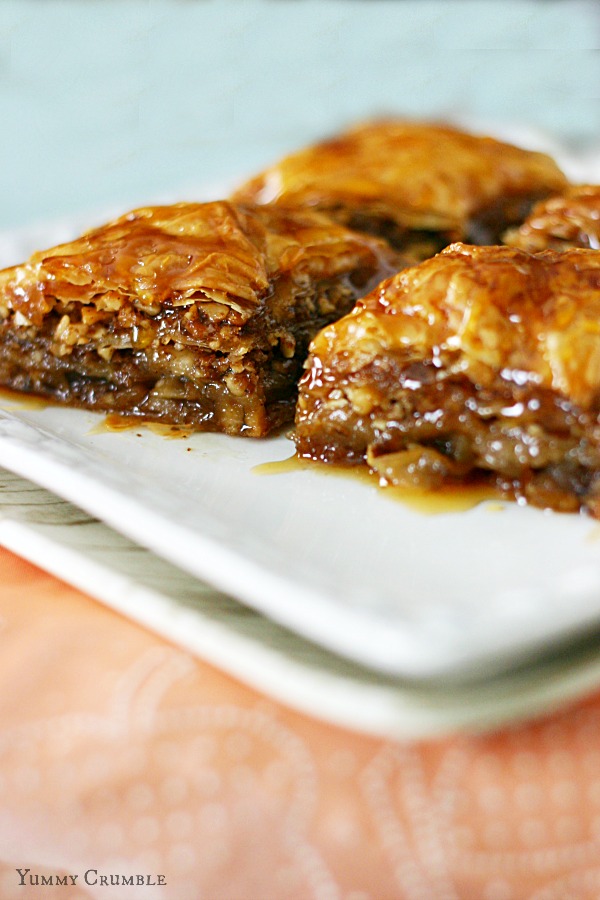 Baking baklava has always intimidated me.  For the longest time I had this misconception that Baklava was a frighteningly difficult dessert to bake.  With all its layers and layers of dough and hearing that "There's nothing worse than a dry Baklava.", I figured it wasn't worth the fuss.  Well, thank you Pioneer Woman!  She has a fantastic tutorial for Baklava.  Let me just say, thank the Gods for frozen phyllo dough.  I cannot imagine the time it would take to make some from scratch.  My inspiration for Apple Cinnamon Baklava came from Amy Bites.  She has a great tutorial as well.