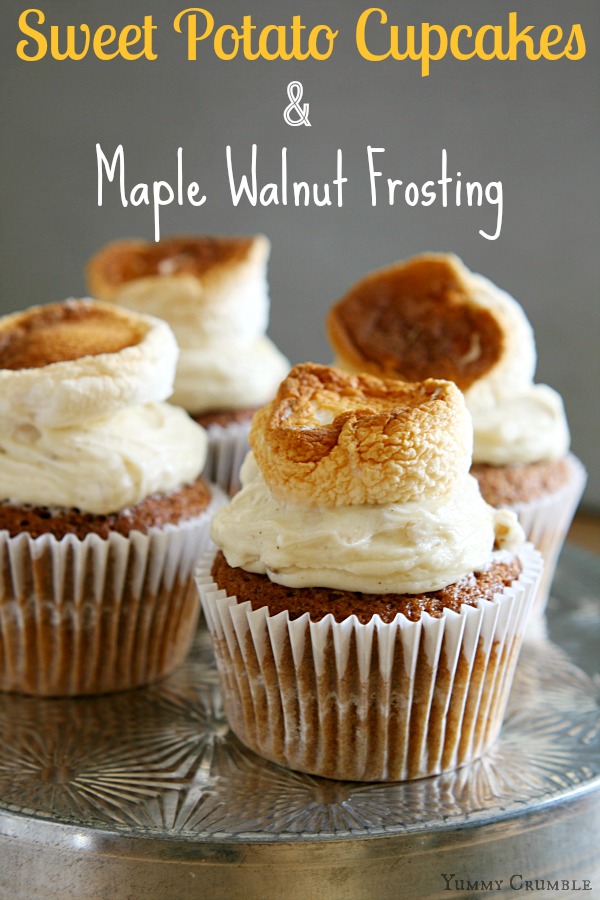 Sweet potato pie meets cupcake!  Moist sweet potato cupcakes topped with luscious maple walnut frosting and a fluffy toasted marshmallow.  Choosing between your favorite pumpkin cupcakes and these Sweet Potato Cupcakes and Maple Walnut Frosting will be the hardest decision you make this holiday!
It's amazing how life can change so drastically in such a short amount of time.  In April we were doing our Florida family thing…kiddie pools in the backyard, Disney on the weekends, and flip flops everyday.  I never ever would have thought our family would be moving to the Middle East.  Especially within a few weeks of my husband getting a job offer.  We sold everything in two weeks, put the house up for rent, and started our new chapter.  With all the excitement also came all the fears.  Are the kids going to do well in a foreign school?  Will I get bit by a deadly snake?  Will the sandstorms be just like Mission Impossible?  You know, perfectly reasonable questions for moving a family to the desert.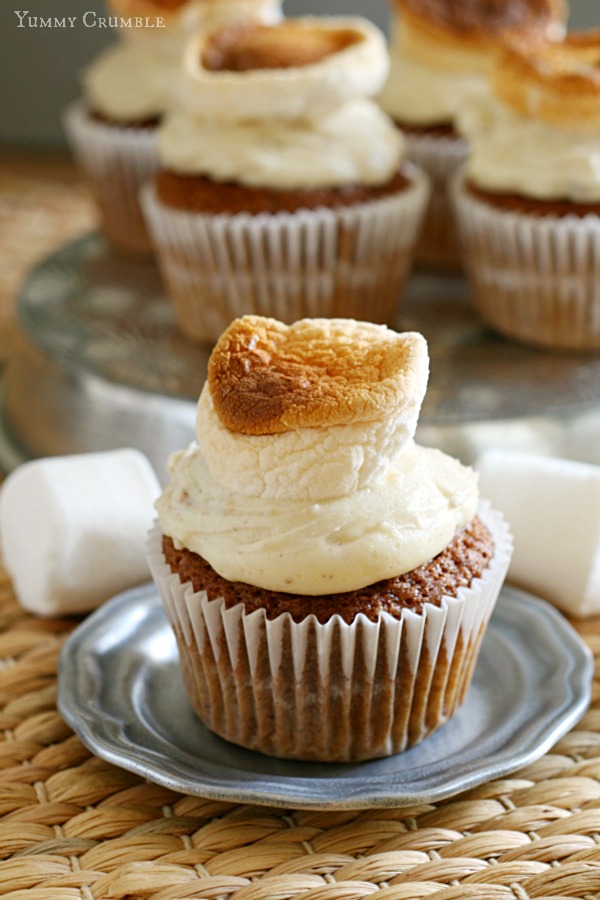 After being here for about five months, we've gotten into our Dubai family groove.  Oliver has school all week (which he loves.  He's learning Arabic!), we still do kiddie pools in the back yard, and of course it's flip flops all week.  I'm so happy we took the chance of a lifetime and made the move.  The culture is amazing, the people are friendly, and the city is absolutely beautiful.  The shopping is also out of this world!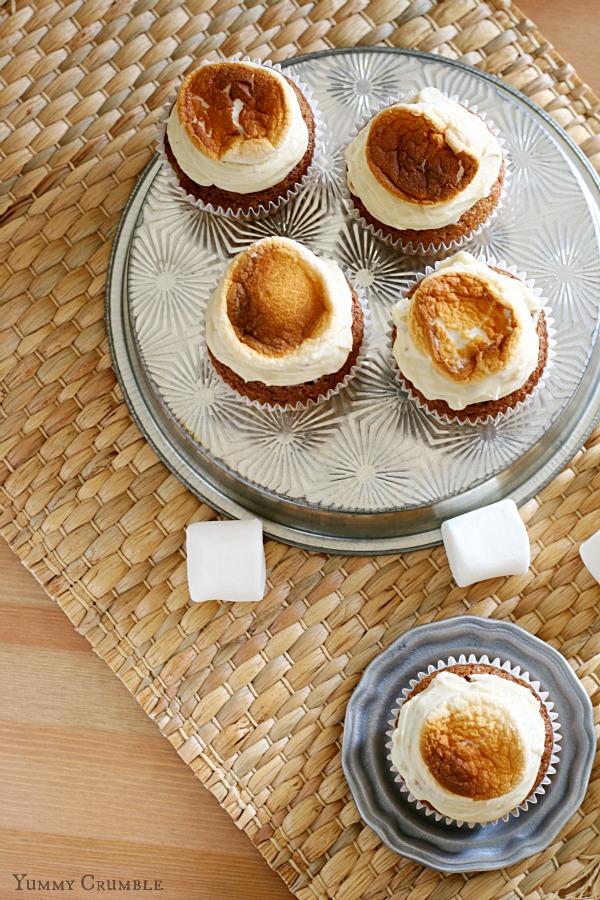 It's Fall right now and the only disadvantage of living in Dubai during the Autumn months is it doesn't "feel" like Fall yet.  It's no different from Florida though.  Still no crunch of dry leaves beneath my feet, no cool crisp breeze or being able to break out the scarves and boots yet.  So to get into my Fall groove, I'm making these Sweet Potato Cupcakes and Maple Walnut Frosting to help set the mood.  I adapted them from my Pecan Pie Pumpkin Cupcakes and tweaked a fantastic recipe for Maple Pecan Buttercream Frosting from The Food Charlatan.
Sweet Potato Cupcakes and Maple Walnut Frosting
Ingredients
Sweet Potato Cupcakes
2 Cups granulated sugar
1 Cup brown sugar
1 Cup vegetable oil
3 Eggs
1 15oz can of sweet potato puree
2 tsp vanilla extract
3 cups unbleached all purpose flour
1 tsp cinnamon
1 tsp cloves
1 tsp nutmeg
1 tsp allspice
1 tsp baking soda
½ tsp baking powder
½ tsp salt
1 cup milk
Maple Walnut Frosting
¾ cup finely chopped walnuts
1 cup salted butter
3 cups powdered sugar
¼ cup real maple syrup
1 teaspoon maple extract
⅛ teaspoon salt, or to taste
Large toasted marshmallows for the topping
Instructions
Sweet Potato Cupcakes
Preheat oven to 350 F and line your cupcake pans.
In a separate bowl, whisk together flour, spices, baking soda, baking powder and salt. Set aside.
Beat the sugars and oil until fluffy.
Mix in eggs one at a time and then vanilla.
Blend in sweet potato puree.
Gradually add in dry ingredients alternating with the milk and mix well.
Fill the cupcake liners ⅔ full.
Bake 20-23 minutes or until an inserted tooth pick comes out clean. Set aside to cool.
Maple Walnut Frosting
Chop up the walnuts finely or use a food processor.
In a large bowl, whip the butter until light and fluffy.
Add two cups of powdered sugar and the maple syrup and beat well.
Add another cup of sugar and salt and beat well again.
Beat in the walnuts and pipe onto cooled cupcakes.
For the marshmallows, with use a torch to toast the tops or place under a broiler for a few minutes until golden brown.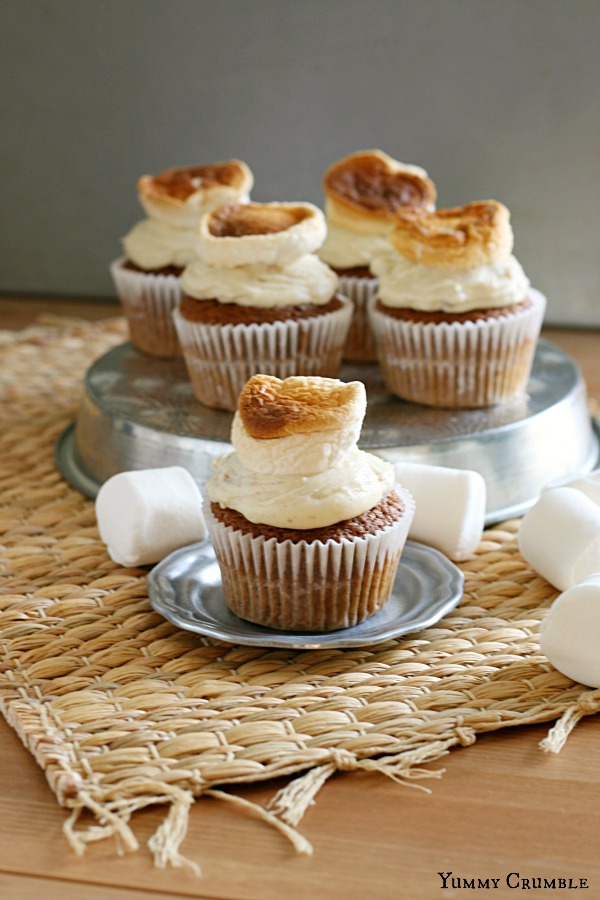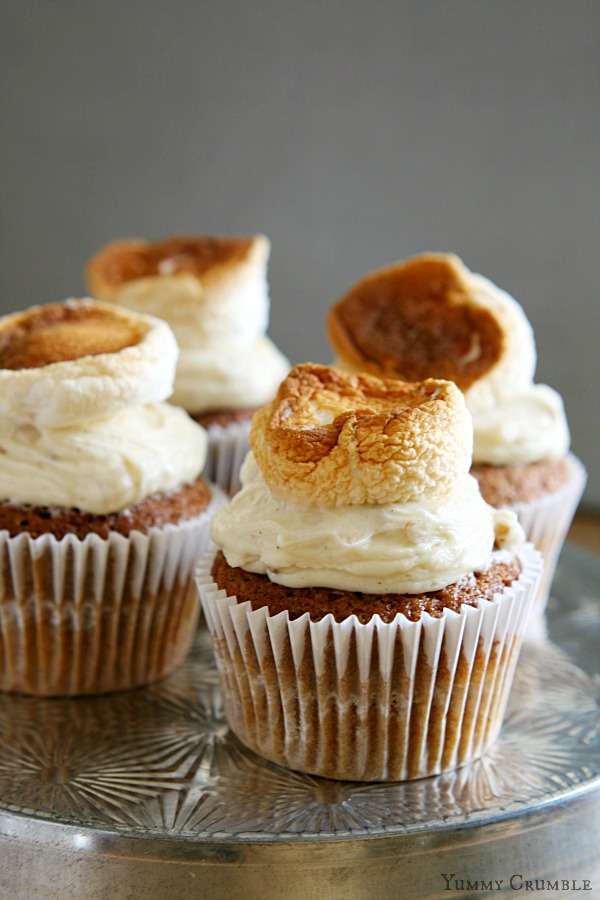 Some more Fall time goodies: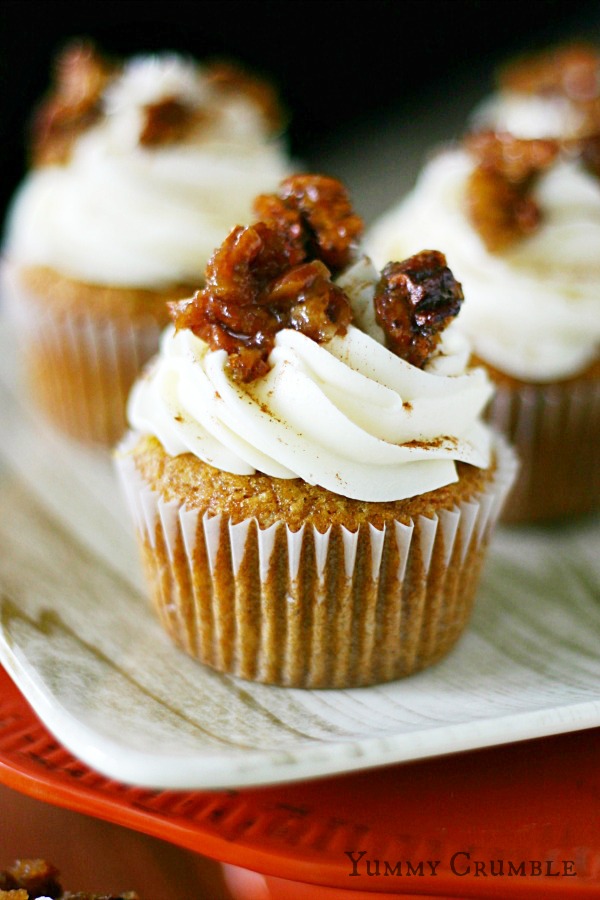 Pecan Pie Pumpkin Cupcakes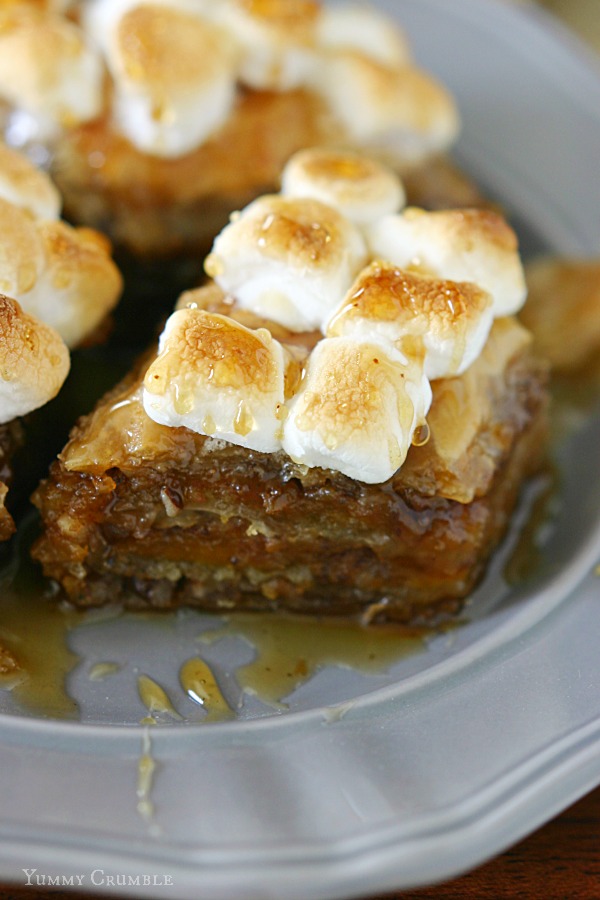 Sweet Potato Pie Baklava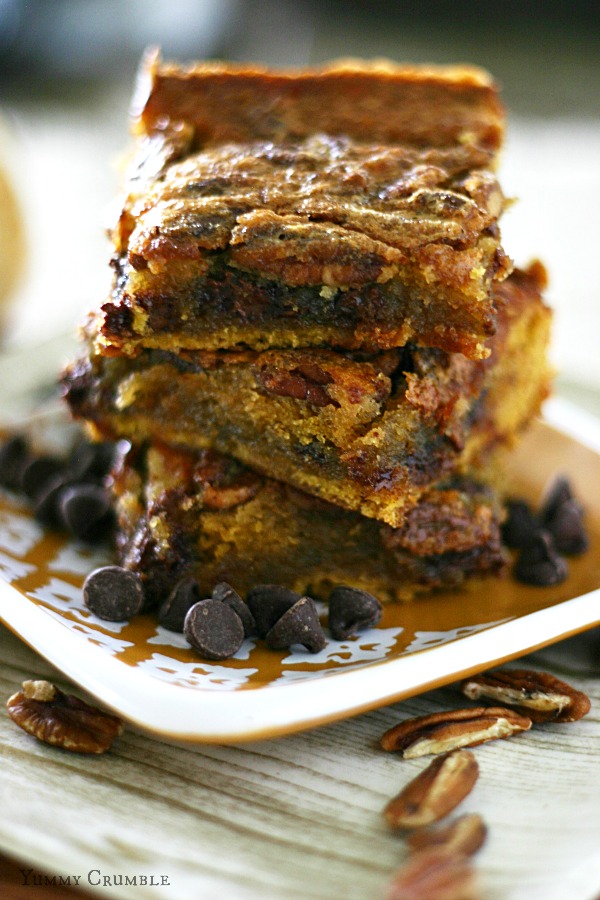 Chocolate Chip Pecan Pie Pumpkin Bars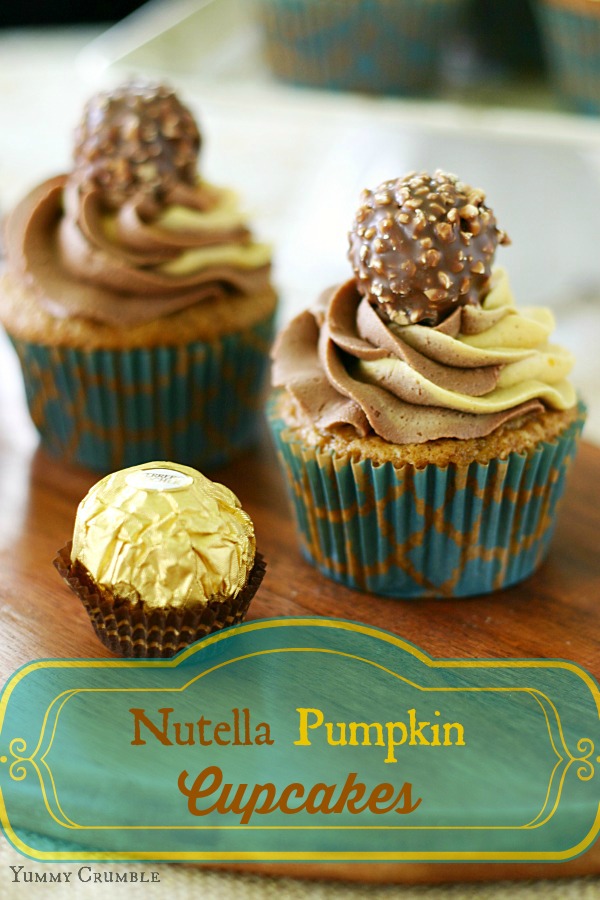 Nutella Pumpkin Cupcakes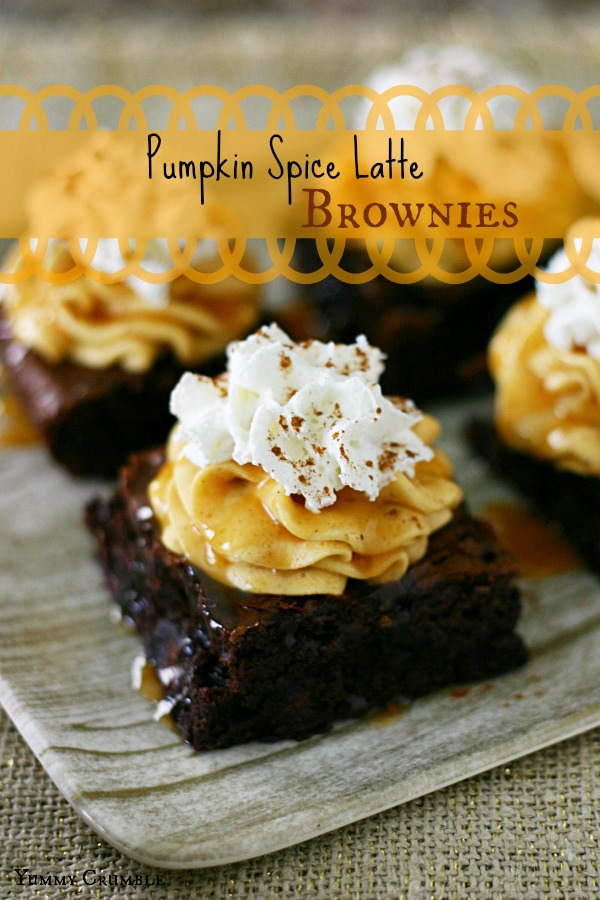 Pumpkin Spice Latte Brownies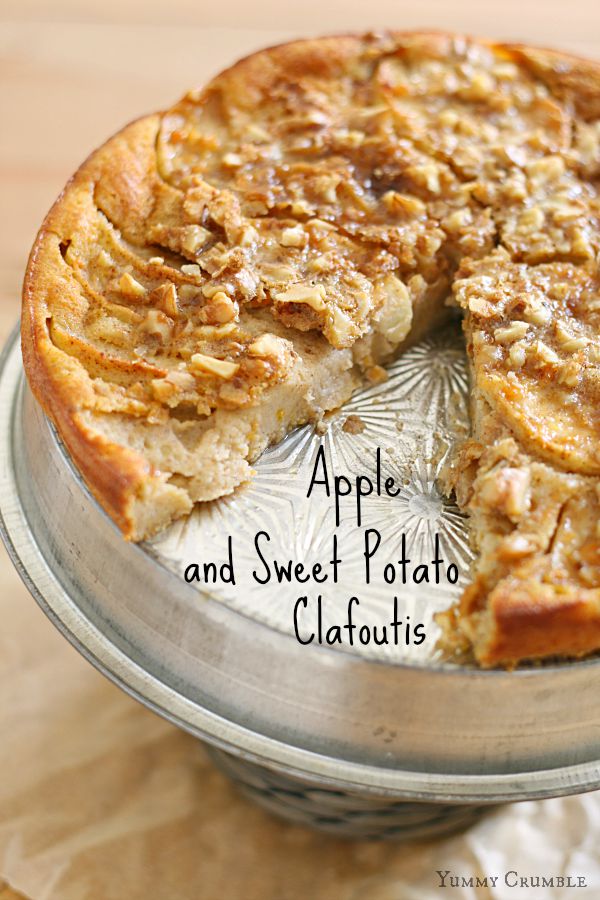 Apple and Sweet Potato Clafoutis