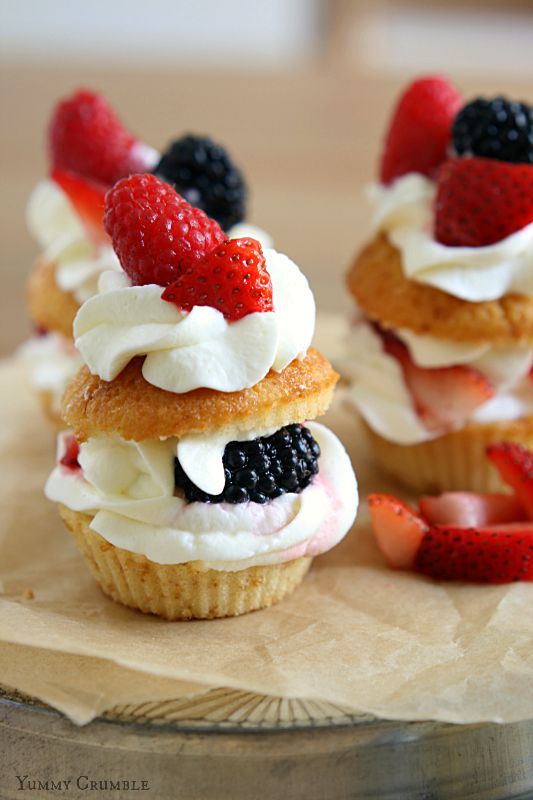 Sweet honey cornbread cupcakes turned into the best shortcakes you will ever have.  Triple sugared berries piled high with fluffy clouds of home made whipped cream.  Summer was always meant to be this sweet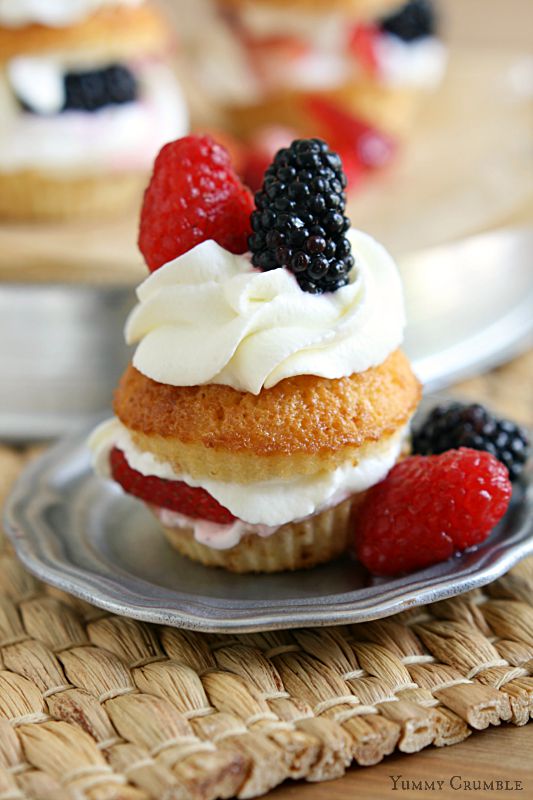 Now for my new summer favorite.  These Sweet Cornbread Triple Berry Shortcakes are the perfect excuse to raid your fridge for berries.  The shortcakes are dripping with tons of juicy tart berries but don't forget the star of this dessert.  It's the moist sweet honey cornbread that will have you coming back for more.  I played with the idea of cornbread as strictly a dessert when I made Blueberry Cornbread Cupcakes.  They were devoured by everyone within a three foot radius.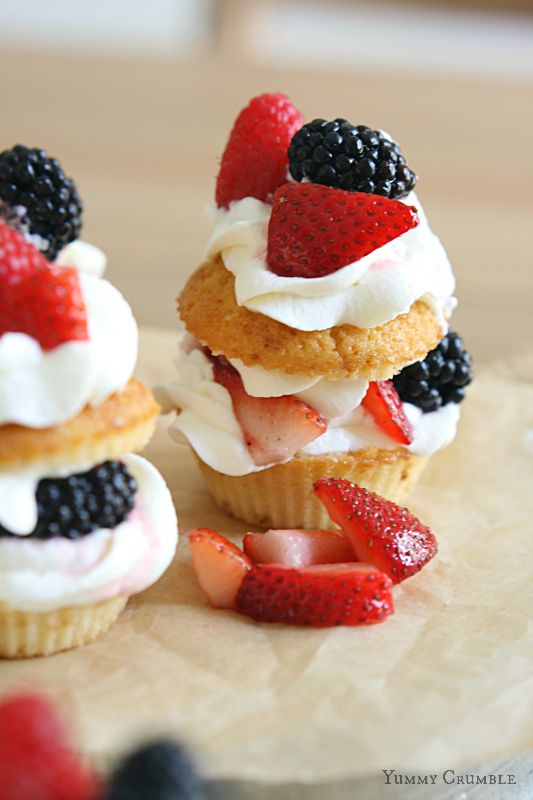 I started with the same cornbread cupcake recipe used in the Blueberry Cornbread Cupcakes and sliced them in half after they cooled.  You can totally go bigger with a muffin tin instead, which will make for a much filling dessert.  After smothering them in fresh homemade whipped cream, layer the sugared berries on and you have the perfect summer dessert for a cookout or pool party!  I definitely say go with homemade whipped cream because the shortcakes will keep their shape much longer than canned whipped cream.
Sweet Cornbread Triple Berry Shortcakes
Ingredients
Cornbread Shortcake
1 c. cornmeal
3 c. all-purpose flour
2 c. sugar
2 Tablespoons baking powder
1 teaspoon salt
⅔ cup vegetable oil
⅓ cup. melted butter
2 Tablespoons. honey
4 eggs, beaten
2½ cups whole milk
½ cup whole sour cream
Whipped Cream
2 cups regular or heavy whipping cream (cold)
½ cup powdered sugar
Berries
2 cups raspberries, blackberries, and sliced strawberries
3 Tbs granulated sugar
Instructions
Cornbread Cupcakes
Preheat oven to 350 degrees and prepare your cupcake pan by using liners or just spraying with cooking spray.
In a large mixing bowl, whisk together the cornmeal, flour, sugar, baking powder, and salt.
In another bowl mix the vegetable oil, melted butter, honey, beaten eggs, sour cream and milk, and stir just until combined.
Marry the dry with the moist until fully incorporated.
Pour the batter into the baking cups ⅔ full and bake in 350 degree oven for 25 minutes.
Set aside to cool.
Whipped Cream
Before whipping the cream, place your large metal bowl and whisk attachment in the freezer for about 5 minutes.
Pour cream and sugar in the bowl and whip until stiff peaks form.
Berries
In a medium bowl, toss together the berries and sugar until coated.
Let stand for about 10-15 minutes.
Assembly
Slice each cooled cupcake or muffin in half.
First pipe the bottom with whipped cream and top with berries.
Place the other half of the cupcake on top and pipe more whipped cream and add more berries.
You might like these: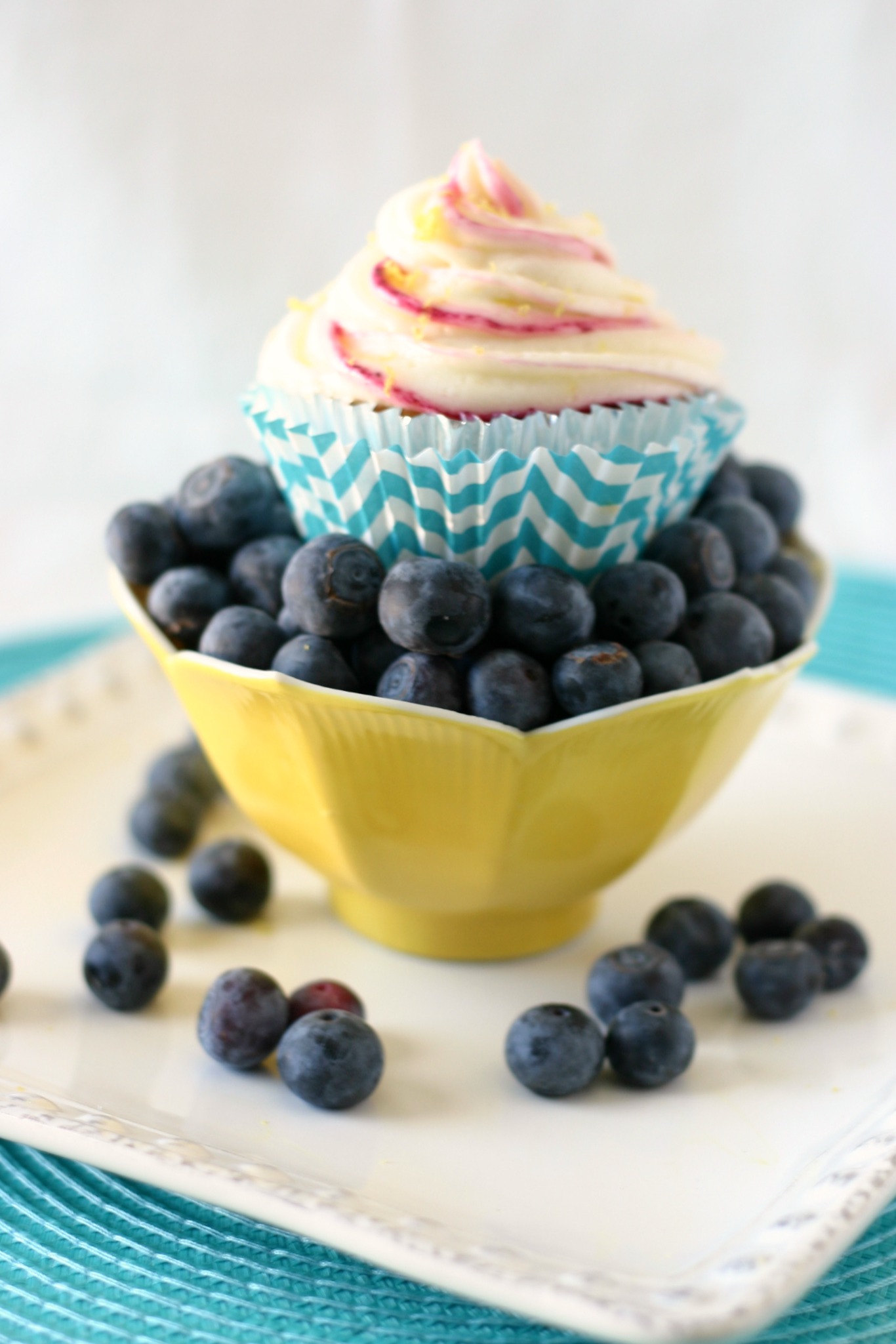 Blueberry Cornbread Cupcakes with Lemon Buttercream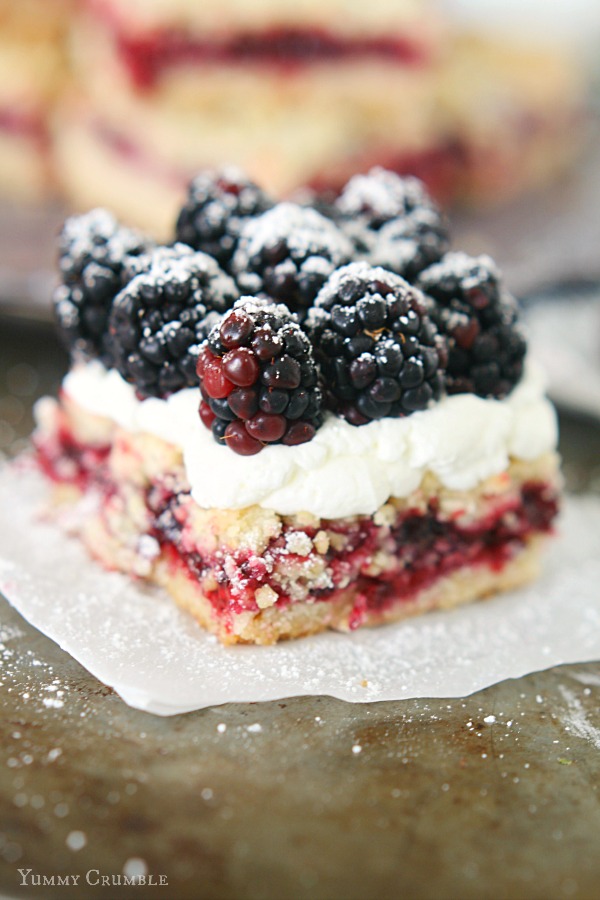 Blackberry Pie Bars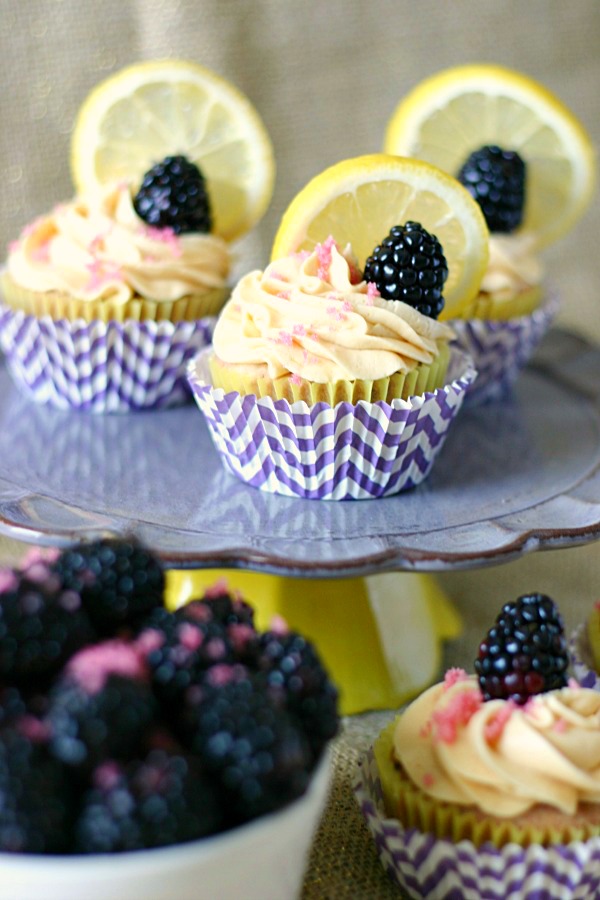 Lemon Blackberry Cupcakes with Sweet Tea Frosting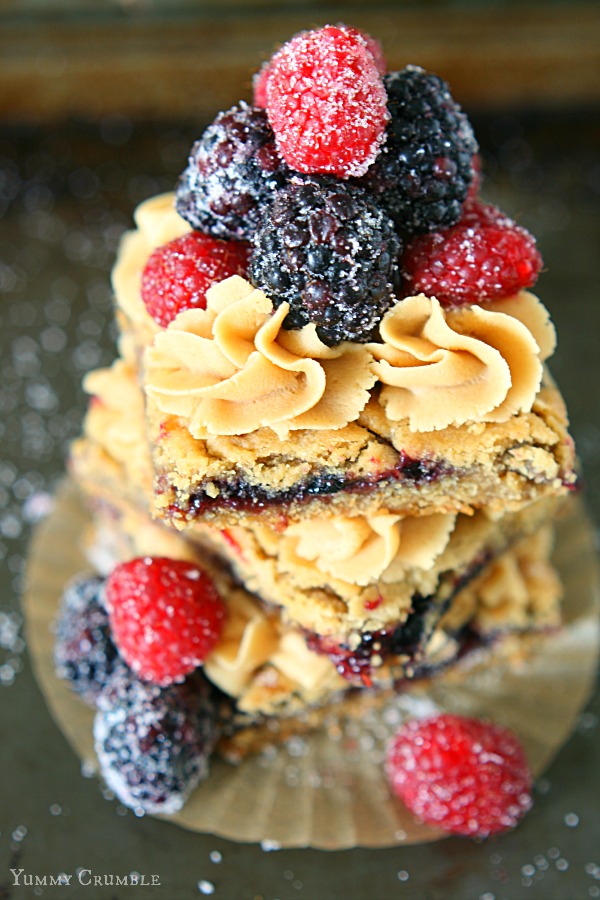 Peanut Butter Jelly Cookie Bars