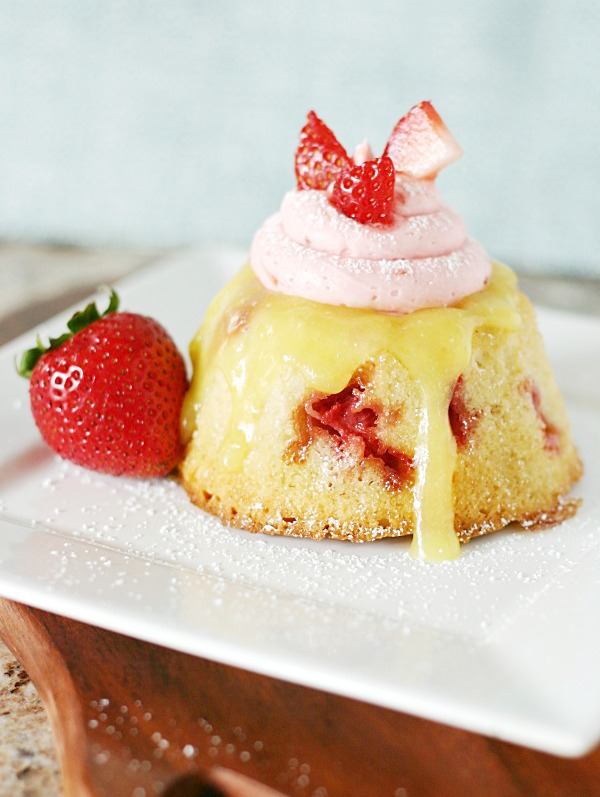 Strawberry Shortcake Bundt drizzled with warm fresh lemon curd and topped with tart strawberry buttercream and strawberries.
For ten years I have never had a weekend off from work.  My Mondays always started on Wednesday and my Friday was Sunday.  Confusing right?  I've worked in hospitality for as long as I can remember so I was quite used to it.  That was my life.  Even when the kids came along nothing changed with my schedule. Chris and I both work, so we pretty much tagged each other into the ring. Like a crazy wrestling match.  The only time our clan is all together in the same house at the same time (and awake), is for a few hours.
Kind of lame.
Until recently…I snagged a job at Disney World (pretty cool huh?). My new schedule allows me to pick at least one day off during the weekend.  So now, for the first time in 10 years I have Sundays off with my family!  I'm loving it!  I'm beginning to really see how important it is to spend time as a family and just be together.  Last Sunday we decided to splurge and head to the local flea market, dramatically called "Flea World".  Extravagant, I know.  My husband likes to plunder for used cd's while I hit the dishes, antiques, and bake ware.  That day I snagged some cute baby bundt cake pans.  I finally put them to use with this dreamy Strawberry Shortcake Bundt.  I had some fresh lemon curd I made earlier in the week and drizzled it all over the finished cakes, and topped them with some strawberry buttercream frosting.  I see you drooling 🙂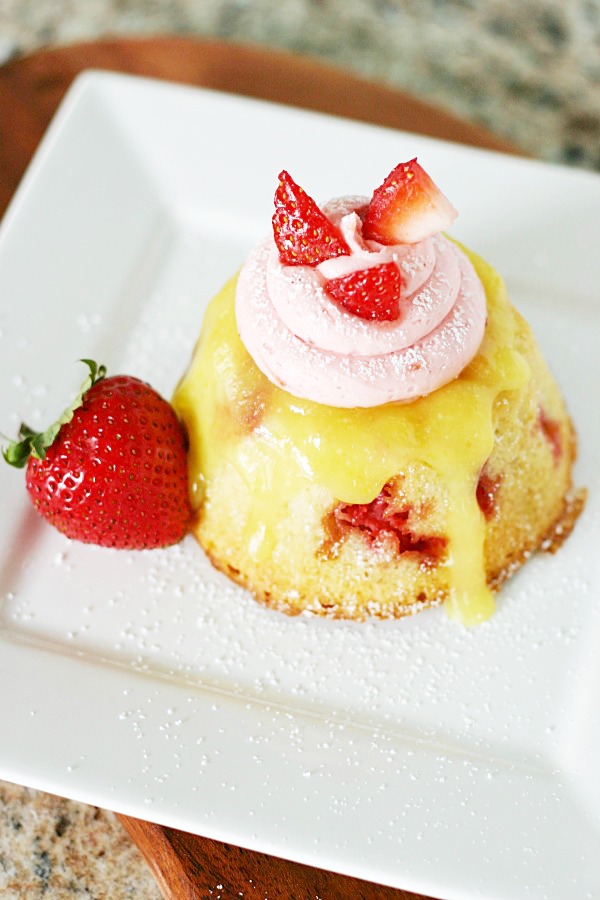 I just took my favorite vanilla cupcake recipe found here, and added fresh chopped strawberries to the batter.  That was it!  The lemon curd recipe is super easy and can be found at My Baking Addiction.  These are pretty small, so they are the perfect serving size for one person.  These would be great at a bridal shower or tea party.
Strawberry Shortcake Bundt With Fresh Lemon Curd
Ingredients
Strawberry Shortcake Bundt
3 cups All-purpose Flour
2-½ teaspoons Baking Powder
1 teaspoon Salt
1 cup Butter, softened
2 cups Sugar
4 large eggs, Room Temperature
1 cup milk, Room Temperature
1 teaspoon Vanilla Extract
1½ cups chopped strawberries
Instructions
Strawberry Shortcake Bundt
Preheat your oven to 350 degrees.
In a medium bowl, whisk together your dry ingredients (flour, baking powder, and salt)
In your mixer with the paddle attachment, beat the butter and sugar together until light and fluffy.
Add eggs one at a time mixing each one well into the batter.
On low speed, mix the flour and milk alternating between each one. Start and end with flour.
Mix in vanilla until just blended.
Fold in strawberries.
Pour into greased mini bundt pan ⅔ full and bake for about 15-20 minutes. Check with a toothpick to see if they're done.
Here are my favorite strawberry cupcakes: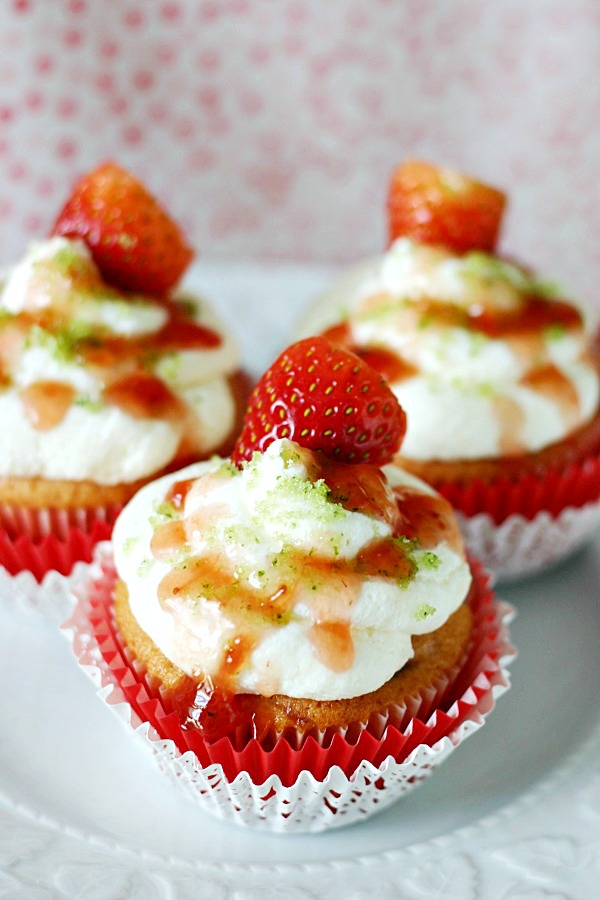 Strawberry Cupcakes with Mascarpone Frosting and Basil Sugar