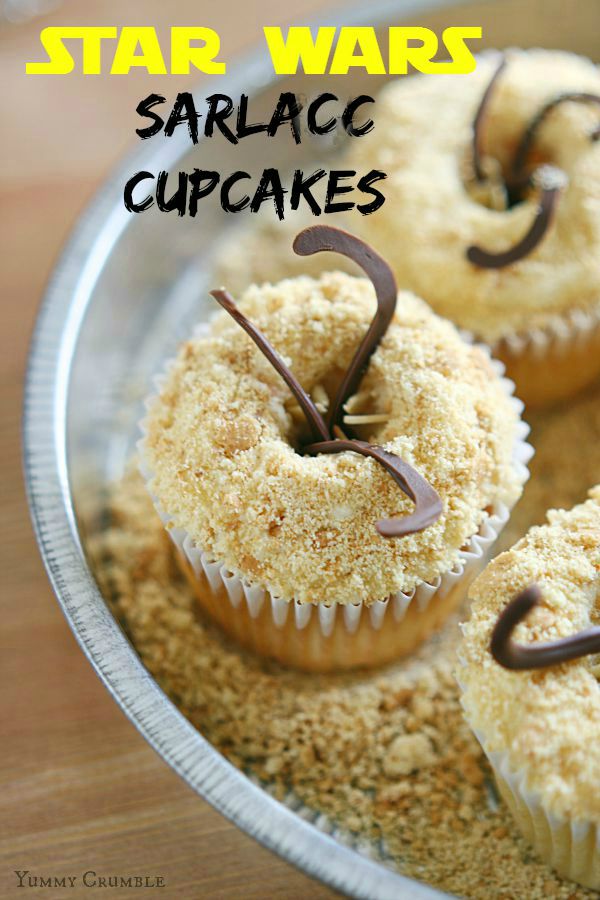 Super scary and cute miniature Sarlaccs jumping out of vanilla cupcakes.  These Star Wars Sarlacc Cupcakes are perfect for your next creepy Halloween party!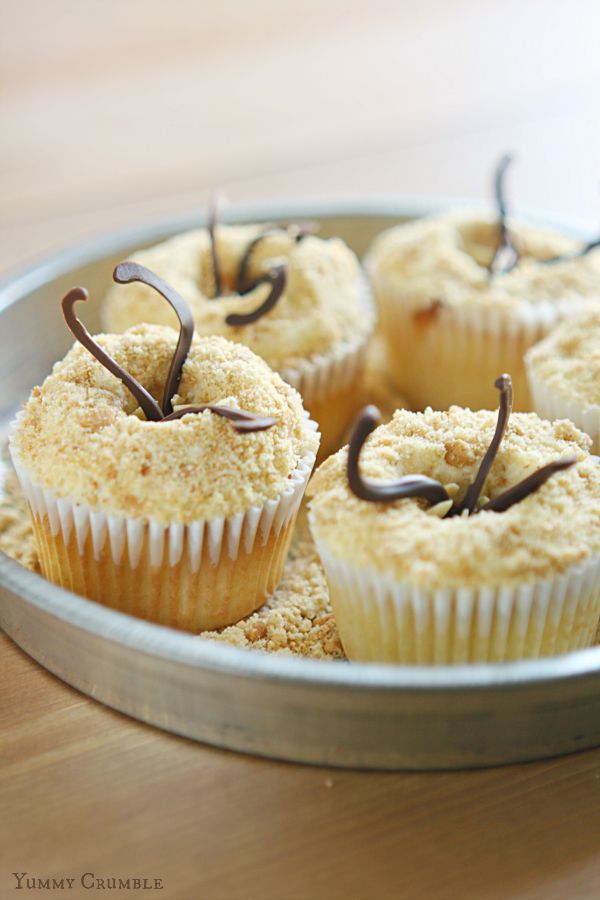 There are many benefits to living in Dubai.  First, all the crazy things you see on a weekly basis.  That buzzfeed list, is not in any way an exaggeration.  The food.  Oh my goodness the food!  Also the movie theaters are amazing here.  They even have a luxury VIP section that is out of this world.  Movies will never be the same for me when I go back home.  Speaking of movies…The movie set of Star Wars the Force Awakens is basically an hour and half drive away.  How cool is that?  I know what our family is going to be doing next weekend.  Driving the dunes of Abu Dhabi searching for droids, Jawas, and the Millennium Falcon.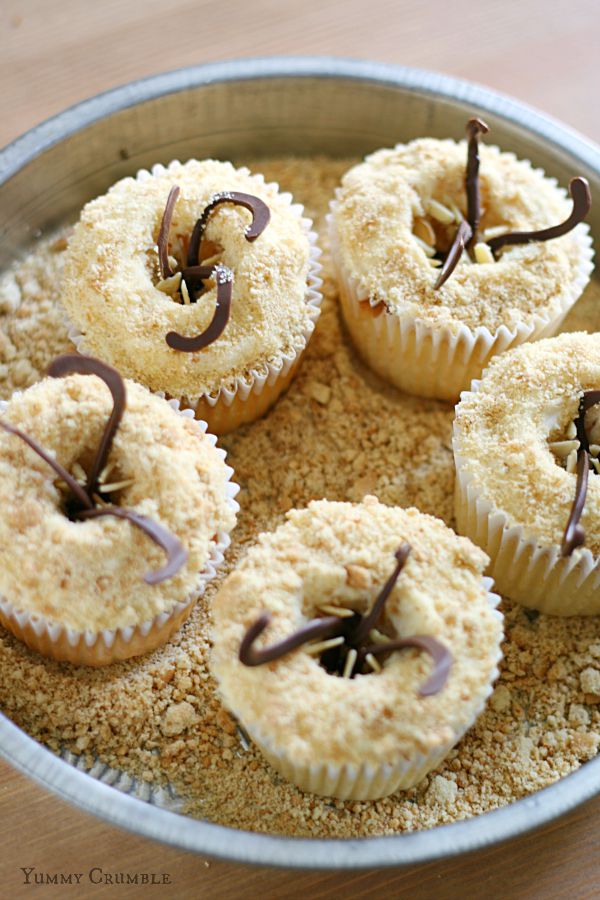 It is definitely not a secret how geeky our family is and baking geeky desserts is one of my favorite things to make for the blog.  One of my most popular posts was my Star Wars Sarlacc Bundt Cake.  So since Halloween is just around the corner, I put together these Star Wars Sarlacc Cupcakes.  They were incredibly easy to decorate and perfectly adorable for your next Halloween or Star Wars themed party.
Star Wars Sarlacc Cupcakes
Ingredients
1 Box Vanilla Cake mix
1 Cup Water
⅓ Cup Vegetable Oil
3 Large Eggs
Vanilla Frosting
Toasted almond slivers
1 cup crushed graham crackers
¼ cup melted milk chocolate
Instructions
Preheat your oven to 350 F and line your cupcake pan with liners.
In a large bowl, whisk together the cake mix, water, oil, and eggs until smooth.
Fill each cupcake ⅔ the way full and bake for 17-20 minutes.
While the cupcakes are baking, take your melted chocolate and create the sarlacc tentacles. These are made by using a ziplock bag with the corner snipped off and making simple S shapes with the chocolate. Pop them in the freezer to harden.
With a food processor, blend the cookies into fine crumbs and set aside.
Once the cupcakes have finished baking and are completely cool, you can start creating the Sarlaccs.
Cut a little hole out of the tops of each cupcake.
With a butter knife, frost the top of the cupcakes making sure to get frosting on the inside of each hole as well.
Cover the cupcakes with the graham cracker crumbs, also making sure inside the holes are coated.
Carefully take the almond slivers and create the sarlacc teeth inside each hole.
Place 3-4 chocolate tentacles in each sarlacc, and your'e done!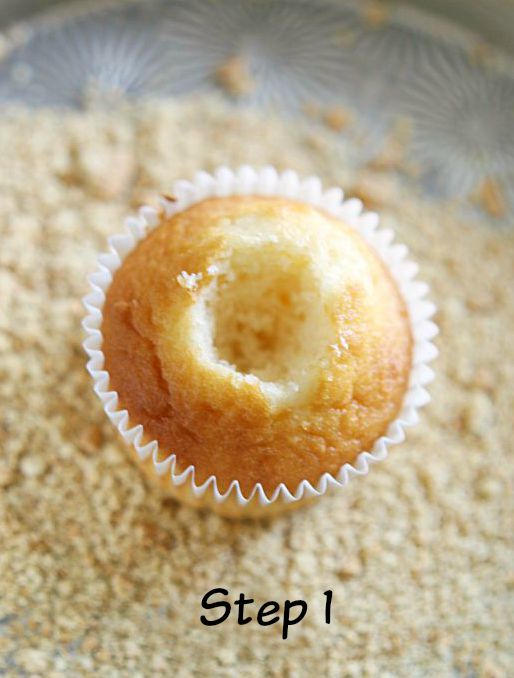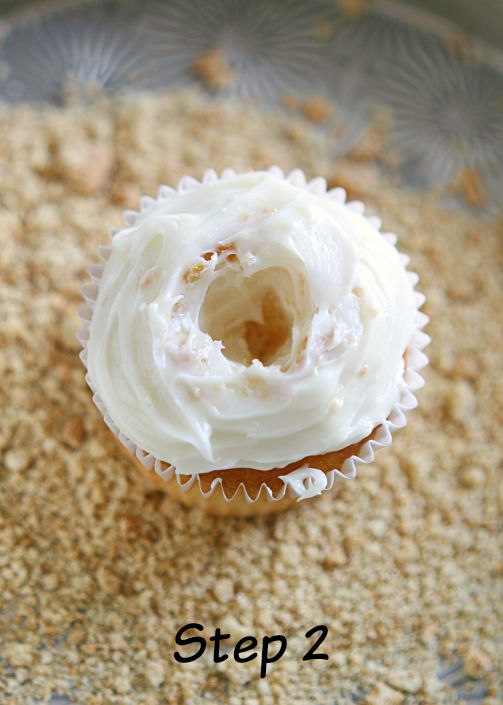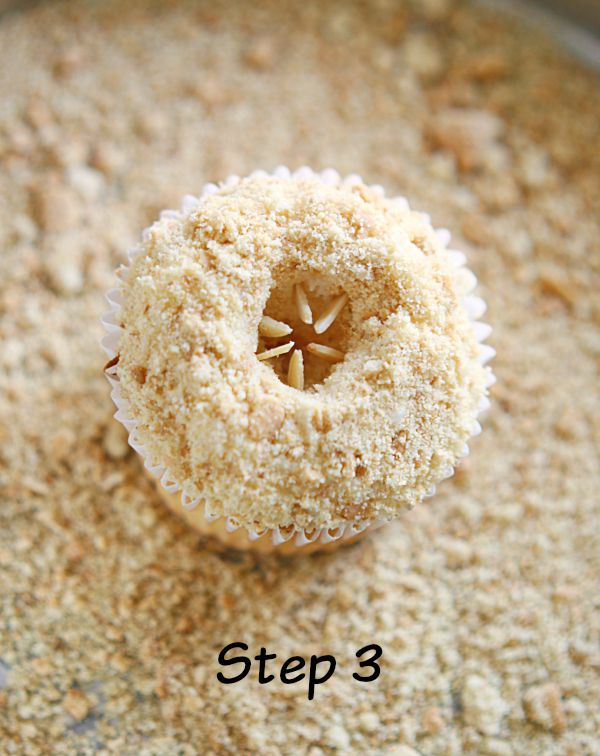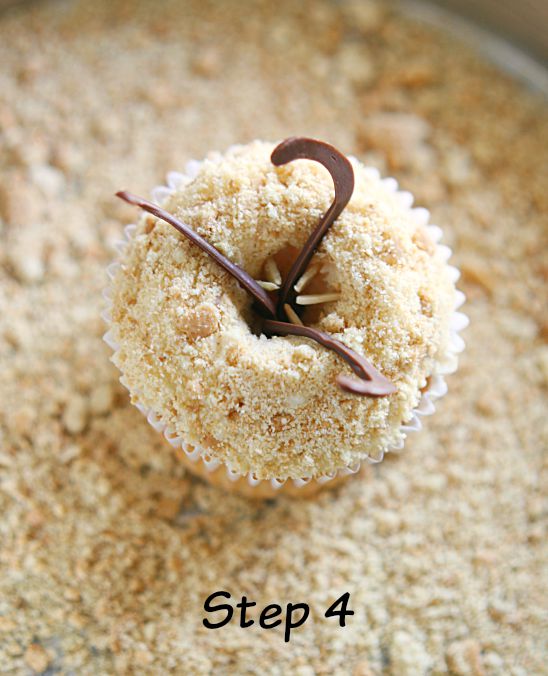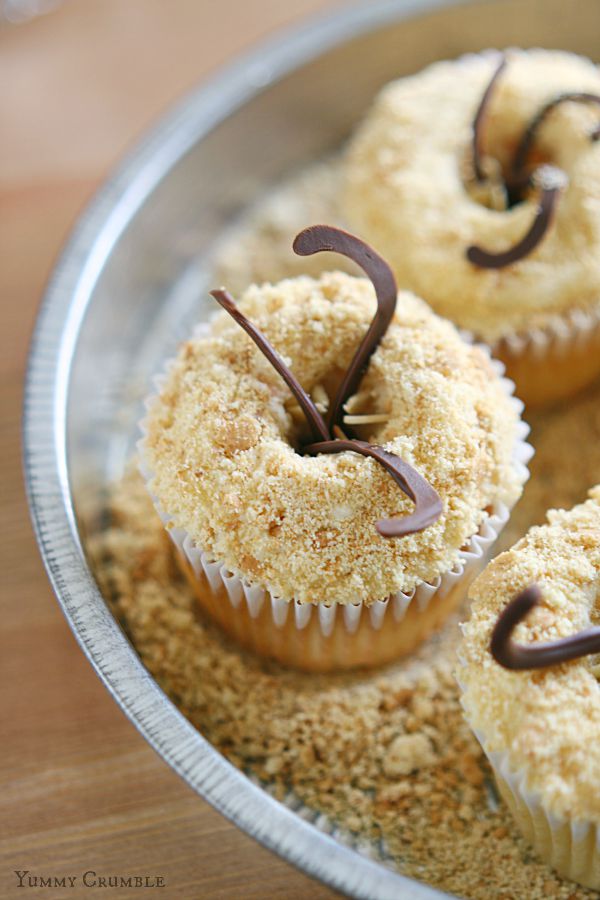 Star Wars goodies: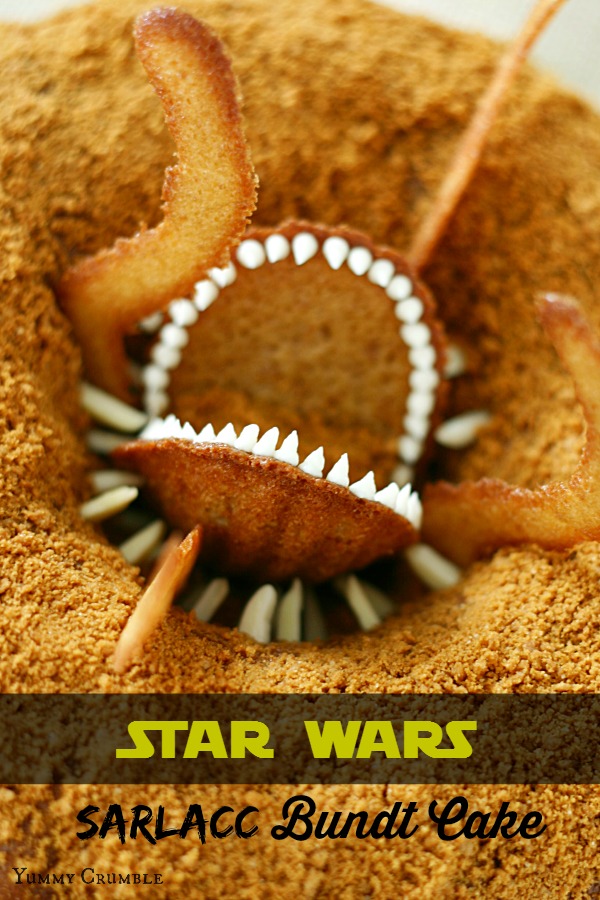 Star Wars Sarlacc Bundt Cake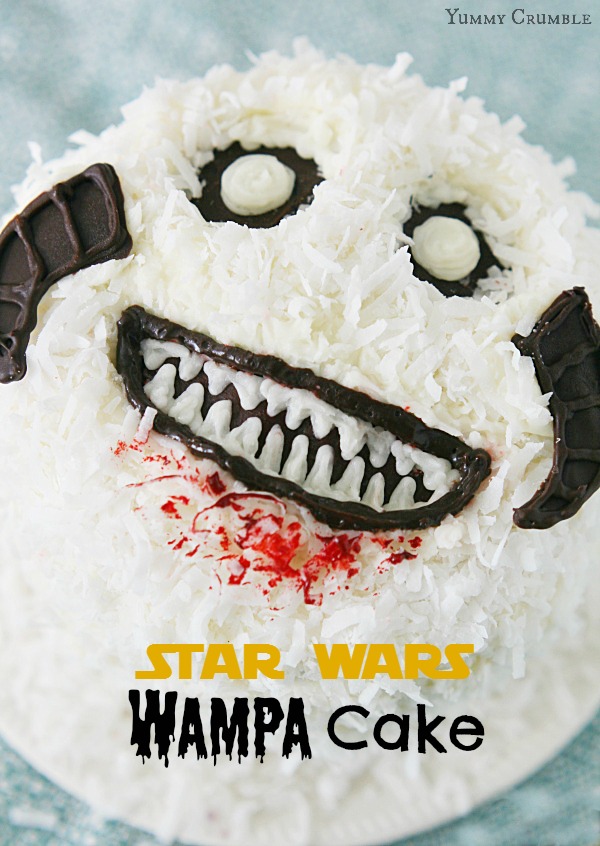 Star Wars Wampa Cake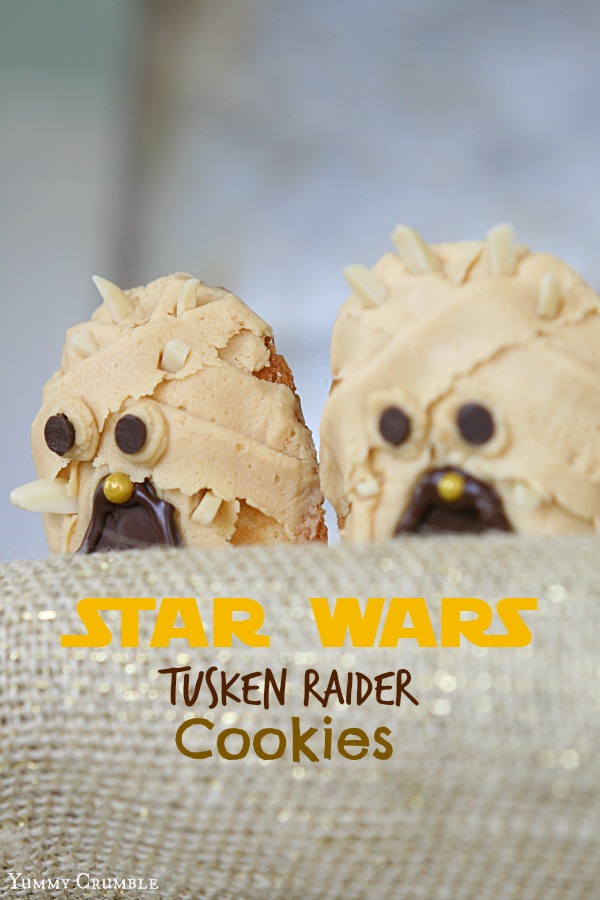 Star Wars Tusken Raider Cookies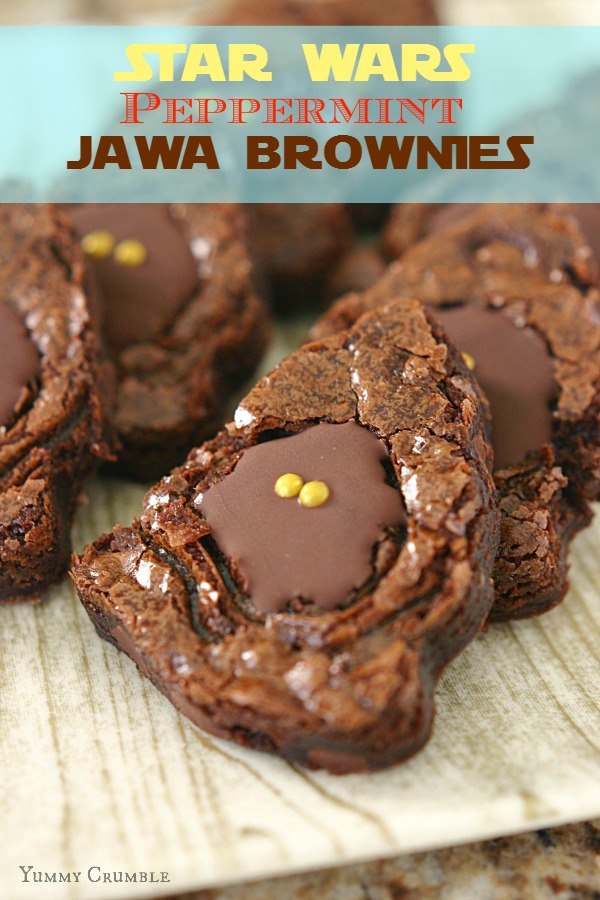 Jawa Brownies