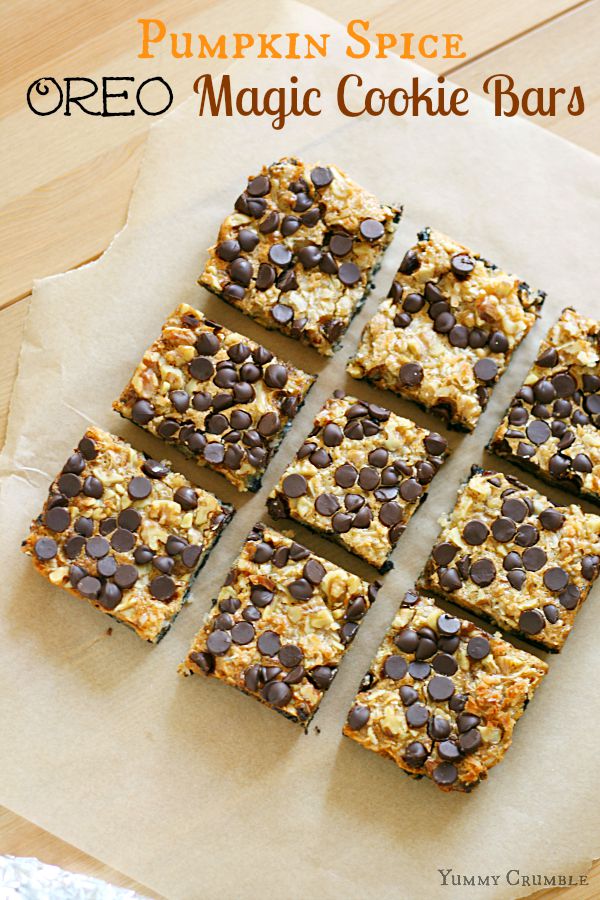 Magic Cookie Bars just got a Fall time makeover!  With a buttery Oreo cookie crust, and pumpkin spiced chewy filling, these Pumpkin Spice Oreo Cookie Bars will always go faster than pumpkin pie!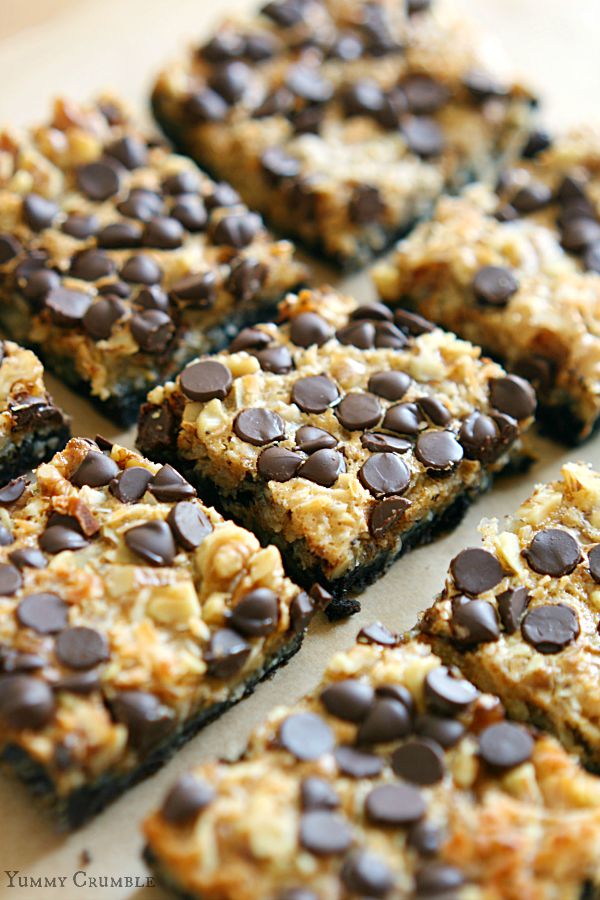 Oh, America how I miss thee.  I miss your Christmas decorations that come way too early, your change of seasons, and your mountains of canned pumpkin puree.  That last part is really pulling on my heart strings.  I live in Dubai, and canned pumpkin does not come easily.  At home I usually can grab some year round and go pumpkin crazy.  In Dubai, not so much.
But you know what?  It's taught me that not everything in a can is better.  Since I couldn't find the canned stuff to save my life, I bought a big 'ole pumpkin and roasted him the old fashioned way.  It was shockingly easy, and the puree tasted more pumpkin-y.  I don't think I will ever go back now!  So in celebration of conquering my fear of homemade pumpkin puree, I gave my most favorite dessert a makeover and came up with these Pumpkin Spice Oreo Magic Cookie Bars.  I used crushed Oreos instead of graham crackers for the base, and blended some pumpkin puree and spices into the sweetened condensed milk.  It created a subtle pumpkin flavor that's not overpowering.
Pumpkin Spice Oreo Magic Cookie Bars
Ingredients
20 Oreo cookies
¼ cup melted butter
1 can sweetened condensed milk (14 oz)
¼ cup pumpkin puree
½ tsp cinnamon
½ tsp allspice
½ tsp nutmeg
2 cups semi sweet chocolate chips
1 cup sweetened flaked coconut
1 cup chopped nuts
Instructions
Preheat your oven to 350 F and grease or line a 9x13 inch baking pan with foil.
In a food processor, blend the oreo cookies into a fine crumbs. Mix the oreo crumbs with the melted butter and press into the bottom of the baking dish.
In a medium bowl, whisk together the sweetened condensed milk, pumpkin puree, and spices until smooth.
Pour the pumpkin condensed milk over the oreo crust.
Sprinkle with nuts and coconut and lastly chocolate chips.
Push toppings gently down with a fork.
Bake for 25-30 minutes until the top is golden brown.
Allow to completely cool before slicing.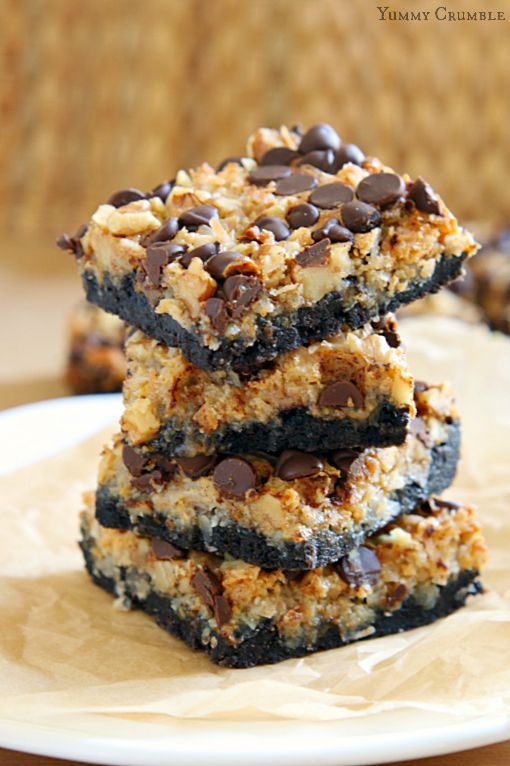 Check out these other holiday treats: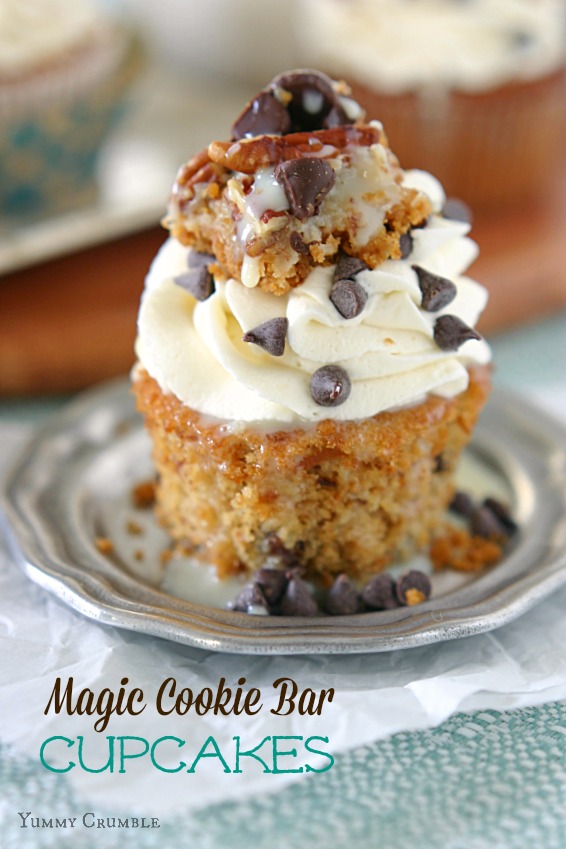 Magic Cookie Bar Cupcakes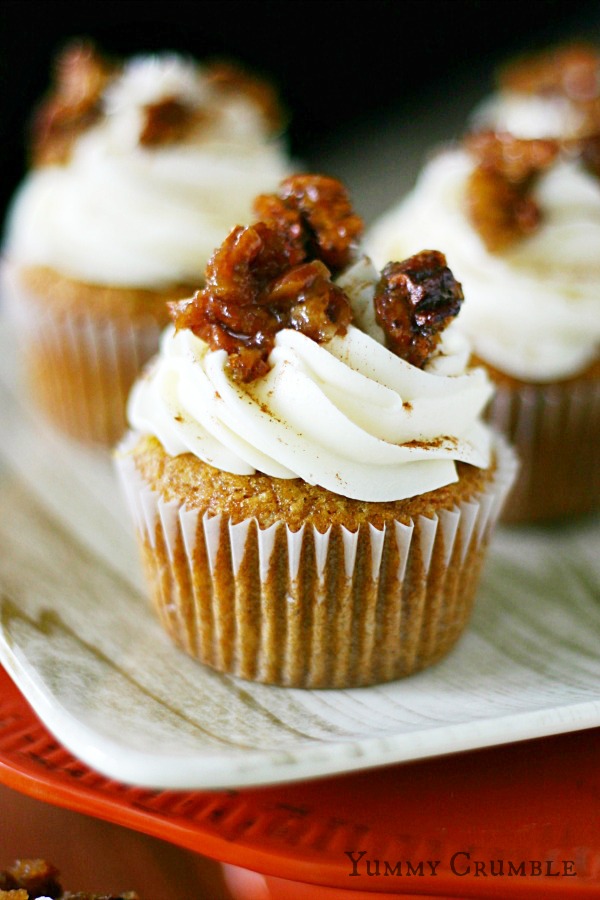 Pecan Pie Pumpkin Cupcakes