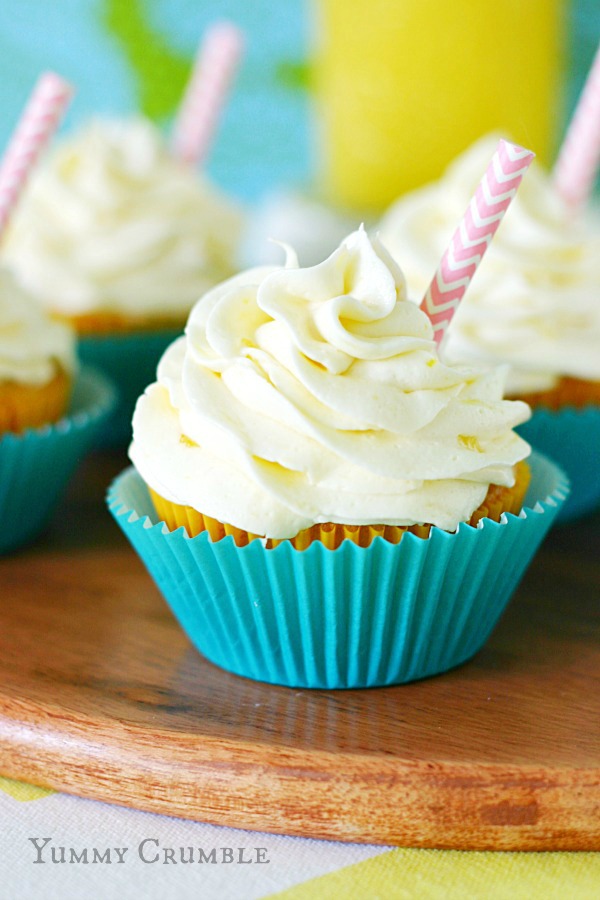 Pineapple Dole Whip cupcakes filled with fresh pineapple curd and frosted with tart pineapple frosting.  A Disney inspired tropical treat.
Have you ever had the Dole Whip Pineapple soft-serve at Disneyland or Disney World?  It's in my top ten desserts that I eat while I'm at Walt Disney World.  It's one of a kind and it's absolutely out of this world delicious.  It has a cult following it's so amazing.  You can read all about it at Disney Food Blog.  They show you exactly where on Disney property you can snag the cool, refreshing pineapple dessert.  Check out all their other posts while you're there.  If you're a Disney fanatic and visit regularly, you need to follow this blog.  They document nearly every restaurant and every menu item served at Disney.  It's a blog I visit regularly every week!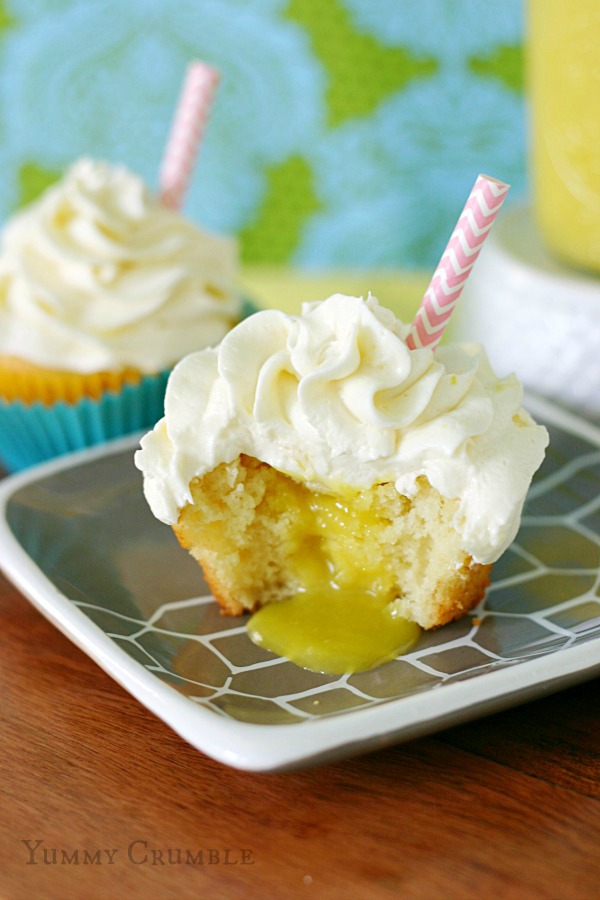 Since one of my great loves is cupcakes and you can practically turn anything into a cupcake, I took my inspiration from Disney's Dole Whip Soft-Serve and created these Pineapple Dole Whip Cupcakes.
I am in love.
No exaggeration.  These are so incredibly delicious and so close to the real thing.  The pineapple is not overpowering like I was expecting.  Every component of these cupcakes carries a perfect combination of sweet and tart pineapple flavor.  The pineapple curd in the middle gives them an extra moist element and tastes just like the soft-serve found at Disney.  If you can't tell, I am quite proud of myself!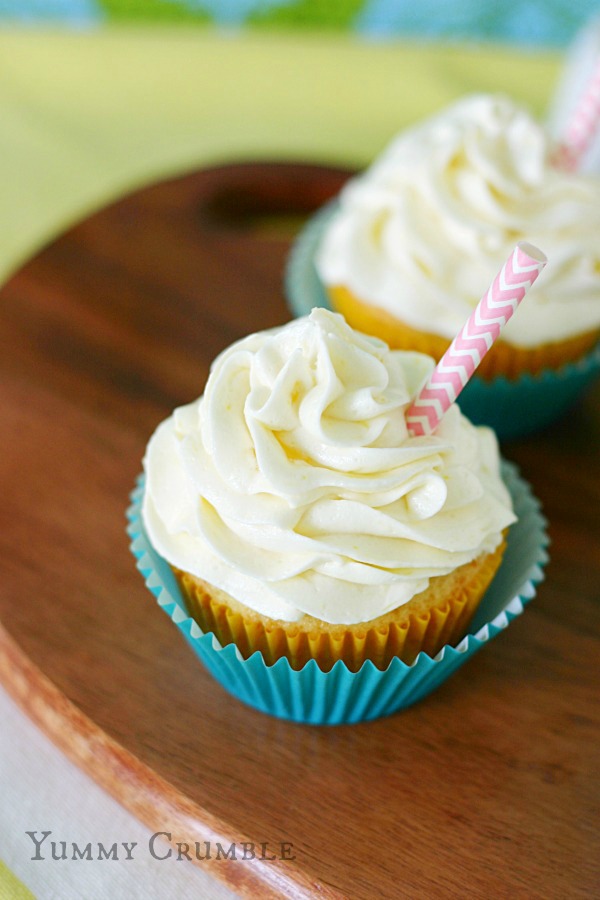 Pineapple Dole Whip Cupcakes
Ingredients
Pineapple Cupcakes
2½ cups flour
1½ teaspoons baking powder
½ teaspoon baking soda
½ teaspoon salt
3 eggs
1¾ cups sugar
1 cup vegetable oil
1 teaspoon vanilla extract
¾ cup vanilla greek yogurt
1½ cups canned crushed pineapple (drained)
Pineapple Curd
7 large egg yolks
¾ cup sugar
¼ teaspoon coarse salt
½ cup fresh pineapple juice
1 tablespoon fresh lemon juice
½ cup (1 stick) unsalted butter melted
Pineapple Buttercream
1 cup unsalted butter at room temperature
¼ teaspoon salt
8 ounce can crushed pineapple, in juice
5-6 cups powdered sugar
Instructions
Pineapple Cupcakes
Set oven to 350 degrees F.
In a medium bowl whisk together flour, baking powder, baking soda, and salt. Set aside.
Using an electric mixer with the paddle attachment beat the eggs and sugar on medium speed until light and smooth.
On low, mix in the vanilla and oil.
Next add in yogurt and crushed pineapple until fully incorporated.
Add flour mixture and mix until smooth.
Line your cupcake pan and fill each cupcake ⅔ full.
Bake for 20-22 minutes and let cool before filling and frosting.
Pineapple Curd
In a large microwave safe bowl, whisk together sugar, salt, and eggs until smooth.
Next whisk in the pineapple juice, lemon juice, and butter.
At full power cook in the microwave for 1 minute.
Take out and whisk curd. Microwave again for 1 minute.
The whole microwave time takes about 3-5 minutes depending on the strength of your microwave. Just make sure to whisk it after each minute.
Pineapple curd is done when it coats the back of a metal spoon.
Pineapple Buttercream
Drain pineapple and set aside juice.
Beat together butter, salt, crushed pineapple, and 5 tablespoons pineapple juice.
Gradually add in sugar one cup at a time until desired thickness.
Add a little more juice if needed.
Pipe onto cupcakes.
Assembly
Cut a small hole out of the tops of each cooled cupcake and spoon in cooled pineapple curd. Place top of cupcake back on.
Using a piping bag, decorate the tops of each cupcake.
Notes
Cupcake recipe slightly adapted from Glorious Treats.
Pineapple curd recipe adapted from Martha Stewart.
Pineapple buttercream frosting from Cork and Spoon.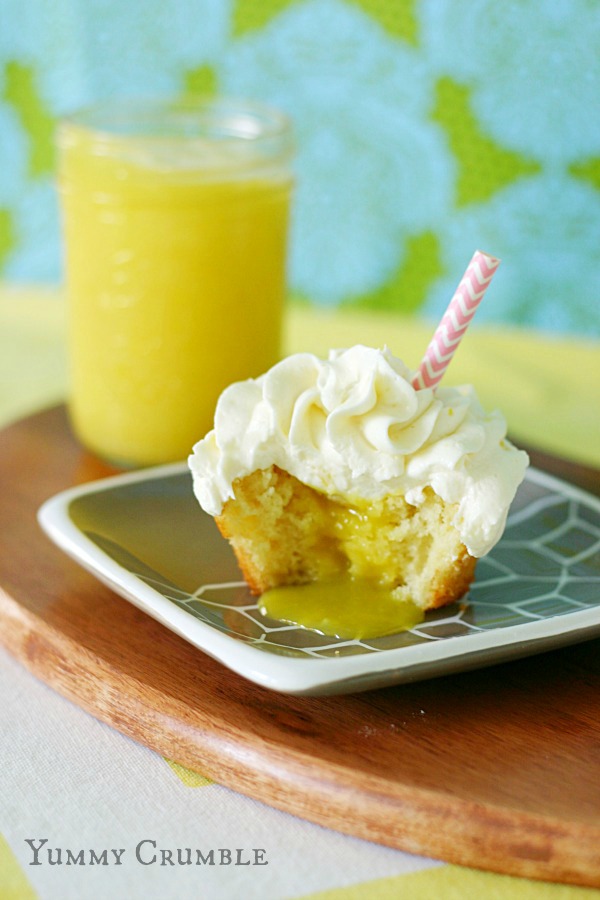 The pineapple cupcake I slightly adapted from Glorious Treats.  The Pinapple curd was adapted from Martha Stewart, and the frosting recipe was from Cork and Spoon.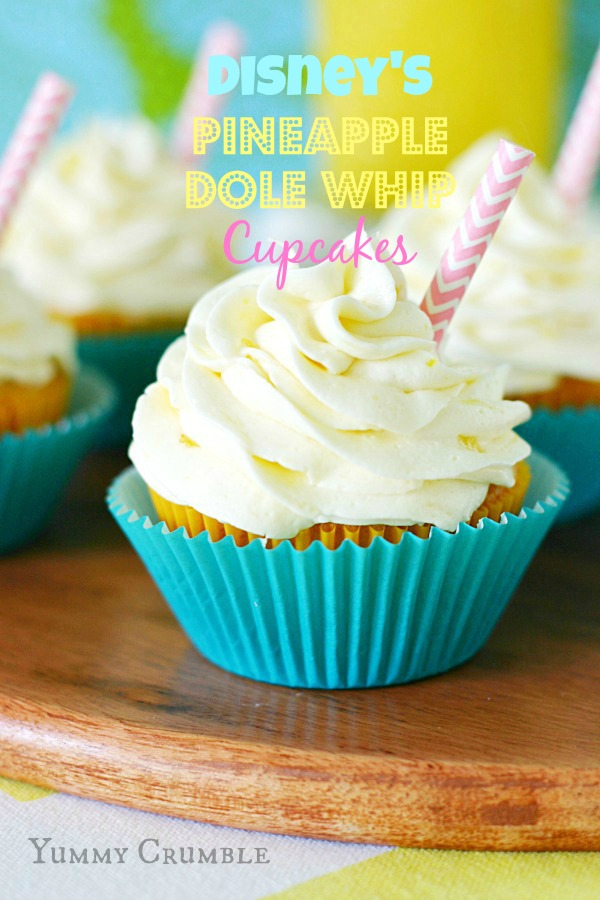 More luscious goodies: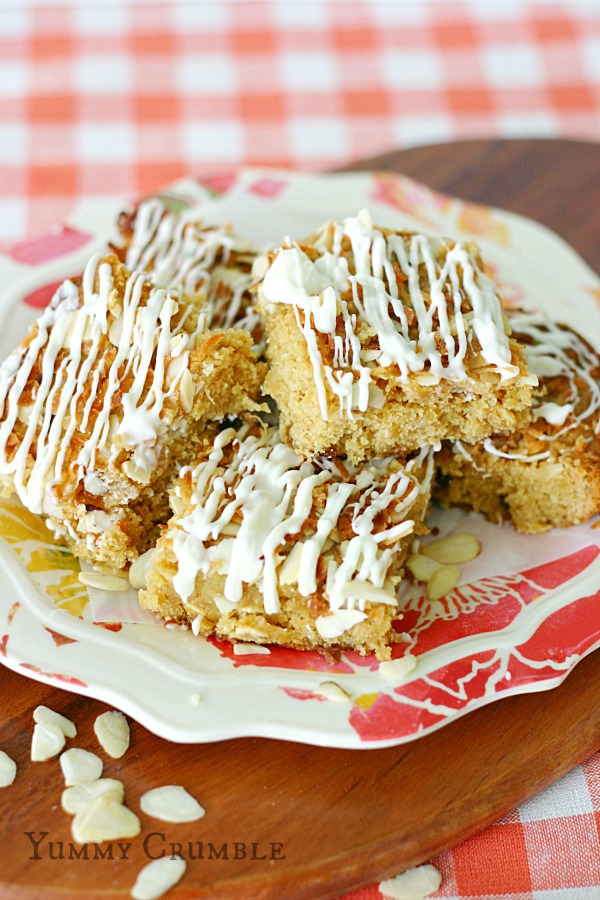 White Chocolate Pineapple Coconut Cookie Bars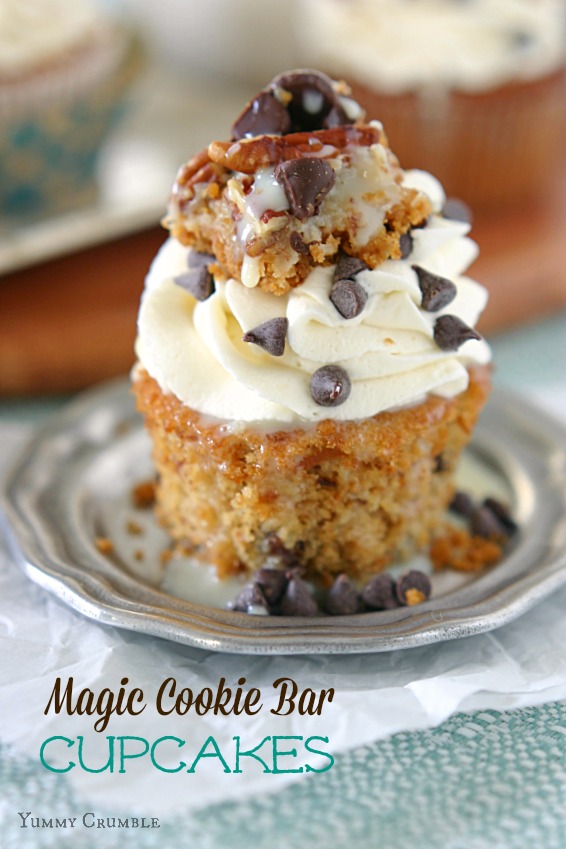 Magic cookie Bar Cupcakes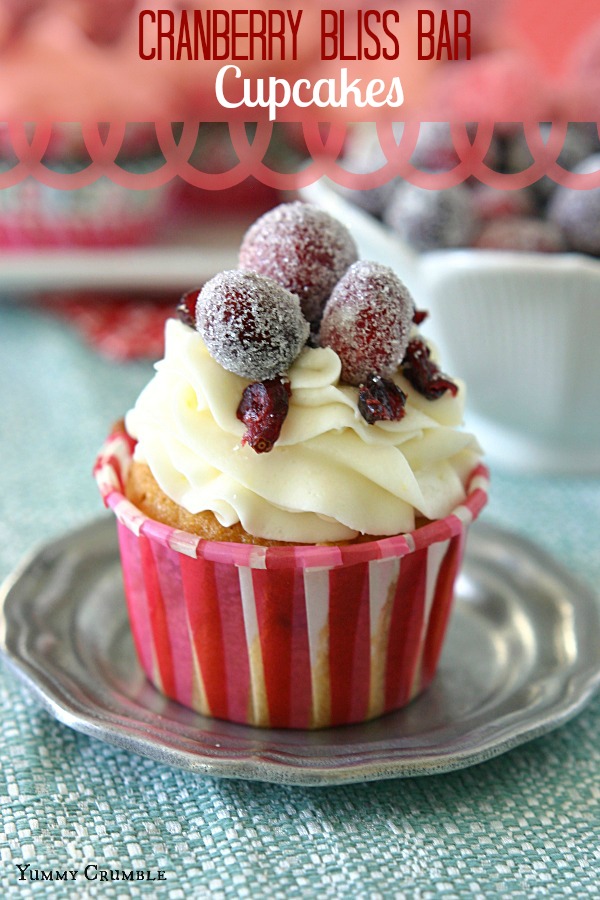 Cranberry Bliss Bar Cupcakes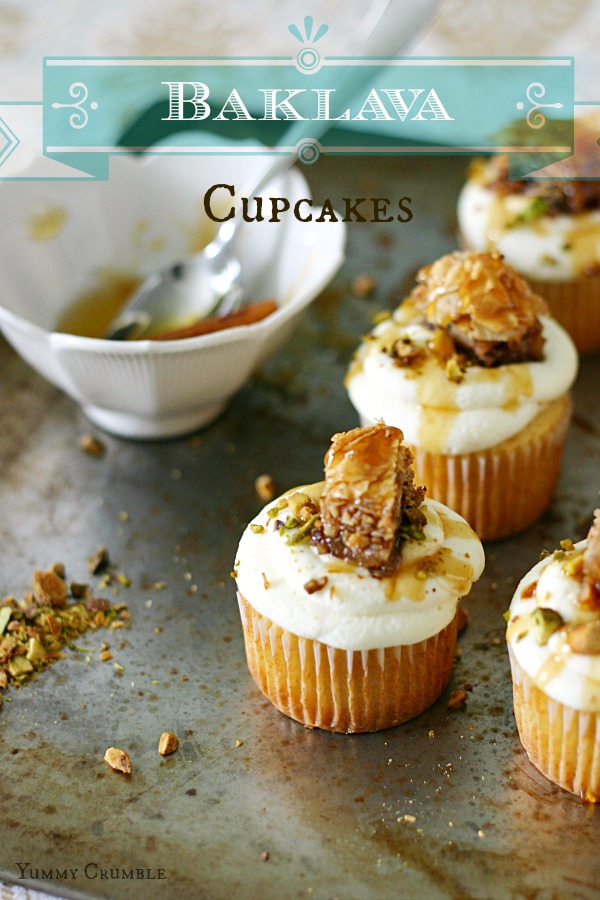 Baklava Cupcakes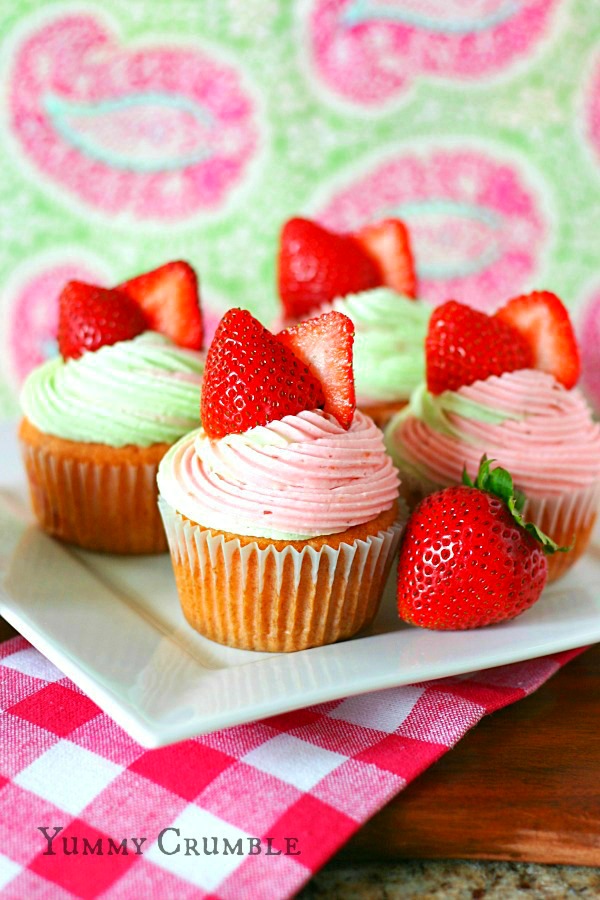 Strawberry Key Lime Cupcakes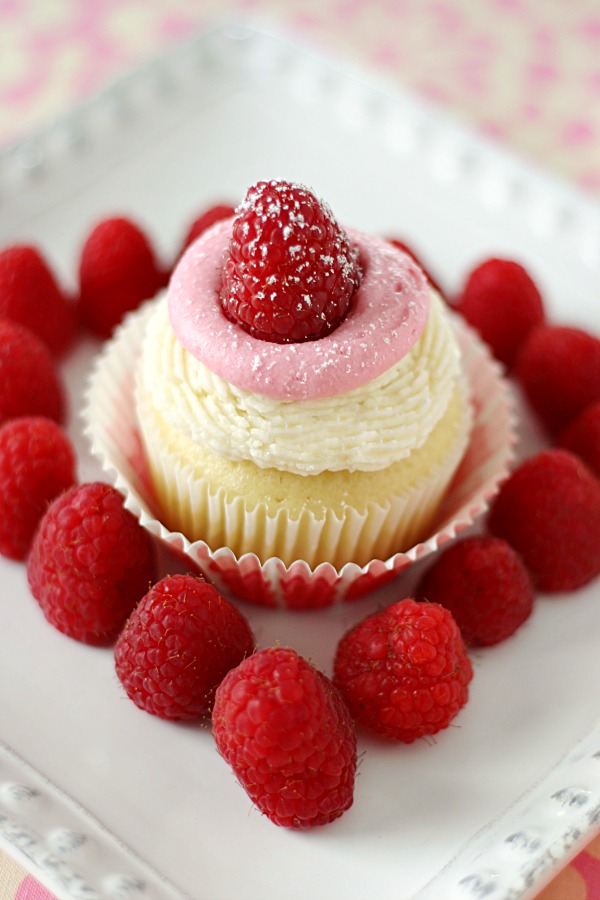 White Chocolate Raspberry Mousse Cupcakes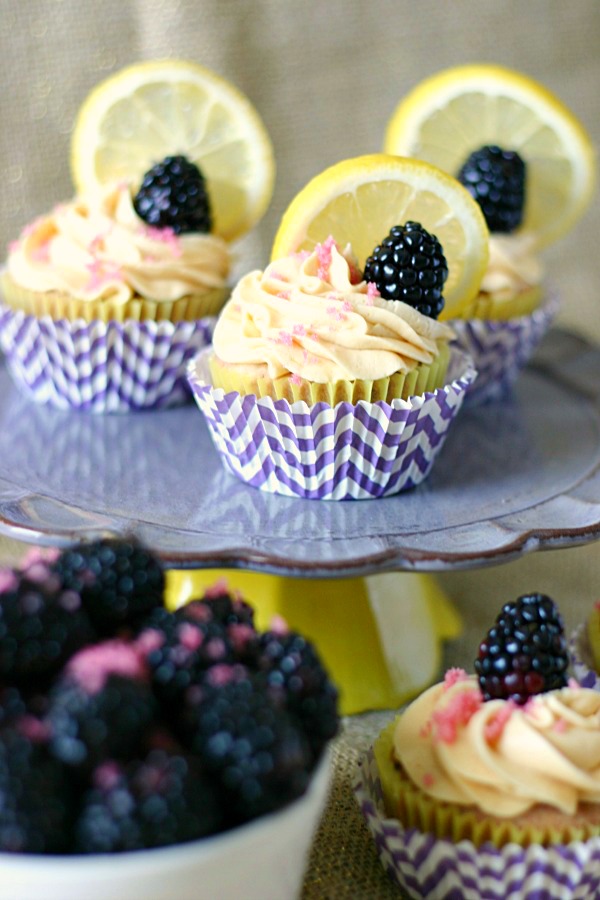 Lemon Blackberry Cupcakes with Sweet Tea Frosting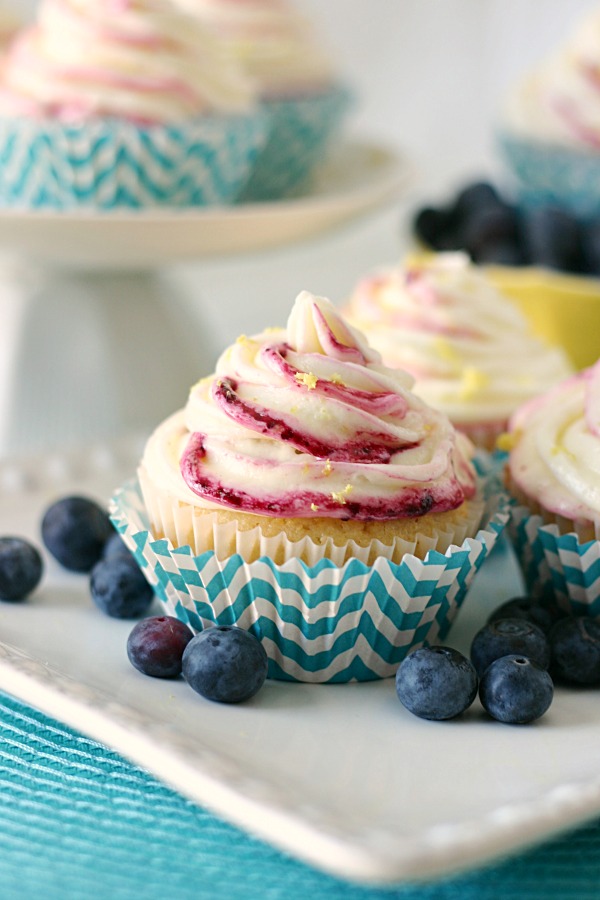 Blueberry Cornbread Cupcakes