Chewy  Peanut Butter Jelly Cookie Bars with triple berry jam, creamy peanut butter frosting, and sugared blackberries and raspberries.  Relive your childhood all over again.  It's peanut butter jelly time!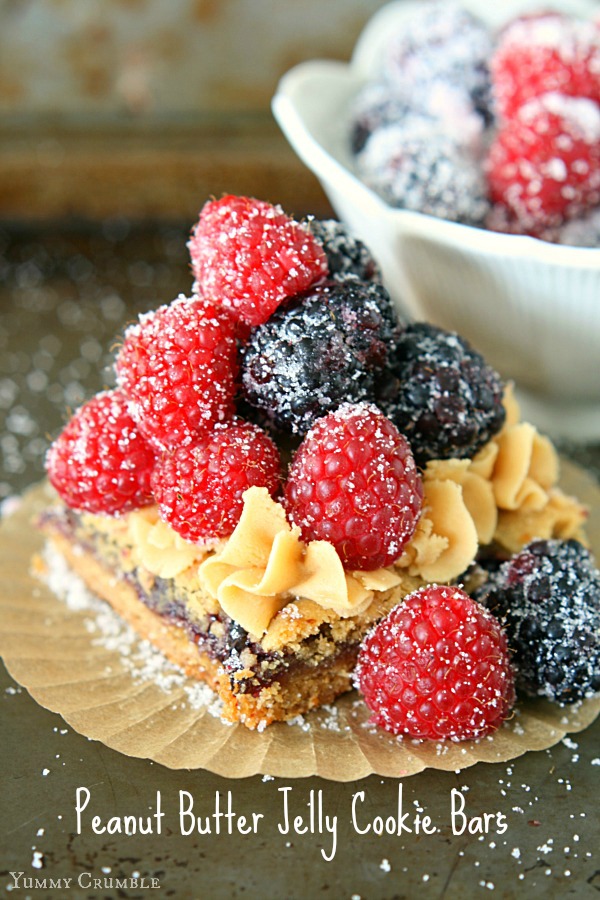 Let's  rewind back to elementary school days, shall we?  Peanut butter jelly sandwiches were my jam!  See what I did there?  If you missed it, we will move on quickly to avoid any awkwardness.  As a child, I remember watching my mother make my peanut butter jelly sandwiches for school.  I would eagerly wait as she would gently trace a heart with the butter knife on the peanut butter side.  It was her way of christening each sandwich with her love.  So everyday at lunch time, I would peel back that piece of soft white bread to reveal her stamp of love.  That's why my mother made the best peanut butter jelly sandwiches 🙂
These Peanut Butter Jelly Sandwich Cookie Bars send me right back to that time.  The time when all I cared about was riding my bike with my friends, collecting teeny bugs and hording them in my little jean pockets (my mother always had an unpleasant surprise come laundry day!), Saturday morning cartoons, and scented markers.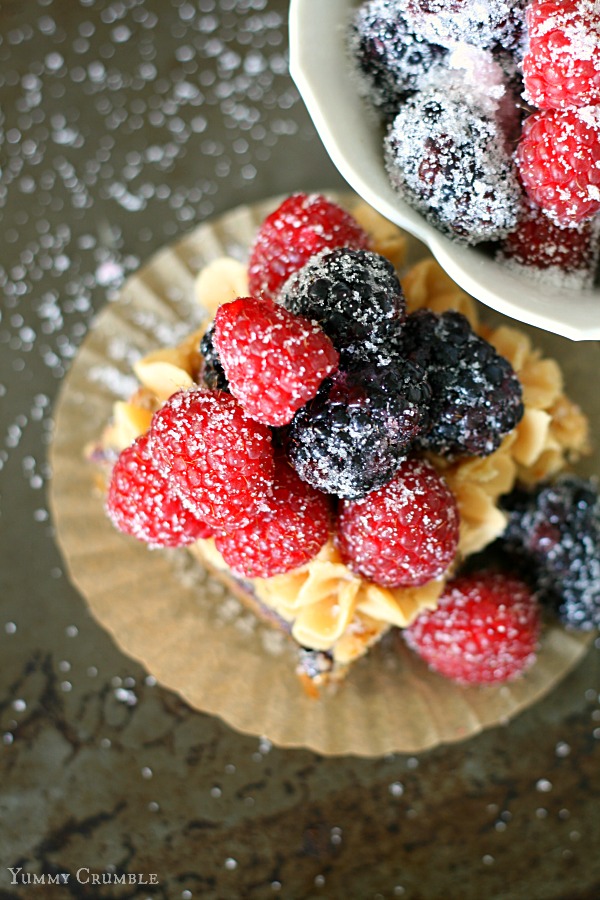 If you're a peanut butter jelly fanatic, these Peanut Butter Jelly Cookie Bars are going to make you swoon for sure.  I got the idea from my Blackberry Pie Bars.  For these I used a triple berry jam that I picked up from the store.  You could totally make it from scratch, but I was in an absolutely no patience kind of mood.  The peanut butter cookie dough I got from one of my favorite dessert bloggers, Crazy for Crust.  I topped these babies with some extra creamy peanut butter frosting and sugared berries.  You can omit sugaring the berries, but the combination of the chewy peanut butter cookie bars and the crunch from the sugared berries is fantastic.
Peanut Butter Jelly Cookie Bars
Ingredients
Peanut Butter Cookie Bars
½ cup unsalted butter, softened
¾ cup peanut butter
¾ cup packed brown sugar
¼ cup granulated sugar
1 large egg
1teaspoon vanilla
1 tablespoon milk
¼ teaspoon salt
½ teaspoon baking soda
1¾ cups all purpose flour
1¼ cups triple berry jam
Peanut Butter Frosting
½ cup softened butter
1 cup peanut butter
2 cups powdered sugar
2-3 tbs milk
Instructions
Preheat your oven to 350 F and line a 9 x 13 baking dish with parchment paper. Spray parchment paper with cooking spray.
With an electric mixer and paddle attachment, beat the butter, peanut butter, and sugars until combined.
Add the egg, vanilla, milk, salt, and baking soda and mix until combined.
Slowly mix flour on low until all flour is mixed in.
Press half the dough onto the bottom of the baking dish. Bake for 10 minutes.
After the 10 minutes, take the cookie bars out.
Carefully drop spoonfuls of jam on top of the dough. Take the remaining dough and press it in the palms of your hands to make large flattened pieces. Cover the layer of jam.
Bake for an additional 15 mintues or until the top starts to turn golden.
Peanut Butter Frosting
With an electric mixer and paddle attachment, beat the softened butter and peanut butter until combined.
Add the sugar and mix until just combined.
Add the milk and beat on high until light and fluffy.
Once the bars have cooled, pipe peanut butter frosting on each piece and top with berries tossed in sugar.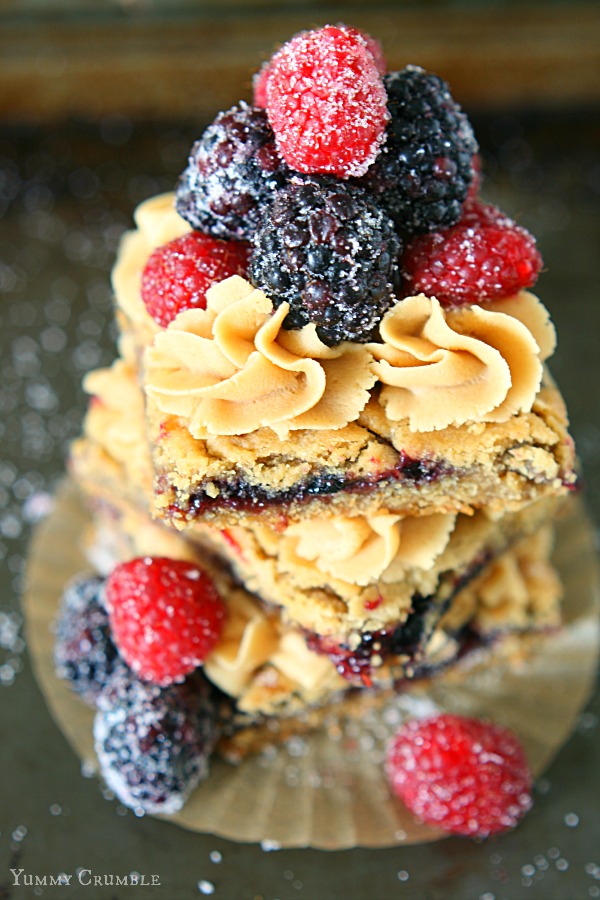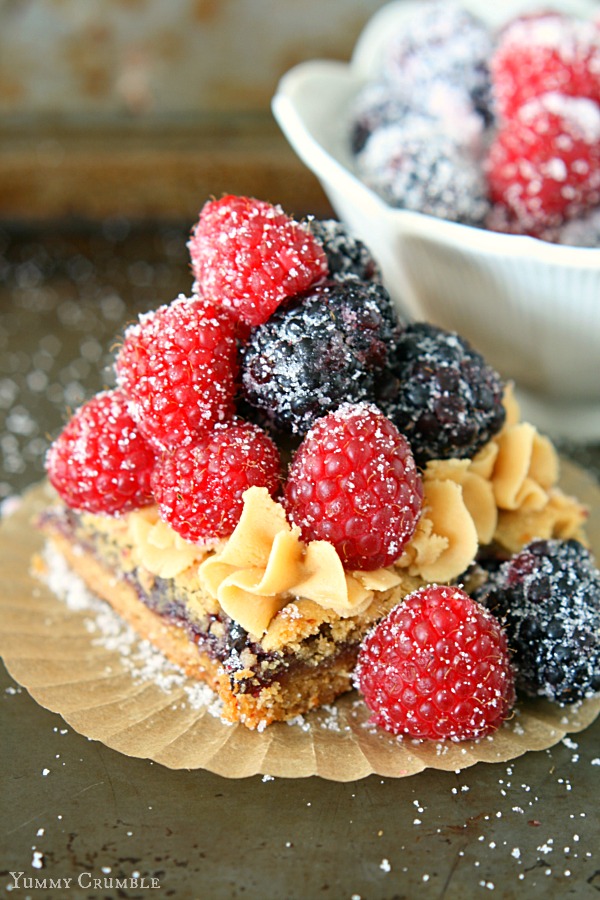 You might like these:
Blackberry Pie Bars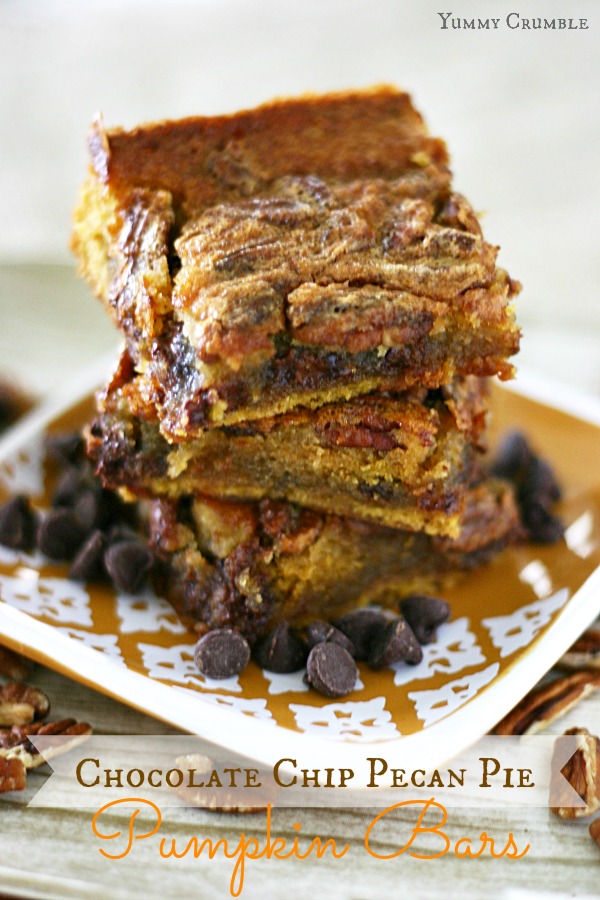 Chocolate Chip Pecan Pie Pumpkin Bars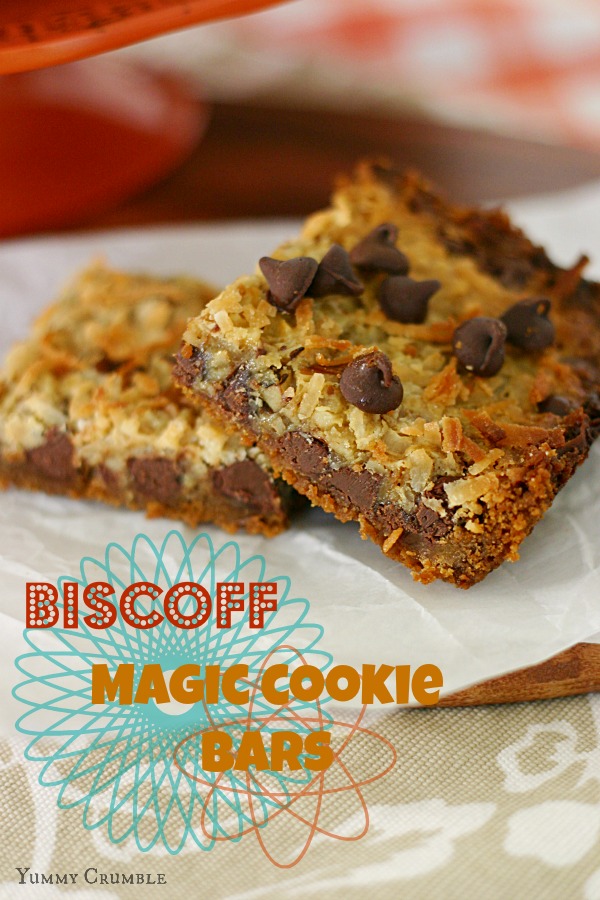 Biscoff Magic Cookie Bars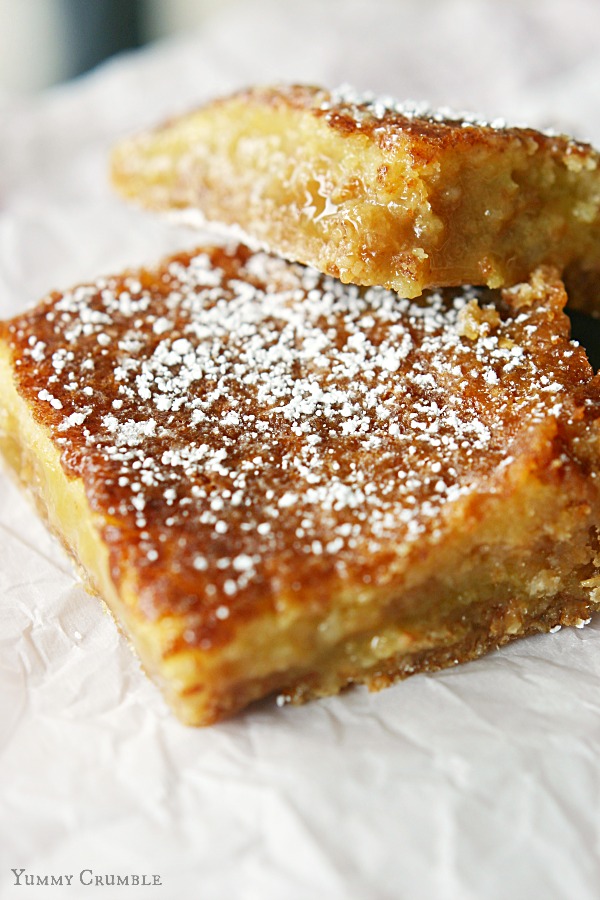 Eggnog Crack Pie Bars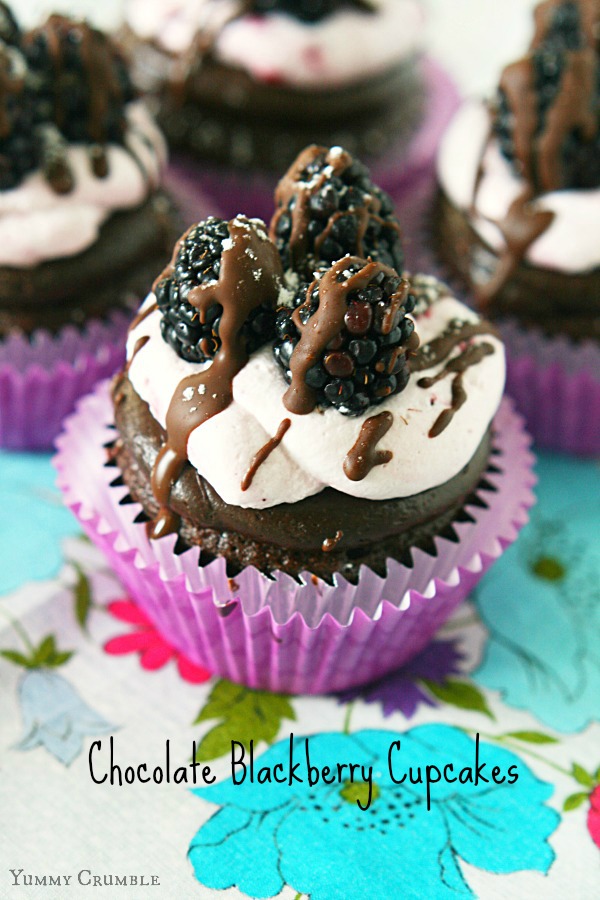 Chocolate Blackberry Cupcakes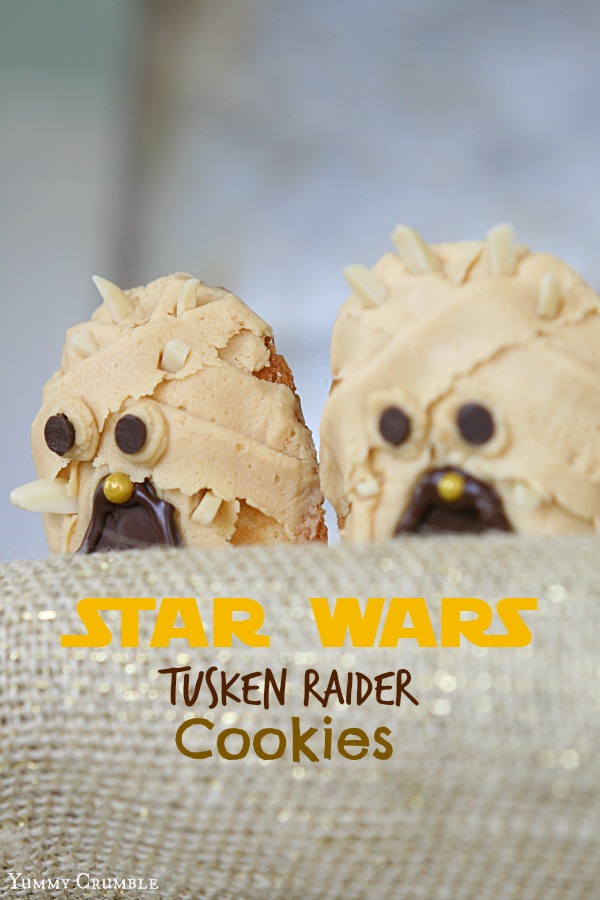 Peanut Butter Star Wars Tusken Raider Cookies