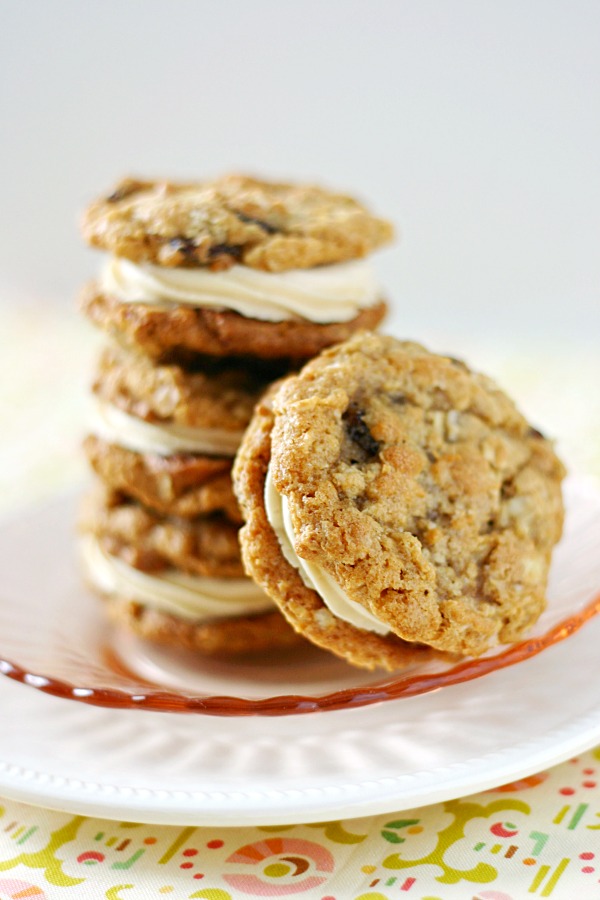 Super chewy Oatmeal Raisin Cookie Sandwiches with Sweet Tea Frosting.  These totally kick Little Debbie in the butt!  
So, I almost had a mini heart attack yesterday.  I'm very new to this whole hosting on the internet thing and blogging.  It's a scary frontier and I'm always learning something new about it everyday.  Well, I wanted to set up my Google Webmasters account and verify ownership – I'm sure all you bloggers know what I'm talking about.  It's a cool way to see who links to my blog and see if anyone out in the world is talking about little ol' me.  As I was going into my hosting account and adding the Google text I accidentally changed the DNS pointer.  Sounds harmless…
Not.
My webpage stopped working.  Anyone who is internet savvy or has been blogging for a while is probably thinking "No big deal.  It's not broken.  Only put on hiatus for a little bit."  Well, I thought I LOST everything.  Yes, I've only been blogging for a little over a month, but hey, this little yummy blog has become my baby!  So after talking to techs from my hosting company on the phone, they informed me (through crazy technical internet space language) that, "No…You did not lose your measly two months of blog content.  You just have to wait for the site to propagate."  Whatever the heck that means…
So in conclusion:  Do not get cocky with the interwebs and think you can successfully change a little code and things be okay.
Lesson learned.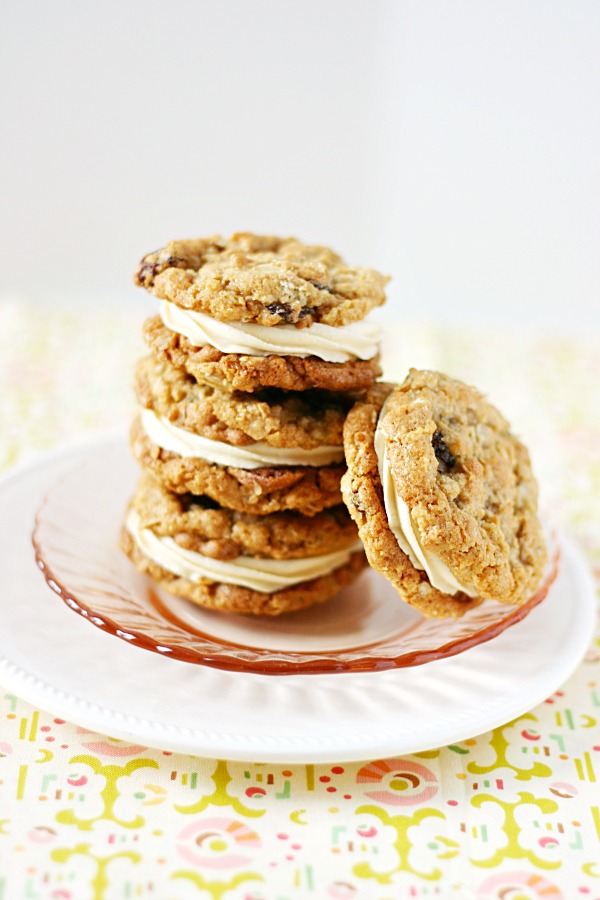 So in the midst of my despair yesterday, what do I always do when I'm a wreck?
Bake.
Like I've mentioned before, I'm a lover of chocolate chip cookies.  Oatmeal raisin cookies seem so blah.  Oatmeal. Raisins. Eh.  Yet these little guys are awesome.  I wanted to channel Little Debbie, but show her who's boss.  These are so chewy, with little bursts of fruity raisins in each bite and the sweet tea frosting rocks it even further.  The frosting was leftover from the Lemon Blackberry Cupcakes I made a few days earlier.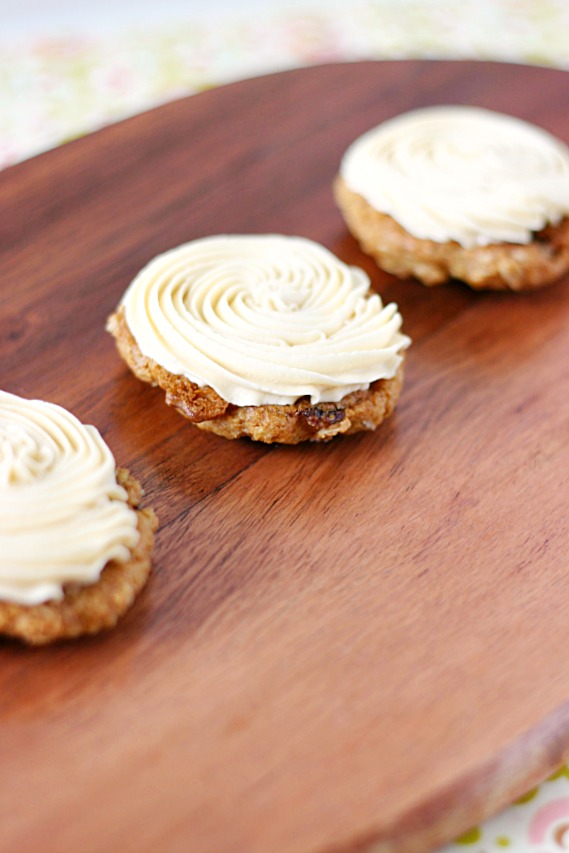 Oatmeal Raisin Cookie Sandwiches with Sweet Tea Frosting
Ingredients
Oatmeal Cookies

3/4 cup butter, softened
3/4 cup granulated sugar
3/4 cup light brown sugar
2 eggs
1 teaspoon vanilla extract
1 1/4 cups all purpose flour
1 teaspoon baking soda
3/4 teaspoon ground cinnamon
1/2 teaspoon salt
2 3/4 cups old fashioned oats
1 cup raisins

Sweet Tea Frosting

3 regular sized tea bags
1/4 cup boiling water
1 cup butter, softened
3 cups powdered sugar
Instructions
Preheat oven to 375 F.
In a large bowl beat butter, granulated sugar, and brown sugar until fluffy.
Beat in eggs and vanilla until smooth.
In another bowl combine flour, baking soda, cinnamon, and salt.Gradually mix in dry ingredients and then fold in oats and raisins.
Drop small rounded teaspoons onto a baking sheet and bake for 8-10 minutes or until lightly golden brown. Let cool.
For the frosting, seep 3 black tea bags in the 1/4 cup of boiling water. After it has cooled, squeeze the water from the tea bags into a large bowl.
Add butter and slowly beat until creamy and smooth.
Slowly add sugar and once combined beat on medium-high for 1 minute until light and fluffy.
With a spoon or in a piping bag swirl frosting on cookies and sandwich together.
Eat like a chubby kid on a diet.
http://yummycrumble.com/oatmeal-raisin-cookie-sandwiches-sweet-tea-frosting/
Cookie recipe from All Recipes and Sweet Tea Frosting from Confessions of a Cookbook Queen.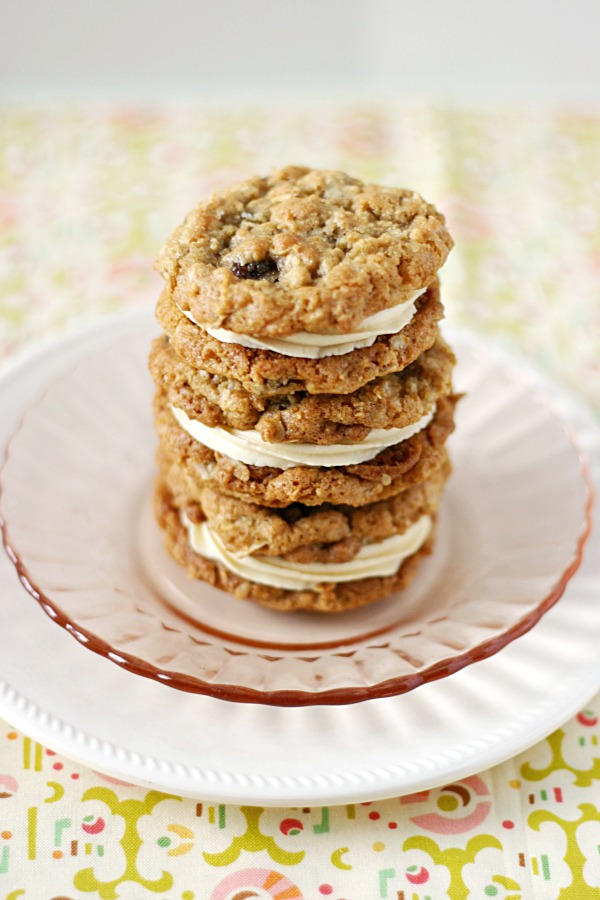 These cookies will bring back childhood memories.  The good ones.  Not the ones where you're being teased for your little chocolate chip cookie belly.