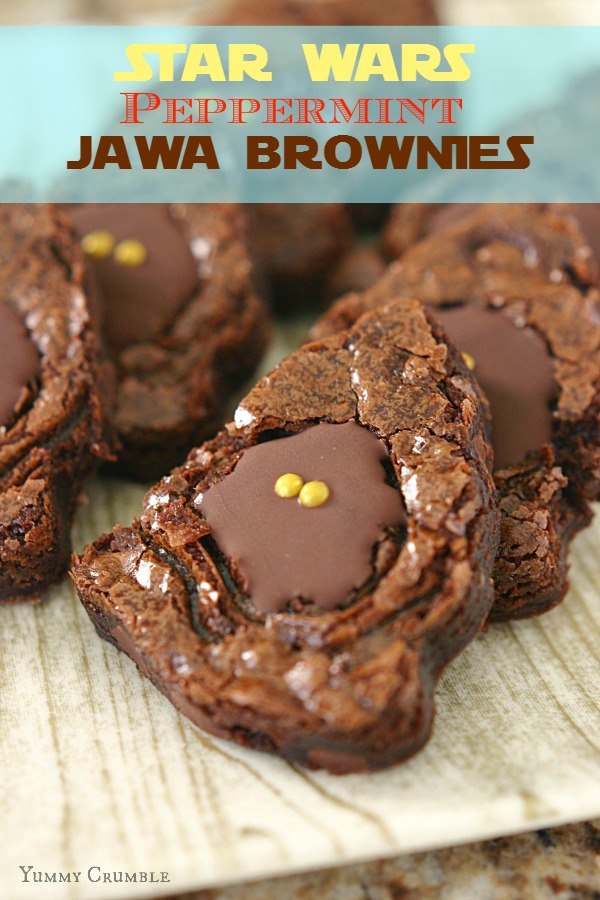 Dark chocolate brownies cut into little Jawas and filled with peppermint dark chocolate ganache.  Don't forget the cute candy eyes for these Peppermint Jawa Brownies!  These are irresistibly adorable and easy!
Things just got real folks.  Christmas is so close!  Only 33 more sleeps until that glorious morning is here!  Yes, I am using way to many exclamation points right now, but I'm super giddy.  The season has definitely started, evident in the fact that it took me 15 minutes longer to find a parking spot at the mall, and peppermint is everywhere!  I tried to hold on to the pumpkin and sweet potato for as long as I could, but I'm just gonna give in.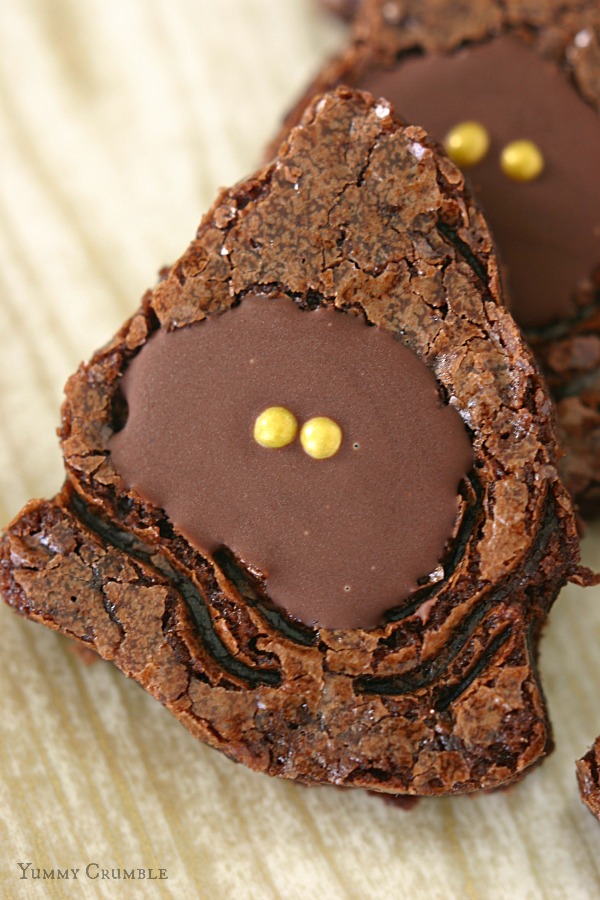 Lately my son has been asking me to make something Star Wars again.  Oliver is smitten.  The first words out of his little mouth every morning are "Pew Pew Pew".  You Star Wars geeks will know exactly what that is.  So to appease him, and my Christmas craziness, I made these Peppermint Jawa Brownies.  Jawas are kind of the Christmas elves of Star Wars, right?  You might be thinking…Star Wars and Christmas?  Eh.  Well let me give you this link: Star Wars Holiday Special.   It will explain everything.  If you ever get a hold of the footage, you might feel a little uneasy.  It's that bad.  So bad it's good.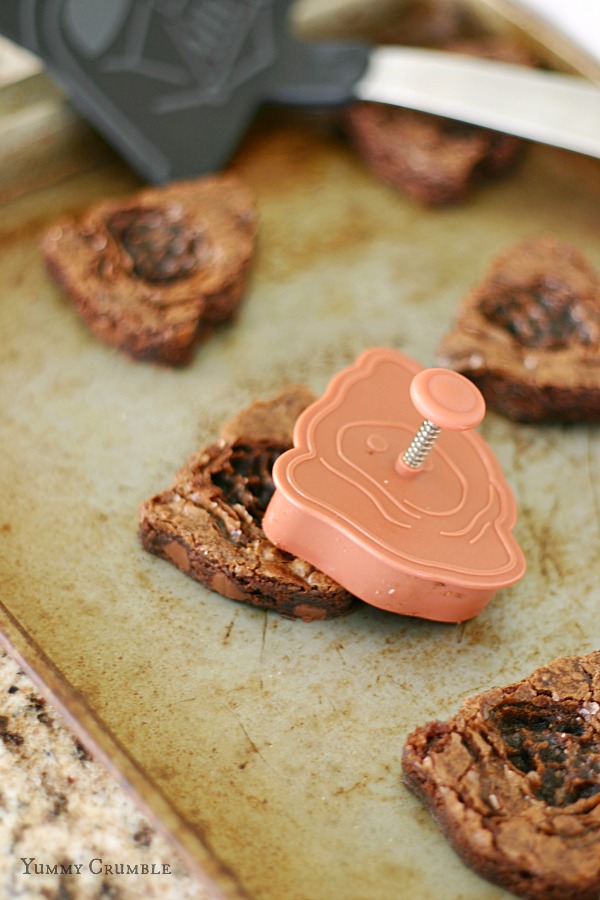 I just used boxed brownie mix for these because, well boxed brownie mix is the bomb.  Do people still say that?  I just felt really old for the moment.  Sigh.  After baking the brownies, I cut out the Jawas with a cute little cookie cutter.  It was so stinking easy, I laughed through the whole process.  "Why are you laughing mamma?" "No reason…" "Okay!  Pew pew pew"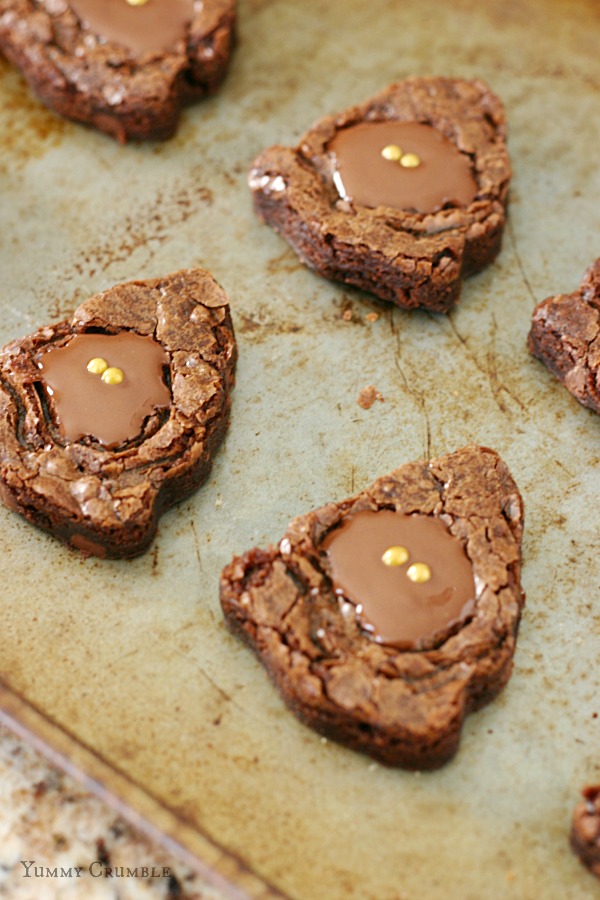 After pressing in their little faces, I filled them with melted chocolate that was tinted with peppermint extract.  You can use whatever flavoring you like and even fill in the little faces with peanut butter or Biscoff Cookie Butter.  But in the name of Christmas…I chose peppermint! (Totally optional)  But remember, Christmas craziness is here.  Let's start the season right!  You can't forget the little candy eyes though.  I feel that makes the Jawa.  You can find them at any craft store, and sometimes the supermarket will have the gold tinted ones.  Place the little guys in the freezer to hang out for like five minutes or so, and then chow down.
Peppermint Jawa Brownies
Ingredients
1 box prepared brownie mix
¼ cup dark or semi sweet chocolate chips
½ tsp coconut oil
1 drop peppermint extract
Gold candy pearls
Instructions
Preheat oven to 325 F and grease your baking dish (9x13)
Prepare brownie batter according to package.
Instead of baking in a 9x9 or 8x8 pan, use a 9x13 inch baking dish and spread the batter.
Bake for about 20 minutes or when an inserted toothpick comes out clean.
Set brownies aside to cool.
Once completely cooled, using a Jawa Cookie cutter, cut out the shapes of the Jawas and set on a cookie sheet.
Press in the faces of the Jawas with your finger or back of a spoon.
In a small bowl, melt your chocolate chips in 20 second increments until melted and smooth.
Carefully drop a minimal amount of peppermint extract in the chocolate and mix. At this point you can taste the chocolate and see if you want more peppermint. A little goes a long way.
If the chocolate is too thick you can mix some coconut butter into it to thin it out.
Spoon the melted chocolate into the faces and add the eyes.
Place the finished Jawas in the fridge or freezer to set.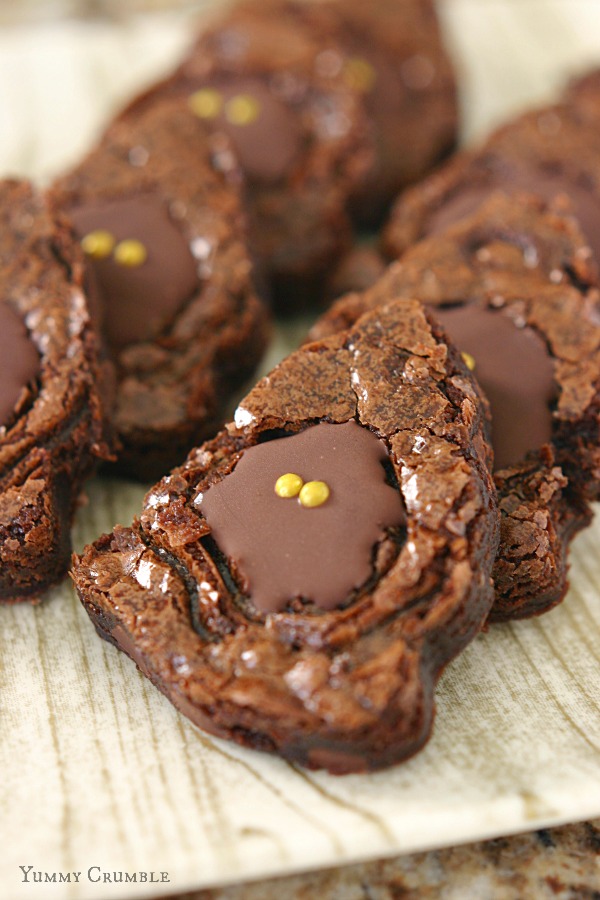 These were super easy to make, and a great little project for your little ones.  Especially your little Star Wars fanatics.
Want some more?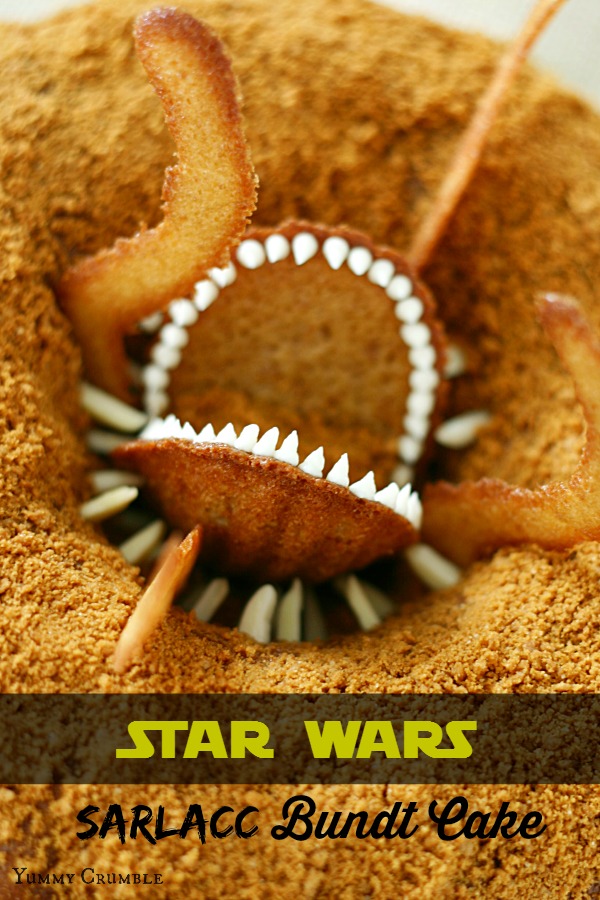 Star Wars Sarlacc Bundt Cake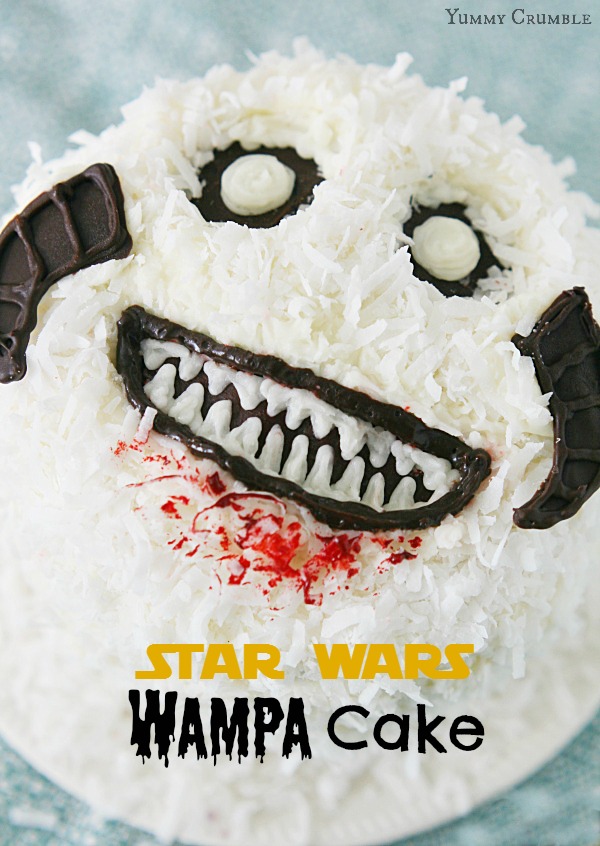 Star Wars Wampa Cake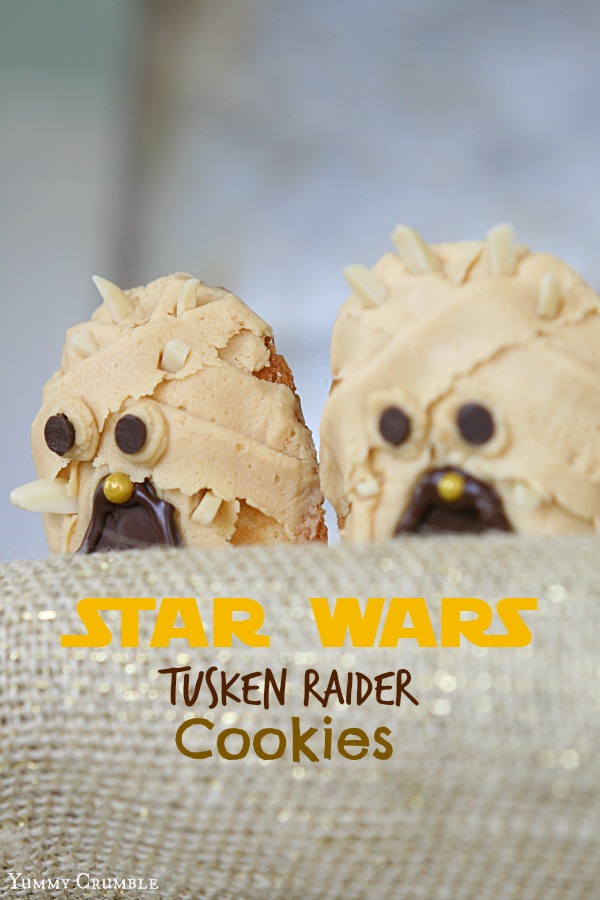 Star Wars Tusken Raider Cookies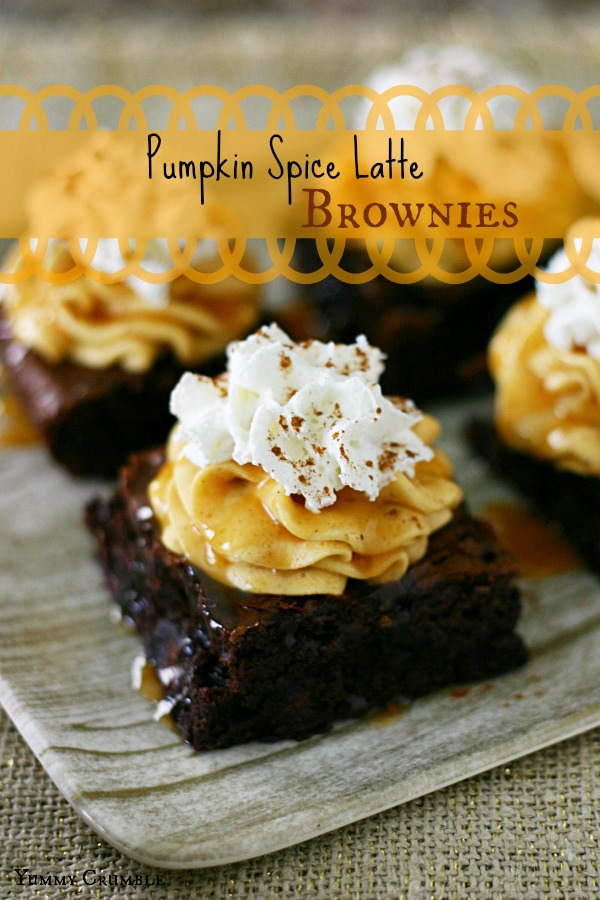 Pumpkin Spice Latte Brownies 
 Peppermint Brownie Sandwiches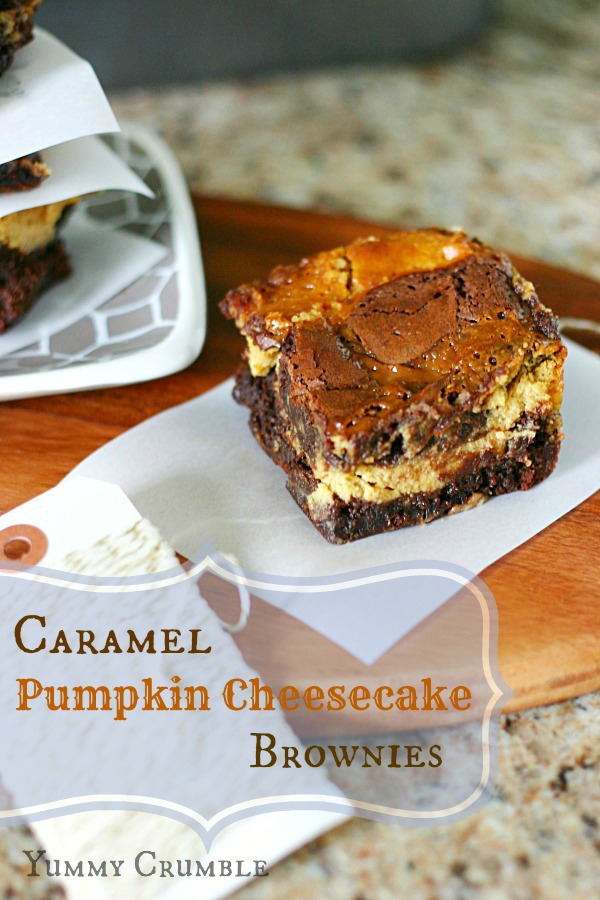 Caramel Pumpkin Cheesecake Brownies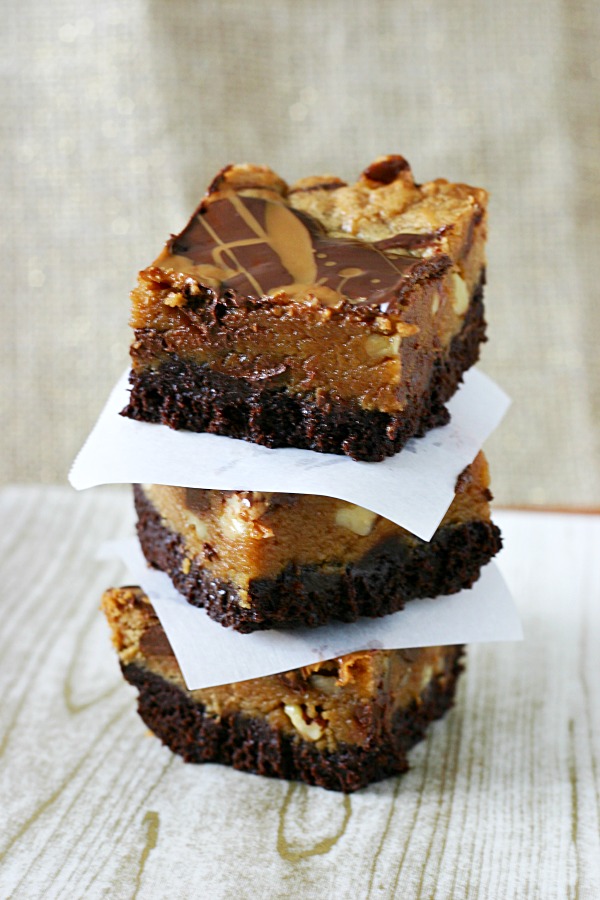 Biscoff Blondie Brownies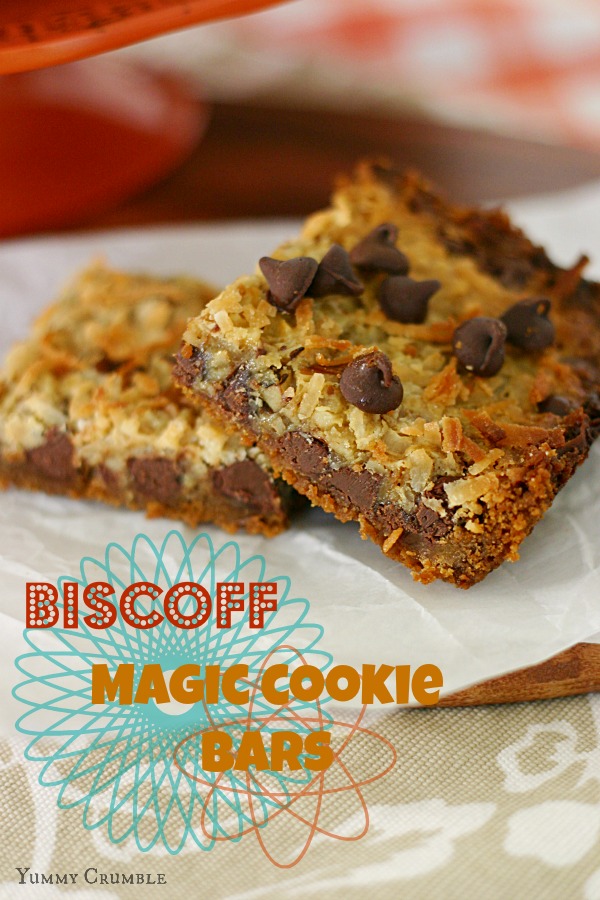 Biscoff Magic Cookie Bars