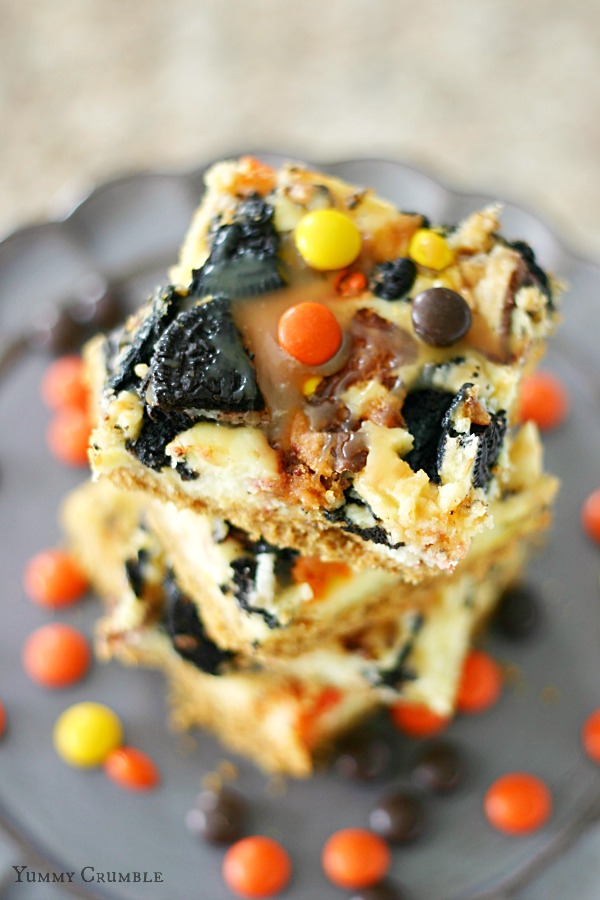 Cheesecake bars dripping with salted caramel and littered with Butterfingers, Rees'es Peanut Butter Cups, Rees'es Pieces, Snickers, and Oreos.  Put that Halloween candy to use in these Halloween Candy Cheesecake Bars!
I love nothing more than taking my son Oliver Trick or Treating.  Seeing his eyes light up with every drop in his bucket, and hearing him proudly exclaim "I'm a clone trooper!" to every neighbor.  It makes my heart smile.  But with that fun filled night comes loads and loads of candy I end up hiding from his greedy little hands.  Not so fun.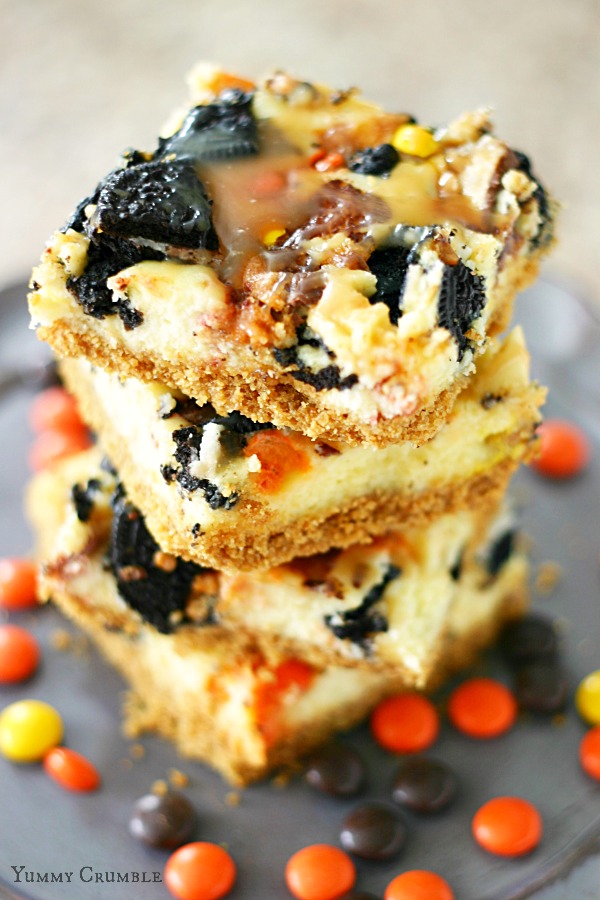 So, in order to ease his pain he helped me with this one.  I chopped up the candies that he chose and he delightfully sprinkled them all over the cheesecake batter.  We also added Oreos because well, it's Oreos.  Then drizzled crazy amazing salted caramel sauce over the just baked goodness.  I promised him a bar in exchange for his sacrifice. I'd say he was pretty happy.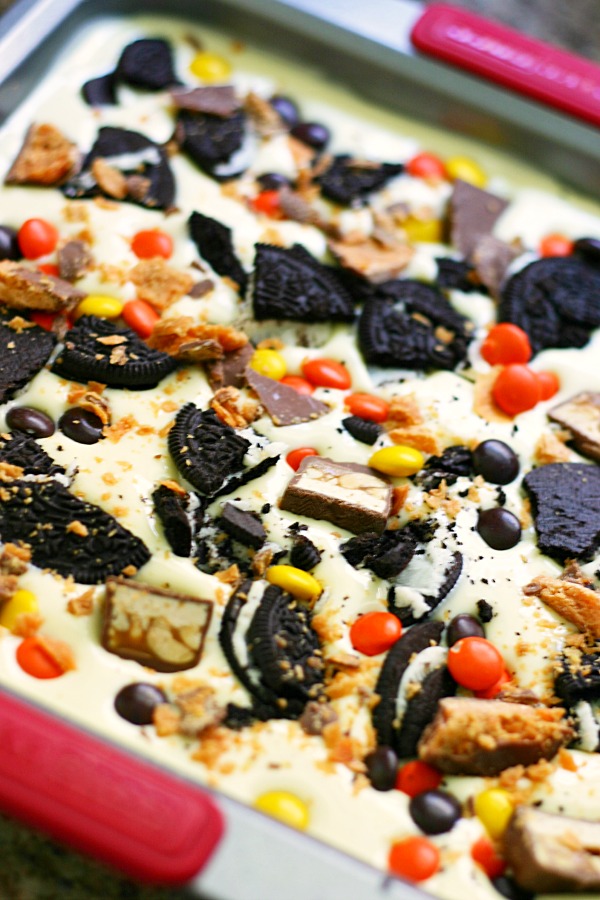 Halloween Candy Cheesecake Bars
Ingredients
Graham Cracker Crust
2 cups graham cracker crumbs
½ cup melted salted butter
2 Tablespoons sugar
Cheesecake
2 8oz packages of regular cream cheese, room temperature
¾ cup granulated sugar
¼ cup sour cream
1 teaspoon vanilla extract
1 Tablespoon all-purpose flour
3 large eggs
Instructions
Graham Cracker Crust
In a small bowl toss the graham cracker crumbs, melted butter, and sugar together.
Press the mixture to the bottom of a greased 9x9 pan.
Put in freezer while making the cheesecake batter.
Cheesecake
Set your oven to 350 F.
With your electric mixer and paddle attachment, beat the cream cheese and sugar until light and fluffy. For about 3 minutes.
Add the sour cream, vanilla, and flour and beat until incorporated.
Add the eggs one at a time, mixing until just combined being careful to not overmix.
Pour batter into graham cracker crust.
Chop your halloween candy and sprinkle on top. I also added oreo cookies.
Bake for 30-35 minutes or untll middle is just about set.
Once cooled, sprinkle with caramel.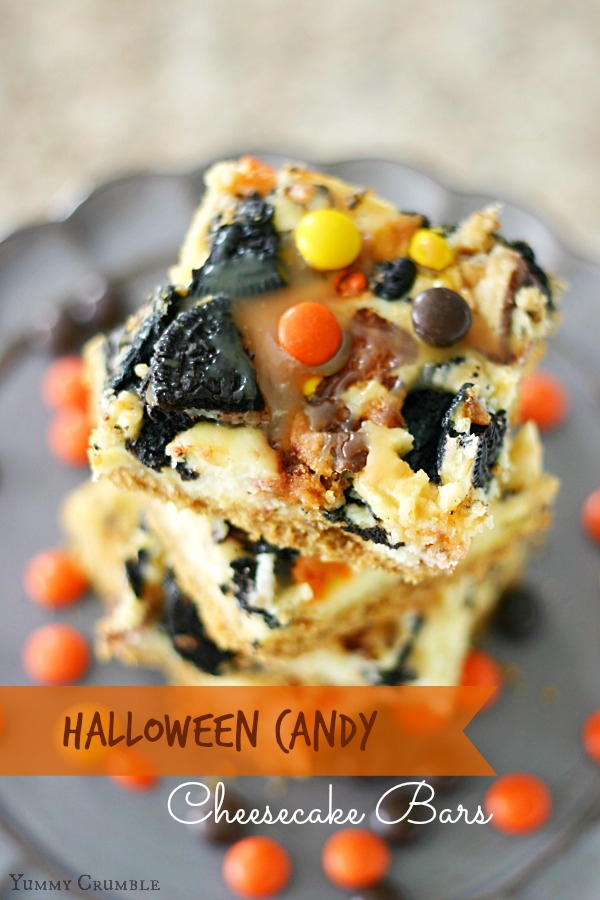 Enough of this already.  Let's put up the Christmas Tree!
My Halloween treats: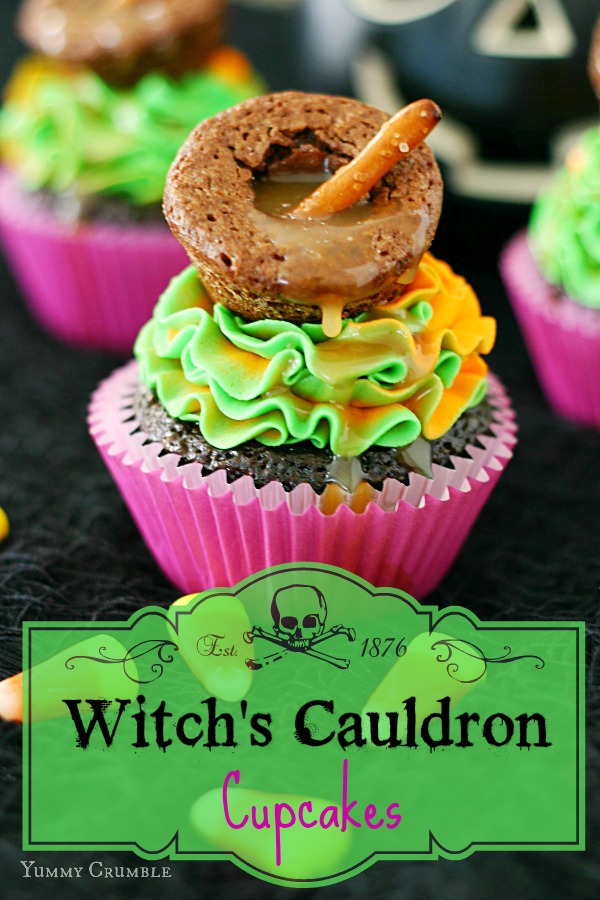 Witch's Cauldron Cupcakes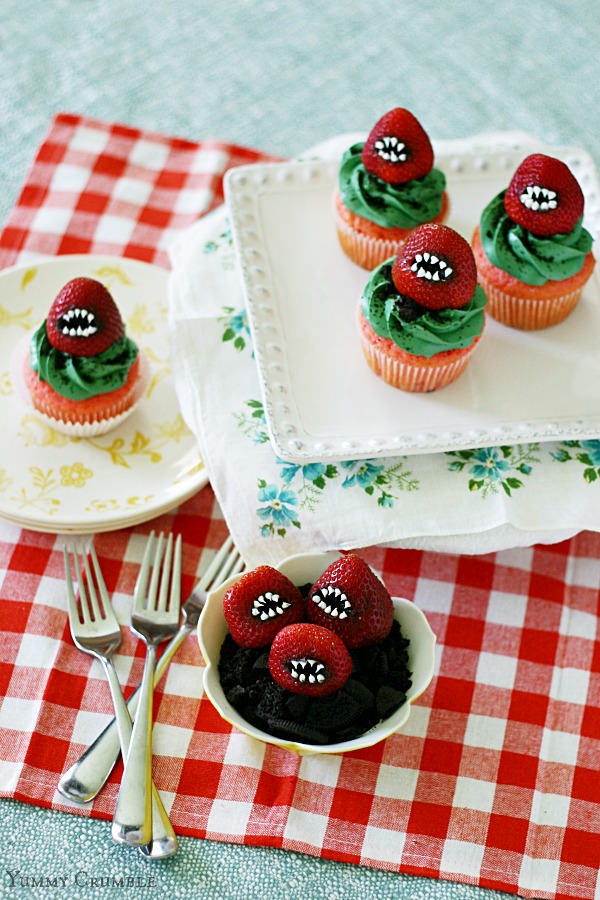 Monster Strawberry Cupcakes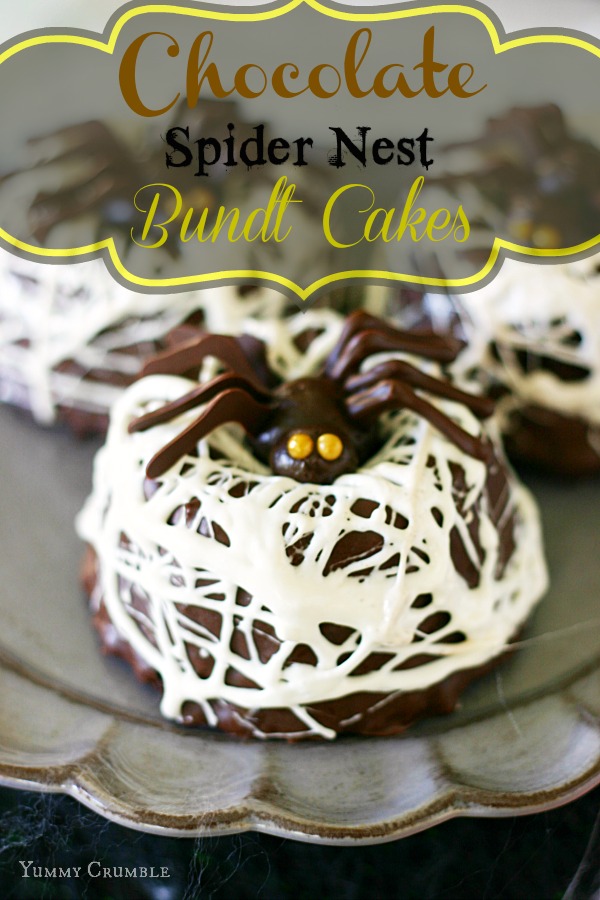 Chocolate Spider Nest Bundt Cakes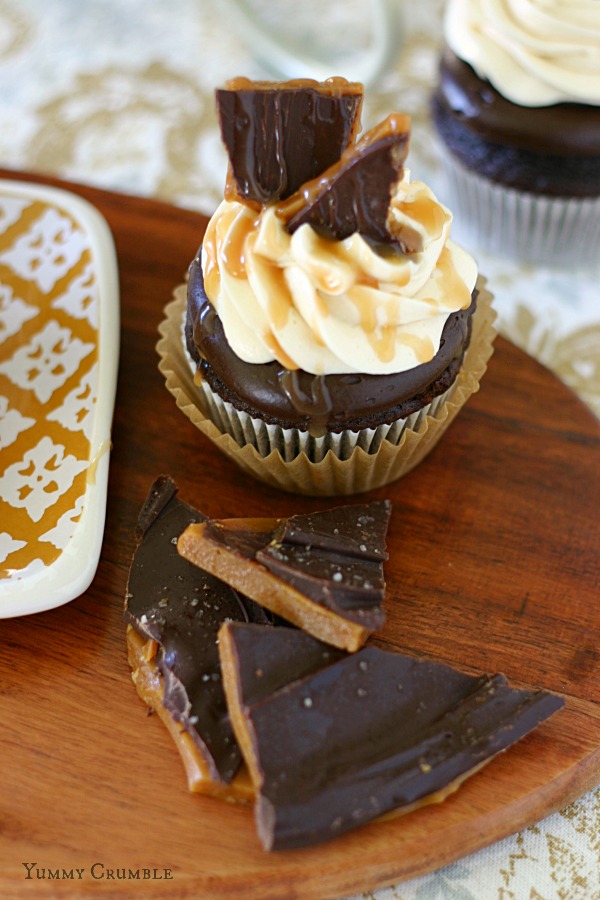 Chocolate English Toffee Cupcakes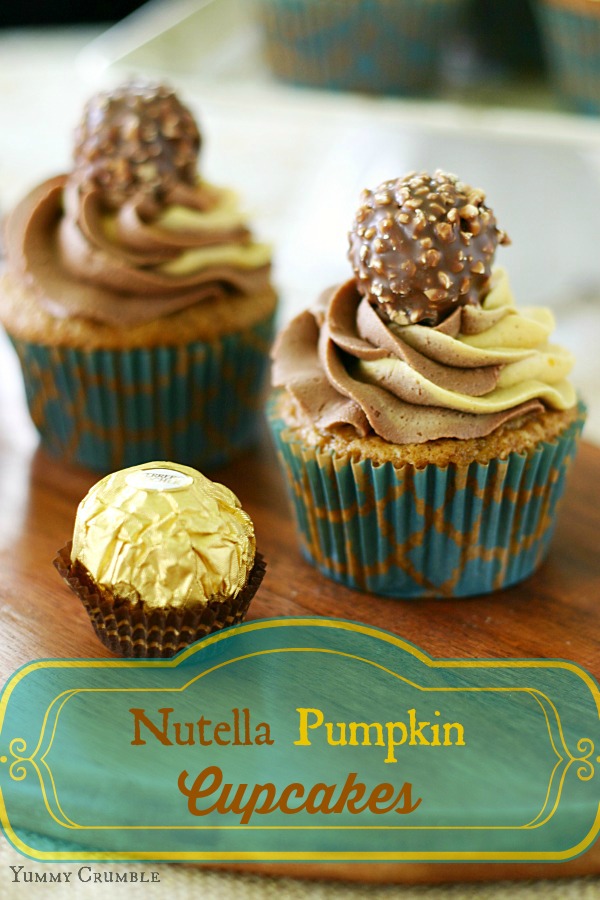 Nutella Pumpkin Cupcakes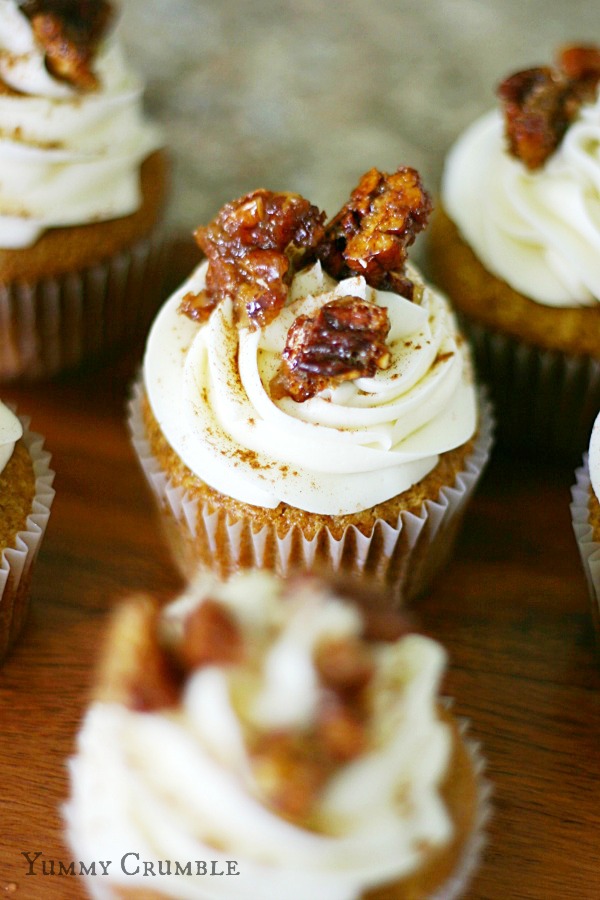 Pecan Pie Pumpkin Cupcakes