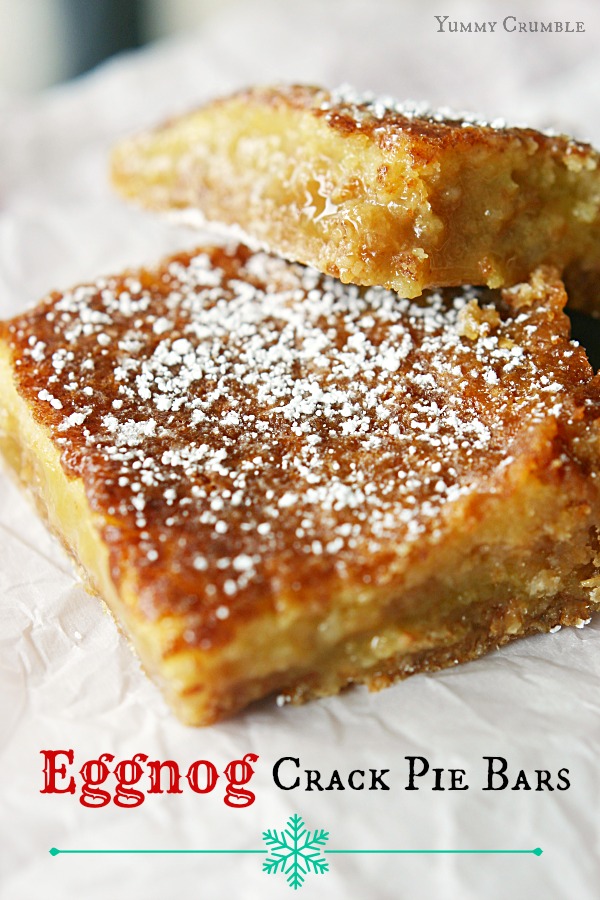 Everyone's favorite New York "Crack Pie" baked  with Eggnog to give it a special Holiday twist.  Chewy oatmeal cookie pie crust with a lusciously sweet and chewy filling will put these Eggnog Crack Pie Bars at the top of your wish list!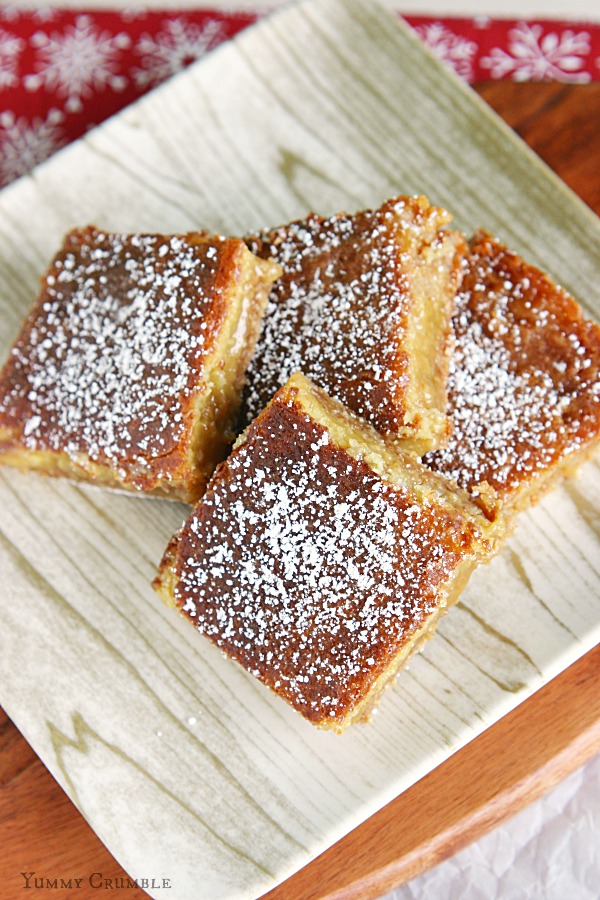 So I've never heard of this crazy thing called "Crack Pie" until I started diving deep into the food blogging world.  Momofuku…what?  Well, I don't care where it came from or how much it is ($44.00 a pie!) because once I read the ingredients, I was already  in a deeply committed relationship with this pie.  Without tasting it, I knew this would be a heart breaker.  But like in a strikingly handsome Marlon Brando kind of way.  Let's rewind.  I meant to say young Marlon Brando…YOUNG Marlon Brando.  Have you seen him in the Godfather?  Yikes.
Well, since I wouldn't be going to New York or Toronto anytime soon, I snagged the recipe off of Brown Eyed Baker and made a few changes.  I added eggnog to the filling instead of boring old cream.  It makes it extra naughty.  And instead of baking it as a traditional pie, I just made them into bars for easier cutting and just to shake things up a bit.  Like Marlon. He's unpredictable you know?
Eggnog Crack Pie Bars
Ingredients
Oat Cookie
½ cup room temp unsalted butter
⅓ cup brown sugar
3 tablespoons granulated sugar
1 egg yolk
½ cup unbleached all purpose flour
1½ cups old-fashioned rolled oats
½ teaspoon salt
⅛ teaspoon baking powder
Pinch of baking soda
Cookie Crust
1 oat cookie from recipe above
1 tablespoon brown sugar
¼ teaspoon salt
¼ cup melted unsalted butter
Pie Filling:
1½ cups granulated sugar
¾ cup light brown sugar
¼ cup dry milk powder
¼ cup cornstarch
1½ teaspoons salt
1 cup melted unsalted butter
¾ cup Eggnog
½ teaspoon vanilla extract
8 egg yolks
Instructions
Oat Cookie
Preheat oven to 350 F and line cookie sheet with parchment paper.
In a large bowl of a stand mixer, cream together the sugar and butter until light and fluffy (about a few minutes)
On low speed, add the egg yolk and beat for a few more minutes.
Scrape down the sides of the bowl, and on low mix in the flour, oats, salt, baking powder and baking soda.
Spread the down evenly on the cookie sheet to about a ¼ inch of thickness and bake for 15 minutes.
Let cool completely before using it for the cookie crust.
Cookie Crust
In a food processor, pulse chunks of the cookie until it resembles sand. Add the brown sugar and pulse again until mixed. Pour in the melted butter and pulse until just combined.
Press the crust into a 9x13 inch glass or metal pan.
Pie Filling
Preheat oven to 350 F.
With a stand mixer, combine the sugar, brown sugar, milk powder, cornstarch and salt in a large bowl with the paddle attachment. Mix on low until combined.
Add the melted butter and mix for about 2-3 minutes.
Still on low add the eggnog and vanilla and mix for a few more minutes until fully blended.
Add all the egg yolks and mix until everything is just combined. Try not to over mix.
Pour on top of oat crust and bake for 15 minutes until golden brown on top.
At this point, open the oven door a crack and lower the temperature to 325 F. Once the oven reaches 325 F, close the oven door and bake for an additional 5-10 minutes.
The edges should be set and the very middle should slightly jiggle.
Take bars out and let cool to room temperature.
You can freeze them once cooled or put in refrigerator over night to completely set. Make sure they have been refrigerated at least one hour before serving.
When serving, sprinkle with sifted powdered sugar.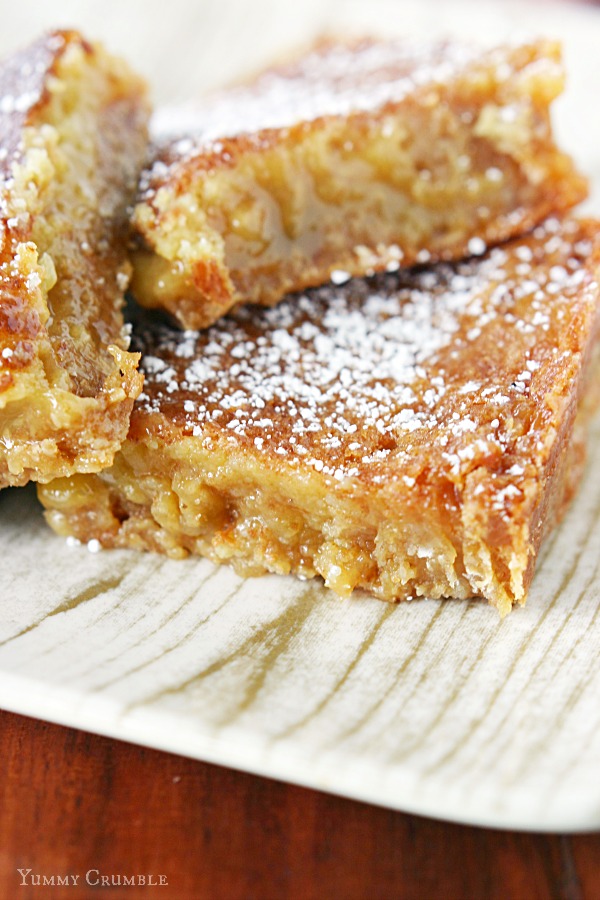 I'ts quite insane how delicious and addicting these are.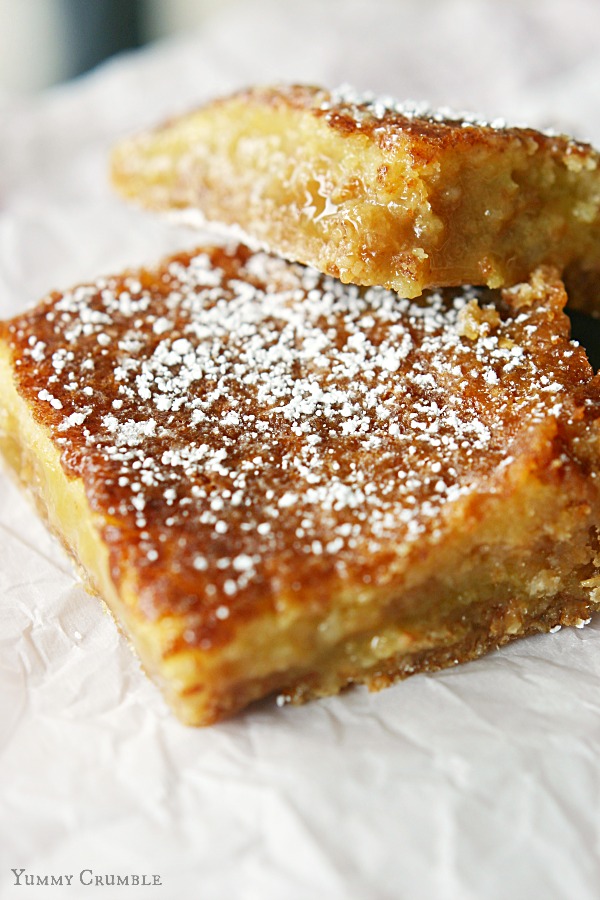 So go ahead and risk getting put on the naughty list this year.  I promise it's worth every bite!
Some more naughties: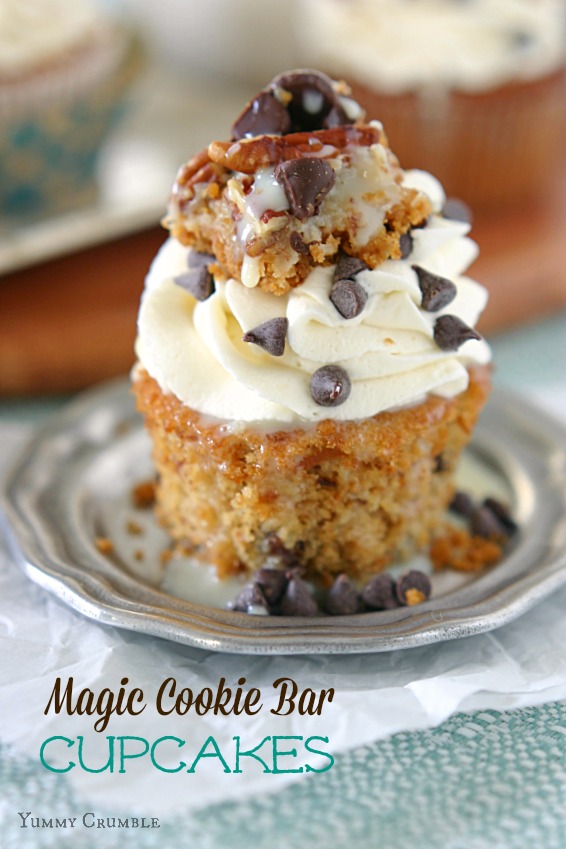 Magic Cookie Bar Cupcakes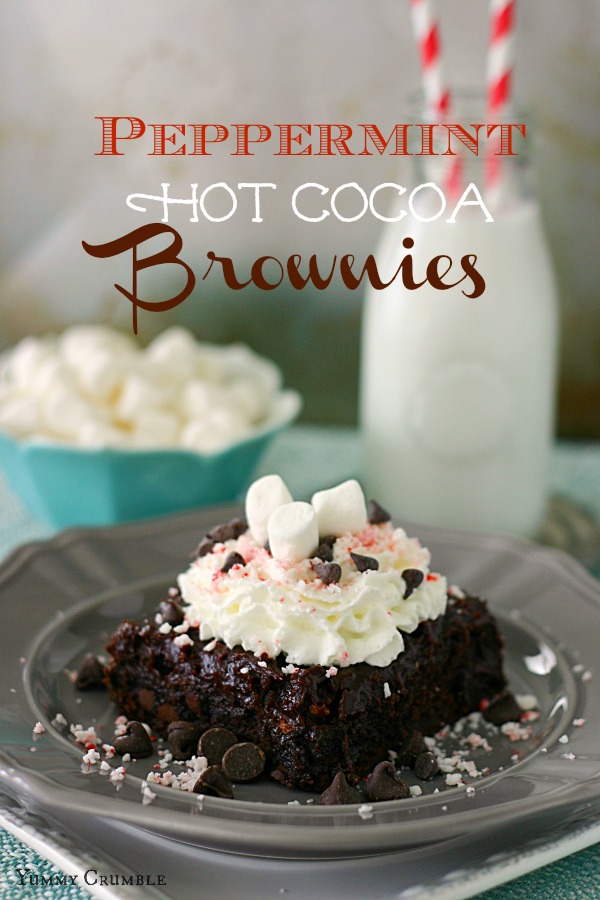 Peppermint Hot Cocoa Brownies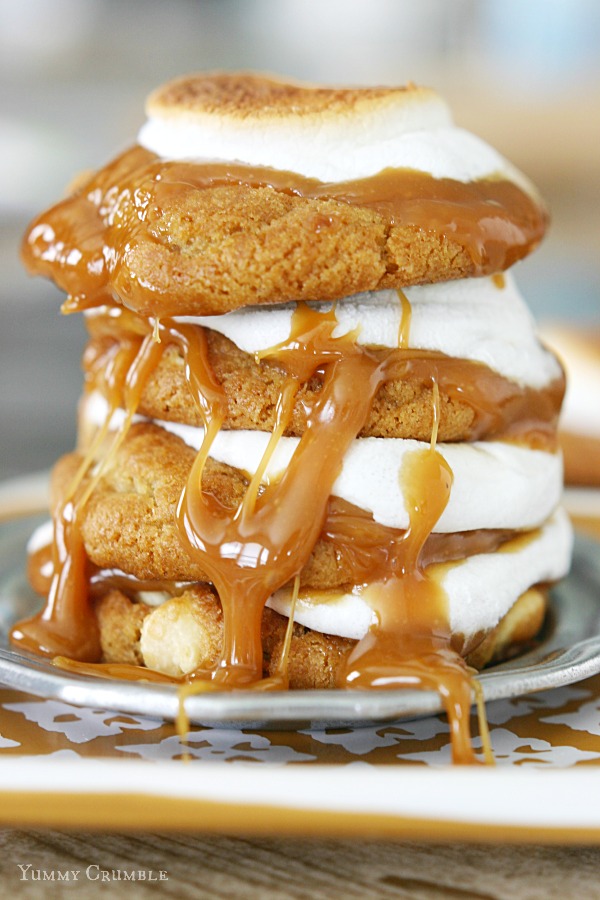 Caramel White Hot Chocolate Cookies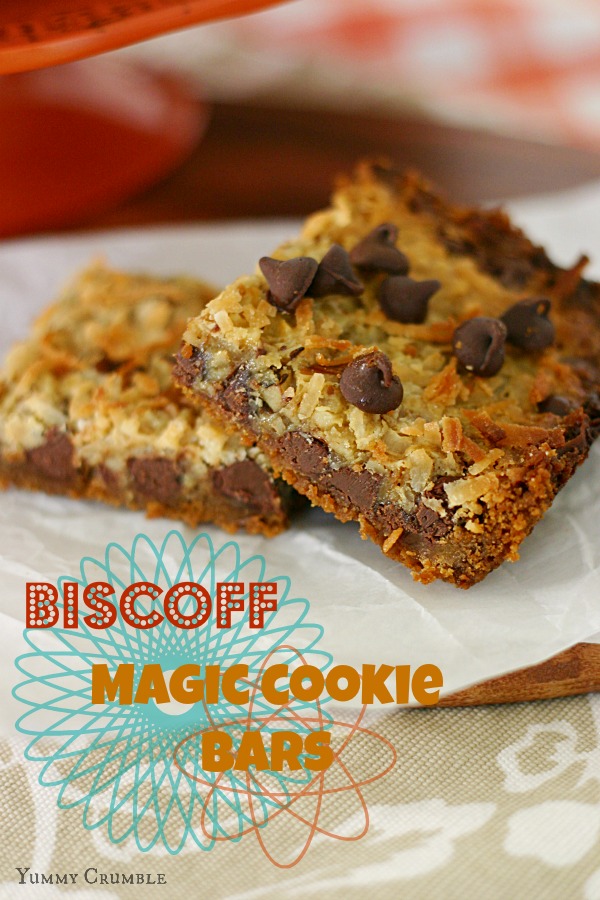 Biscoff Magic Cookie Bars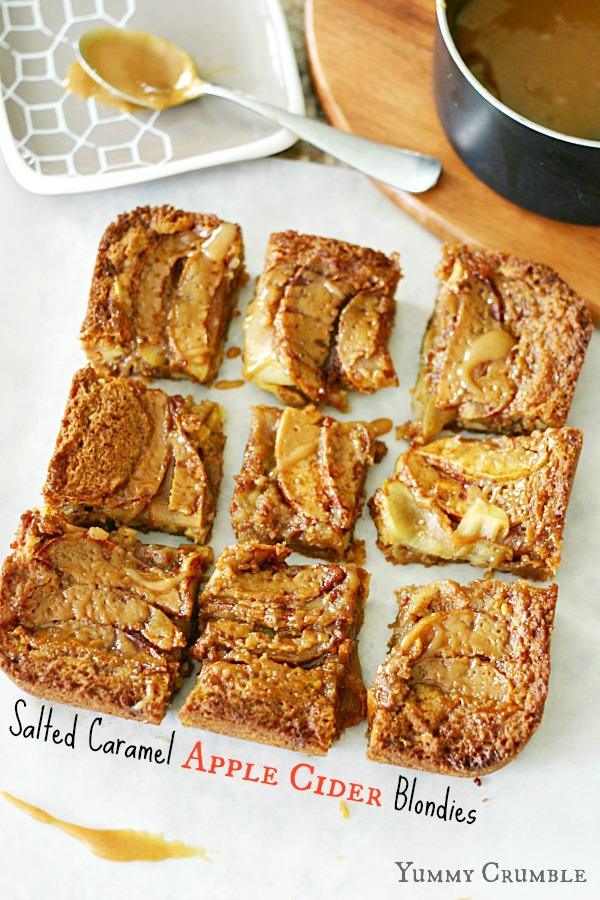 Salted Caramel Apple Cider Blondies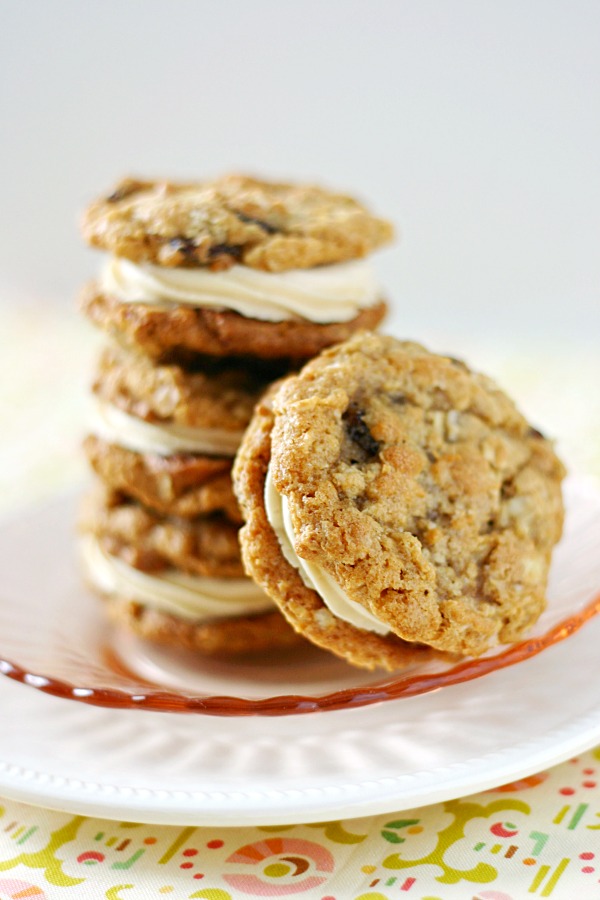 Oatmeal Raisin Cookie Sandwiches with Sweet Tea Frosting