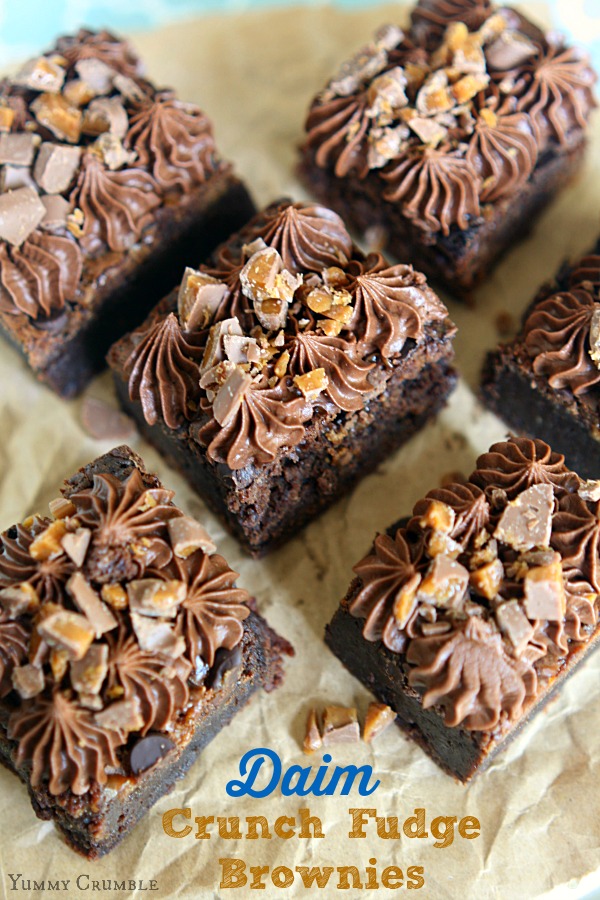 Deep dark chocolate brownies topped with rich fudge frosting and topped with crushed Daim chocolate candies. These Daim Crunch Fudge Brownies are the perfect combination of salty sweet toffee and bittersweet chocolate.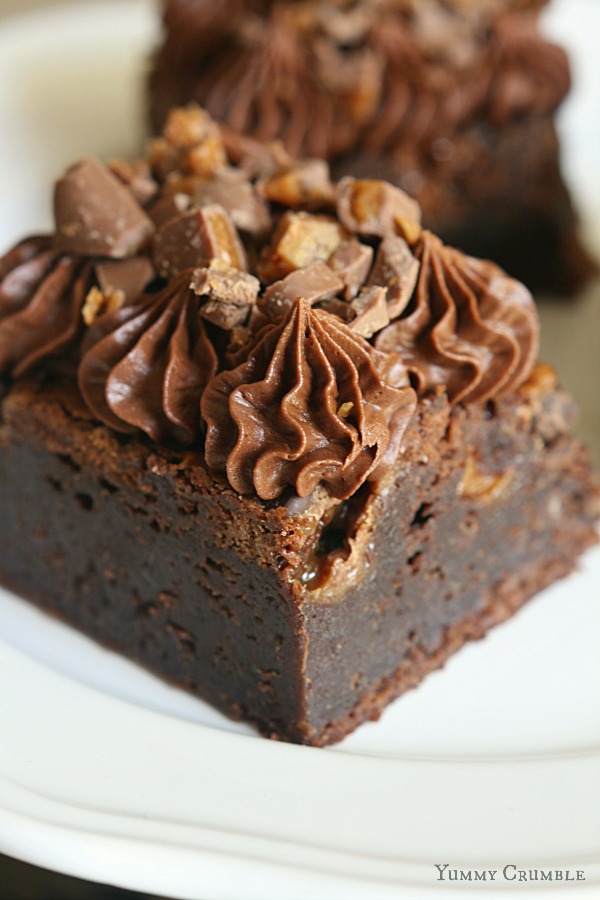 Have you ever had that moment when you can't decide between a brownie with a crunchy edge or a soft chewy center?  Well, now Ladies and Gents, you can have both.  These brownies are so insanely fudgey it's completely ridiculous, and the combination of those crunchy little Daim pieces take them over the edge.  I have to warn you, Daim candy is a little difficult to find in the U.S.  I'm in the United Arab Emirates so I can find it on every corner.  If you aren't in the UAE or Europe, you can find it in IKEA or most likely World Market.  Otherwise, you can used some chocolate covered toffee that's been crushed.  You want the variation of big and small pieces to really make these brownies cruch.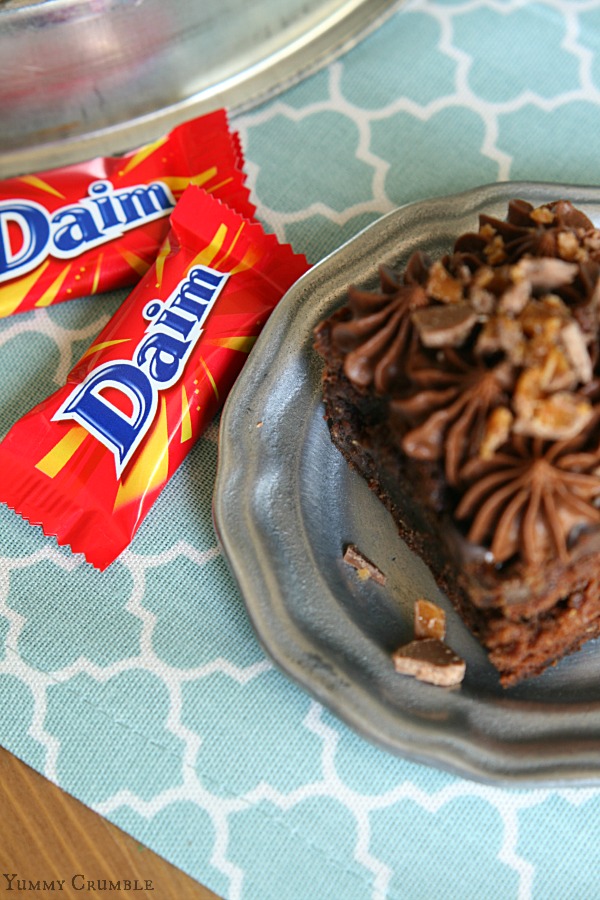 I've been in Dubai now for about a month and a half.  Although I love it here so far, I've been getting a little homesick. Mainly for Target, but that's because I have a mild Target obsession, but who doesn't?  So how have I been coping with my homesickness?  I go to Ikea like 3 times a week.  It's that perfect Ikea smell.  You know exactly what I'm talking about.  The moment I step inside and that wonderful smell hits my face,  I feel at home.  It's the familiarity of it and hello, the ability to leave my crazy 4 year old to play in Smaland for 90 blissful minutes.  For free!  You parents know exactly what I'm talking about.  It gives me the chance to buy bagfuls of Daim candies and shop for things I don't necessarily need.  You know, like Target.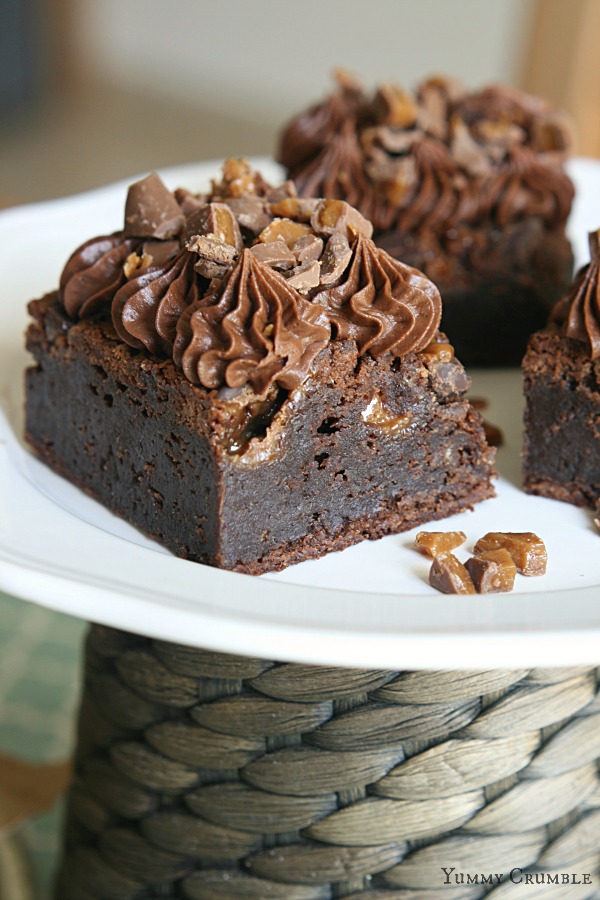 I've used this brownie recipe before for these devilish Red Velvet Oreo Brownies.  Best brownie recipe ever.  I found it from Baker Bettie and she claims they are the fudgiest brownies in all the land.  I totally concur.  They are so rich because it calls for a butt load of melted chocolate that's folded into the batter.  Yes! Yes! Yes! (In my best impression of Meg Ryan)
Daim Crunch Fudge Brownies
Ingredients
Brownies
¾ cup unsalted butter cut into 1 inch cubes
10 oz dark chocolate chips plus 2 ounces more to sprinkle on top
4 eggs at room temperature
1 tsp vanilla extract
1 cup granulated sugar
½ cup all purpose flour
3 tbs dark cocoa powder
¾ tsp salt
½ cup crushed daim candies
Chocolate Fudge Cream Cheese Frosting
8 ounces cream cheese, room temperature
¼ cup unsalted butter, room temperature
3 cups sifted powdered sugar
½ cup cocoa powder
Instructions
Brownies
Preheat the oven to 350 F and line a 9x9 baking dish with foil. Spray the foil with cooking spray and set aside.
In a medium pot on low heat, cook the butter and chocolate chips until melted and smooth. Remove from the stove and let slightly cool.
In a medium bowl, whisk together the flour, cocoa powder, and salt. Set that aside.
In a large bowl, whisk together the eggs and sugar. Use a whisk just for this part and switch to a wooden spoon or spatula to finish the rest of the mixing. You want to fold the rest of the ingredients to reduce incorporating air into the batter. This ensures super fudgey brownies!
Slowly stream the melted butter and chocolate into the egg mixture while continuously stirring.
Fold in the flour mixture until everything is just combined.
Spread the batter into the baking dish and sprinkle with the crushed Daim candies and chocolate chips
Bake for 35-40 minutes until an inserted toothpick comes out clean. Set aside to completely cool before frosting.
Chocolate Fudge Cream Cheese Frosting
Beat cream cheese and butter until light and fluffy.
Slowly mix in powdered sugar one cup at a time.
Mix in cocoa powder.
Beat for a few minutes until light.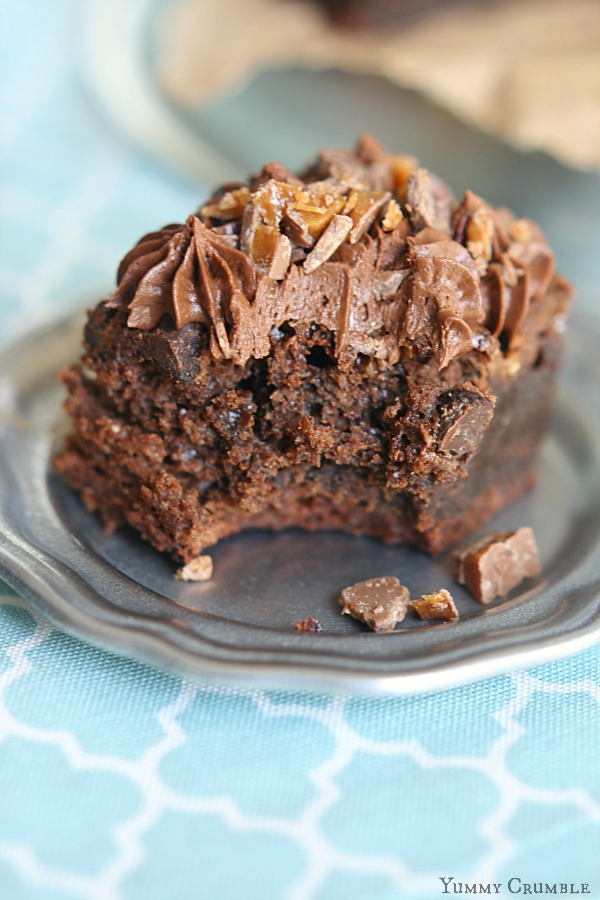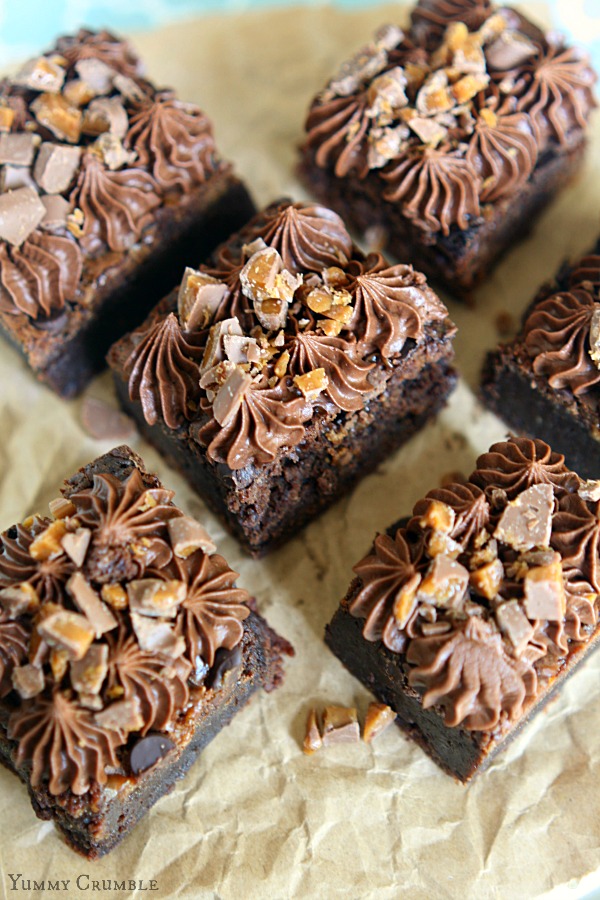 You might like these: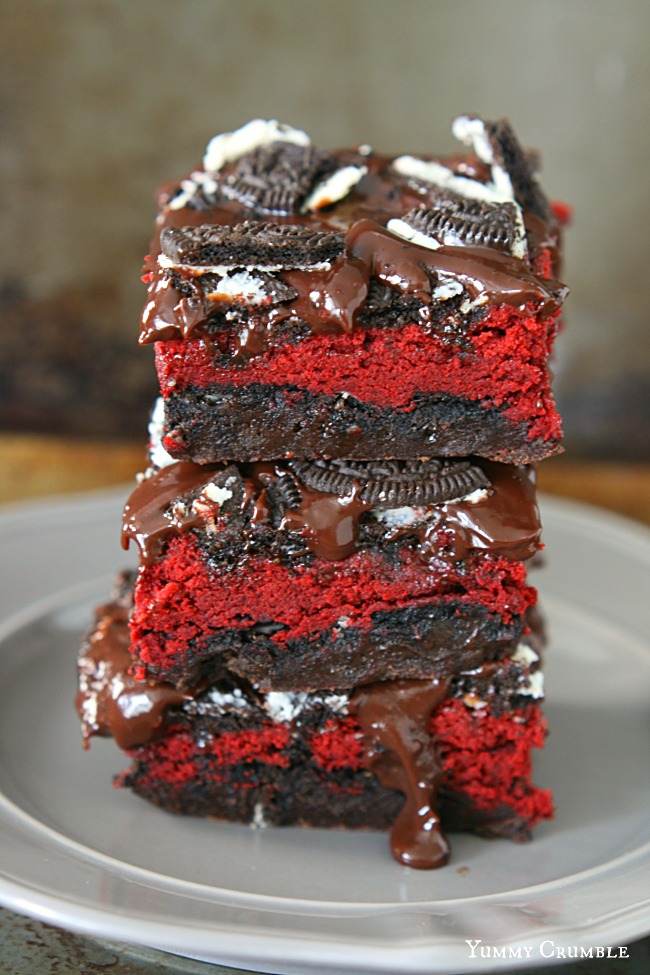 Red Velvet Oreo Brownies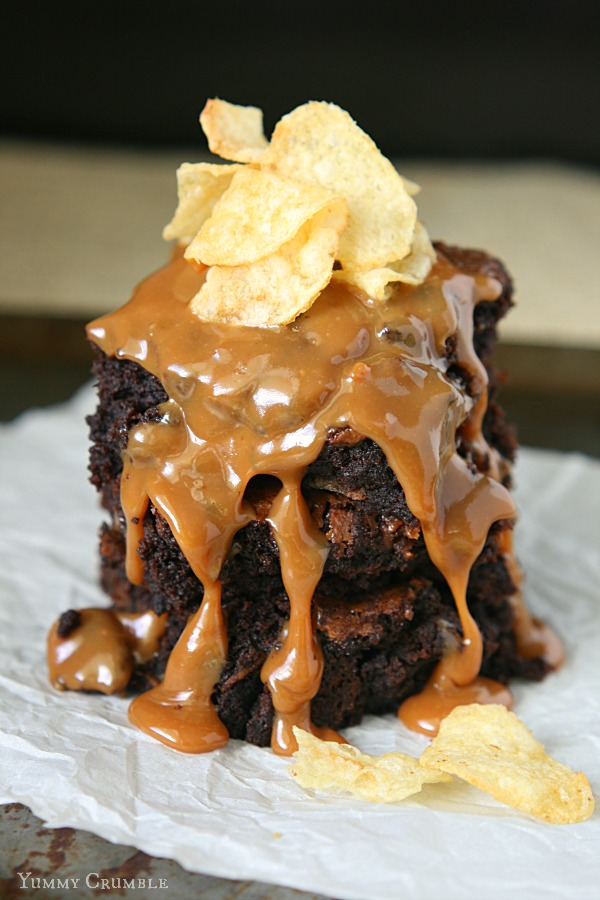 Caramel Potato Chip Brownies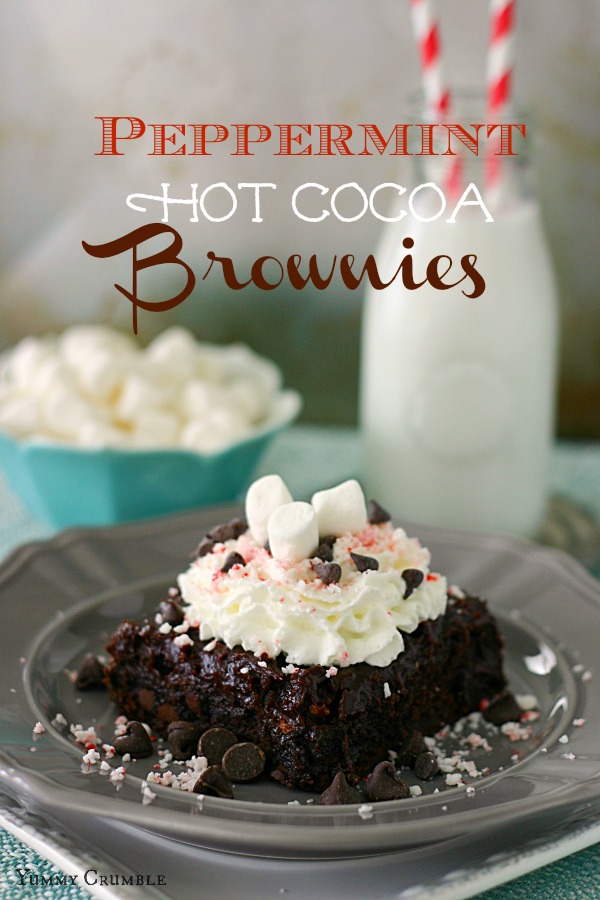 Peppermint Hot Cocoa Brownies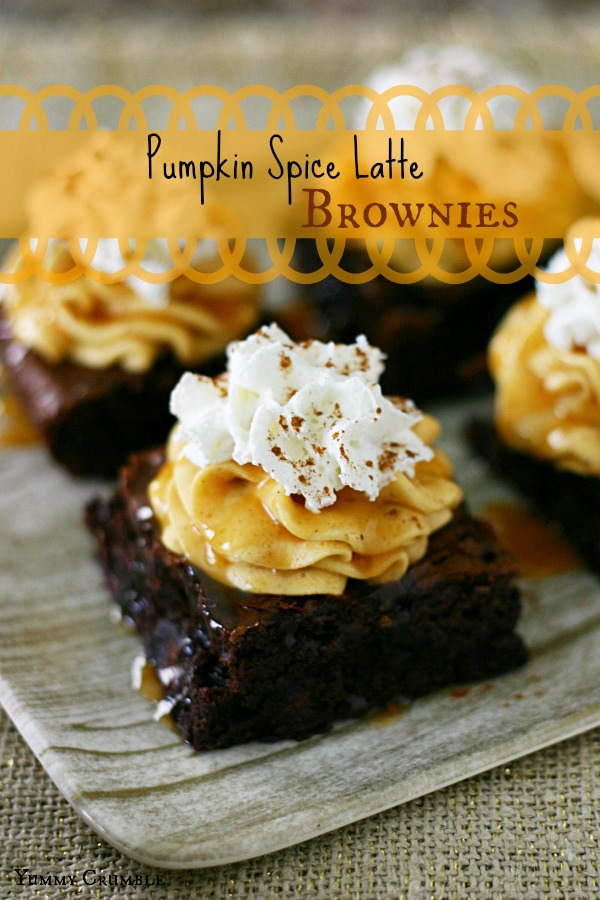 Pumpkin Spice Latte Brownies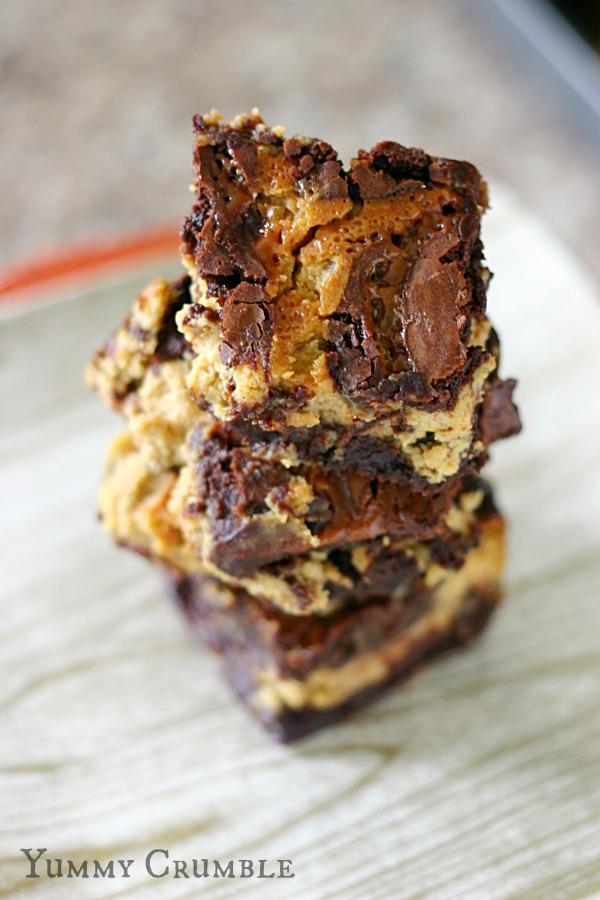 Caramel Pumpkin Cheesecake Brownies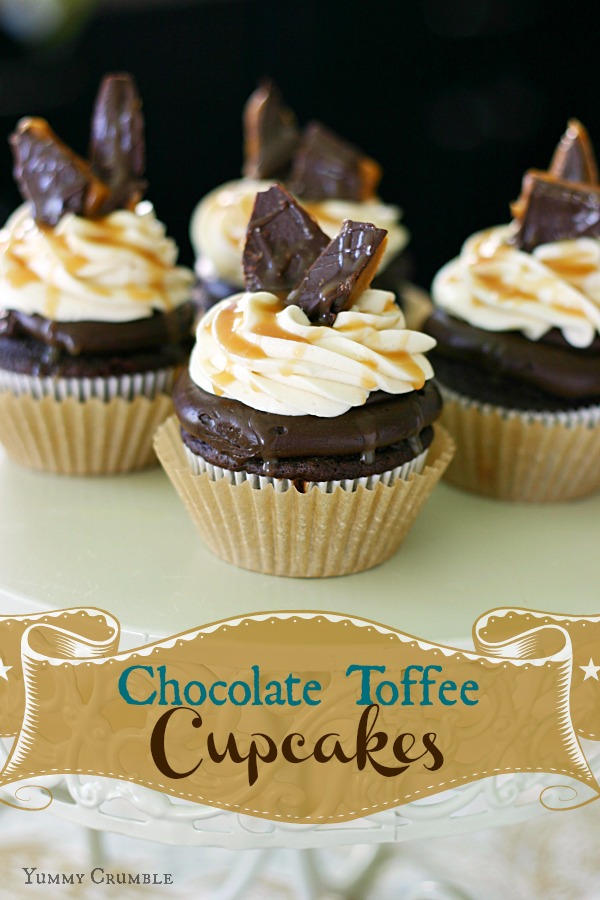 Chocolate English Toffee Cupcakes