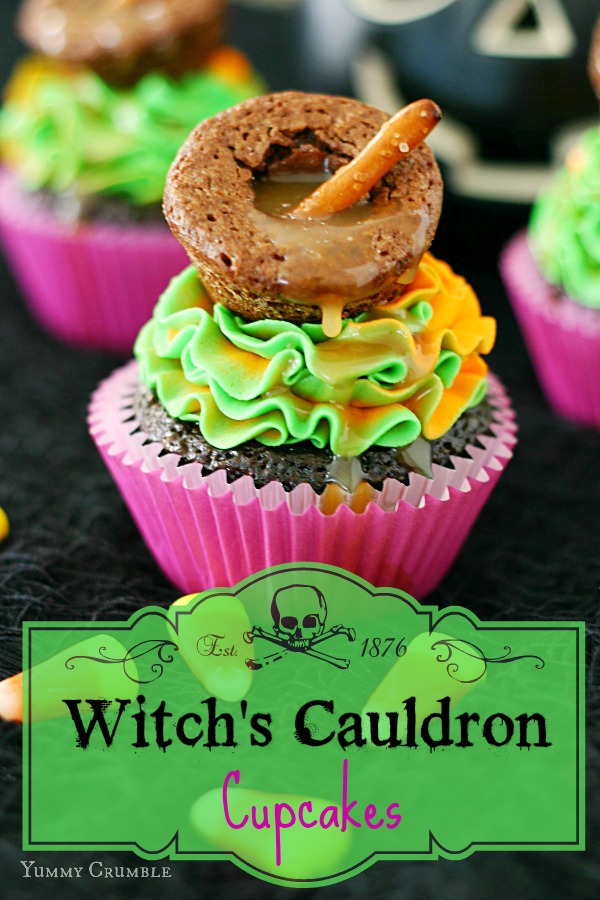 Wickedly delicious chocolate cupcakes frosted with vibrant green and orange vanilla buttercream frosting and topped with a miniature brownie cauldron bubbling over with salted buttery caramel.  These Chocolate Witch's Cauldron Cupcakes are the perfect ghoulish treat for little goblins and witches this Halloween!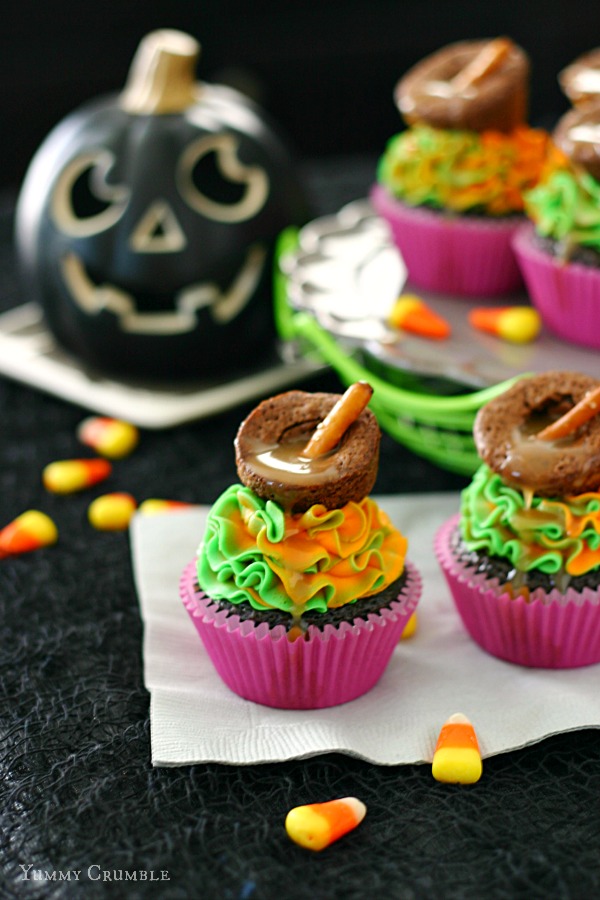 I'm gonna go ahead and say it.  Everybody says it.  You hear it said by everyone everywhere.
"Christmas decorations in the stores already?!"
The only thing is…I'm totally okay with it and super excited about it.  Hey, I start listening to Christmas tunes when August comes around.  I'm the last person you should be complaining to about the commercialization of Christmas.  Sorry Linus from Charlie Brown, but I'm the gal with my Christmas tree up and decorated before you can finish saying Happy Thanksgiving!  That being said, this is my last spooky cupcake post!  Bring on the cinnamon, cloves, apples, and all things jolly!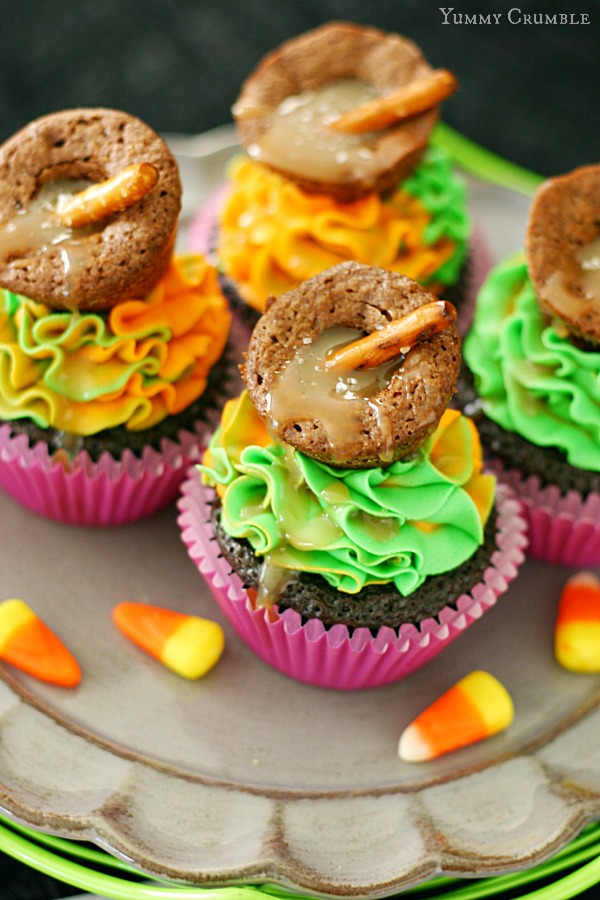 I found the most perfect and easy recipe and tutorial for making home made caramel from Cooking Classy.    I can't tell you how many times I've botched a pot full of bubbling sugar.  A crazy 4 year old and newly walking toddler are surely a recipe for distraction and disaster when making caramel!  This time I made sure Jovi was napping before I tried batch number 5.  And it worked magically!  The delicious caramel was the perfect "potion" in these Chocolate Witch's Cauldron Cupcakes.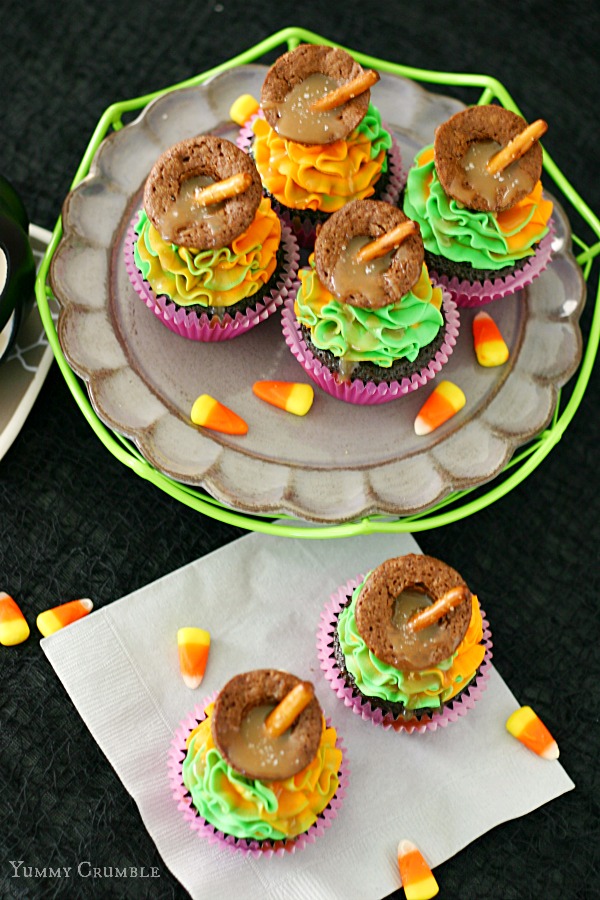 Last week I made Chocolate Spider Nest Bundt Cakes and just used the left over batter for these cupcakes.  It's a super light and fluffy chocolate cake that rises perfectly when baked.  I used a simple vanilla buttercream frosting dyed with food gel coloring with colors that scream Halloween!  The miniature cauldrons were a super yummy brownie recipe I found from Life Love and Sugar.
Chocolate Witch's Cauldron Cupcakes
Ingredients
Cupcakes
2 cups sugar
1-3/4 cupsall-purpose flour
¾ cup HERSHEY'S Cocoa
1-1/2 tsps baking powder
1-1/2 tsps baking soda
1 tsp salt
2 eggs
1 cup buttermilk
½ cup vegetable oil
2 tsps vanilla extract
1 cup boiling water
Vanilla Buttercream Frosting
1 cup room temperature unsalted butter
6-8 cups powdered sugar
½ cup cream
1 tsp vanilla extract
3-4 drops green food gel dye
3-4 drops orange food gel dye
Brownie Cauldrons
¾ cup vegetable oil
1½ cups sugar
1½ tsp vanilla extract
3 eggs
¾ cup flour
⅓ cup + 2½ tbsp cocoa
¼ tsp + ⅛ tsp baking powder
¼ tsp salt
Homemade or store bought caramel sauce
Mini pretzel sticks
Instructions
Cupcakes
Preheat oven to 350 F. Line your cupcake pans.
In a large bowl attached to your mixer, whisk together the sugar, flour, cocoa, baking powder, baking soda and salt.
Add eggs, milk, oil and vanilla and set the mixer on medium and beat for about two minutes.
Next slowly pour in the hot water and mix on low until everything is combined. The batter will be super runny, but don't worry. The cakes bake up nice and fluffy.
Pour into your cupcake liners halfway. If you fill them to high, they will overflow and have a horrible mess.
This is also a lot of batter. I made about 24 cupcakes and made mini chocolate bundts with the rest.
Bake for about 25 minutes or until a toothpick comes out clean.
Let cool on a wire rack.
Vanilla Buttercream Frosting
With your paddle attachment of your electric mixer, beat butter until light and fluffy.
Add 6 cups of the powdered sugar with cream and vanilla.
Mix slowly until its blended well, then beat on high for 2-3 minutes.
Add more sugar one cup at a time until desired consistency.
Divide frosting in half and eat in green food dye.
Mix the other half with the orange food dye.
Brownie Cauldrons
Preheat oven to 350 F and spray a mini cupcake pan with oil.
In a large bowl, stir the oil, sugar, and vanilla together until combined.
Mix in eggs.
In a small bowl, whisk together the flour, cocoa, baking powder, and salt. Add the dry mixture to the wet and mix until fully incorporated.
Using a mini cookie scoop, drop batter into mini cupcake pan. About a teaspoon of batter for each one.
Bake for 12 minutes or until a toothpick comes out clean.
Let cool on a rack.
Using a teaspoon or your thumb, make small indentations in each cauldron for the caramel.
Assembly
In a piping bag, spoon the different colored frosting on each side of the bag for the swirl effect.
Pipe frosting on cupcakes and top with the mini brownie cauldrons.
Spoon the caramel sauce into each cauldron until overflowing and add a little mini pretzel stick.
Some more ghoulish delights!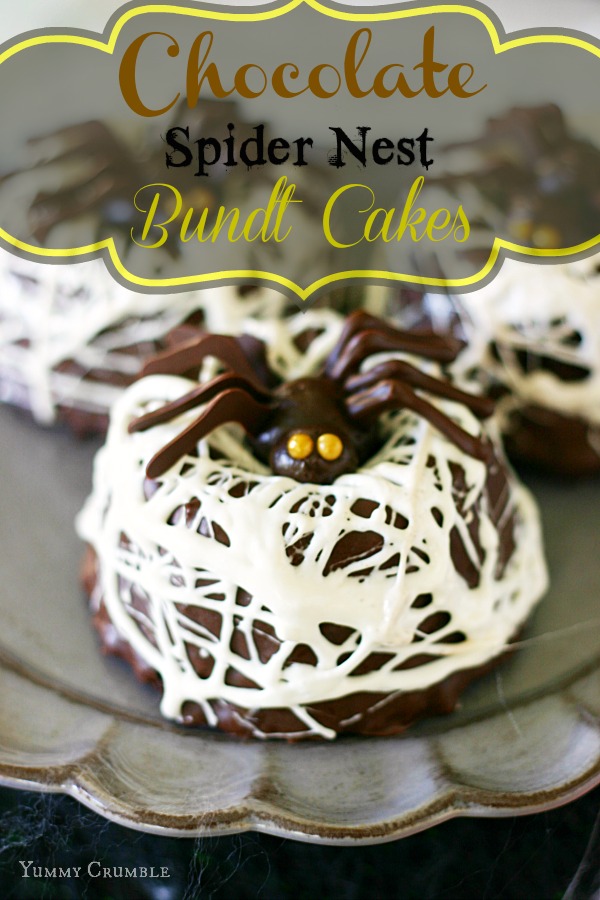 Chocolate Spider Nest Bundt Cakes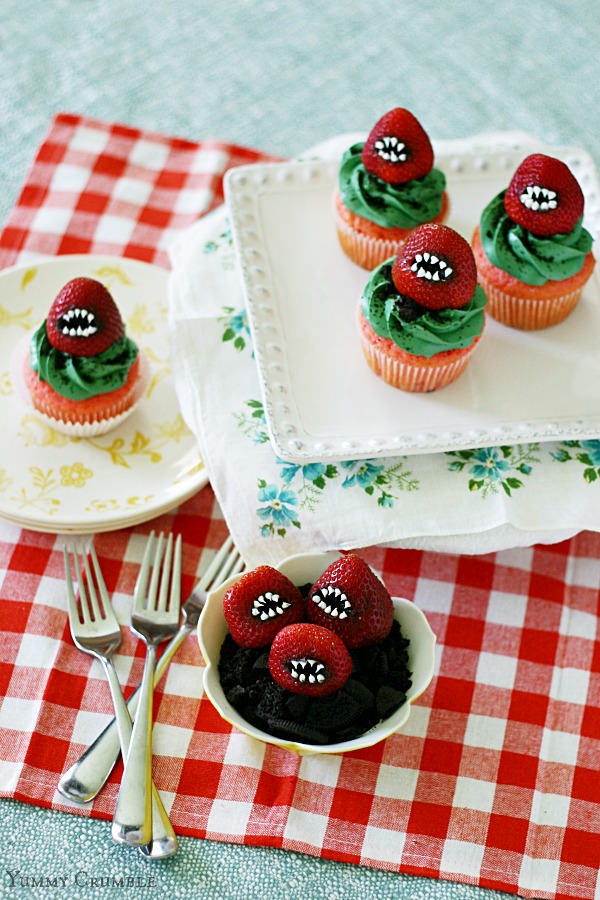 Monster Strawberry Cupcakes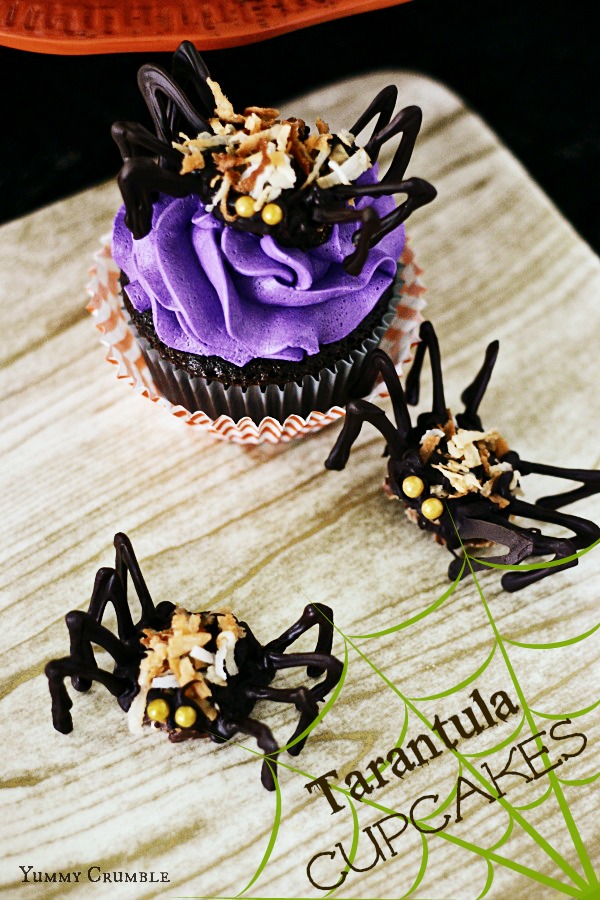 Chocolate Tarantula Cupcakes