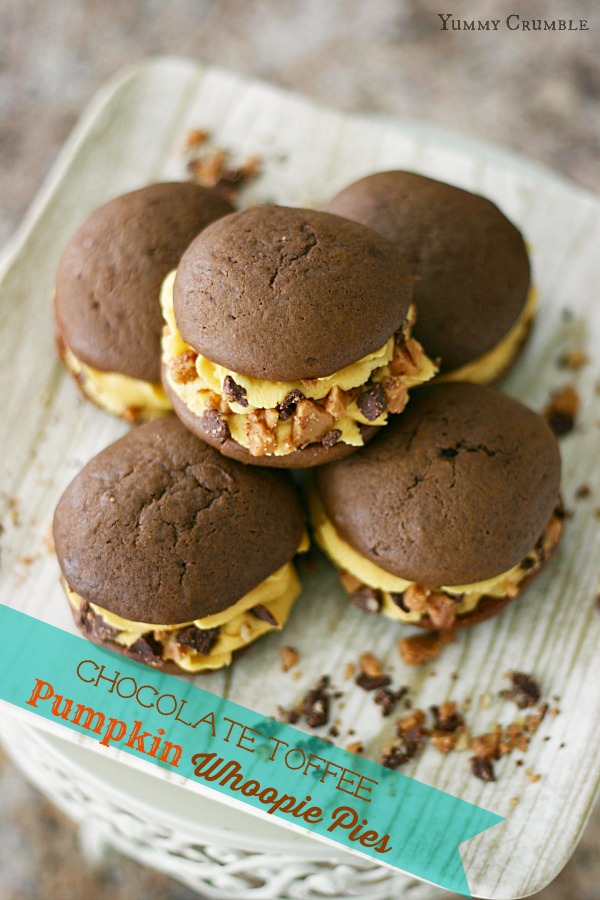 Miniature whoopie pies stuffed with fluffy pumpkin butter cream frosting and dipped in buttery chocolate walnut English Toffee.  These Chocolate Toffee Pumpkin Whoopie Pies are perfect this Thanksgiving!
If you've had a Whoopie Pie then you know two things.  They're super yummy and they're usually super huge.  Huge and yummy together are a recipe for something perfect, but Thanksgiving is coming and I need to leave room for Sweet Potato Casserole.  Like this and this.  Seriously, just forget the turkey.  Hand me a massive bowl and a wooden spoon and I'm a happy little pilgrim.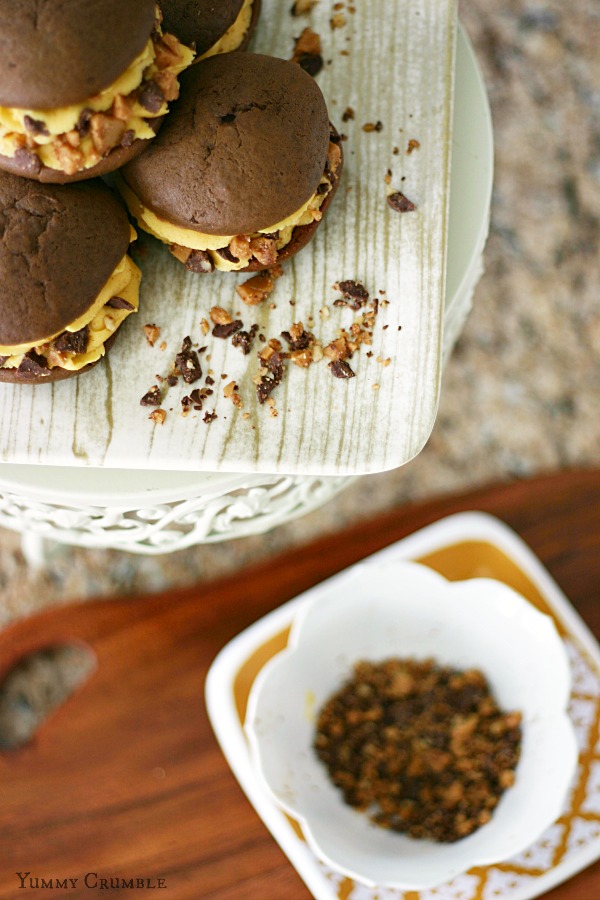 I wanted to make some Whoopie Pies that wouldn't be overkill but  still a perfect little treat after the big feast.  I used a tiny cookie scoop for these to keep them "miniature" and they were the perfect size.  Keeping with the Thanksgiving theme and all that is pumpkin, I used my favorite pumpkin butter cream frosting.  The chopped buttery English toffee adds a little hint of indulgence.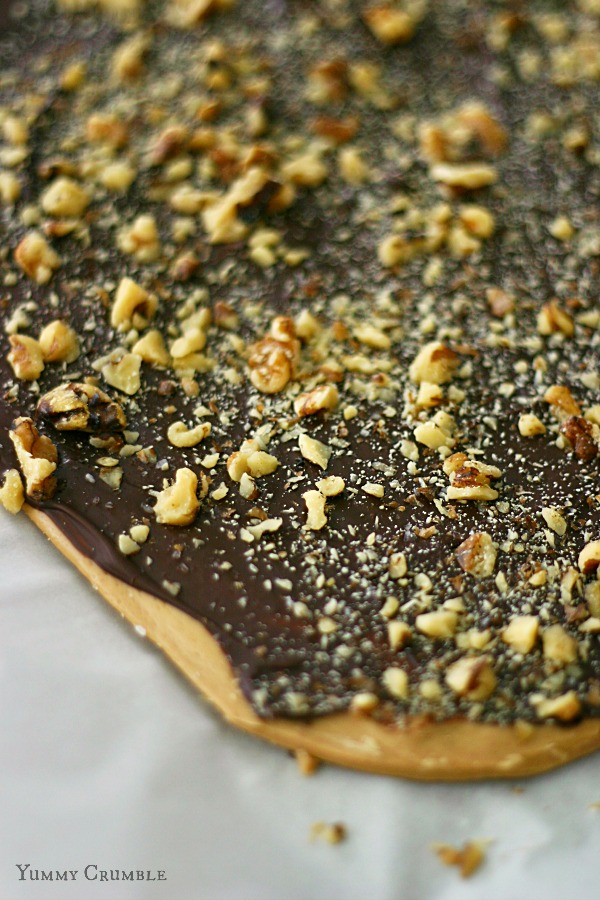 Here is that chocolate walnut English toffee in all her glory 🙂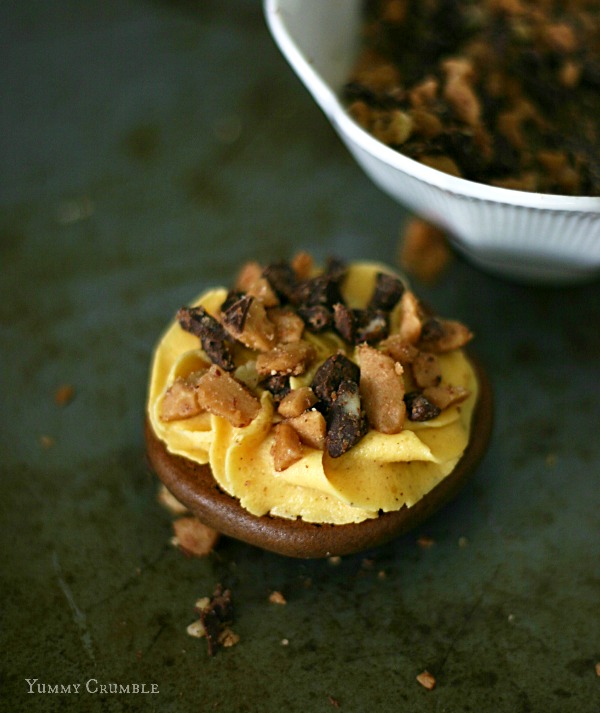 I just sprinkled the toffee bits in between two, (yes two!) frosting layers.  There's a buttery toffee crunch in each bite that is absolute heaven!
Chocolate Toffee Pumpkin Whoopie Pies
Ingredients
Chocolate Cakes
½ cup butter at room temperature
1 cup brown sugar, packed
1 teaspoon espresso powder, optional
1 teaspoon baking powder
½ teaspoon baking soda
¾ teaspoon salt
1 teaspoon vanilla extract
1 large egg
½ cup Dutch-process cocoa
2⅓ cups unbleached All-Purpose Flour
1 cup milk
Pumpkin Butter Cream
4 Tbs room temperature butter
½ cup 100% pumpkin puree
½ tsp vanilla
½ tsp cinnamon
¼ tsp nutmeg
5 cups powdered sugar
1 cup of your favorite English Toffee chopped into bits.
Instructions
Chocolate Whoopie Cakes
Preheat your oven to 350 F and line your cookie sheets with parchment.
beat together the butter, sugar, espresso powder, baking powder, baking soda, salt, and vanilla till mixed and smooth.
Add the cocoa powder and beat some more.
Add the flour alternating with the milk. Start with the flour and end with the flour.
Using a mini cookie scoop, drop mounds of dough onto the parchment paper. Make sure there is enough space between each cookie in case they spread.
Bake the cakes for 10-12 minutes or until they are firm to the touch.
Allow to cool on a baking rack.
Pumpkin Butter Cream
With your electric mixer, beat butter until fluffy.
Beat in pumpkin for 2-3 minutes until fully combined.
Add vanilla, cinnamon, nutmeg and beat some more.
Add sugar one cup at a time until you get the right consistency.
Pipe some frosting on one cookie then dip in the chopped toffee. Pipe frosting on the other cookie and sandwich them together.
Notes
Chocolate Whoopie cakes from King Arthur Flour
Pumpkin Butter cream from
Wine and Glue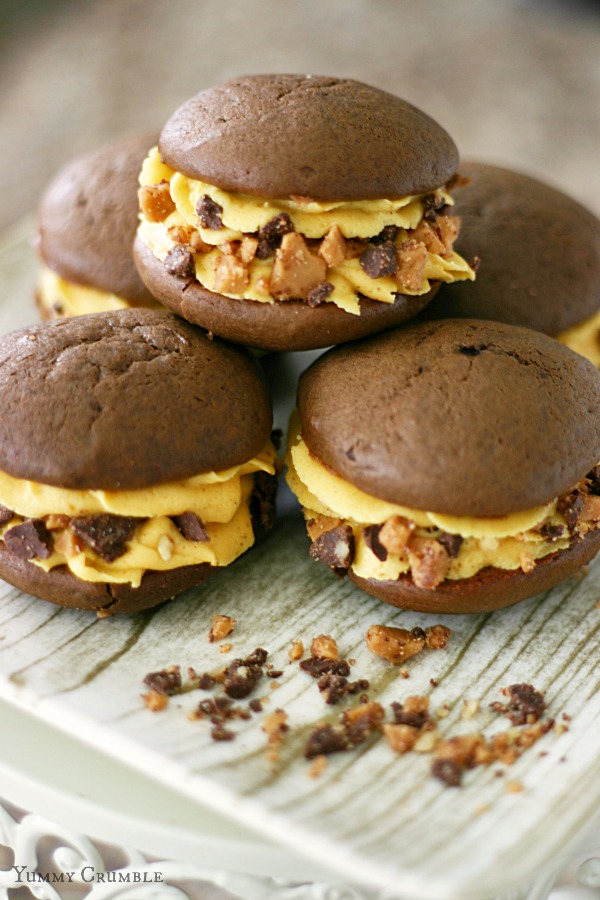 Some more diet destroyers: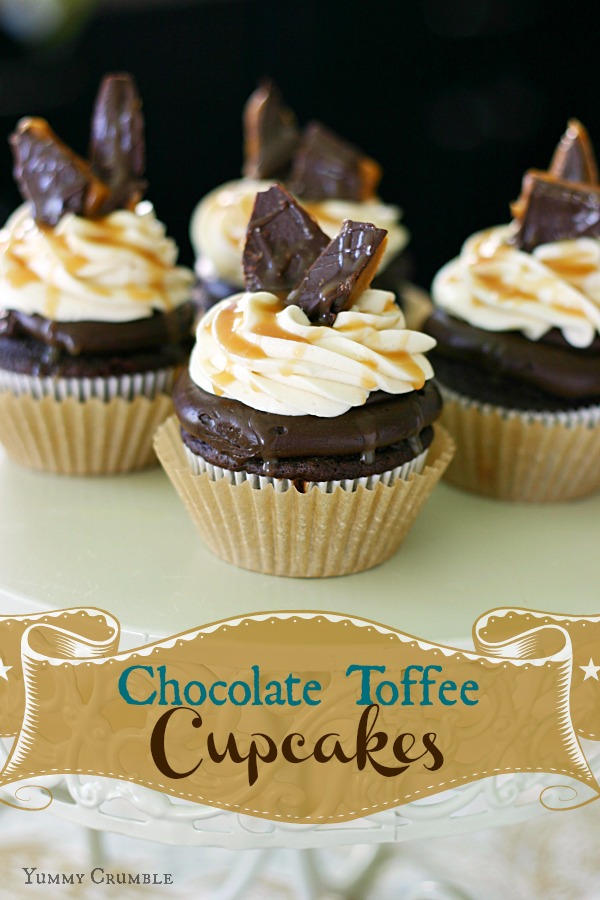 Chocolate Toffee Cupcakes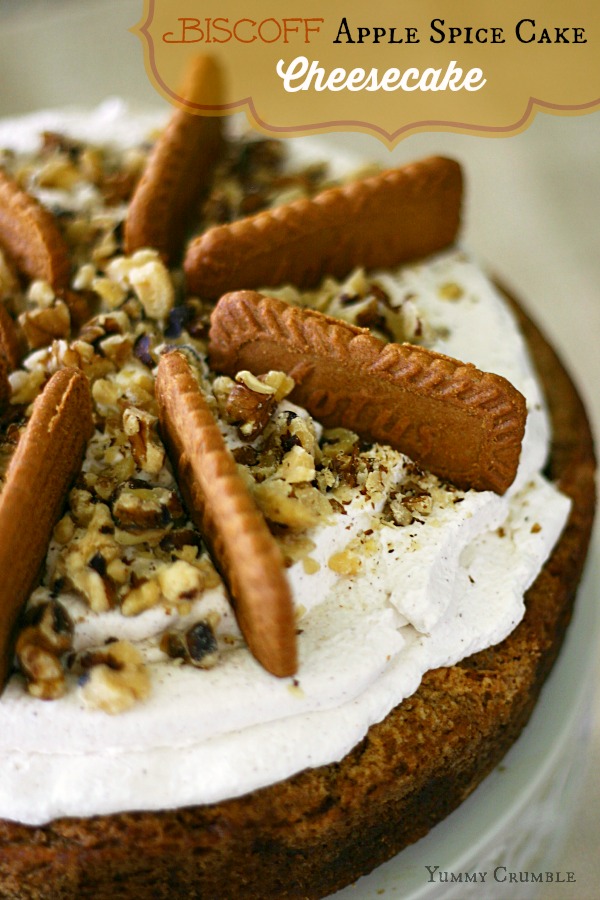 Biscoff Apple Spice Cake Cheesecake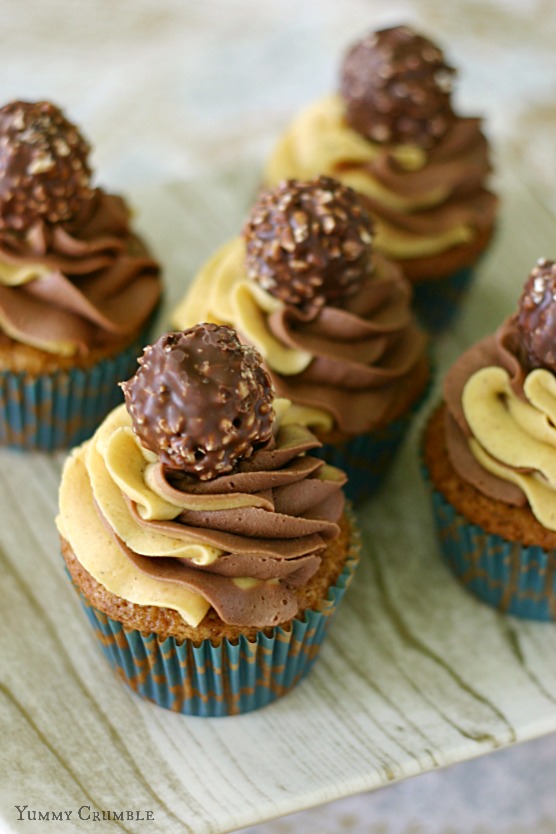 Nutella Pumpkin Cupcakes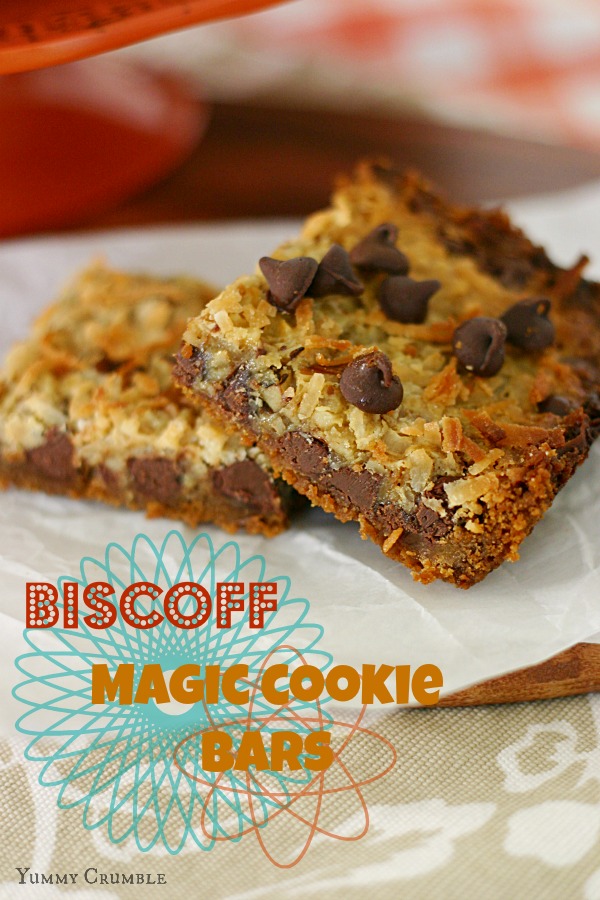 Biscoff Magic Cookie Bars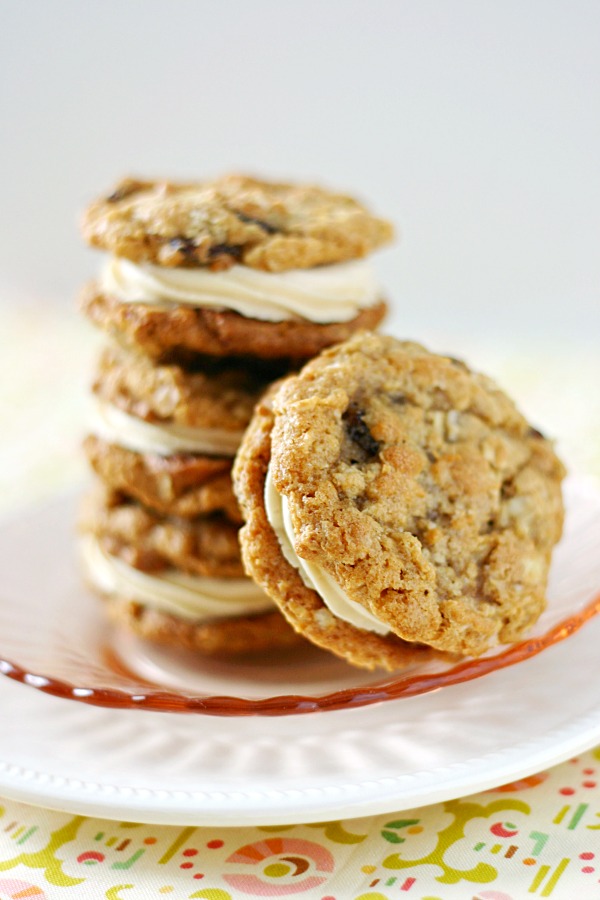 Oatmeal Raisin Cookie Sandwiches