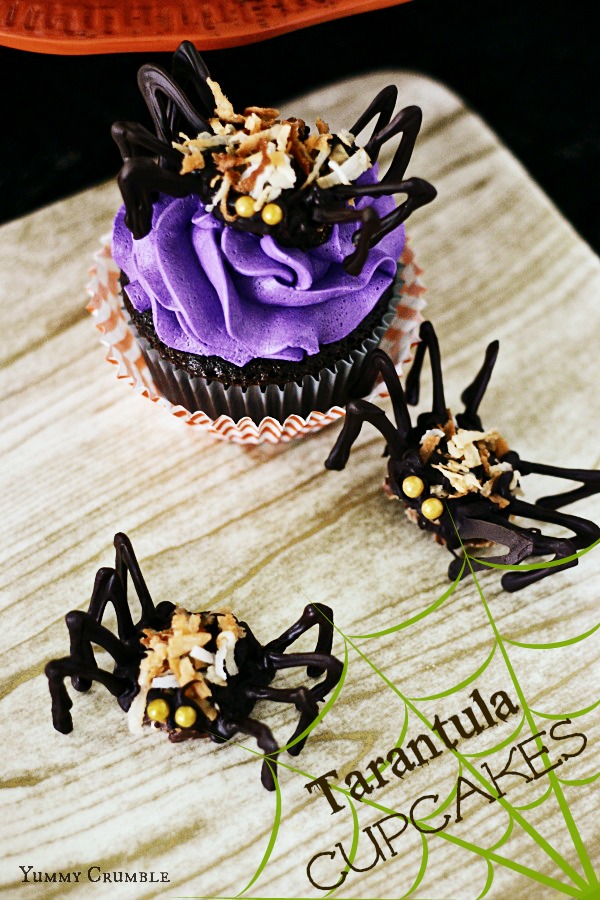 Spooky Chocolate Tarantula Cupcakes that are perfect for Halloween!  Super dark chocolate cupcakes topped with vibrant purple vanilla buttercream and topped with the most adorable chocolate spiders!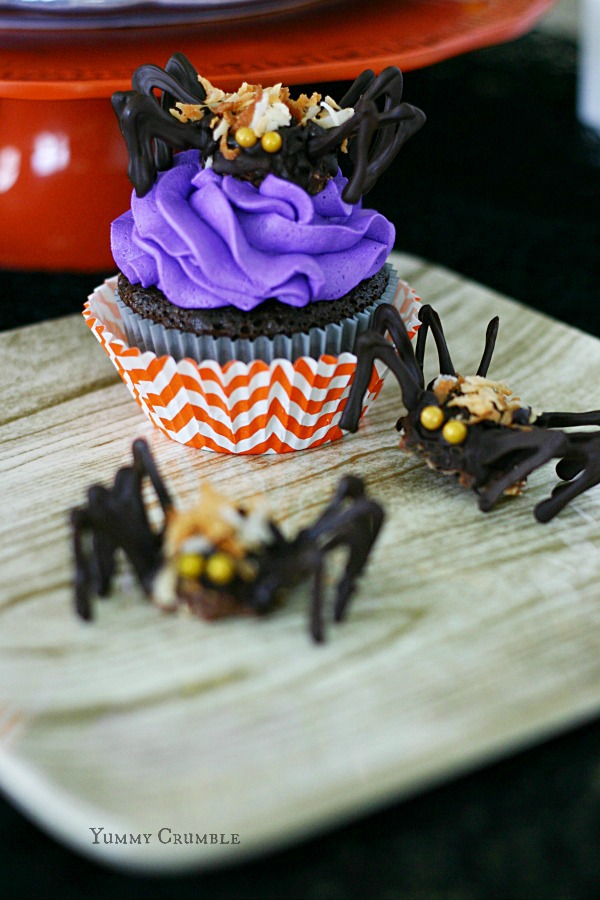 Last week I posted a super easy and adorable tutorial for these Ferrero Rocher Chocolate Spiders.  I made my favorite chocolate cupcakes and topped them with the hairy coconut chocolate spiders.  My son Oliver, who has inherited my really crazy, borderline ridiculous obsession for chocolate, still would not go near these guys.  I guess no matter how delicious something is, if it has eight legs you squeal and run away.  And that's exactly what my four year old did.  I just shrugged and ate his cupcake.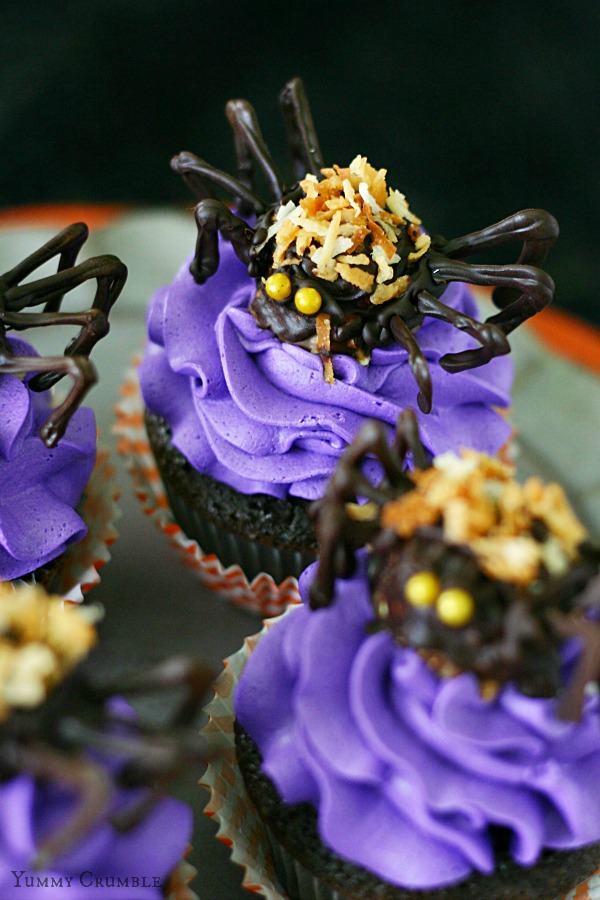 Chocolate Tarantula Cupcakes
Ingredients
Chocolate Cupcakes
1 cup all purpose flour
½ cup cocoa powder
1 teaspoon baking soda
1 cup sugar
½ cup melted and cooled butter
¼ cup melted semi sweet or dark chocolate chips
2 egg
5 tablespoons cold coffee
3 tablespoons milk
3 teaspoon vanilla
Vanilla Buttercream
3 cups powdered sugar
1 cup softened butter
1 teaspoon vanilla extract
1 to 2 tablespoons cream
2-4 drops purple gel food dye
12 Chocolate Spiders
Instructions
Chocolate Cupcakes
Preheat your oven to 350F.
Combine dry ingredients up to sugar in a medium sized bowl. In another bowl, whisk together the butter, melted chocolate, egg, coffee, milk, and vanilla.
Now combine the wet with the dry by folding until just combined. Try to not over mix.
Fill your cupcake pan with liners (about 12) and bake for 12-15 minutes.
Vanilla Buttercream
With an electric mixer set on medium, beat the softened butter until light and fluffy for about 2-3 minutes.
Add sugar and continue to beat on medium.
Add cream and vanilla and beat on high until fluffy. Add more cream if needed.
Whip in food dye.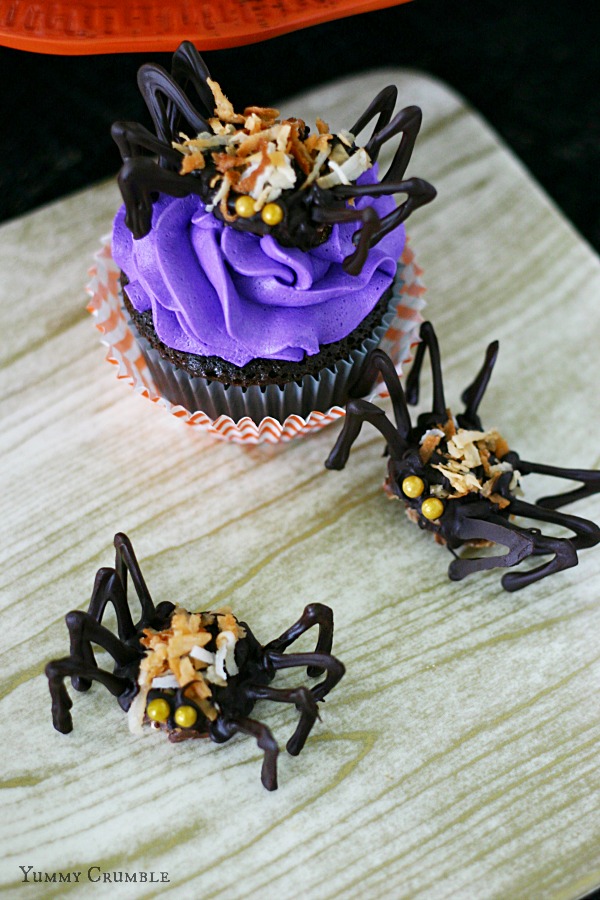 These were super fun to make, but judging by my son's reaction, these might be a little to creepy for his Preschool class Halloween party.
Some more Spookies: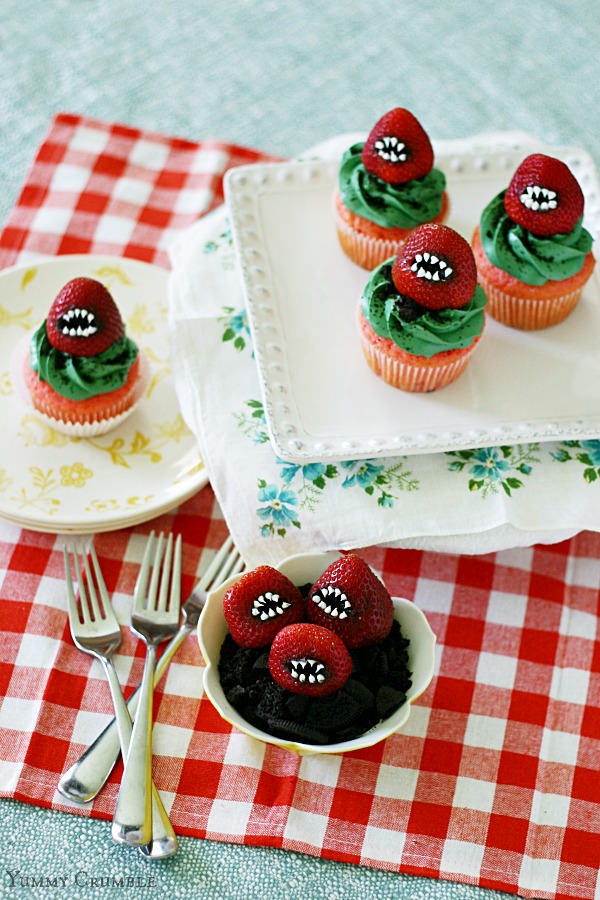 Monster Strawberry Cupcakes
Ferrero Rocher Spider Tutorial