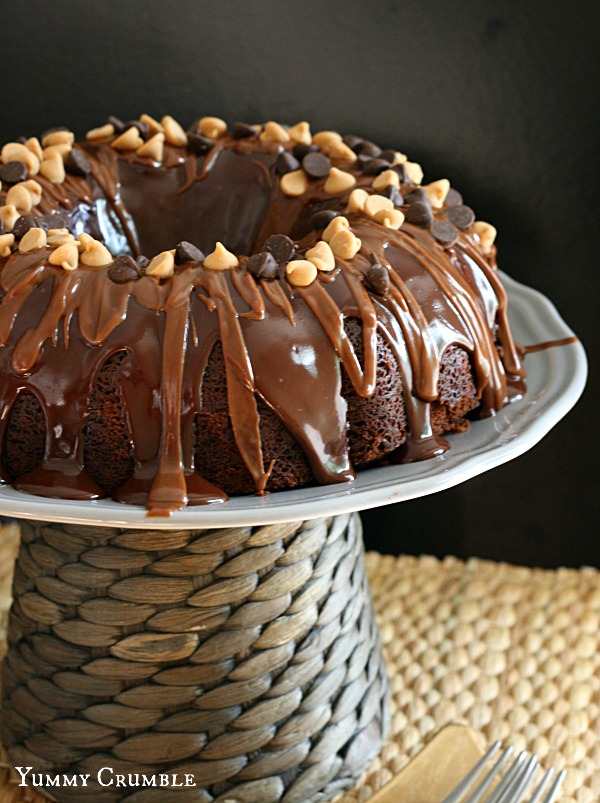 A luscious chocolate bundt cake full of peanut butter chips and dark chocolate chips. Smothered in chocolate and peanut butter ganache, this Chocolate Peanut Butter Bundt cake looks so indulgent you'll be shocked at how easy it is!
This May will mark our family's one year anniversary of living in Dubai.  I'm shocked at how that creeped up on us.  We absolutely love it here and we won't be moving back to the States anytime soon, mostly because my husband has at least 5 years of work left!  Dubai is growing like crazy and they've been on a theme park craze lately.  (Chris is a project manager for an indoor theme park that's being built) It's only one of the may under construction right now.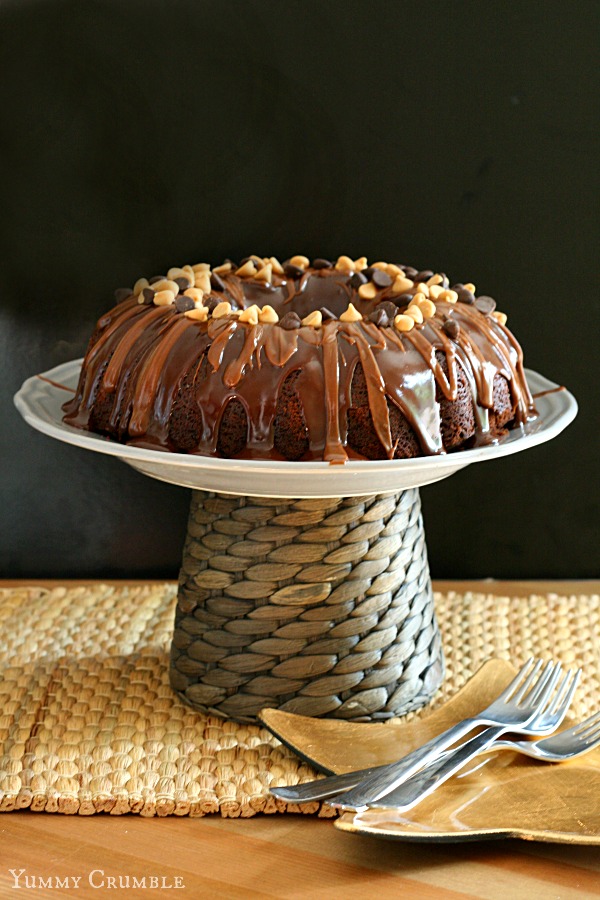 Although we're loving living in the most exciting city in the world, we had some home sickness in the beginning for sure.  Don't even get me started on how much I long to roam the halls of my beloved Target, or stuff my face at Chipotle.  I remember the first three weeks we were here, I was so homesick that I went to Ikea at least 2 times a week.  Just to get a whiff of that beautiful Ikea smell.  I would always feel at home when I was there.  Plus, free play time for the kids.  You can't beat that.  My first purchase was a nice bundt cake pan because I had to start from scratch on my cake pan collection.  Sadly everything related to my kitchen was left back home.  The one thing I miss most, right after my mixer, was my rusty, beat up cookie sheet.  It was the perfect food photography prop!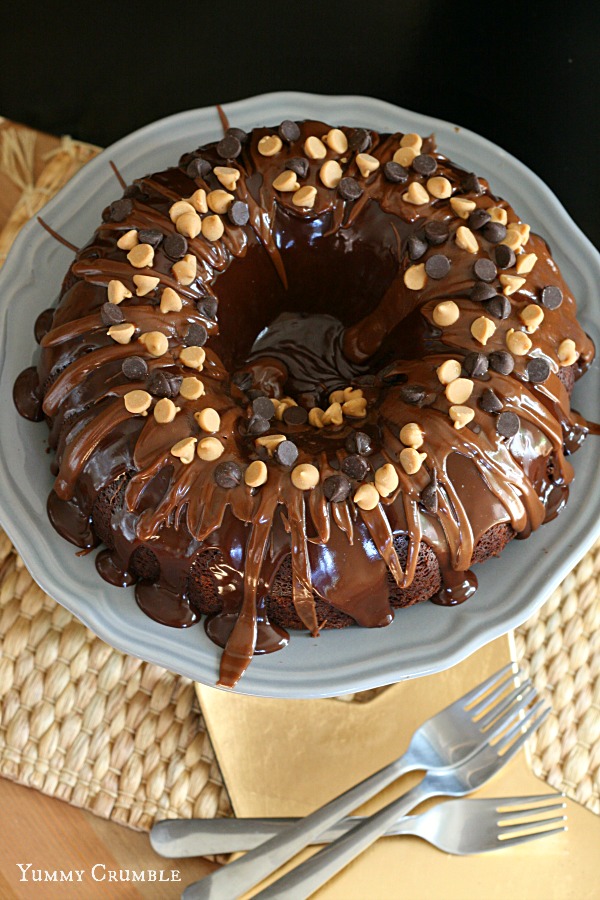 So here's to one year of middle east living under our belts!  I think this Chocolate Peanut Butter Bundt Cake is the perfect way to celebrate!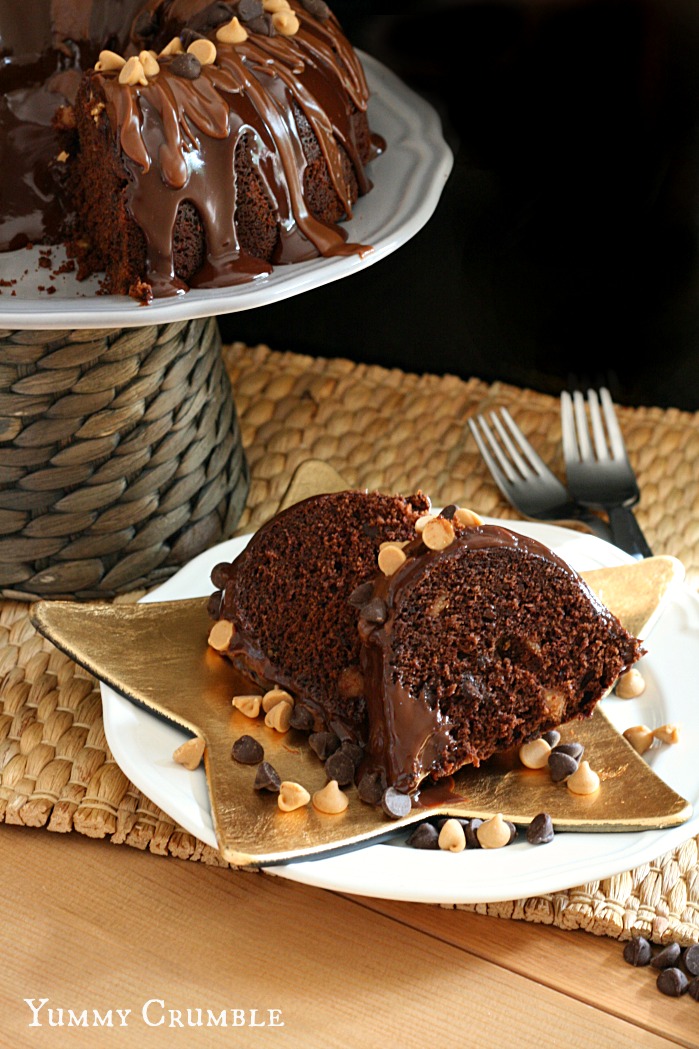 Chocolate Peanut Butter Bundt Cake
Ingredients
Chocolate Bundt Cake
2 sticks softened unsalted butter
2¼ cups all purpose unbleached flour
¾ cup cocoa powder
1 teaspoon baking soda
1 teaspoon salt
½ cup milk
½ cup sour cream
1½ cups sugar
4 large eggs
½ cup semi sweet chocolate chips
½ cup peanut butter chips
Chocolate and Peanut Butter Ganache
1 cup heavy cream
8 ounces semi sweet chocolate chips
1/ 4 cup smooth peanut butter
Instructions
Chocolate Bundt Cake
Preheat your oven to 325 F and butter and flour your bundt cake pan.
In a large bowl, whisk the flour, cocoa powder, baking soda, and salt. Set aside.
In a small bowl, whisk together the sour cream and milk. Set aside.
In an electric mixer, beat the butter and sugar on medium high until light and fluffy.
Add eggs one at a time, making sure to mix well after each one. Add vanilla and mix well.
Put the mixer on low and mix in half of the flour mixture. Pour in the milk an sour cream mixture.
Add the rest of the flour mixture and mix until incorporated.
Fold in the chocolate and peanut butter chips.
Pour the batter into the pan and smooth out the top with a spatula.
Bake for about 55 minutes or until an inserted knife comes out clean.
Set aside to cool before removing form the pan.
After removing the cake, thinly slice off the bottom of the cake so it sits evenly on a plate.
Chocolate and Peanut Butter Ganache
In a large bowl, pour in the chocolate chips.
In a medium sauce pan, slowly heat the cream to a boil. Pour over chocolate chips and let stand for about 10 minutes.
Using a whisk, slowly mix the chocolate until smooth and glossy.
Pour about half of the ganache onto the bundt cake and place in fridge to set a little.
Whisk ¼ cup smooth peanut butter in the remaining chocolate ganache. Drizzle over the bundt cake and sprinkle with chocolate and peanut butter chips.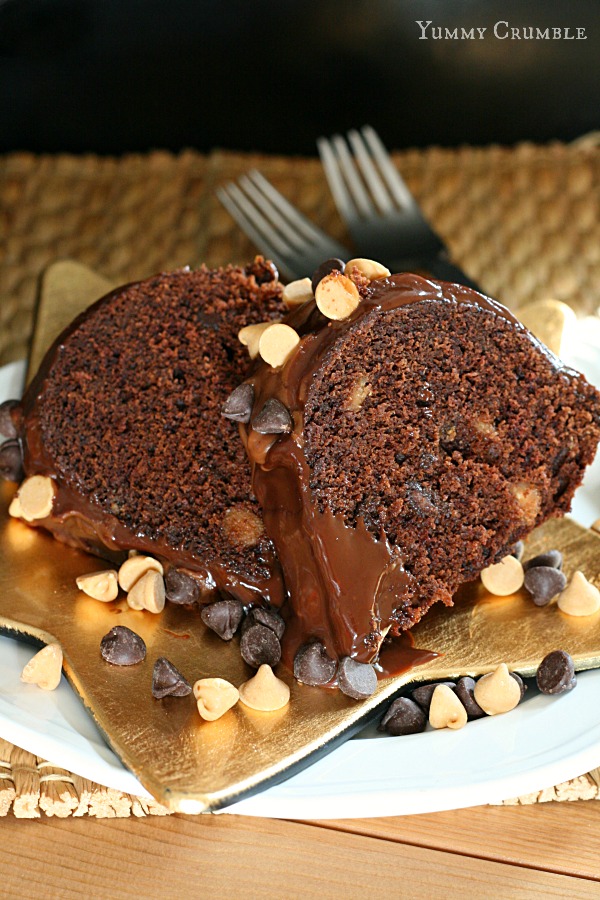 You will love these too!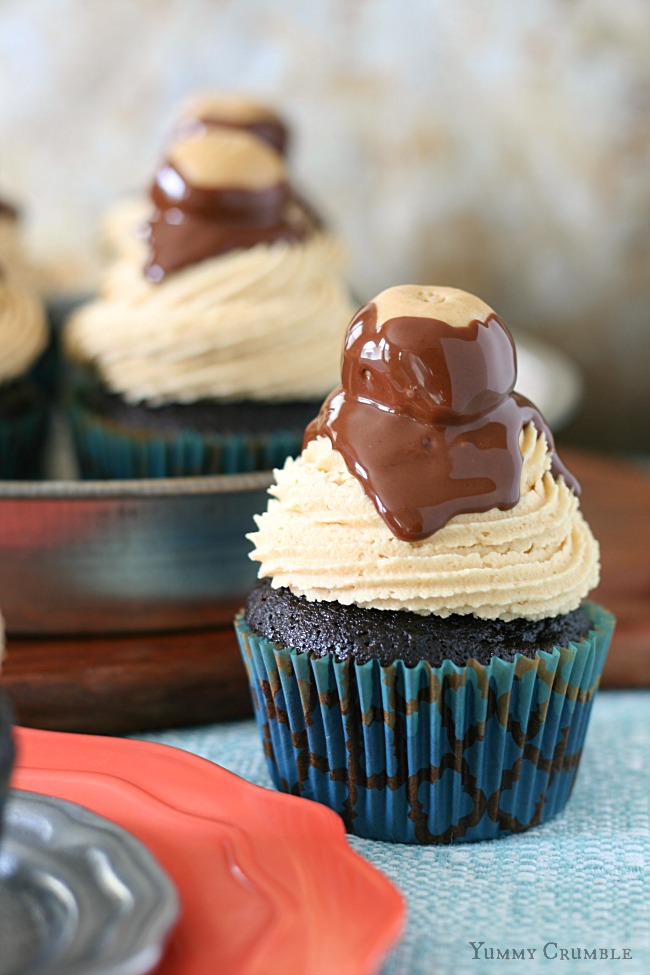 Peanut Butter Buckeye Cupcakes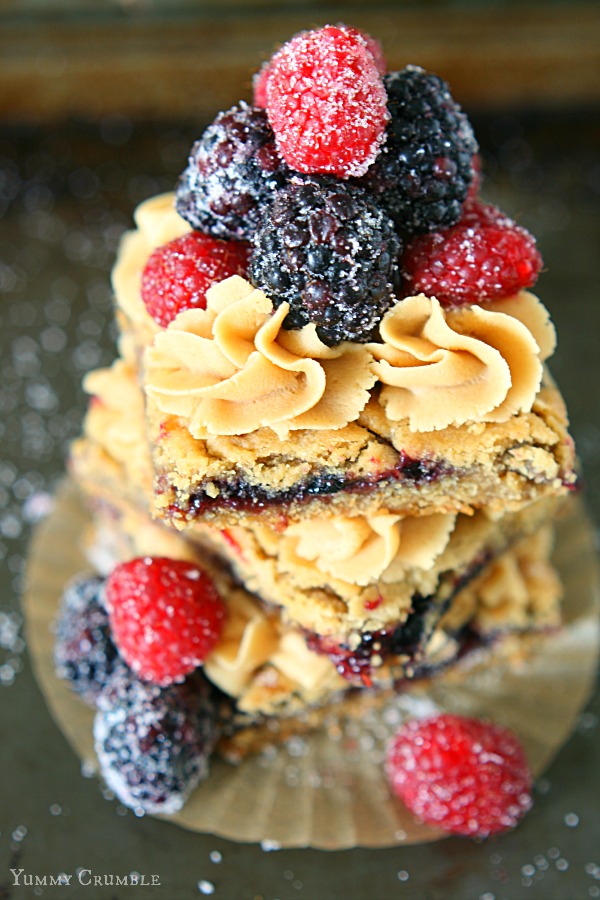 Peanut Butter Jelly Cookie Bars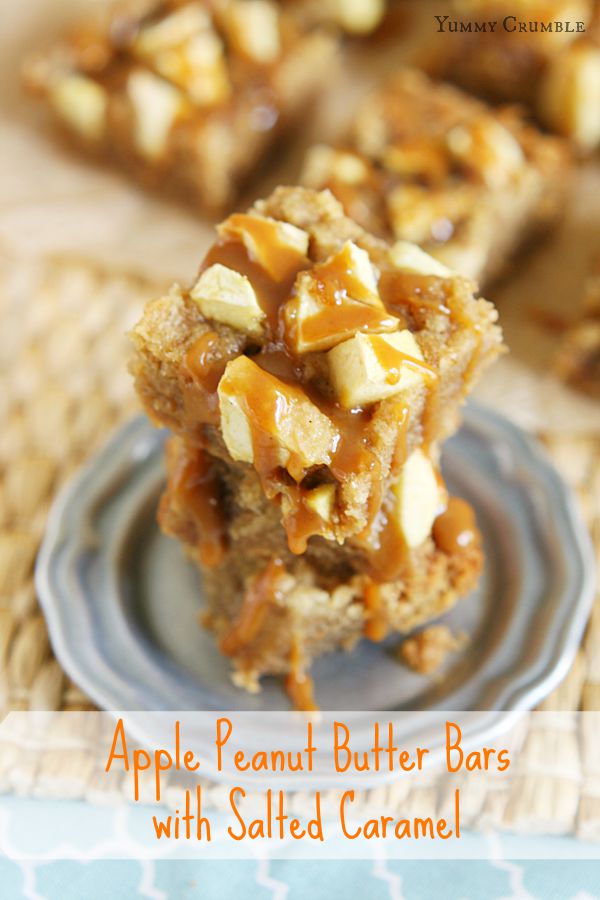 Apple Peanut Butter Bars with Salted Caramel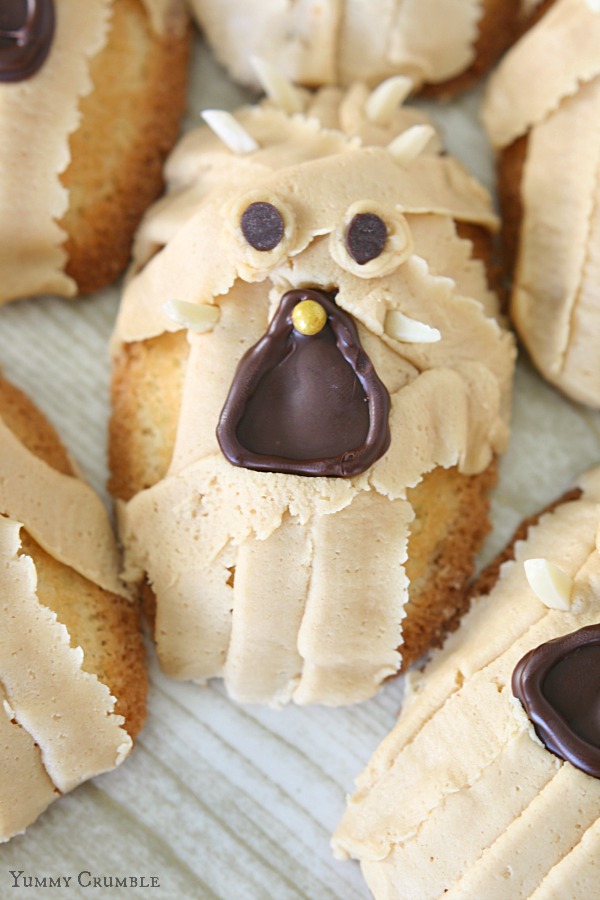 Star Wars Tusken Raider Cookies (Peanut Butter Frosting)