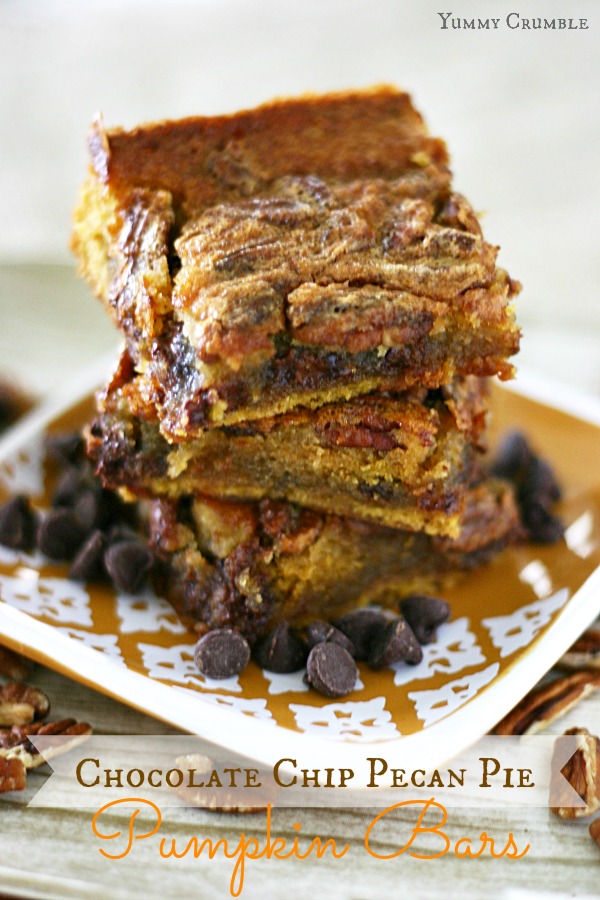 Lovely moist pumpkin bars with gooey and buttery chocolate chip pecan pie filling baked right on top.  I've taken my two favorite flavors this fall and married them in these Chocolate Chip Pecan Pie Pumpkin Bars.
Let's get real for a moment.  I'm going to rewind to about September when I posted this monstrosity.  I was so excited for those blondie-brownie-pie-bar-things.  Maybe I was a little over ambitious with three massive layers of brownie, pumpkin blondie, oh…and chocolate chip pecan pie filling.  The first mistake I made was trying to fit it all in a 9×9 pan, so in the recipe I noted as an option to maybe half the blondie portion.  I wrote it like I was baking with the lazy and sugar high segment of my crazy little brain.  Nevertheless, I still posted it to my blog because I thought it turned out yummy.  Also I thought, "Who the heck even knows my blog exists?".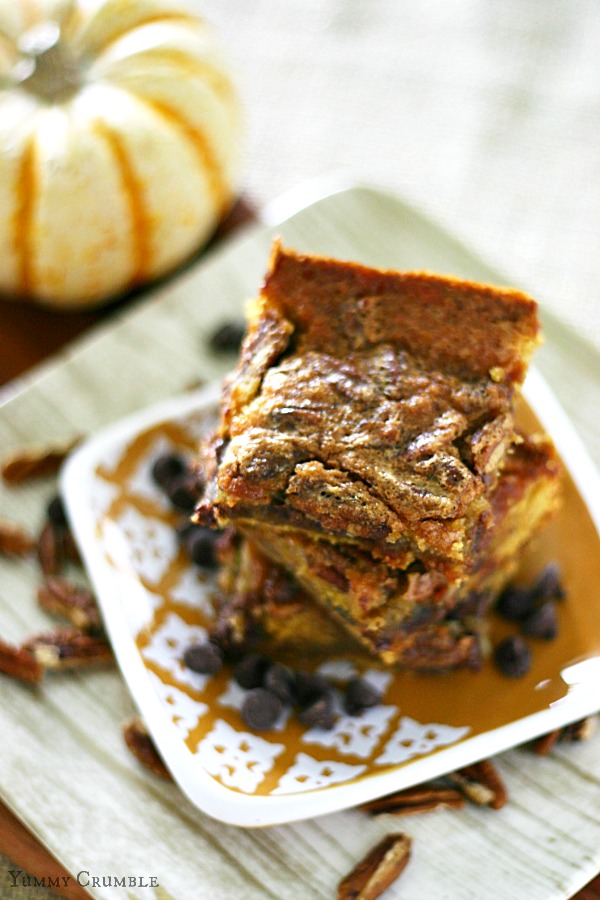 One evening while checking my email for goodies (a.k.a. nice little comments), I came across this:
"Wish you had stated in the directions to half the recipe, rather than having it as an "option." even with a 9 x 13 pan, it was too much but i didn't discover this until i had poured the pecan pie layer. perhaps you should change the recipe to be the way you ACTUALLY bake it, i.e. half the recipe for the pumpkin pie layer in the ingredients. let's hope this turns out okay without setting my fire alarm off… very disappointed."
Ouch.
My heart sank to my stomach.  I was horrified that my recipe was causing confusion and mostly disappointment.  Second thought that came to my head was "I have followers!"  So the first thing I did was remove the entire blog post and recipe to make sure I didn't cause any kitchen fires, and then I emailed her with an apology to let her know how sorry I was.  I also let her know that I removed it and I was going to re-examine the recipe and work on it for a new post.  She emailed me right back with a very sweet message and now were friends again 🙂  She even sent me photo of her blondies to let me know they still turned out delicious, but that she had to add an hour of baking time.  One hour!  Yeesh.  That let me know I need to do some major re-examining.
So I present the new and non-kitchen fire starting Chocolate Chip Pecan Pie Pumpkin Bars!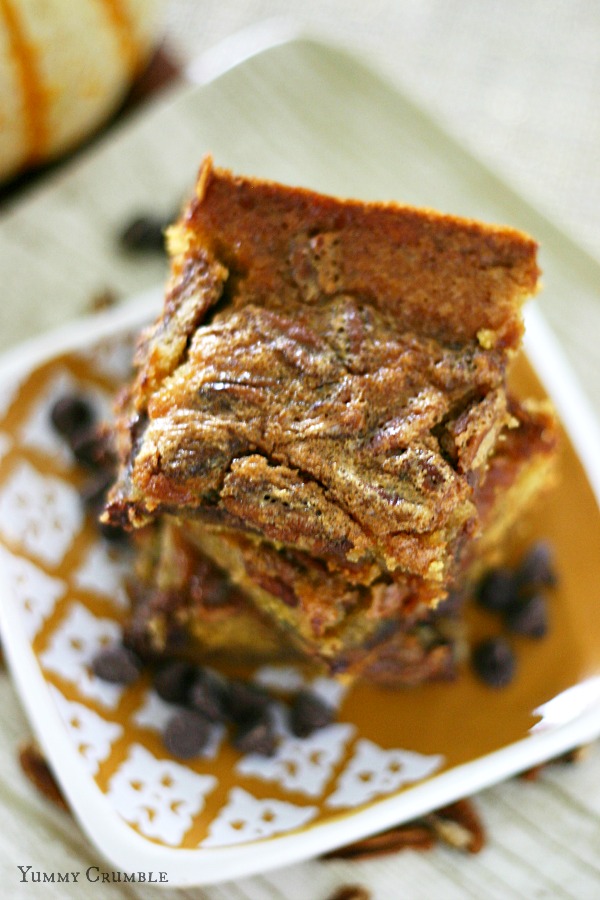 Guys…these are awesome.  They were inspired by my Salted Caramel Apple Cider Blondies.  I am so glad that she was honest and gave me her uncensored feed back.  It has totally proven to me that you can't wing a recipe and hope it comes together for your readers.  Lesson learned.  Kind of like these Oatmeal Raisin Cookie Sandwiches when I thought I broke the internet.  That's a story for another day…
Chocolate Chip Pecan Pie Pumpkin Bars
Ingredients
Pumpkin Bars
½ cup butter, softened (1 stick)
1 cup dark brown sugar, firmly packed
1 egg
2 tsp vanilla extract
¼ cup pureed pumpkin (not pie filling)
1 cup all-purpose flour
½ teaspoon baking powder
½ teaspoon salt
½ teaspoon cinnamon
¼ tsp nutmeg
¼ tsp all spice
¼ tsp cloves
Pecan Pie Filling
½ cup melted butter
¼ cup unbleached flour
⅔ cup packed brown sugar
½ cup corn syrup
2 eggs
1 tsp vanilla
2 cups pecans (whole or chopped)
1 cup semi sweet chocolate chips
Instructions
Pumpkin Bars
Preheat oven to 350 F. Grease 9x13 baking dish and line with parchment paper. Set aside.
In a medium bowl, whisk together flour, baking powder, salt, cinnamon, nutmeg, all spice, and coves. Set aside.
With the paddle attachment on your mixer, beat together softened butter and sugar until light and fluffy. Mix in egg and vanilla extract and blend well.
Beat in pumpkin.
On low, mix in dry ingredients.
Spread the dough on the bottom of the baking dish.
In a large bowl, whisk together the melted butter, flour, brown sugar, corn syrup, eggs, and vanilla.
Add the pecans and chocolate chips and mix.
Pour on top of pumpkin bar dough and spread evenly.
Bake for 45 minutes or until an inserted toothpick comes out clean.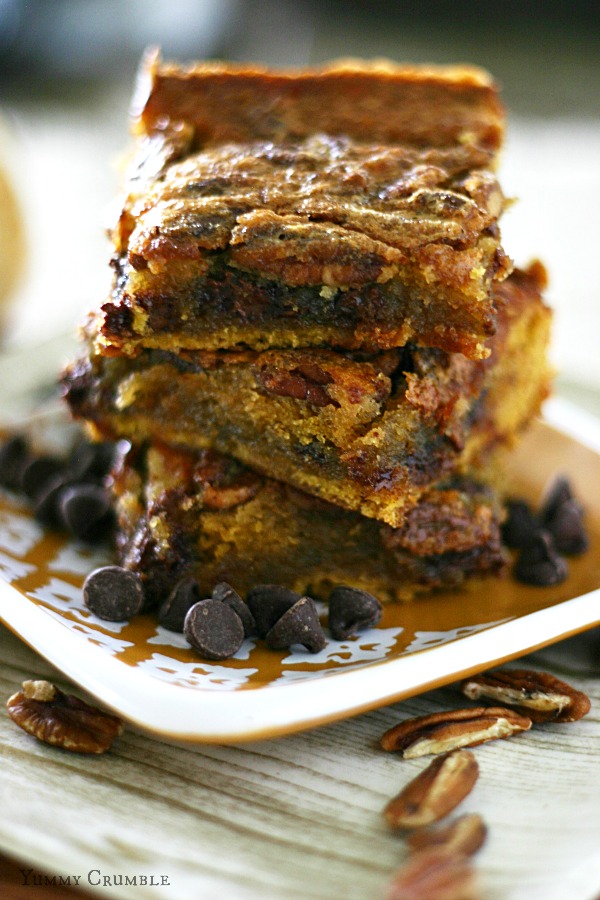 Something quite magical happens to these in the oven.  The pecan pie filling seeps into the batter of the pumpkin bars creating this moist and gooey center.  It's quite amazing.  So thank you reader!  For helping me become a better baker and also causing me to go up a pant size!  No worries!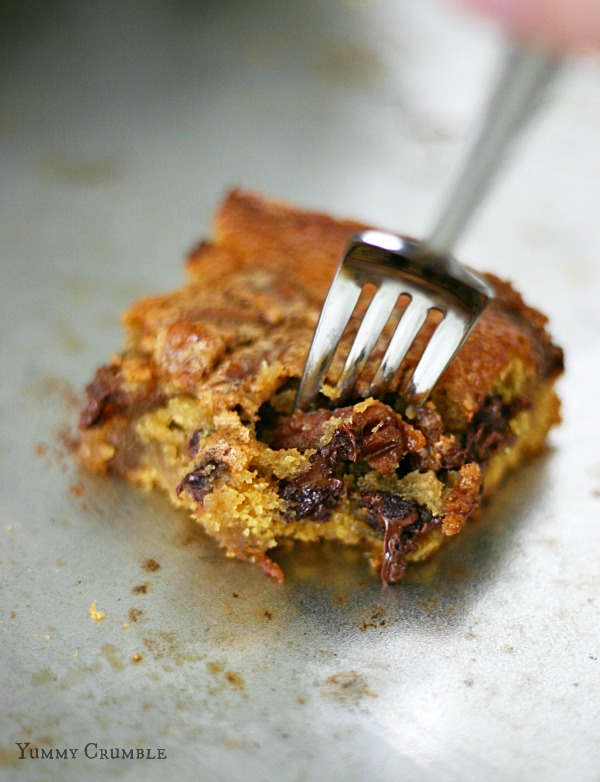 Fall time is fat time: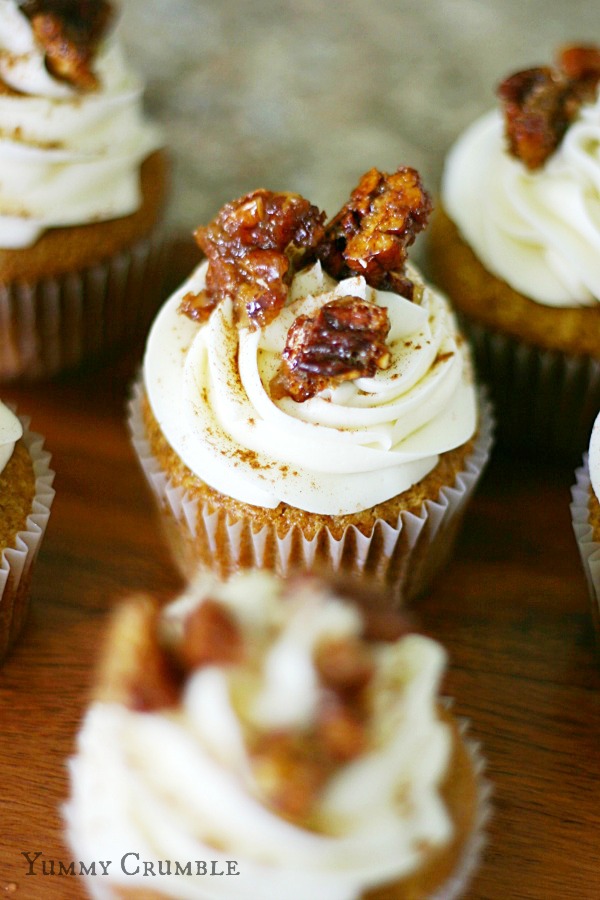 Pecan Pie Pumpkin Cupcakes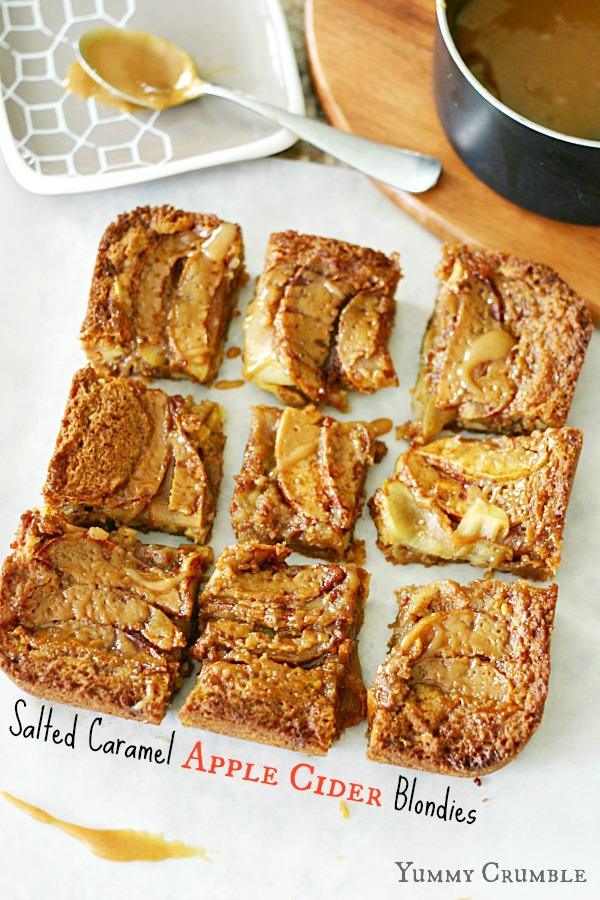 Salted Caramel Apple Cider Blondies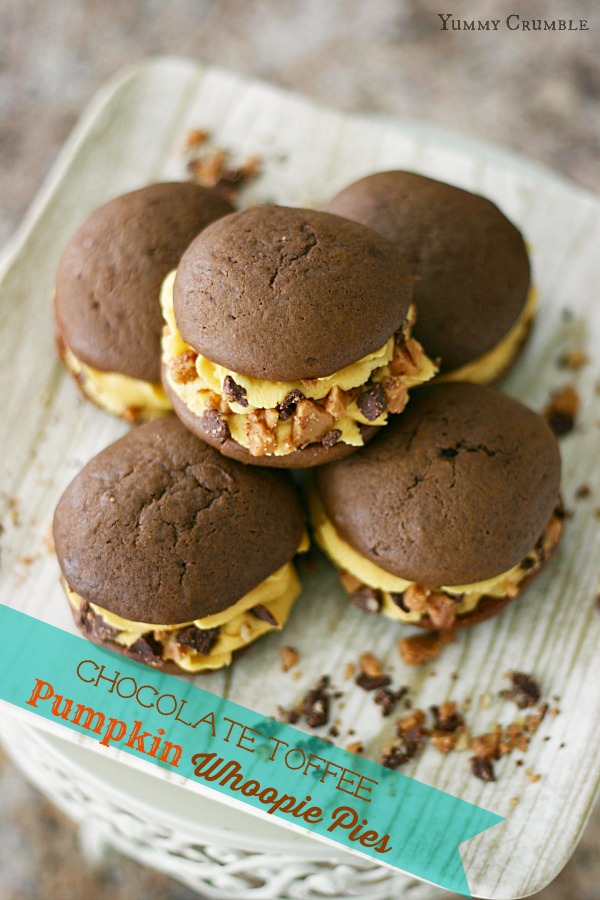 Chocolate Toffee Pumpkin Whoopie Pies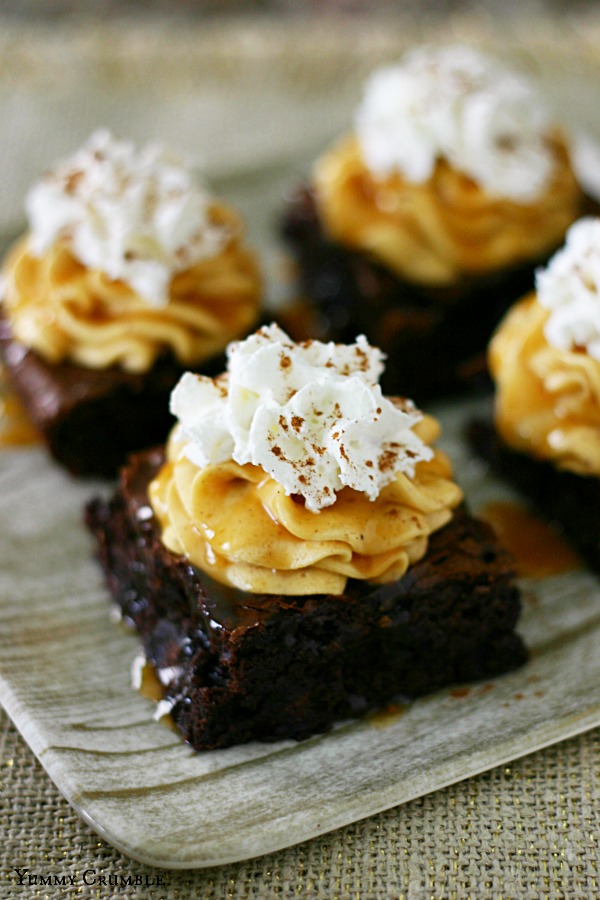 Pumpkin Spice Latte Brownies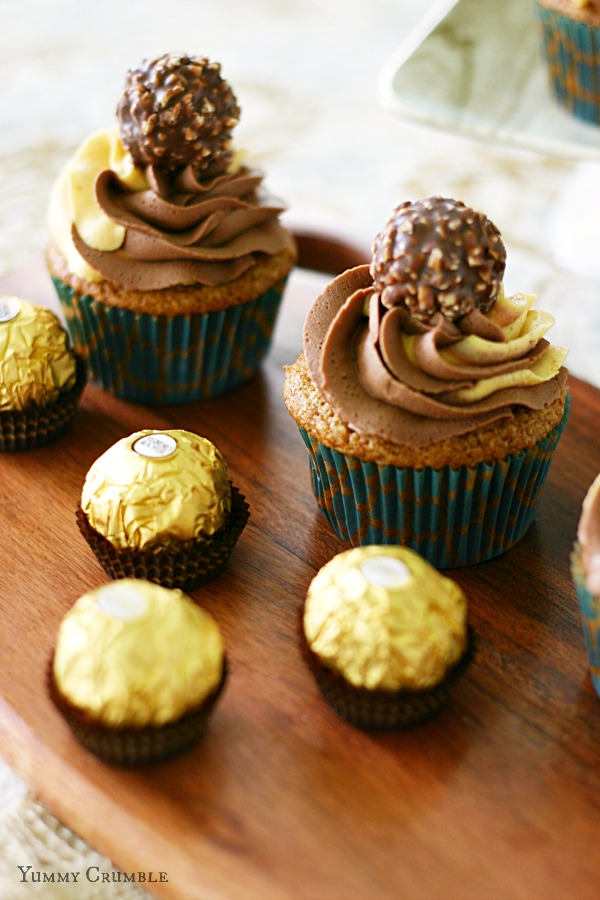 Nutella Pumpkin Cupcakes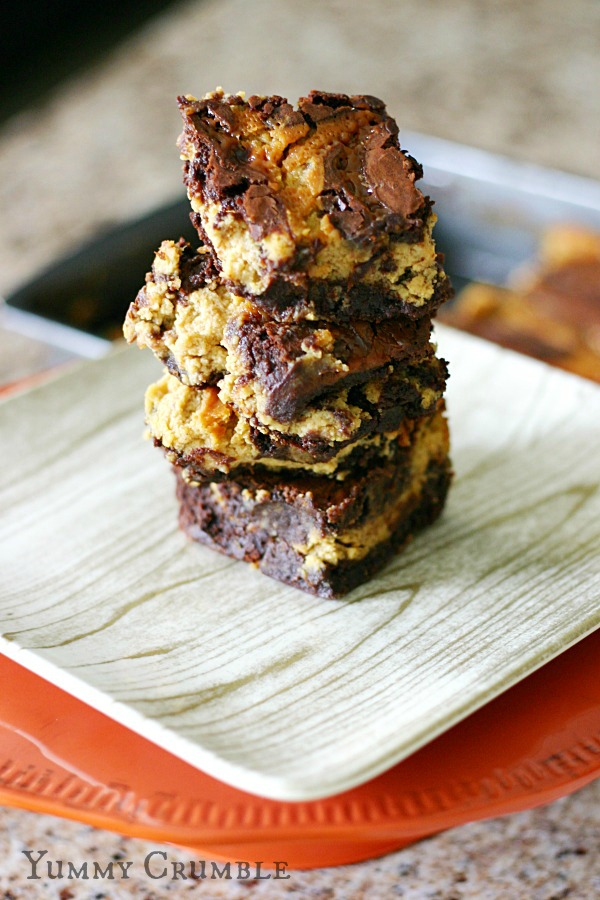 Caramel Pumpkin Cheesecake Brownies