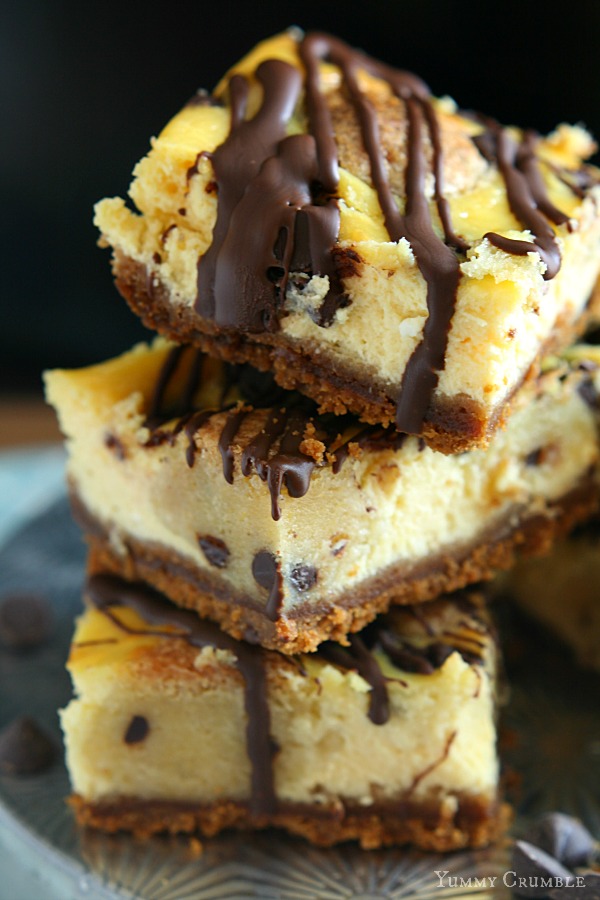 Incredibly thick and creamy cheesecake with mounds of chewy chocolate chip cookie dough baked right in!  These Chocolate Chip Cookie Cheesecake Bars are calling your name!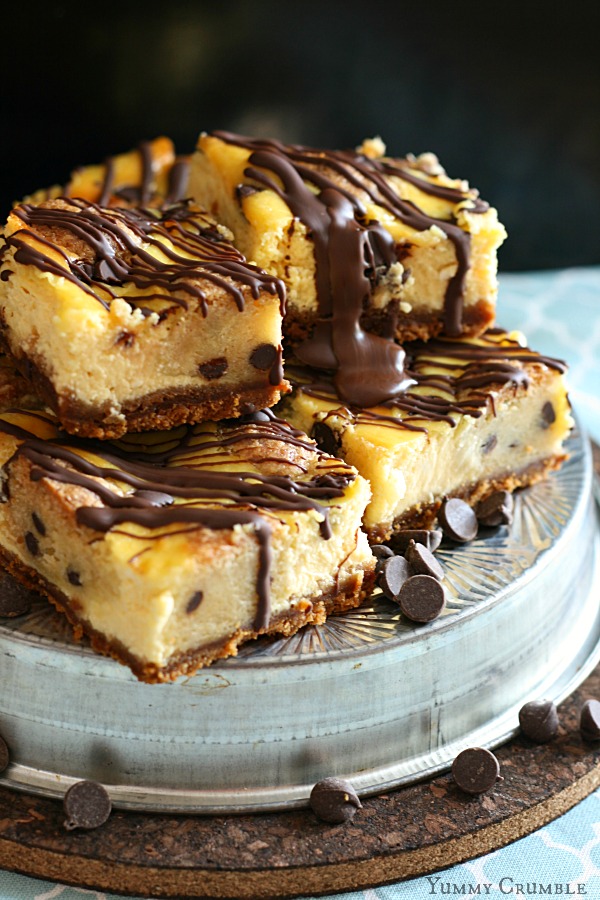 I want to start of this post with a formal apology.  Not because I haven't been posting as much as I want to (heck, I've got a life.  Well, not really.  I have kids…so no life.)  I'm apologizing because I'm positive that once you bake these Chocolate Chip Cookie Cheesecake bars you most likely will become a recluse.  You won't want to share these with anyone which is not very nice, and no one's going to want to hang out with a meanie.  So what's your option?  You will probably lock yourself in your home and eat these for the rest of your life.  So even though these are one of the most delicious things your will ever eat, I'm super sorry for turning you into a modern day Gollum.
Moving on…apologies aside, these are so worth it!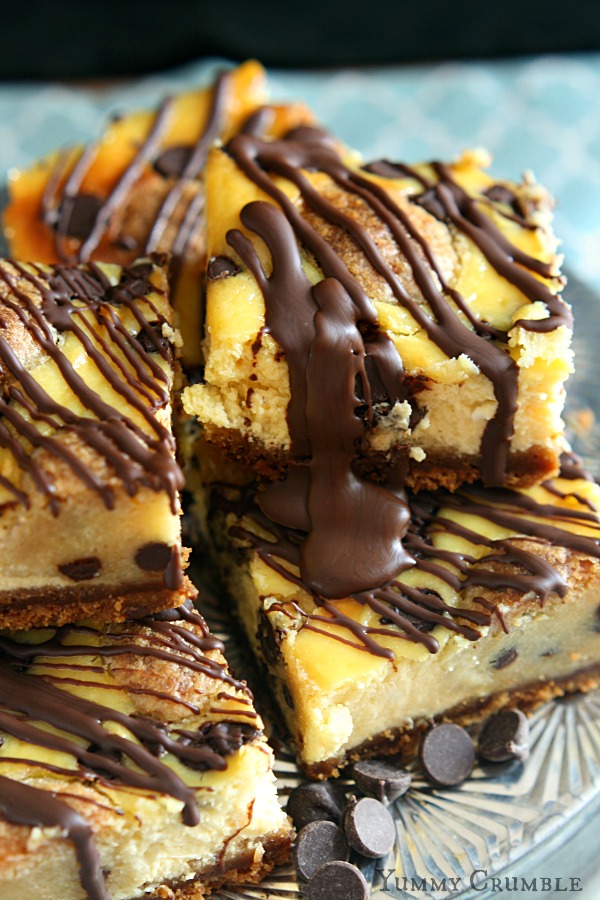 First of, I love these for the simple fact that they were really easy.  I made the cheesecake from scratch but opted for a box mix cookie dough (I used Ghirardelli.  They have the BEST brownie and cookie box mix.) You can go all out and make your own favorite cookie dough to add to these bars if you wanna be a show of.  But I will need to be at your house to perform a taste test just to make sure they turn out.  I also used Biscoff cookies for the crust.  Oreos would be great too, but I'm telling your right now…the Biscoff cookie crust is bonkers delicious.  They literally make graham cracker crumbs taste like card board.
Get to baking people!  Prepare to become obsessed with these Chocolate Chip Cookie Cheesecake Bars!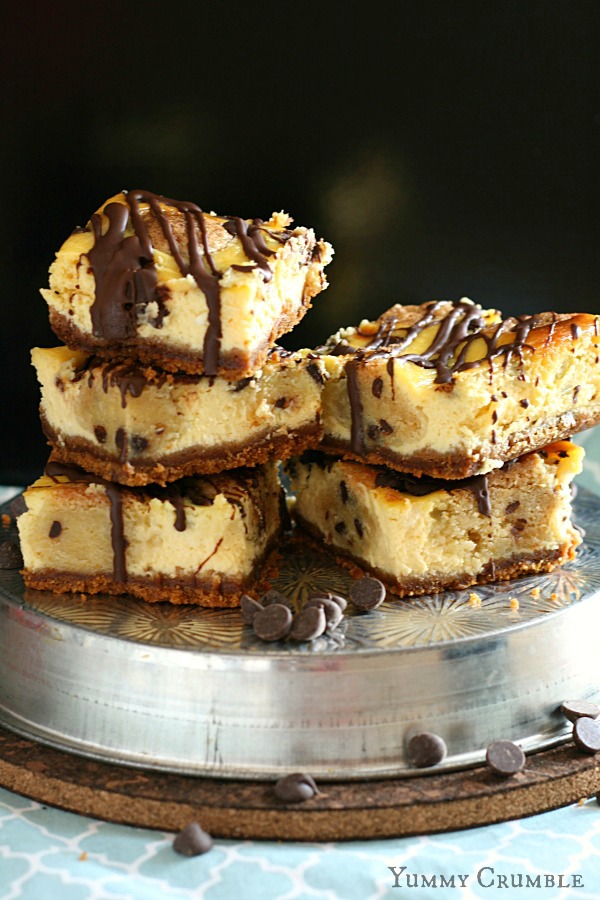 Chocolate Chip Cookie Cheesecake Bars
Ingredients
For the crust
25 Biscoff cookies
2 Tbs melted butter
For the cheesecake
12 oz. softened cream cheese
6 tbsp. sugar
6 tbsp. sour cream
½ tsp. vanilla extract
¼ tsp. salt
1 large egg plus 1 egg yolk
Cookie dough
Ghiradelli cookie mix
1 egg
1 stick softened butter
Instructions
Preheat your oven to 325 F and line a 8x8 dish with foil or parchment paper.
In a food processor blend the Biscoff cookies into fine crumbs. Pour in the melted butter and pulse again until moistened.
Press the crumbs onto the bottom of the baking pan and bake for 10 minutes, then set aside.
For the cheesecake, beat the cream cheese on medium high in your stand mixer.
Beat in sugar until combined.
On medium, beat in the sour cream, vanilla, and salt.
Next beat in the egg and egg yolk until just combined.
Pour the batter into the baking dish.
Prepare your cookie dough according to the box and using a scoop or spoon, drop tablespoons of the dough into the batter. You will probably have leftover cookie dough. There will be to much to use all of it, so just bake the cookies when your done.
Bake for 40 minutes until the sides have set but still jiggles a little in the middle. If your worried about the cookie dough, just insert a toothpick into one of the cookie dough mounds to see if they're not completely raw, but they should still be a little gooey.
Let the bars cool for an hour the put them in the refrigerator to finish cooling.
Drizzle with melted chocolate if you're crazy like me.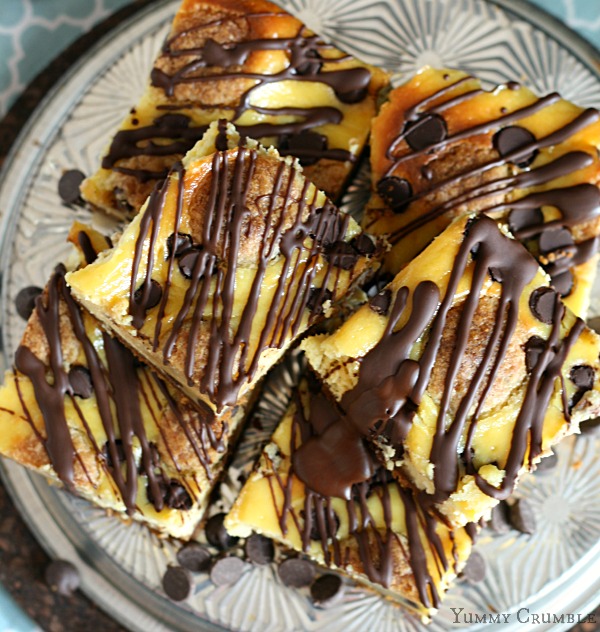 You gotta try these too!
Oreo Brownie Swirl Cheesecake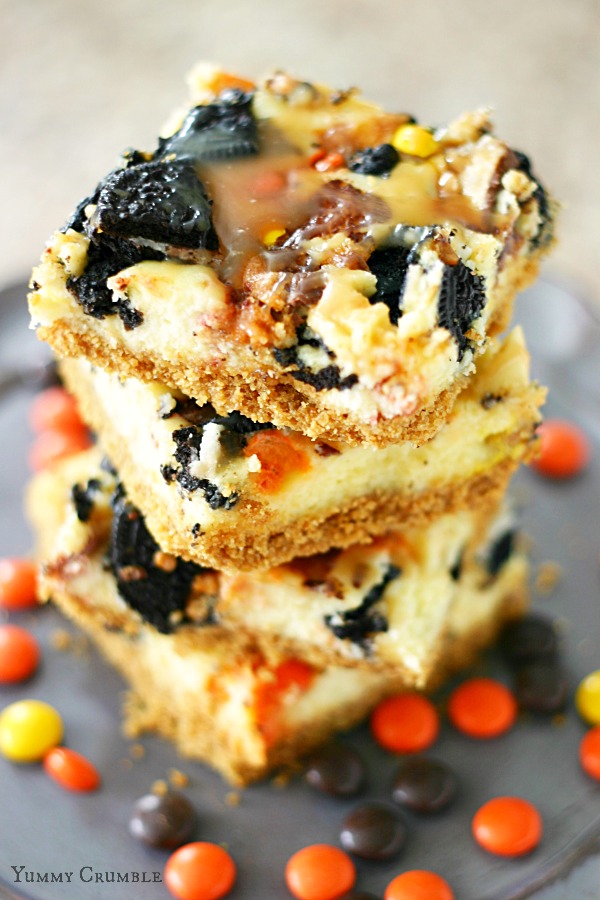 Halloween Candy Cheesecake Bars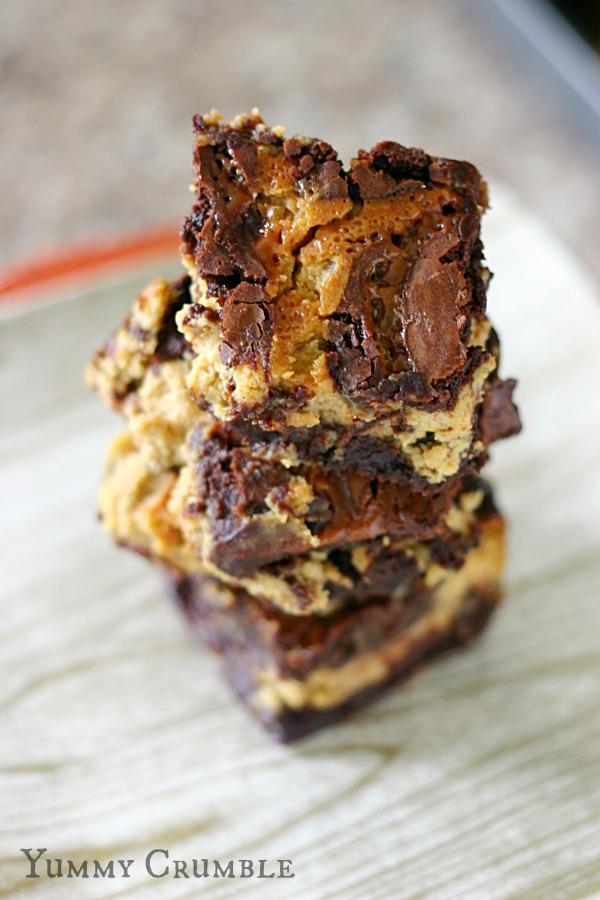 Caramel Pumpkin Cheesecake Brownies