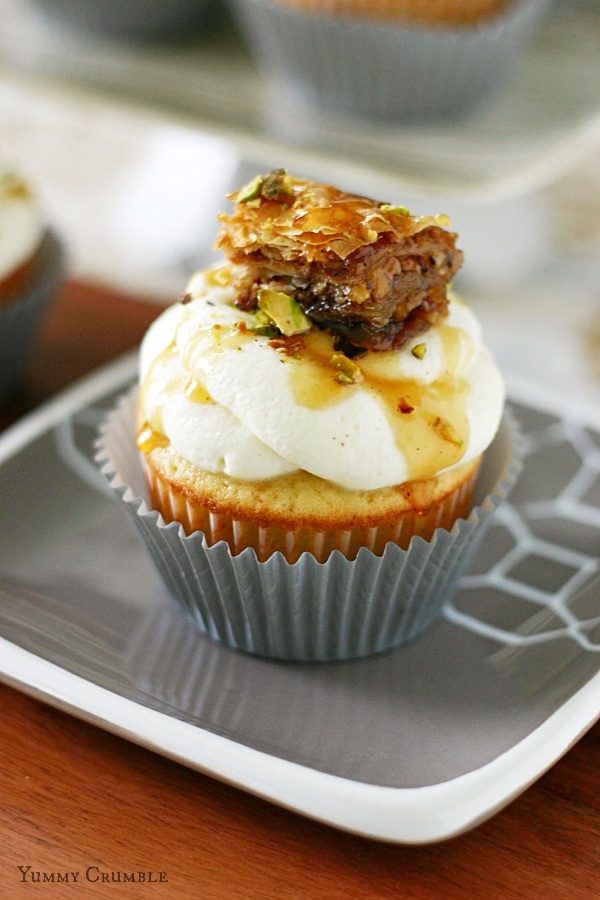 Delicate honey cupcakes topped with cinnamon mascarpone whipped frosting, sprinkled with chopped pistachios and drizzled with honey syrup.  A miniature slice of homemade sweet baklava top these Baklava Cupcakes.
O.M.G.  I know that phrase is wildly overused, but O.M.G.
On Monday I slaved away in the kitchen making Apple Cinnamon Baklava.  Just kidding…It was so much easier than I expected and the final result was out of this world.  Picture if Christmas morning and Miss Baklava hooked up and had a baby.  Not out of wedlock of course.  Miss Baklava is a very traditional kind of lady.  That's what my Apple Cinnamon Baklava tasted like.  Lovliness.  These Baklava Cupcakes are a special kind of lovely.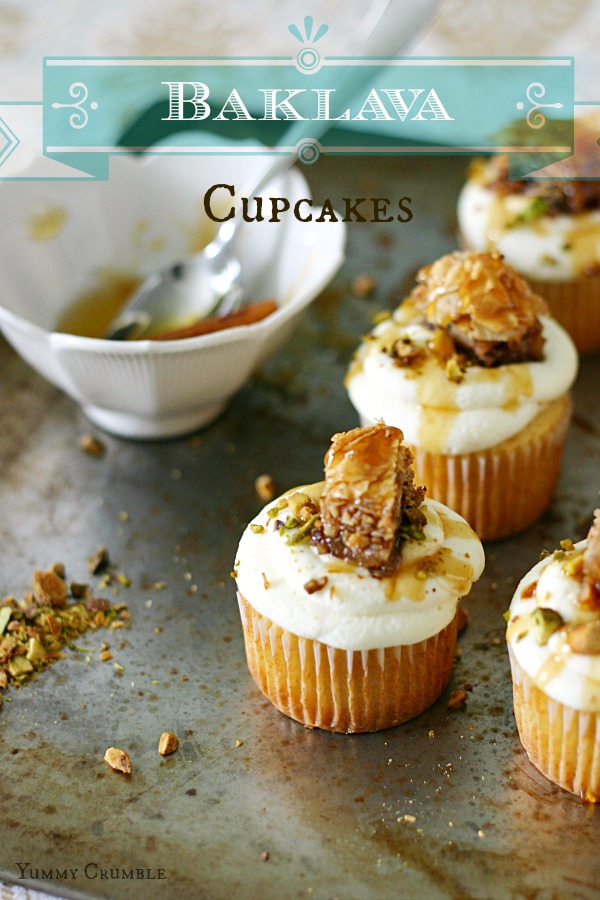 As it baked in the oven,  I had a vision of these cupcakes.  Fluffy mascarpone delicately sitting on a light, not overly sweet honey cupcake and a gorgeous piece of baklava perched on top. With a lot of hand slapping,  I managed to save some Baklava on the side specifically for these Baklava Cupcakes.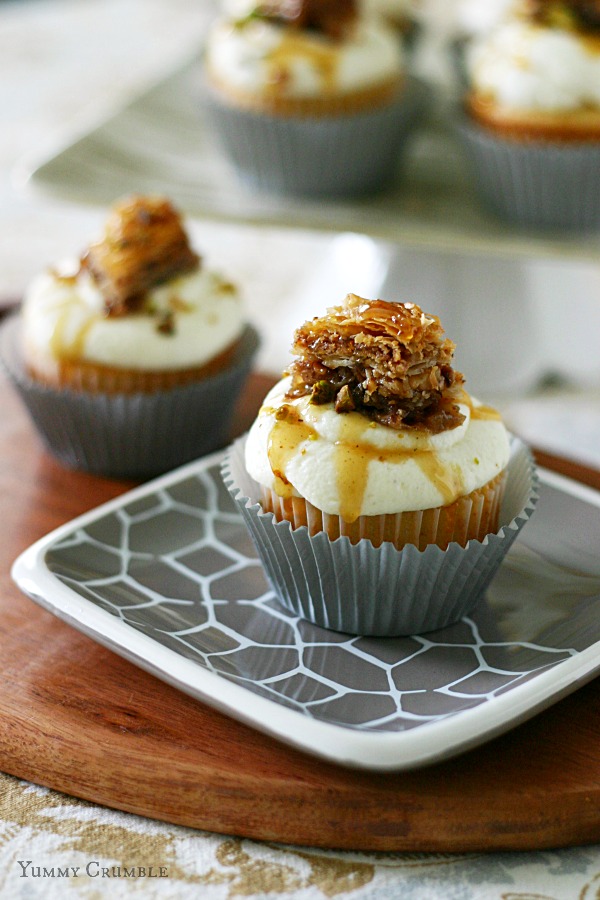 As I write this post, I'm sitting with my husband watching a pre-recorded episode of The Bridge.  Dinner is already eaten and although the dishes aren't washed yet, the kids are asleep so I've dropped everything to veg out on the couch.  Life is crazy with two kids and a full time job so my couch potato time is also blogging time!  I absolutely love blogging about my baking obsession, so it never feels like work.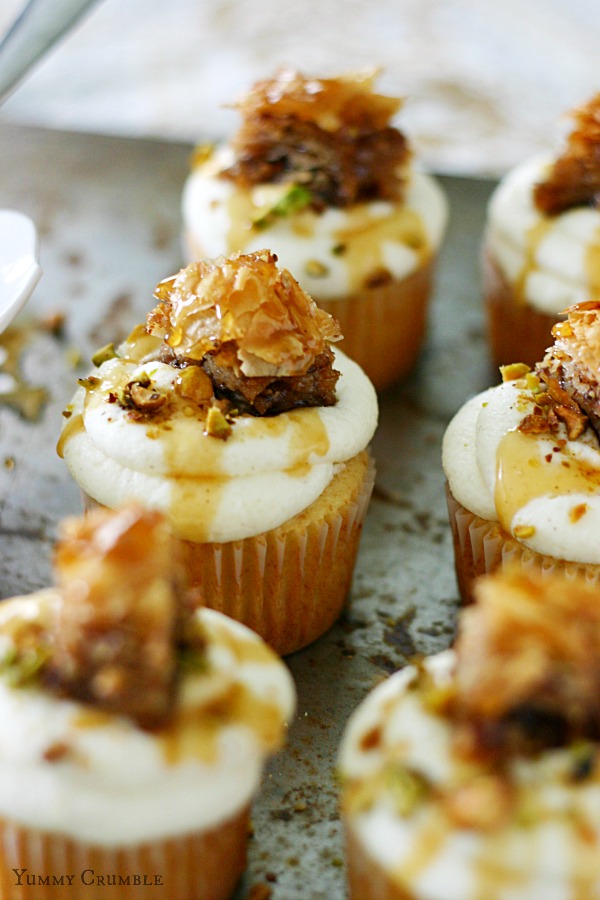 Baklava Cupcakes
Ingredients
Cupcakes
1 stick softened butter
¾ cup sugar
2 eggs
1½ cups all-purpose unbleached flour
1 tsp baking powder
½ tsp salt
½ cup buttermilk
¼ cup honey
1 tsp vanilla extract
Mascarpone Frosting
1 Cup heavy cream
8 ounces room temperature mascarpone cheese
½ cup sifted powdered sugar
Topping
Pre-made Baklava cut into little bite sized squares
Chopped pistachios
Honey syrup or regular honey
Instructions
Cupcakes
Heat oven to 350 F and line your cupcake pan.
In a medium bowl, whisk together flour, baking powder, and salt. Set aside.
In another bowl, whisk the buttermilk, honey, and vanilla extract. Set aside.
With a stand mixer or hand held mixer, beat together softened butter and sugar until light and fluffy.
Beat in eggs one at a time.
Add the dry ingredients and honey buttermilk mixture by gradually alternating between the two. Start with dry and end with dry.
Fill cupcake liners until ⅔ full.
Bake them for 18-20 minutes or until an inserted toothpick comes out clean.
Let cupcakes cool.
Mascarpone Frosting
Whisk heavy cream until stiff peaks form. (medium speed)
In another bowl whisk together mascarpone and powdered sugar until smooth.
Fold in whipped cream until fully incorporated.
Pipe onto cooled cupcakes.
Top with sliced baklava and sprinkle with pistachios.
Drizzle with honey or honey syrup.
Notes
Cupcake recipe from
The Cake Blog
Mascarpone Frosting recipe from Martha Stewart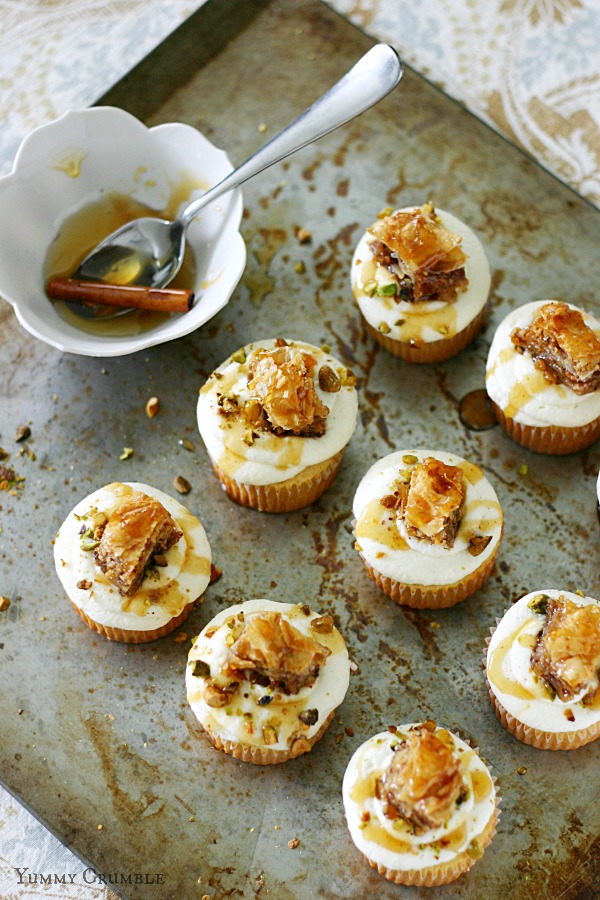 The Baklava Cupcakes turned out even lovelier than I imagined.  Don't you just love when that happens?
Happy Baking everyone!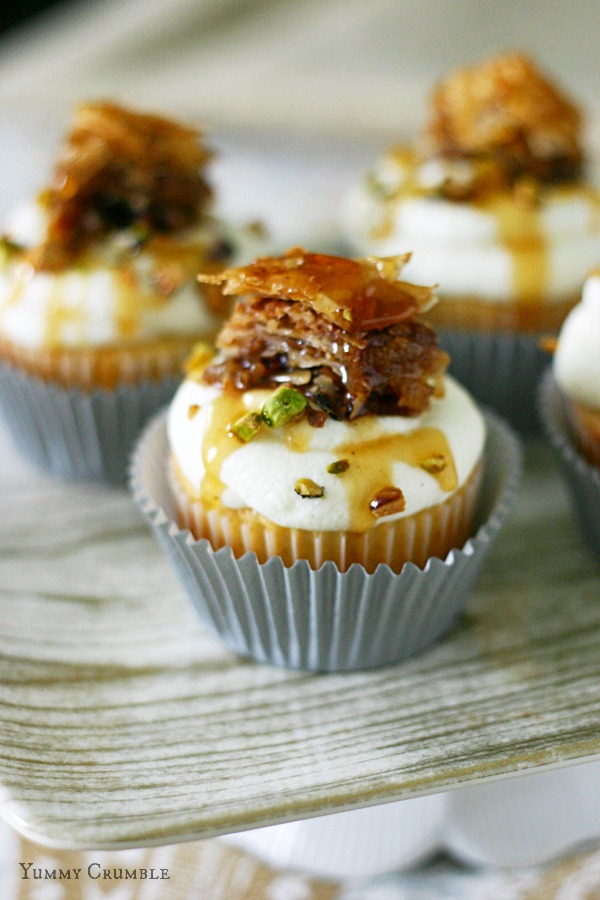 Here are some more sugar treats:
Apple Cinnamon Baklava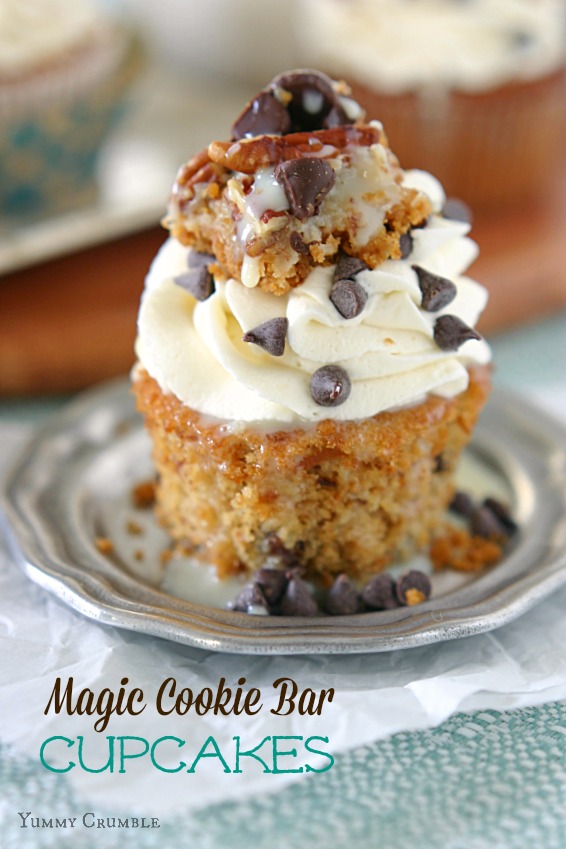 Magic Cookie Bar Cupcakes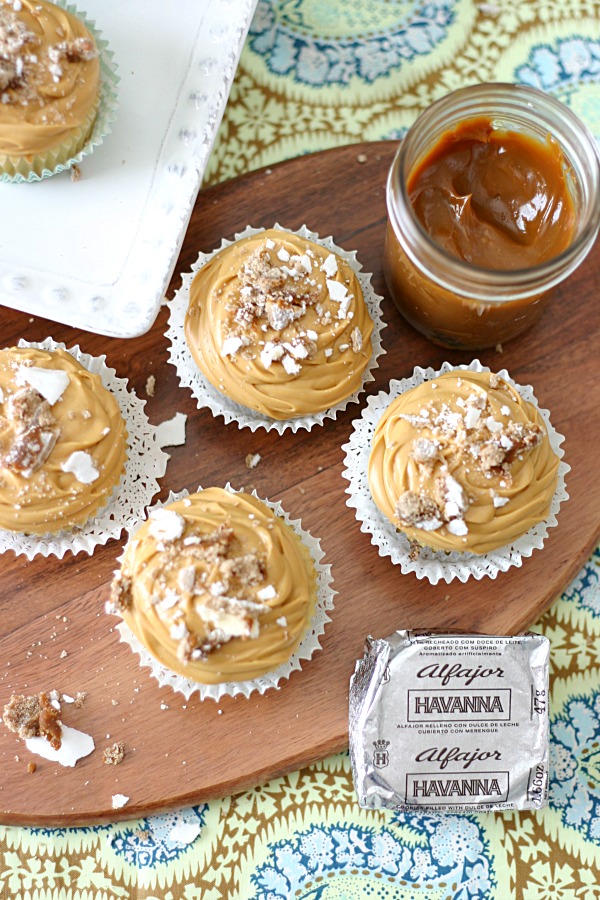 White Chocolate Alfajor Cupcakes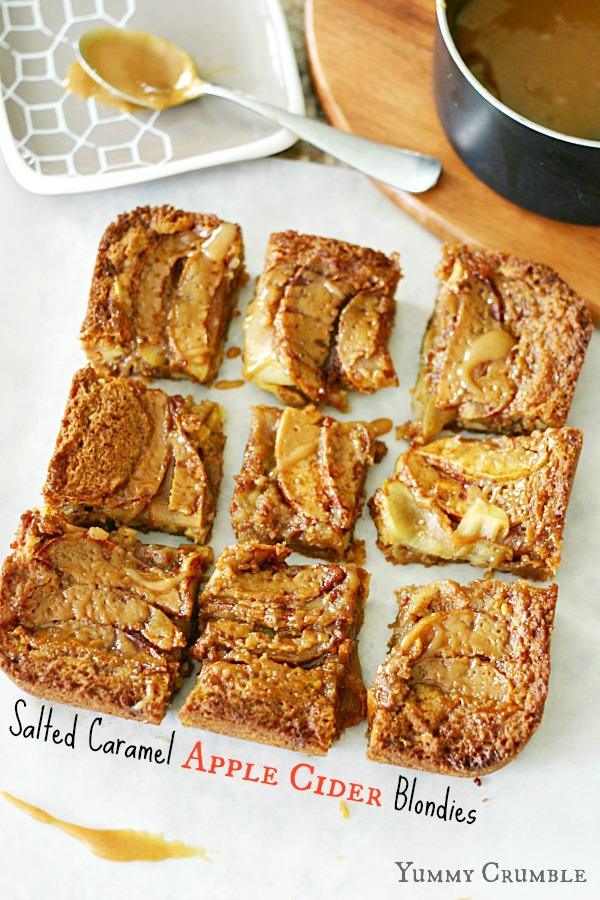 Salted Caramel Apple Cider Blondies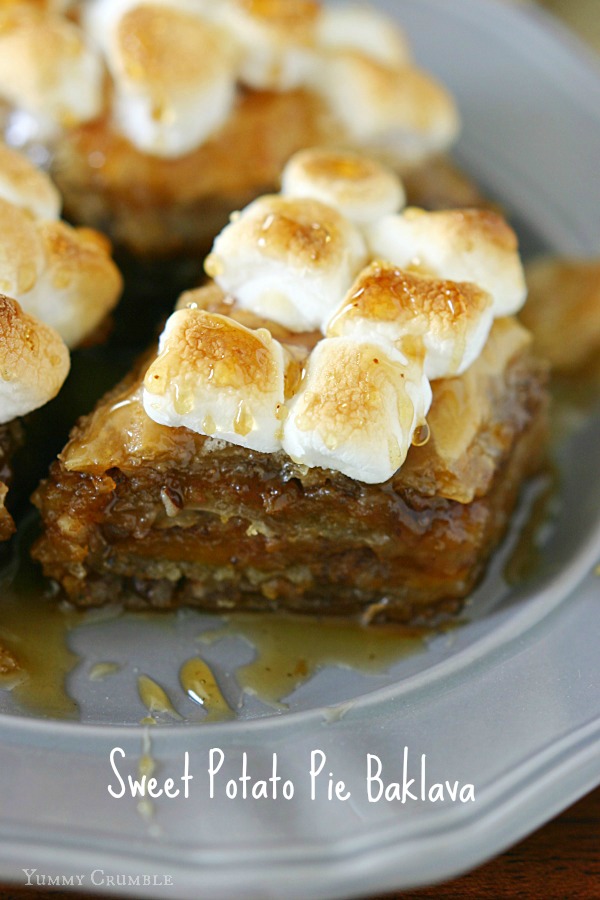 Sweet Potato Pie Baklava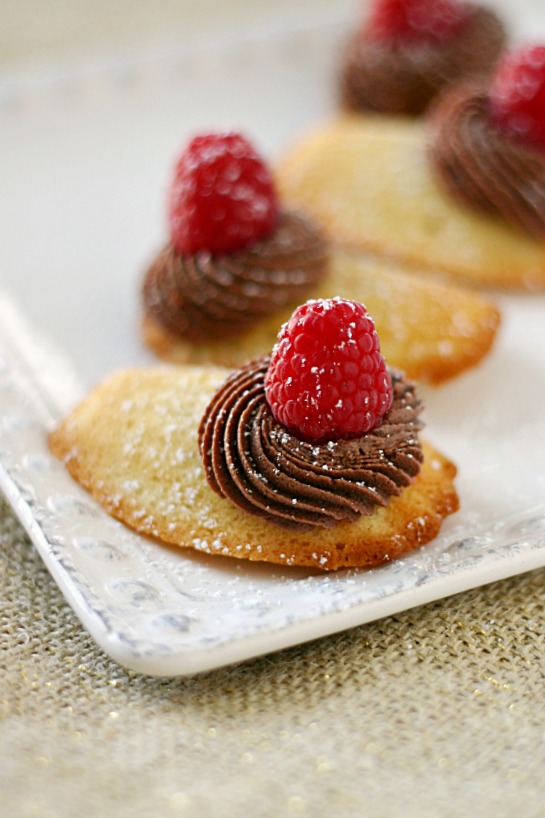 Vanilla Madeleines Filled With Raspberry Mousse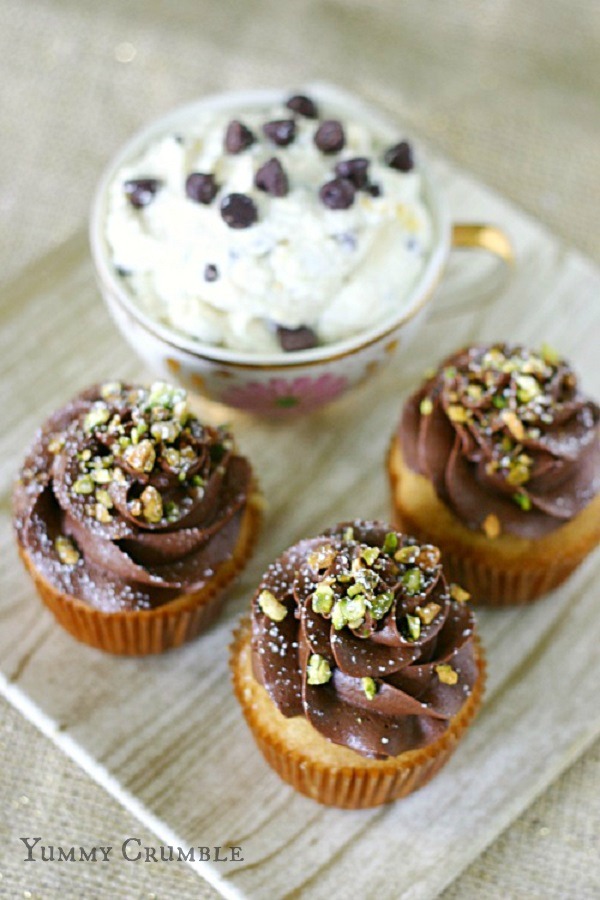 Cannoli Cupcakes with Chocolate Mascarpone