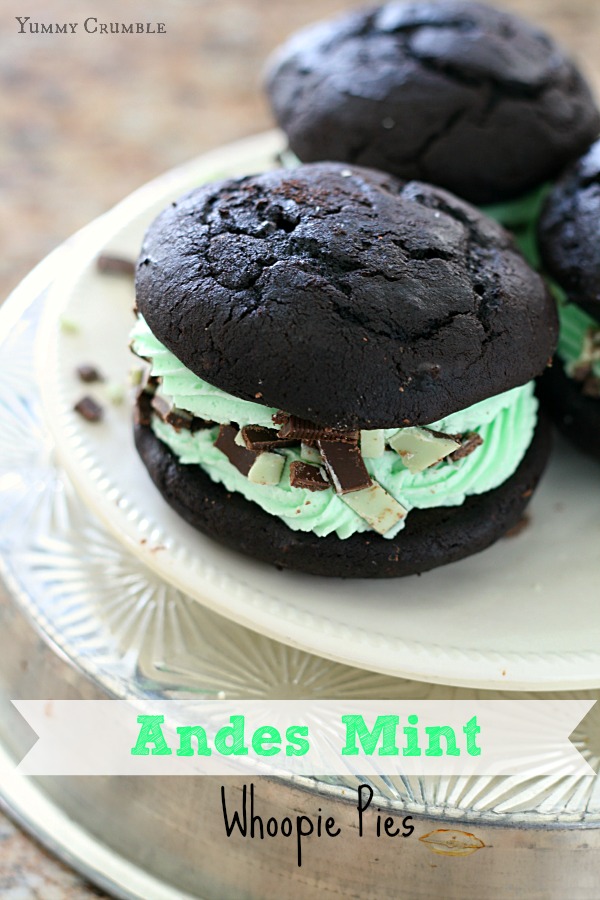 Thick dark chocolate cakes sandwiched with the creamiest, made from scratch mint frosting ever.  And don't forget the huge helping of Andes Mints! These Andes Mint Whoopie Pies will help you cool off during the heat wave.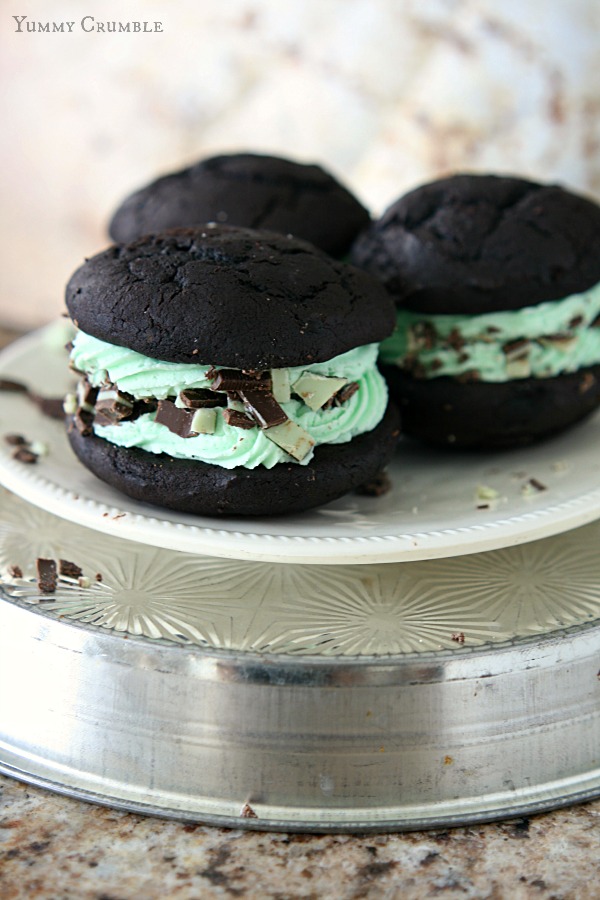 I think my sweat glands hit a milestone today.  No lie, I changed my clothes like three times today, like a sweaty man.  I basically was sweating like a man with hyperhidrosis. It broke 50 C today, and in American speak, that's pretty much 120 F.  My little Chevy rental said so and I'm sticking with it.  Summer is so strange here in Dubai.  The sunshine is so bright and beautiful, but the wind is so intense that there is always this dusty haze around.  It's so dusty it looks like smog.  We haven't had a major sandstorm yet, but from what I hear it's a little scary.  Like Tom Cruise Mission Impossible scary.  On a lighter note, we told my son we were living in Tatooine.  He pretty much feels like a boss.  He can now tell his little friends that in his past life he had an address in Star Wars.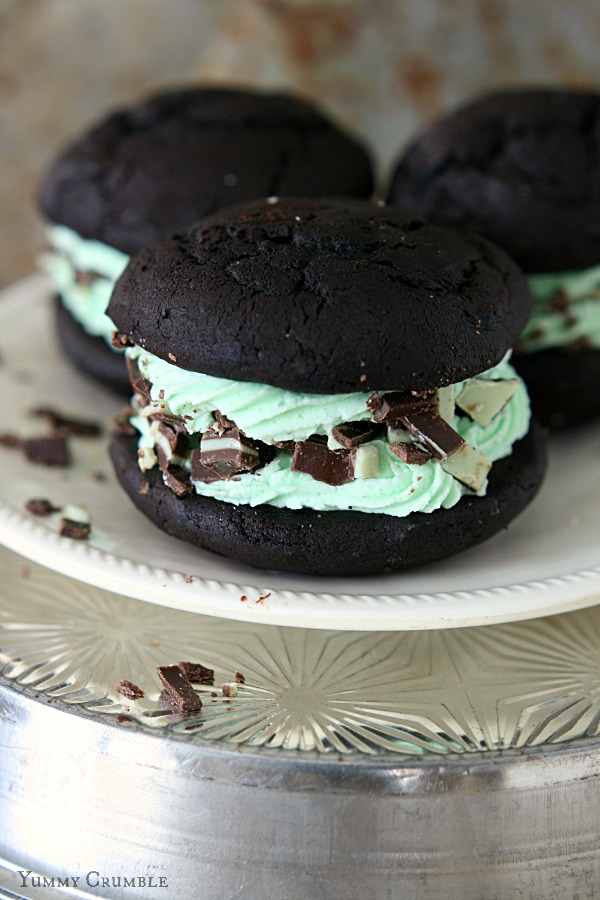 Baking here has been just a little bit of a challenge.  Coming from the States, my brain is stuck on the good ole American Standard way of measurement so I'm having to convert measurements and figure out how to make my Celsius oven do what I ask it to do.  My first batch of cookies burned (let's have a moment of silence) but that's been my only disaster so far.  Fingers crossed!
Andes Mint Whoopie Pies
Ingredients
Chocolate Whoopie Pies
3½ cups all-purpose flour
1 teaspoon salt
1½ cups unsweetened cocoa powder
1 tablespoon baking soda
1 teaspoon baking powder
1 cup unsalted butter at room temperature
2 cups sugar
2 large eggs
2 cups buttermilk, room temperature
2 teaspoons pure vanilla extract
Mint Buttercream Frosting
1 cup softened butter
4-6 cups powdered sugar
1-2 drops peppermint extract
1-2 tbs milk
1-2 drops green food dye
chopped Andes Mints
Instructions
Chocolate Whoopie Pies
Preheat your oven to 400 F and line a cookie sheet with parchment paper.
In a medium bowl, sift together the flour, salt, cocoa powder, baking soda, and baking powder.
With an electric mixer, beat together the butter and sugar until light and fluffy. Add the eggs, buttermilk, and vanilla and mix on low until fully combined.
Slowly mix in the flour mixture until fully combined.
With an ice cream scoop or cookie scoop, place spoonfuls of batter on the cookie sheet. About twelve per pan. Bake for 12 minutes and let cool.
Mint Buttercream Frosting
Beat softened butter with an electric mixer until light and fluffy.
Add sugar one cup at a time until blended.
Add the milk, peppermint extract, and food dye and mix on high until light and fluffy.
Add a little more sugar if you would like it stiffer.
Pipe frosting onto cooled cookies and sprinkle with the Andes Mints. Sandwich together and enjoy!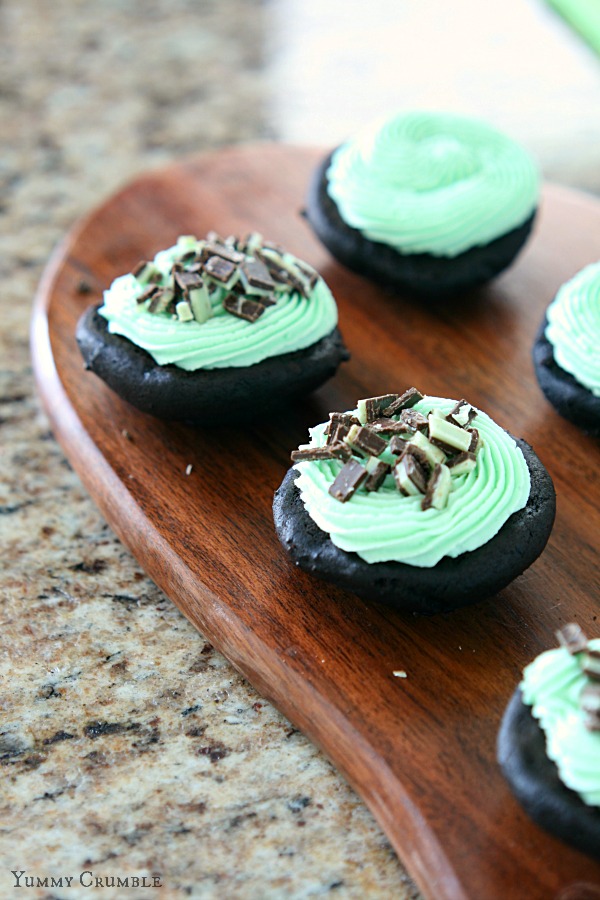 Some more goodies: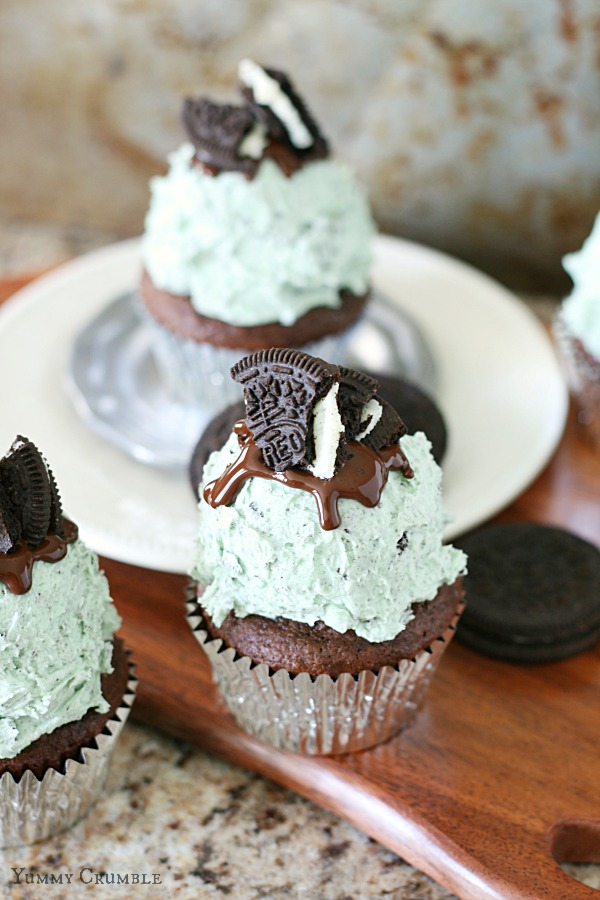 Mint Cookies and Cream Oreo Cupcakes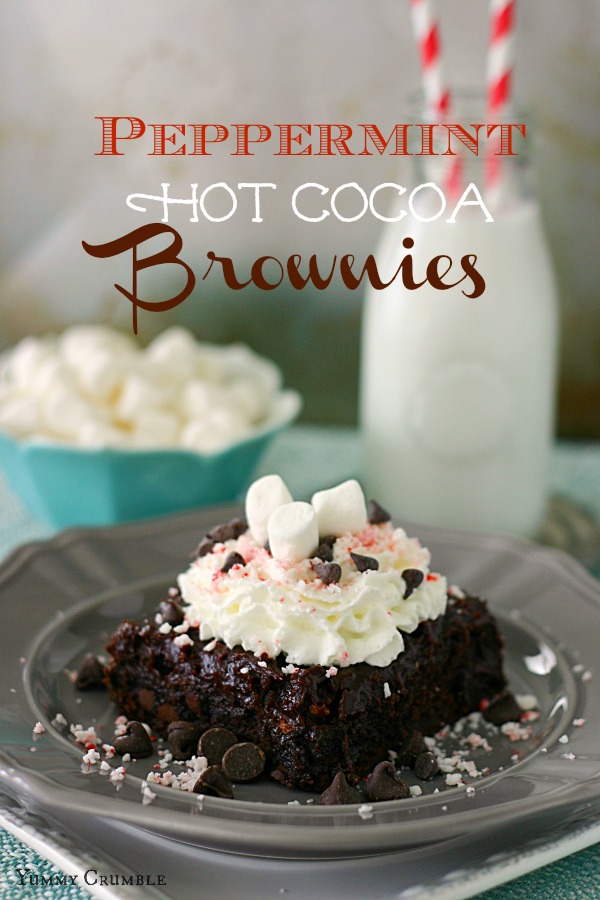 Peppermint Hot Cocoa Brownies
 Peppermint Brownie Cookie Sandwiches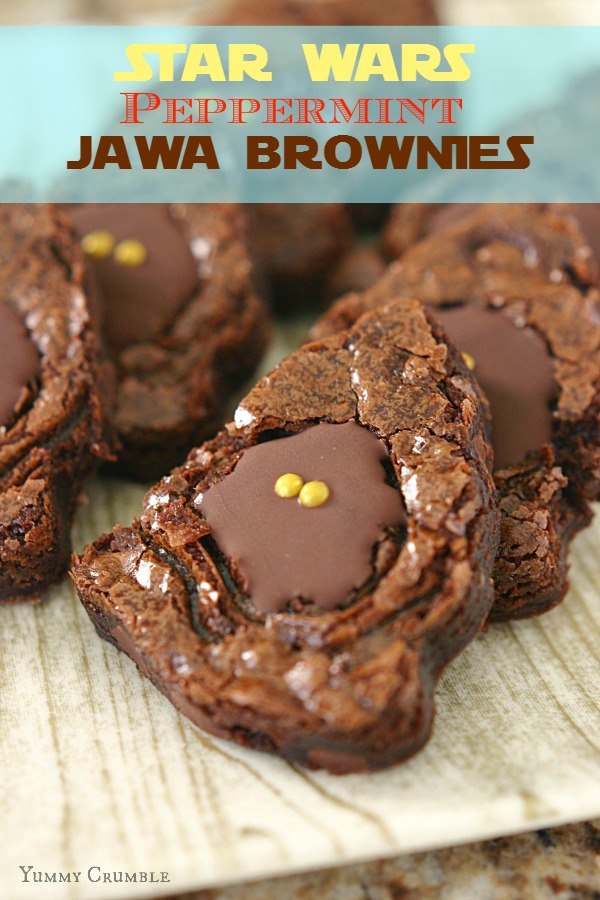 Peppermint Jawa Brownies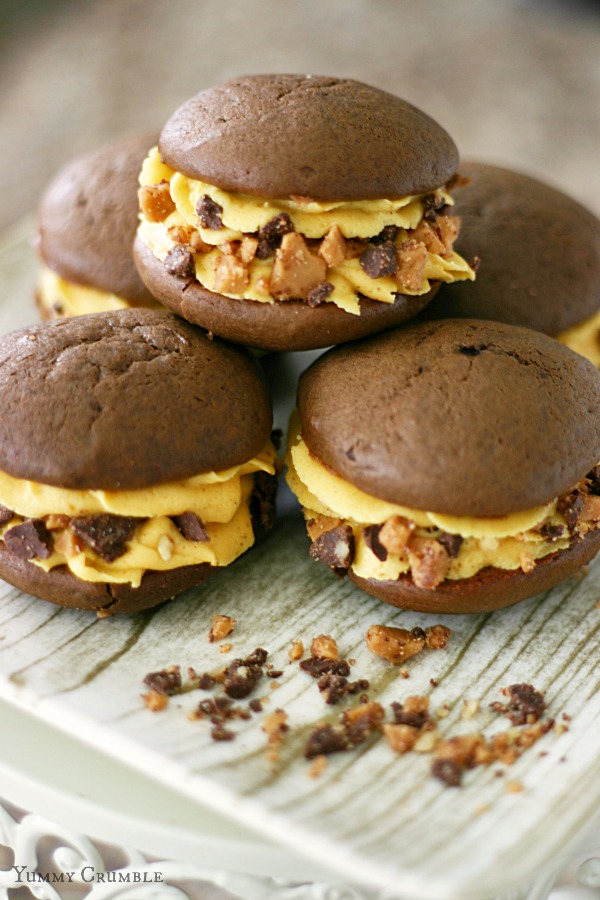 Chocolate Toffee Pumpkin Whoopie Pies