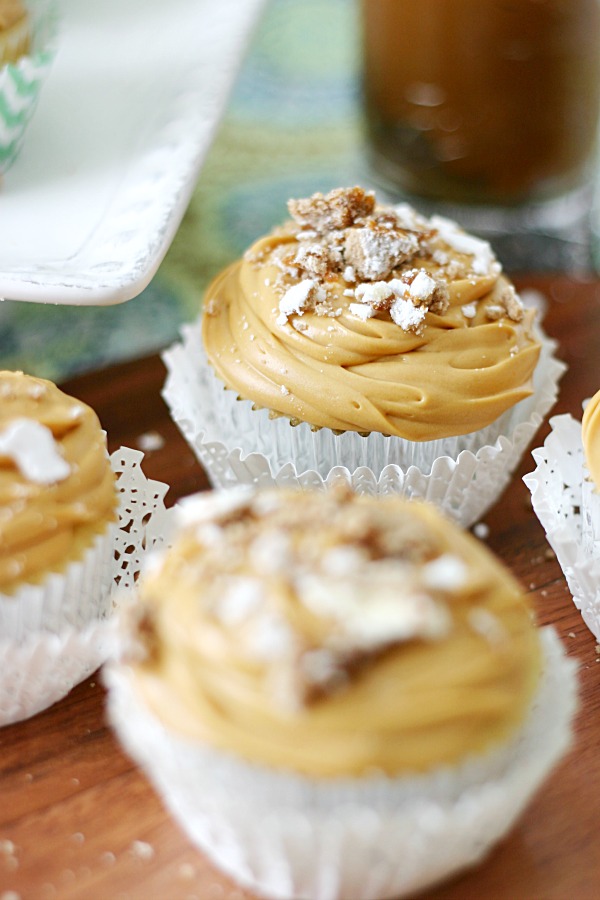 Welcome to Alfajor Cupcakes part deux.  A few weeks ago I made Chocolate Alfajor Cupcakes with chocolate cream cheese frosting swirled with dulce de leche.  They were, to put it lightly…to die for.  So, just to make sure I'm covering all bases, I baked some white chocolate ones.  Truth be told, there are some people out there that don't LIKE chocolate.  Craziness.  They prefer white, which I affectionately call naked chocolate.  Pair naked chocolate with dulce de leche and I'm sold.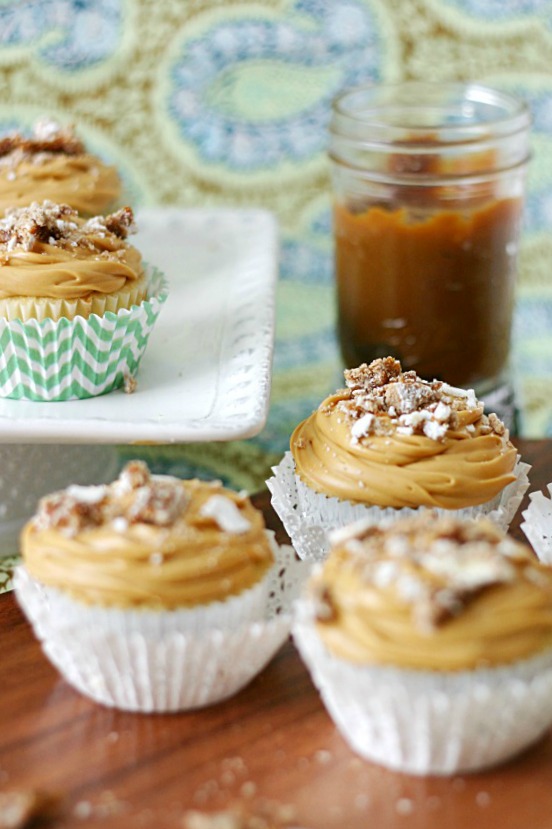 I found a recipe for white chocolate cupcakes from The Curvy Carrot, which boasted to give a moist cupcake with ultimate white chocolate flavor.  It was exactly what I was looking for.  I wanted to make sure when eaten, it was unmistakably a white chocolate cupcake and not vanilla.  I crumbled some of my favorite Alfajor cookies (these were dipped in white chocolate) and baked them right in the batter.  The Alfajor cookies can be found on Gaucho Direct.  Even if you aren't planning on making these cupcakes, get some Alfajores.  You won't be disappointed.  They rock.  The frosting is simple and easy, made with tons of dulce de leche.  To make  a stiffer frosting just add a little more sugar than the recipe calls for.  It comes out fluffy and caramely and just plain yummy.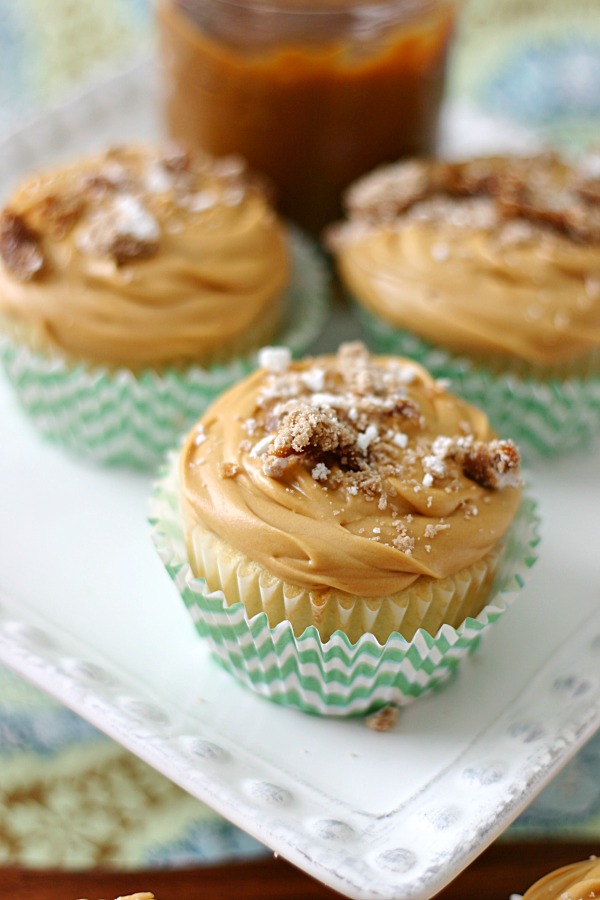 White Chocolate Alfajor Cupcakes
Ingredients
1 1/2 cups all purpose flour
1 tsp baking powder
1/2 tsp salt
1/3 cup softened butter
3/4 cup white granulated sugar
2 large eggs at room temperature
4 ounces good-quality white chocolate, chopped and melted
1 tsp vanilla
1 cup plus 1 tbs milk (I used skim)
2 chopped alfajor cookies
Instructions
In a medium bowl, whisk together the flour, baking powder, and salt. Set aside.
In a large bowl beat together the softened butter and sugar until light and fluffy.
Add each egg one and time making sure to fully mix the eggs into the butter and sugar. Then mix in vanilla extract.
Beat in melted (making sure its not hot) white chocolate.
Alternate adding the dry ingredients and milk making sure to mix well after each addition.
Fill your cupcake tins 1/2 full. Sprinkle some alfajor cookie crumbles on batter and top with more batter until the cupcakes are 2/3 full.
Bake for 25 minutes and let cool before frosting.
http://yummycrumble.com/white-chocolate-alfajor-cupcakes/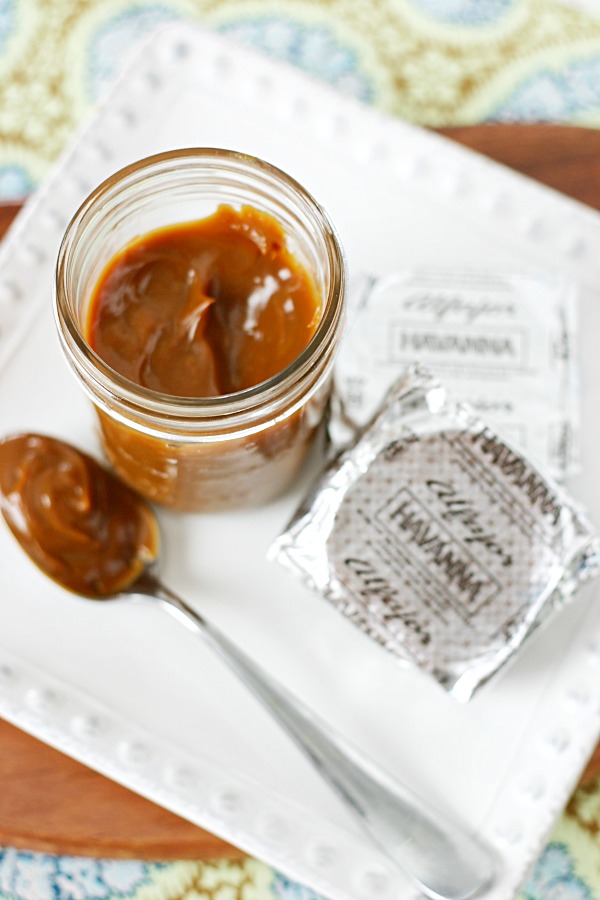 Ingredients
10 tbs dulce de leche
4 tbs softened butter
2- 2 1/2 cups confectioner's sugar
1 tsp vanilla extract
1-2 tbs milk
Instructions
In a large bowl beat butter, dulce de leche, vanilla and sugar until fluffy.
Add milk to thin out frosting if needed.
http://yummycrumble.com/white-chocolate-alfajor-cupcakes/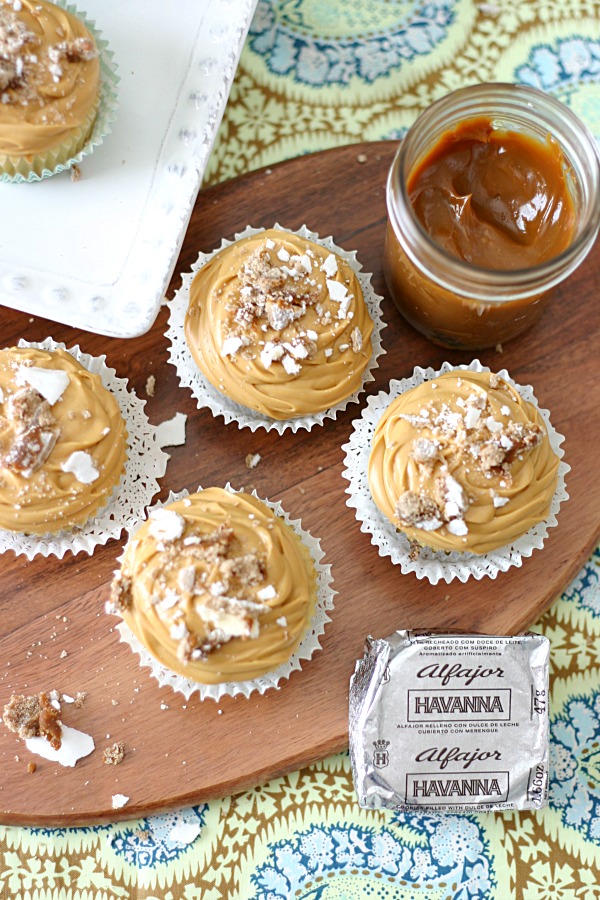 I love these cupcakes.  I'm sure you will too.
These have totally made me a believer in "naked chocolate".