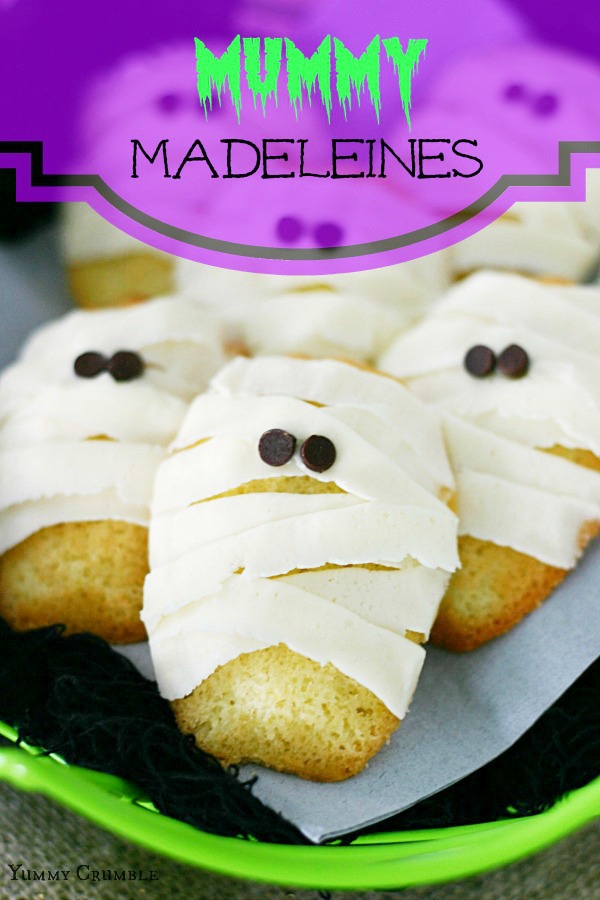 Sweet madeleines that have turned spooky!  A light buttery vanilla madeleine wrapped with vanilla buttercream frosting and two mini chocolate chips for eyes.  These simple and adorable Vanilla Mummy Madeleines are perfect for Halloween!
My son's pre-school Halloween party is coming up next week and I'm excited about making a creepy dessert for his classmates.  Oliver (my little taste tester) has been sampling my Halloween treats all month.  His verdict is…everything has been "too spooky".  As much as I love making little kids squeel and run away, Oliver has advised me to keep it cute.  I think these Vanilla Mummy Madeleines fit the bill.  They're so adorable they surely won't scare the kiddos away.  Not like these devils.  Or these guys.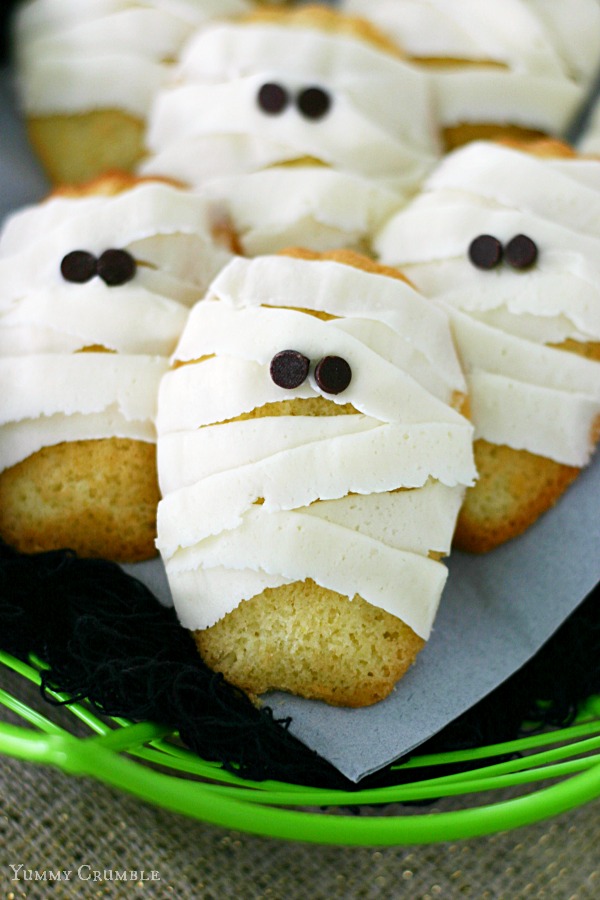 Vanilla Mummy Madeleines
Ingredients
Madeleines
2 large room temperature eggs
⅔ cup granulated sugar
2 tsp vanilla extract
⅛ tsp salt
1 cup all purpose flour
¼ tsp baking powder
8 tbsp butter, melted and cooled (I used unsalted, but salted would work too)
Vanilla Buttercream
1 cup room temperature unsalted butter
6-8 cups powdered sugar
½ cup cream
1 tsp vanilla extract
Instructions
Madeleines
Set oven to 375F.
Lightly grease and flour your madeleine pan.
Beat eggs and sugar together until thick.
Beat in vanilla and salt.
Sift flour and baking powder into bowl and fold together until mixed.
Stream in melted butter while mixing on low.
Spoon a tablespoon of batter into each cavity.
Bake for 12-14 minutes or until lightly golden brown. Be careful to not over bake.
Allow to cool for a few minutes before removing.
Make sure pan has cooled before baking the next batch.
Vanilla Buttercream
With your paddle attachment of your electric mixer, beat butter until light and fluffy.
Add 6 cups of the powdered sugar with cream and vanilla.
Mix slowly until its blended well, then beat on high for 2-3 minutes.
Add more sugar one cup at a time until desired consistency.
With a flat piping tip, pipe the mummy cloth on the madeleines and then use two mini chocolate chips for eyes.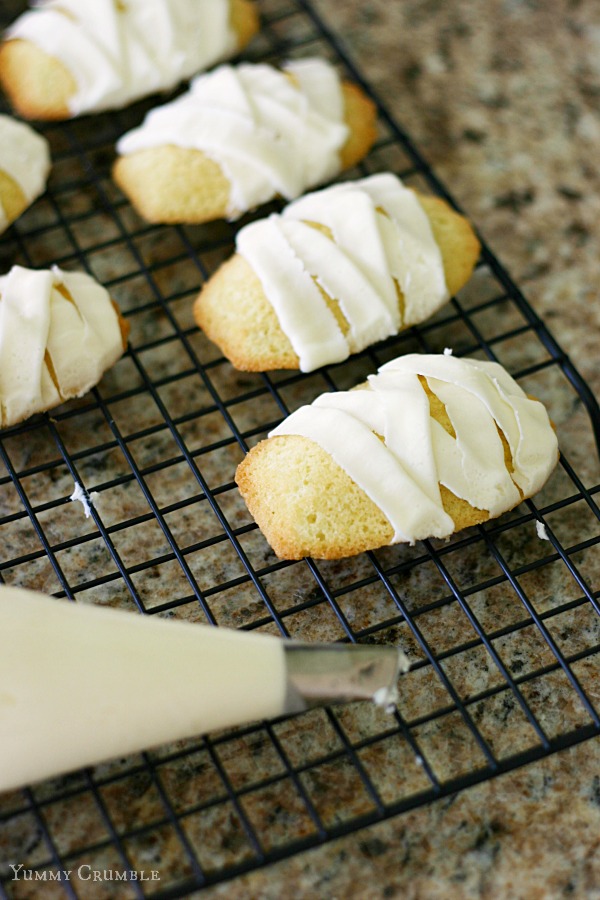 More Halloween Goodies: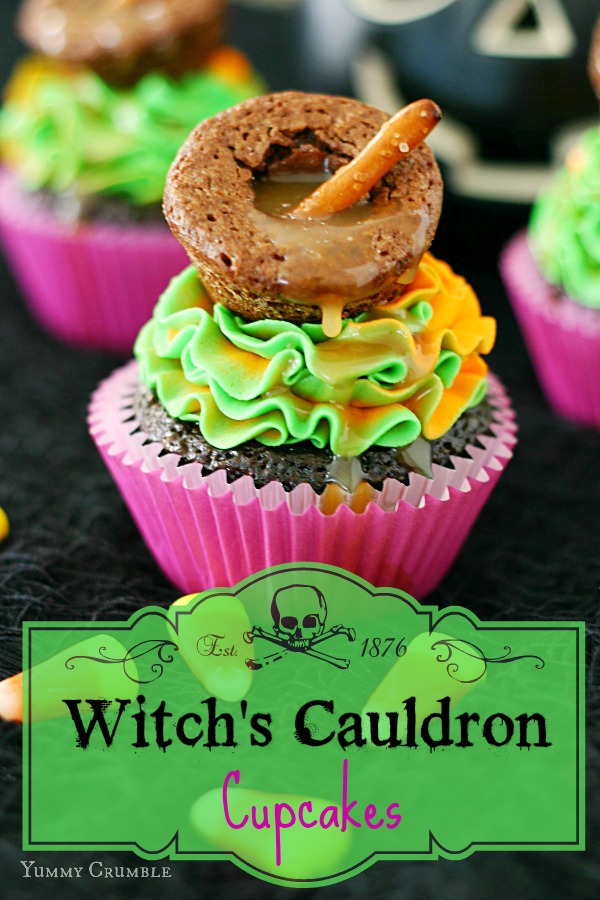 Chocolate Witch's Cauldron Cupcakes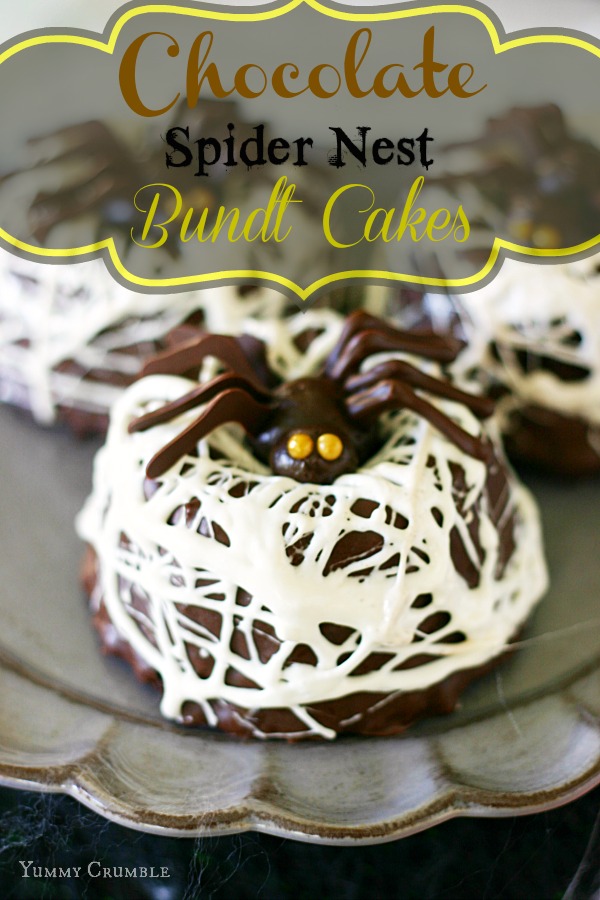 Chocolate Spider Nest Bundt Cakes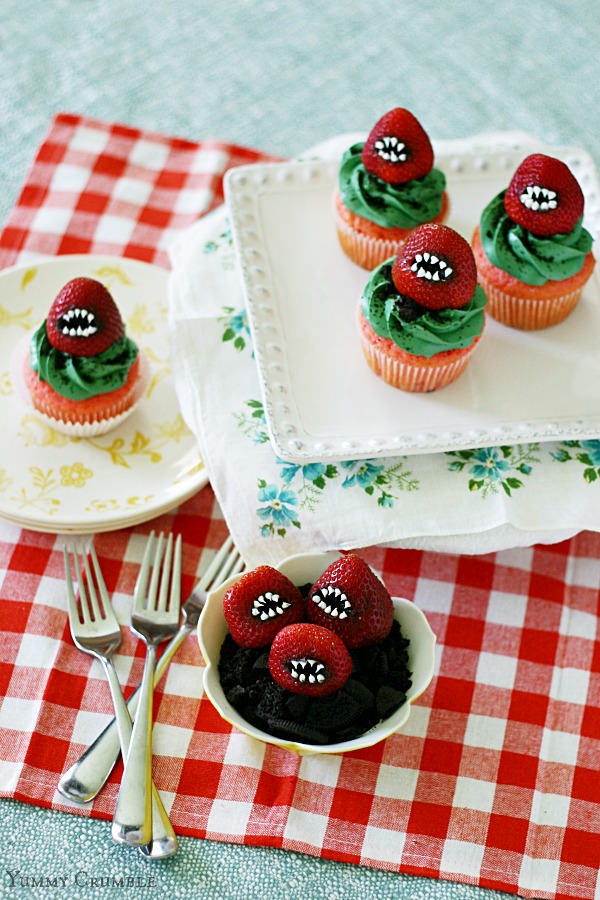 Monster Strawberry Cupcakes
More Madeleines: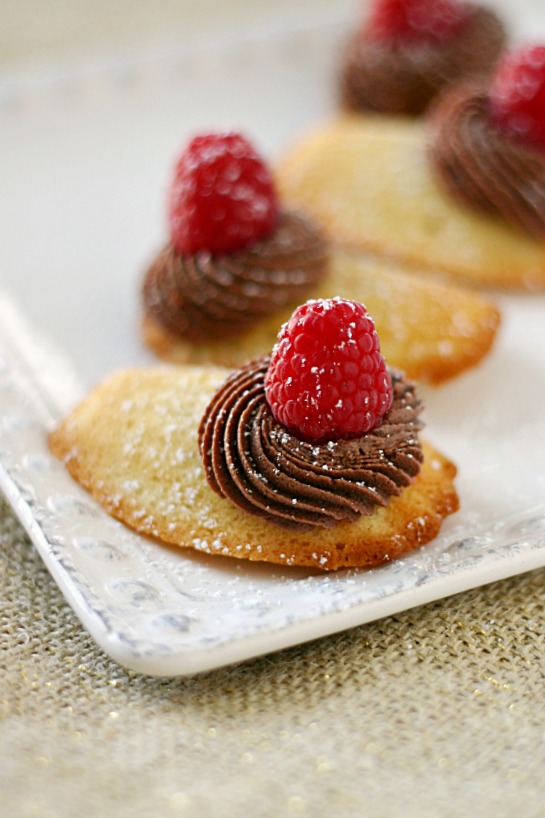 Vanilla Madeleines Filled with Fresh Raspberry Mousse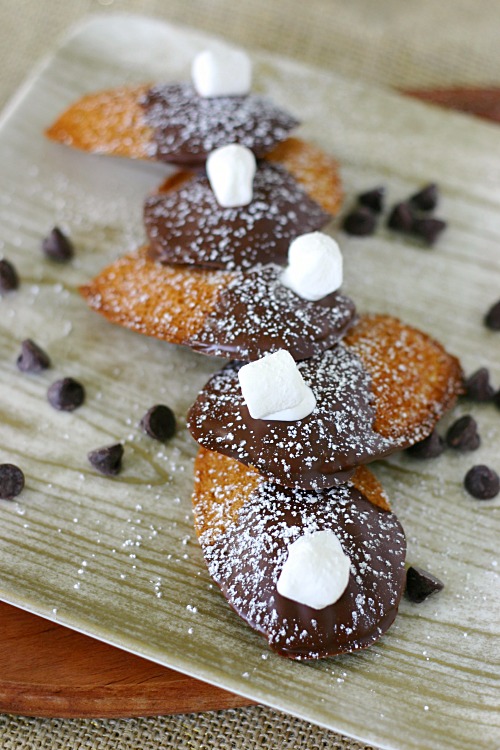 S'mores Madeleines