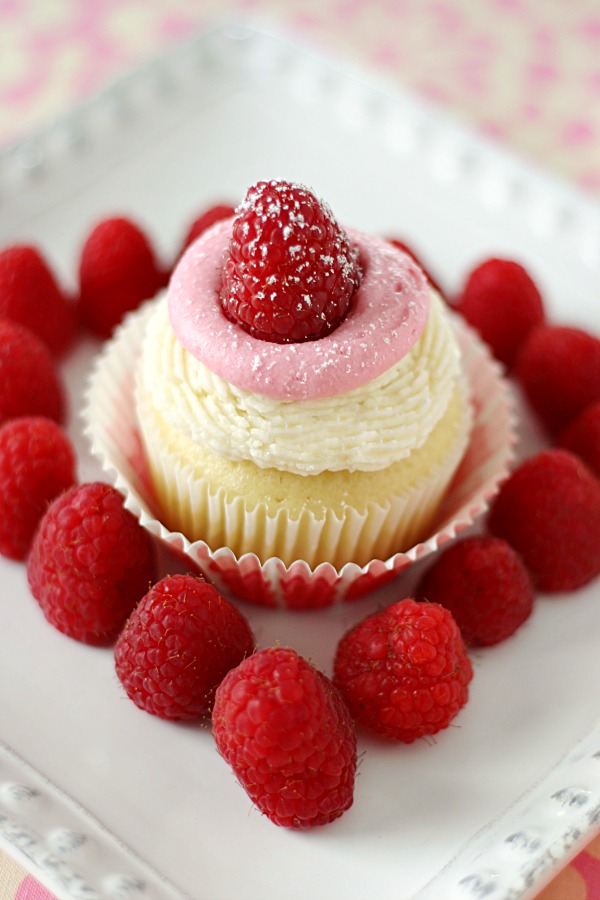 Decadent White Chocolate Raspberry Mousse Cupcakes for your sweetheart!  Luscious raspberry mousse fill these tender white chocolate cupcakes.  Lovingly frosted with a super light and airy vanilla butter cream and topped with tart raspberry icing.
My husband and I have never really been one's to celebrate Valentine's Day.  Number one, we have a rambunctious 3 year old and a wee 9 month old.  It's a little hard to get away for a romantic evening.  Also, its kind of difficult to get in the "mood" when you have dried poop in your hair.  (Not even exaggerating there.  It's happened to me not once.  Twice.)
Number 2, my birthday falls on the 13th.  My husband totally lucked out on that one.  My birthday kind of cancels out the day devoted to cheap candy and cheesy love cards.  Which is fine with me…I like to celebrate my birth more than Valentine's Day.  As long as I get a little bit of that cheap candy.