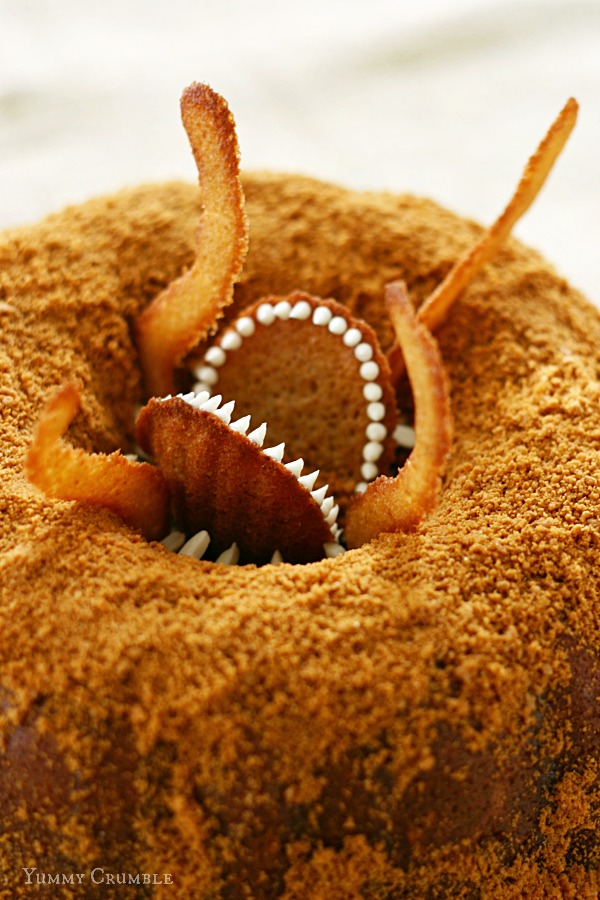 Buttery caramel flavored moist bundt cake drizzled with homemade salted caramel sauce and dusted with Biscoff Cookie Crumbles.  Two Biscoff madeleines with salted caramel buttercream teeth make the monster of this Star Wars Sarlacc Bundt Cake.
I have a little confession about my family.  We're a bunch of geeks.  Geeks to the core.  I'm a Disney fanatic sprinkled with a little Harry Potter and drizzled heavily with I Love Lucy.  My husband is a Trekkie who's obsessed with Star Wars all while being a loyal Battle Star Galactica fan.  But geeks are awesome. So while October comes to a close, this Star Wars Sarlacc Bundt Cake is for you geeks!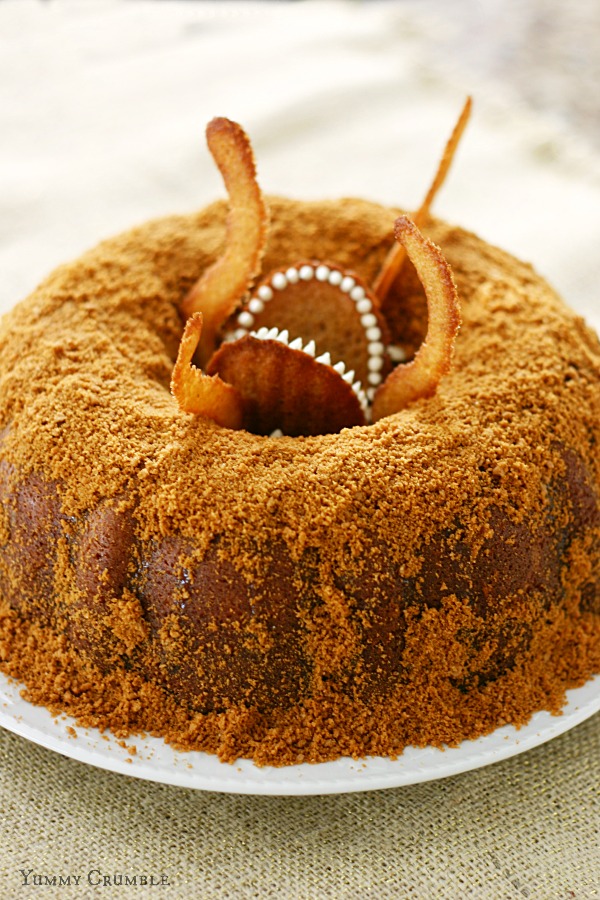 So for all you non-geeks, a Sarlacc is a horrific plant-like omnivorous creature found across the galaxy.  It's got huge tentacles and a beak and was in the famous pit scene from Return of the Jedi.  This is where Bobba Fett met his maker.  This thing gave me the heebie jeebies the first time I saw Return of the Jedi, so this is my little tribute to him.  I know the Sarlacc traditionally does not have teeth on his beak, but  I just couldn't resist.  Teeth made of frosting is my new favorite thing.
Would this trigger PTSD for Luke?  Maybe…But I could totally hear him say,
"But I don't remember the Sarlacc ever having teeth…"
And all the Star Wars trolls nod and clap in agreement.  Hey guys, just think of this Sarlacc as the suped up version with CGI teeth.  I know, CGI is a sore subject.  Either way, this guy is super delicious.  You should make him now.  Teeth or no teeth.