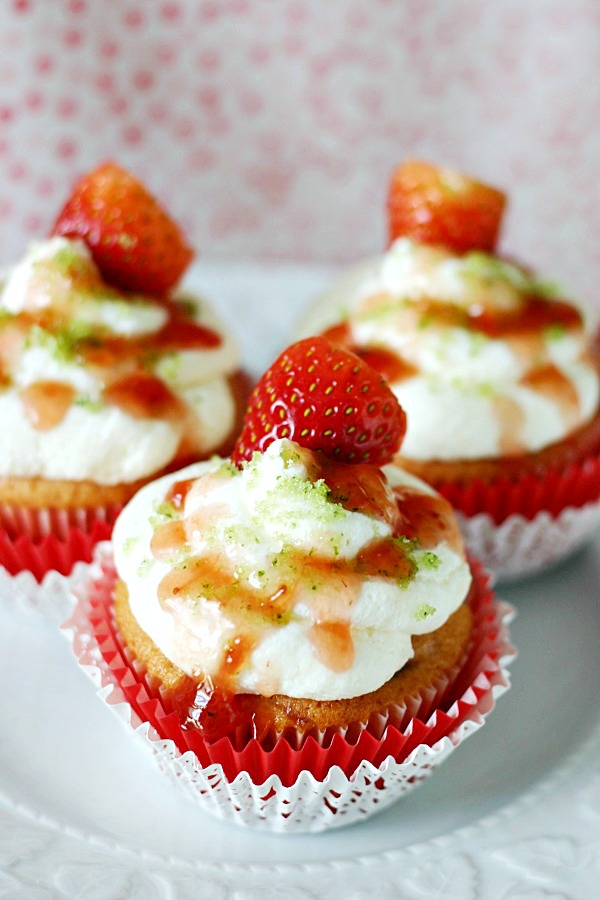 I have always been a chocolate kind of girl.  Always.  I think its because chocolate is always loyal and always tastes good.  I also don't want to make something new and be utterly disappointed.  So starting this blog has been a teensie bit scary. Honestly, I'm just terrified of everyone seeing my failed attempts at food photography!  So as I learn the ropes I'm venturing out and munching on other things besides just chocolate chip cookies.  I'm exploring a little more and so far I'm loving it.  These Strawberry Cupcakes with Mascarpone Frosting were created for my husband, Chris.  He's a strawberry kind of guy.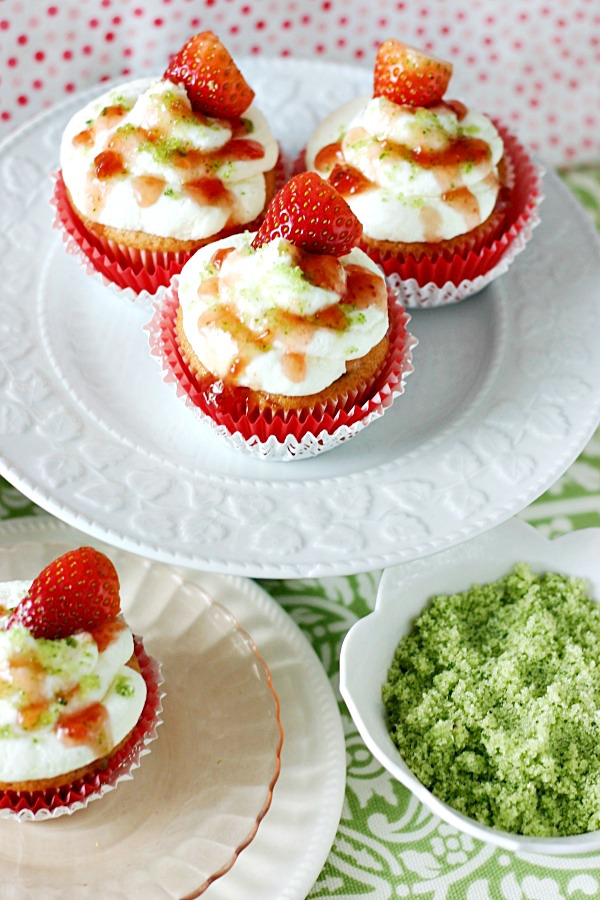 I've never made strawberry cupcakes before, so naturally I just googled "best strawberry cupcakes" and prayed I found a blogger that was telling the truth.  So with fingers crossed, I baked the recipe from Kara's Party Ideas.  So delicious!  The recipe called for fresh fruit and preserves mixed into the batter which I loved.  They came out super moist and you got these yummy little pockets of tangy fruit in every bite.  To compliment these lovelies I wanted a really light frosting.  Definitely made with whipped cream.  I went with whipped mascarpone frosting from Martha Stewart and I fell totally in love.  It's sweet enough to mingle with the flavors in the cupcake but doesn't overpower at all.  To garnish them I made a fresh, herbaceous basil sugar.  It was incredibly easy to make.  Just throw 1 cup of granulated white sugar into a food processor with 3-4 leaves of fresh basil.  Pulse until its incorporated and bright green.  Of course you can add as much as you want of the basil.  The fragrance that hits you right when you open the food processor is enough to make you drool.  So this is my new favorite love.  Basil sugar.  I can't wait to see what desserts I can work it into.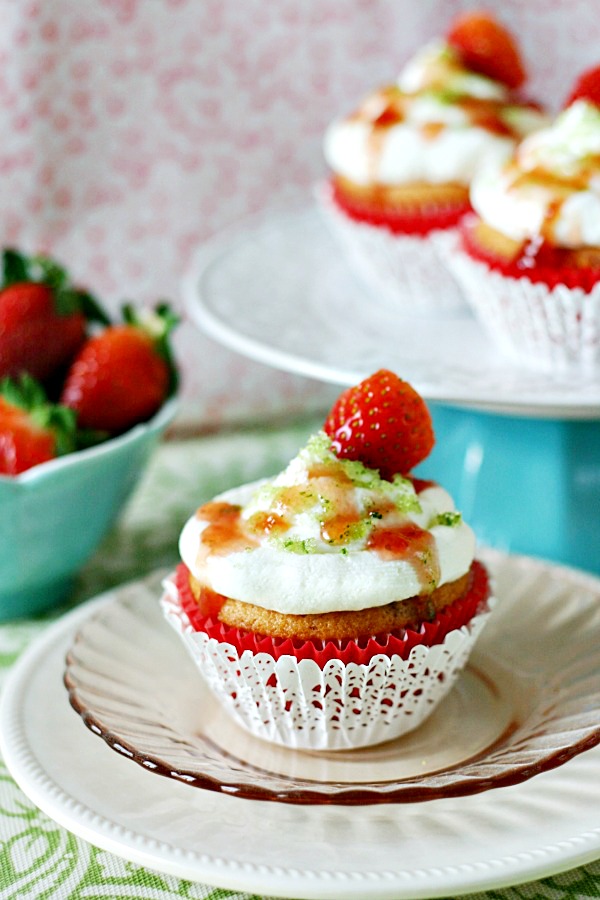 Strawberry Cupcakes With Mascarpone & Basil Sugar
Ingredients
Cupcakes

3 tbsp strawberry jam or preserves
1/3 cup chopped fresh strawberries
1 1/4 cups flour
1/4 tsp salt
1 1/4 tsp baking powder
3/4 cup of sugar
1/2 cup of unsalted butter, softened
3 egg whites
1/2 tsp vanilla extract
4 drops pink food coloring
1/3 cup milk

Mascarpone Frosting

1 Cup heavy cream
8 ounces room temperature mascarpone cheese
1/2 cup sifted powdered sugar
Instructions
Set oven to 350 F.
In small bowl mix together fresh chopped strawberries and preserves.
In another bowl mix together flour, baking powder, and salt.
In another bowl cream together butter and sugar.
Add egg whites, vanilla extract, and food coloring into fully incorporated.
Add dry ingredients with milk, beating on low speed.
Fold in strawberries and preserves.
Fill cupcake liners to 3/4 full and bake for 25 minutes.
Whisk heavy cream until stiff peaks form. (medium speed)
In another bowl whisk together mascarpone and powdered sugar until smooth.
Fold in whipped cream until fully incorporated.
Pipe onto cooled cupcakes.
http://yummycrumble.com/strawberry-cupcakes-mascarpone-frosting-basil-sugar/
 The only change I made to the strawberry cupcake recipe from Kara's Party Ideas was add 1 extra tablespoon of preserves and use 1/3 cup of chopped strawberries instead of just 1/4 cup.  I like to walk on the wild side.