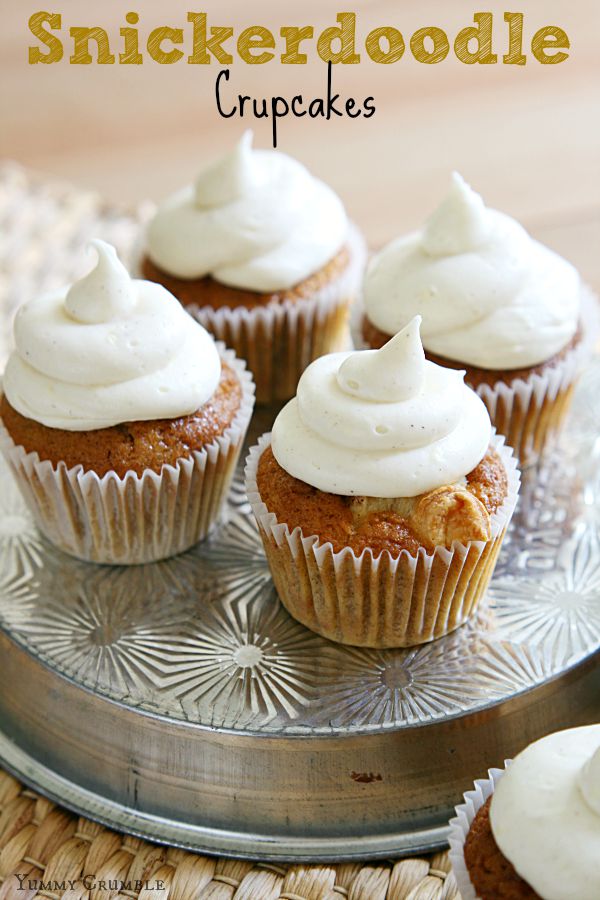 Soft cinnamon sugar cupcakes with a hidden surprise!  A luscious croissant baked right in the cupcake and topped with cinnamon cream cheese frosting.  These Snickerdoodle Crupcakes are easily my new favorite mash-up dessert!
I'm so excited about these.  Yes, I often get excited about baked goods, but these are awesome!  Think of a soft snickerdoodle cookie combined with a buttery croissant, then smothered in cinnamon cream cheese frosting like a cinnmon roll.  Best breakfast ever, right?
I've always loved the idea of hybrid desserts or dessert mash-ups.  There's  of course the coveted cronut, the cruffin (burglars even broke in and stole the recipe!), and also the Brookie.  I even morphed sweet potato pie into baklava.  It was a memorable experience.  Just a quick shout out…one of my favorite bloggers wrote all about mash-ups.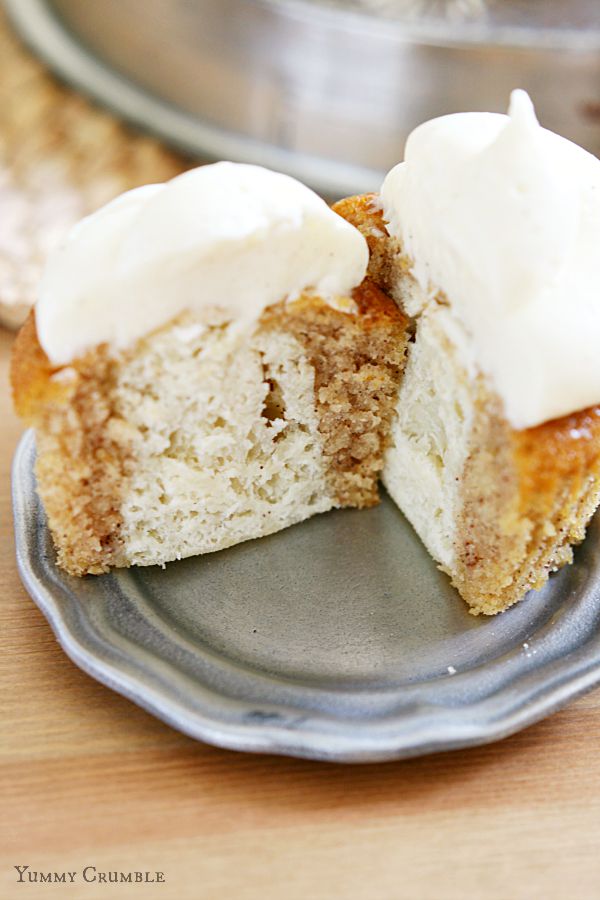 Before I started this Snickerdoodle Crupcake journey, I searched google to see how many times a crupcake had been done.  I only noticed a few posts about them and I was a little surprised. I thought there would be a million recipes for these guys.  I guess they're just the quiet little sibling of the ever so popular Cronut. Crupcakes might be wannabes, but i don't think I want to go back to a regular old cupcake again.  So these Snickerdoodle Crupcakes are for all you underdogs out there.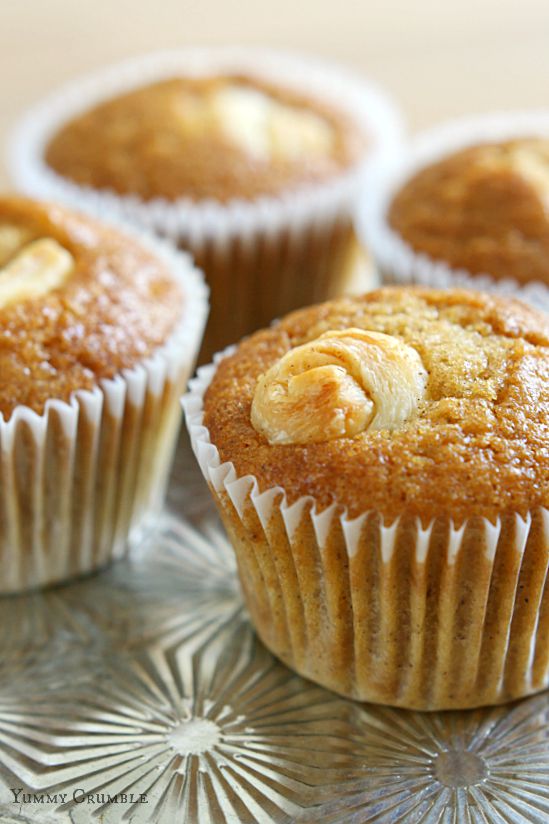 Now, I'll be honest with you.  I ended up using premade croissant dough, but I'm in Dubai where everything is amazing.  Even the store bought pastry dough is to die for.  It wasn't your typical Pillsbury crescent roll dough.  This baked up crispy and buttery, just like the real deal. (Time out – I need to clarify that I am not putting down Mr. Pillsbury.  I will eat the pants off of some fresh baked crescent rolls.  I often forget that there is actually a main course to dinner when I bake those suckers.)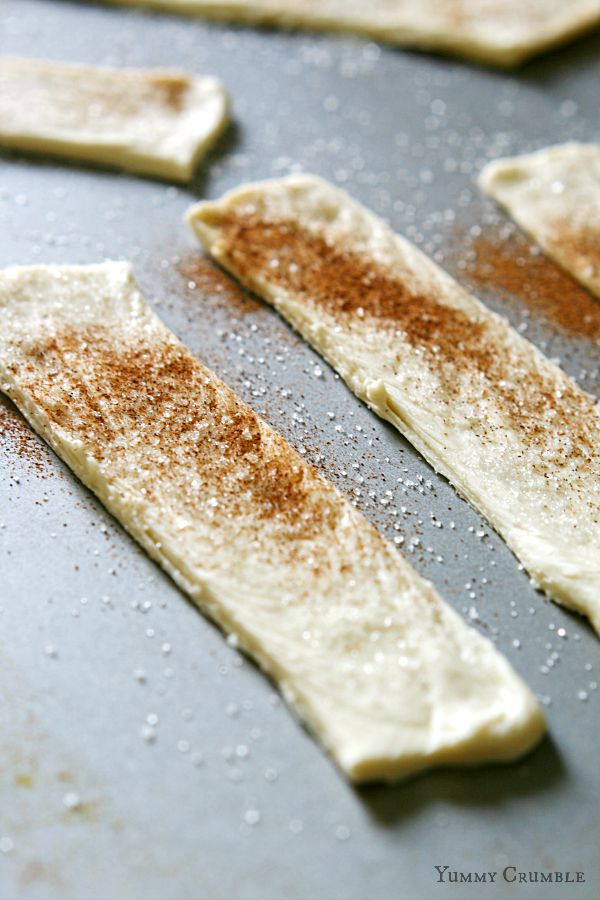 Of course you're more than welcome to use your favorite croissant dough, and I totally tip my hat to you if you have a croissant recipe under your sleeve.  I haven't made it to croissants from scratch level yet.  So thank you Dubai for your wonderful tubes of french pastry.  Before placing the cute little croissants in the cupcake batter, I just sliced the dough into strips, buttered them, and sprinkled them with cinnamon and sugar before rolling them.  I was worried they wouldn't bake all the way through, but it worked out beautifully.  I think I baked them for about 22 minutes, you might need more or less.  Just keep checking on them after about 15 minutes.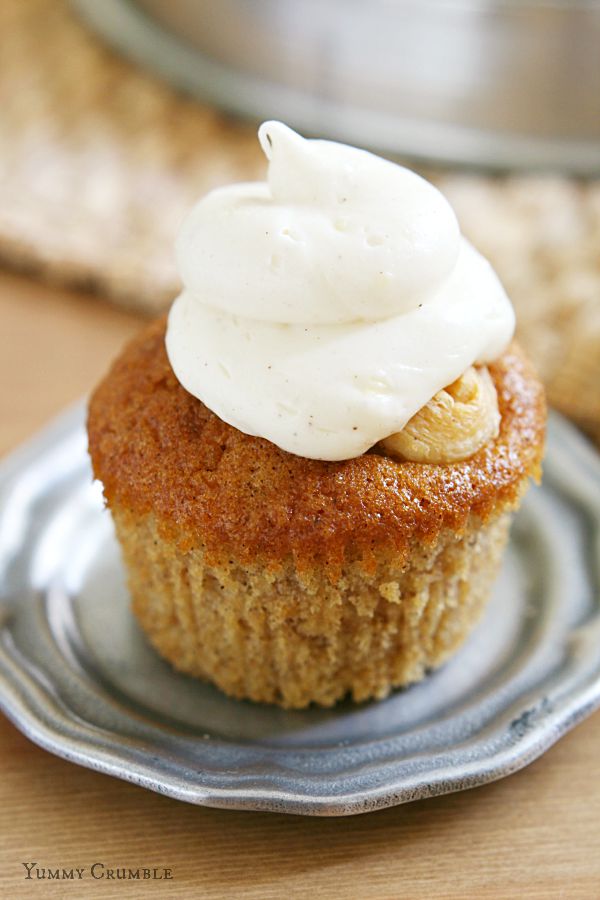 Snickerdoodle Crupcakes
Ingredients
Crupcakes
1½ cups all-purpose unbleached flour
¾ teaspoon baking powder
¼ teaspoon salt
½ teaspoon ground cinnamon
6 tablespoons butter, softened
¾ cup sugar
2 large eggs
1 teaspoon vanilla extract
1 vanilla bean, seeded and hull discarded
½ cup + 2 tablespoons milk
croissant dough
Cream Cheese Frosting
1 8oz package of softened (full fat) cream cheese
¼ cup softened butter
1 tsp vanilla extract
½ teaspoon cinnamon
4 cups powdered sugar
Instructions
Crupcakes
Set your oven to 350 F and line your cupcake pan with liners.
In a medium bowl, whisk together the flour, baking powder, salt, and cinnamon. Set aside.
In a large bowl, cream together the butter and sugar until light and fluffy.
Add eggs one a time and mix well after each one. Add the vanilla bean seeds and vanilla extract and mix well.
Mix in the flour in batches alternating between the milk. Start and end with the flour.
Scoop the batter and fill the cupcake liners ⅔ full and set aside.
Lay out the croissant dough and cut into strips about ½ inch by 5 inches.
Paint them with melted butter and sprinkle with cinnamon and sugar. Roll up into mini croissants and place in the cupcake batter.
Bake for 20-22 minutes until the tops of the croissants are golden brown. Let cool before frosting.
Cream Cheese Frosting
Beat the cream cheese, butter and vanilla until light and fluffy.
Add in sugar one cup at a time and add a little cream if necessary.
Add cinnamon and beat on high for 3 minutes until super light and fluffy.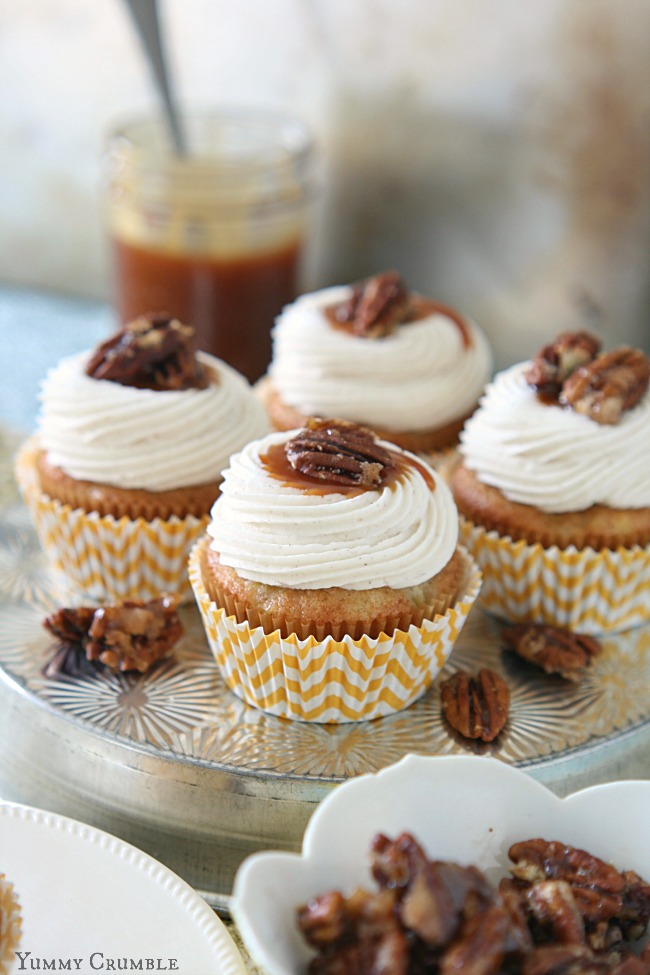 Salted Caramel Hummingbird Cupcakes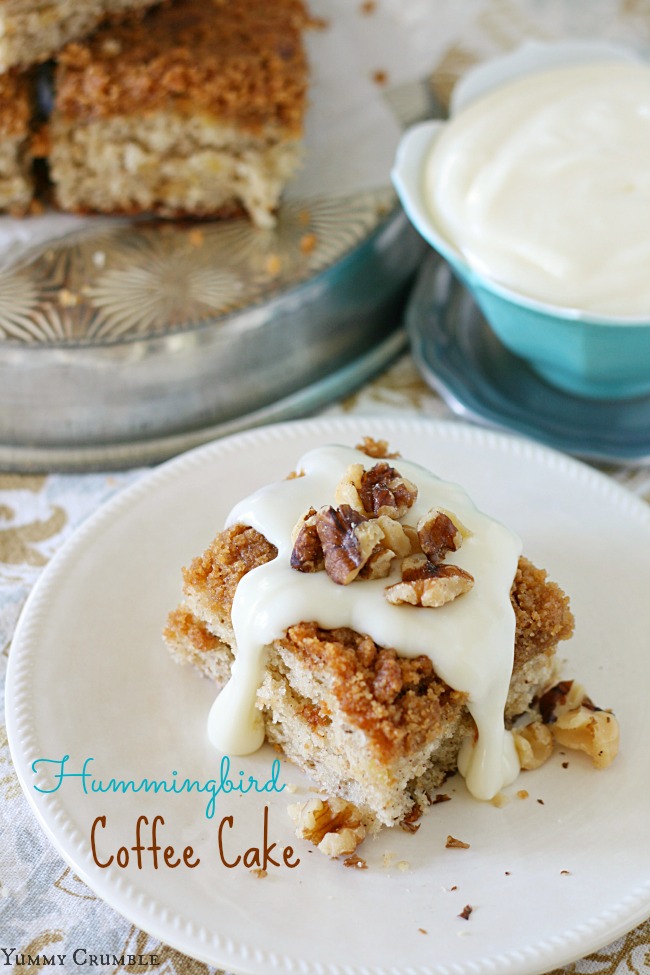 Hummingbird Coffee Cake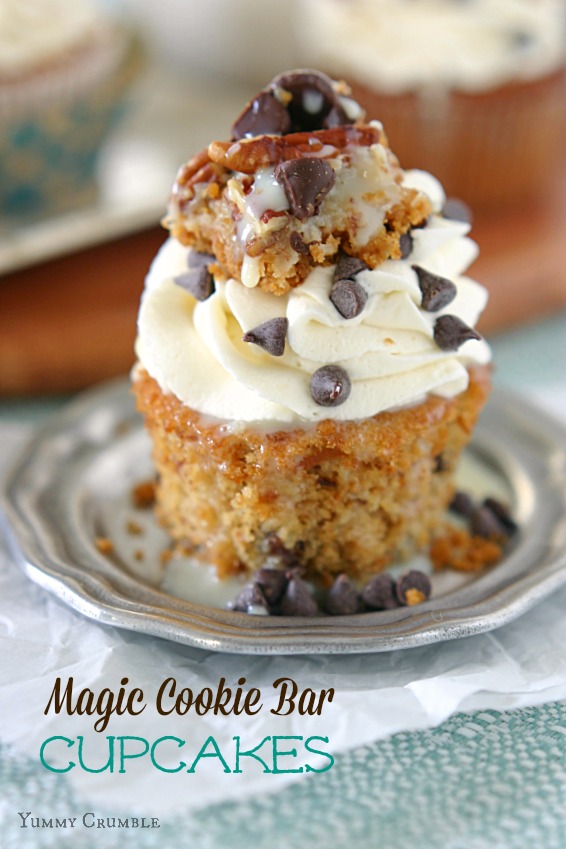 Magic Cookie Bar Cupcakes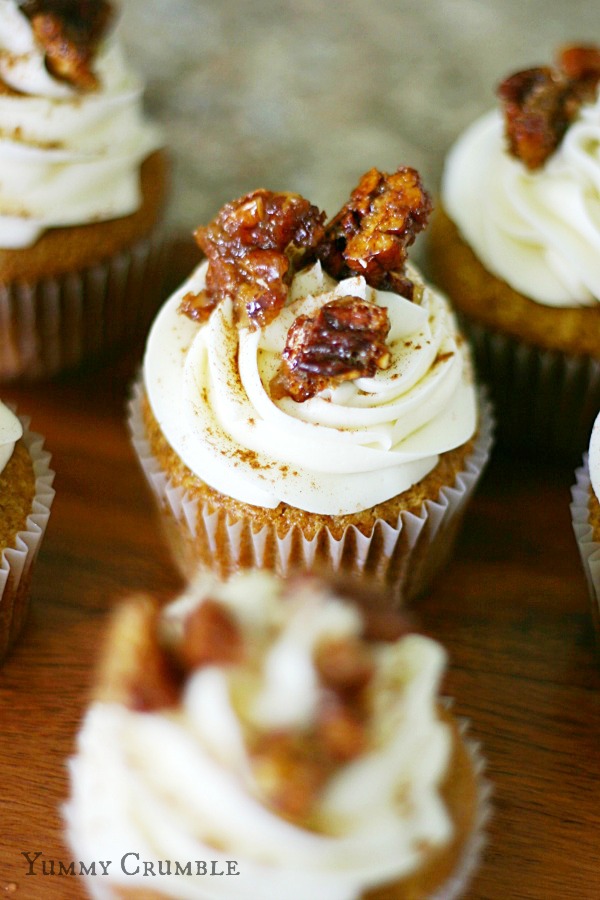 Pecan Pie Pumpkin Cupcakes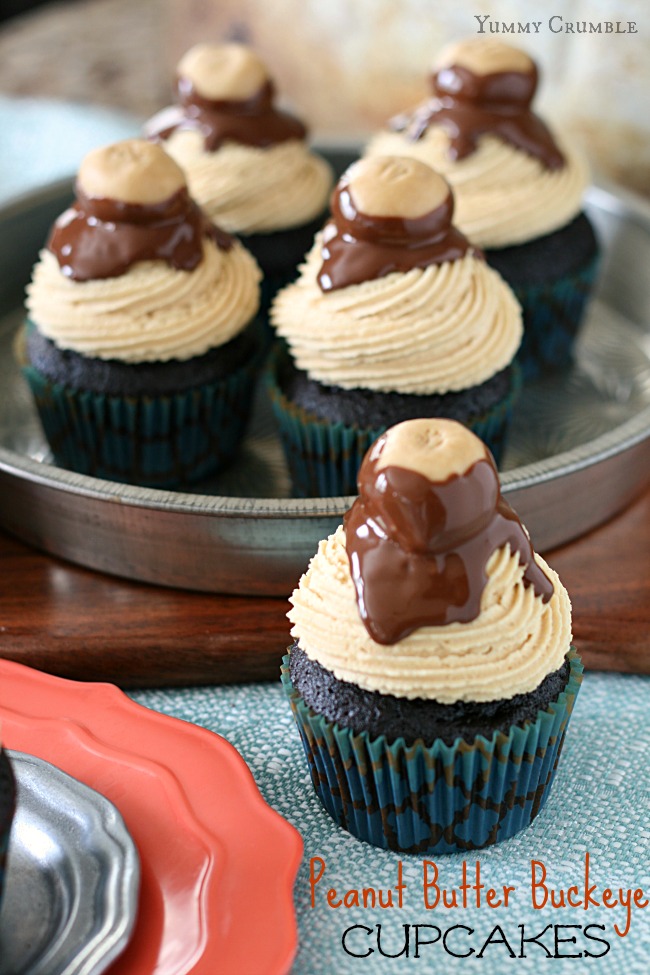 Peanut Butter Buckeye Cupcakes