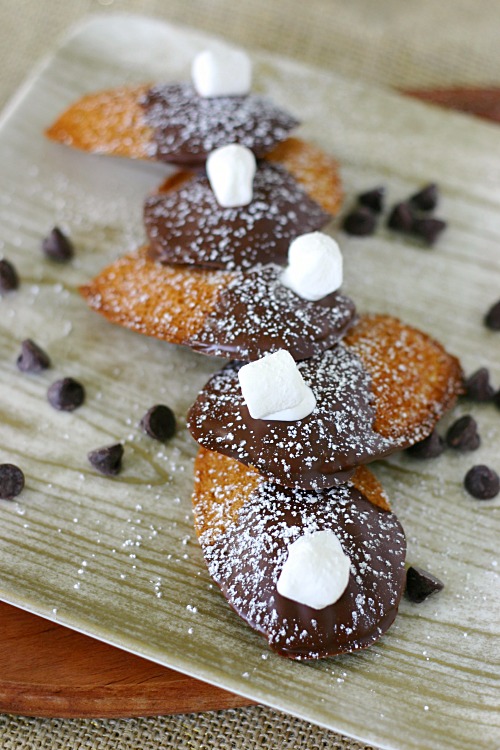 Golden S'mores madeleines baked with graham cracker cookie crumbs right in the batter then dipped in dark chocolate.  Don't forget the mini marshmallow.  The ultimate camp fire treat, it's my summer makeover for the classic French cookie.
Look away pastry connoisseurs.  It's about to get ridiculous.  And yummy.
I know I shouldn't mess with the madeleine.  I mean, it's pretty perfect in it's classic form.  Lightly sweet, spongy, and particularly comforting when it's still warm from the oven.  I've made a few changes before, like these madeleines.  And most recently, these lovelies.  I still stayed true to the genoise batter(folding sifted flour into your egg and sugar mixture, followed by cooled melted butter.  Totally backwards!), because it's what makes a true madeleine, right?  So don't fret Frenchies!  I'ts still your lovely little cookie!   Just extra delicious.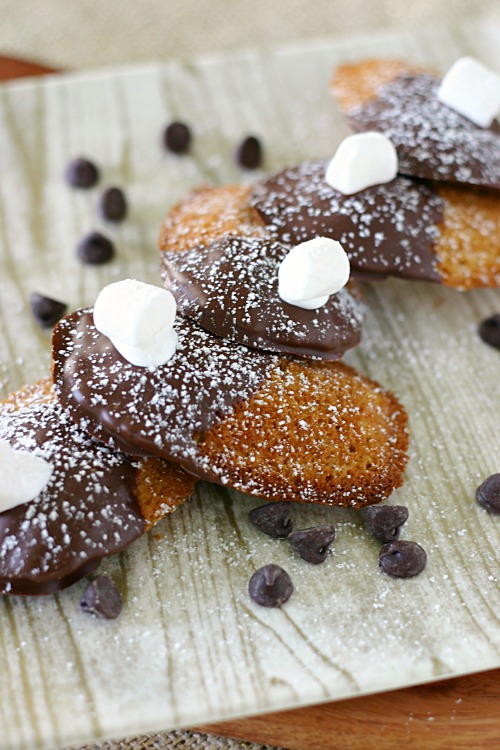 I basically subbed half the flour for graham cracker crumbs and substituted the white granulated sugar for light brown sugar.  Oh, and a touch more vanilla extract followed by a pinch of cinnamon.  The result was so freakishly delicious and wonderful, I nearly ate a whole batch before they even got dipped in the chocolate.  You probably will too.  They turned out perfectly.  I only had to watch them in the oven towards the end so they didn't over bake.  The batter is already golden brown and I didn't want them to burn.
Ingredients
2 large room temperature eggs
2/3 cup light brown sugar
2 1/4 tsp vanilla extract
1/8 tsp salt
1/2 cup all purpose flour
1/2 cup graham cracker crumbs
1/4 tsp baking powder
pinch of cinnamon (or more. your choice)
8 tbsp butter, melted and cooled (I used unsalted, but salted would work too)
1 cup melted dark chocolate for dipping
min marshmallows
Instructions
Start by setting oven to 375F.
Lightly grease and flour your madeleine pan.
Beat eggs and sugar together until thick.
Beat in vanilla and salt.
Sift flour, graham cracker crumbs,cinnamon, and baking powder into bowl and fold together until mixed.
Stream in melted butter while mixing on low.
Spoon a tablespoon of batter into each cavity.
Bake for 12-14 minutes or until lightly golden brown. Be careful to not over bake.
Allow to cool for a few minutes before removing.
Make sure pan has cooled before baking the next batch.
Dip each madeleine in melted dark chocolate and top with a mini marshmallow.
http://yummycrumble.com/smores-madeleines/