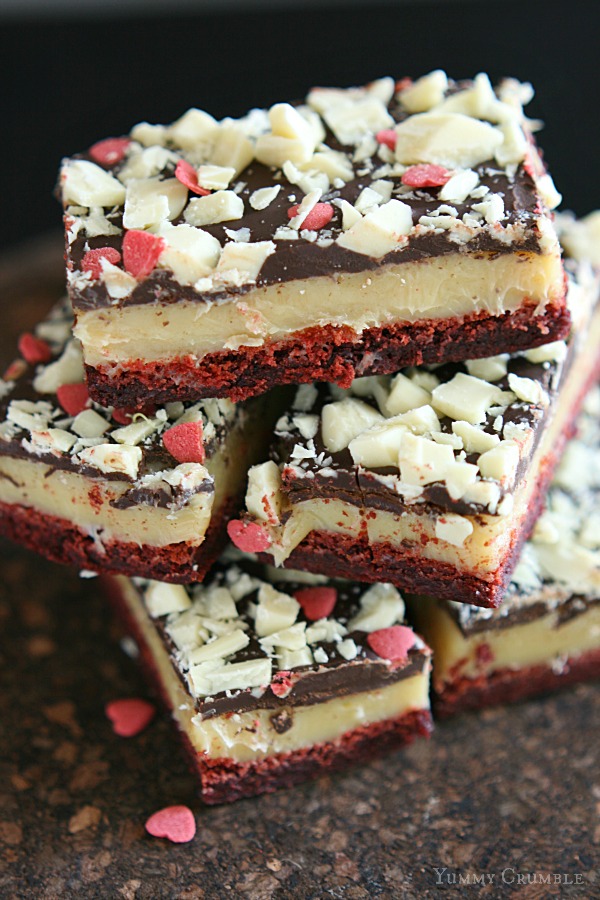 The iconic caramel slice redressed for Valentine's Day with a chewy red velvet base, a dreamy caramel center, and topped with dark chocolate, chopped white chocolate, and cute little red heart sprinkles.  This Red Velvet Caramel Slice is way better than a box of chocolates!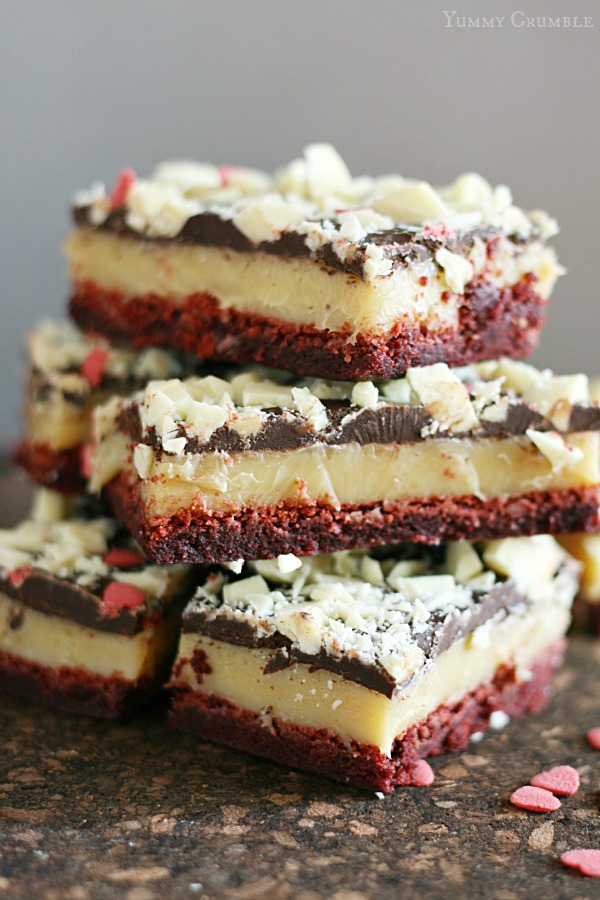 I know lots of people don't particularly look forward to the dreaded V-Day.  Let's look at the perks though.  Chocolate.  Red Velvet. Cheap cutesy pink and red candies.  Champagne.  Oh, and chocolate.  I know I mentioned chocolate already, but…chocolate.  I like Valentine's because it distracts my brain from realizing my birthday was the day before and now I'm one year older.  Ughh.  It helps to gorge on copious amounts of champagne and sweets.  Which is why I'm excited to dig into this huge slice of Red Velvet Caramel Slice.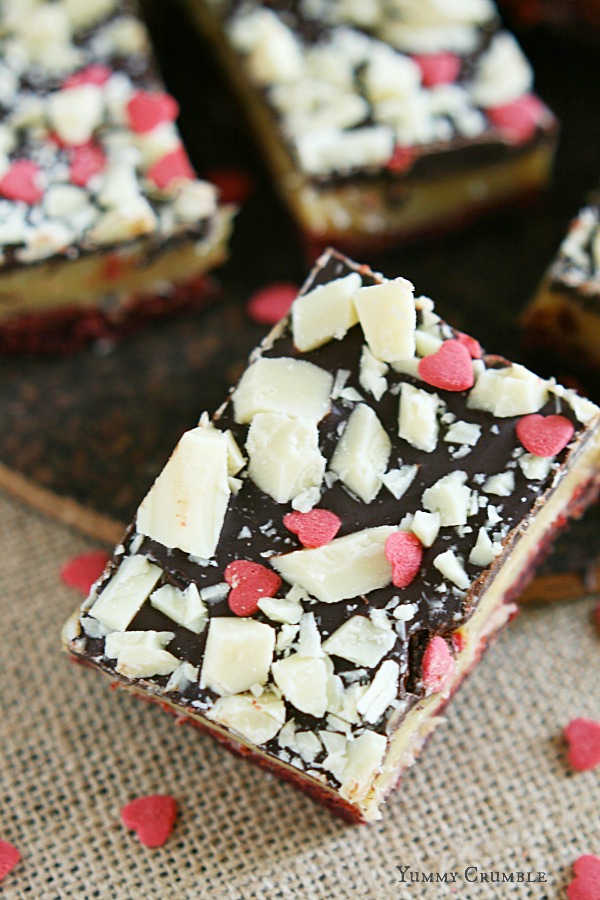 Red Velvet Caramel Slice
Ingredients
Red Velvet Base
1 box red velvet cake mix
2 eggs
½ cup softened butter
Caramel Layer
½ cup butter
2 14 ounce cans sweetened condensed milk
⅓ cup golden syrup
Topping
7 ounces dark chocolate
1 tbs coconut oil
chopped white chocolate
Instructions
Preheat your oven to 350 and line a 9 x 13 pan with foil or parchment paper.
In a large bowl blend the cake mix, softened butter, and eggs until a dough forms.
Spread the red velvet dough on the bottom of the baking dish and bake for 15 minutes.
Allow to cool while make the caramel layer.
In a large thick bottom saucepan heat the butter, sweetened condensed milk, and golden syrup over medium heat.
Using a whisk keep whisking and whisking to prevent from burning. Cook for about 15 minutes until it reaches a nice golden brown. Don't stop whisking!
Pour the caramel over the red velvet base and place pan in refrigerator to chill for about 15 minutes.
Melt your chocolate and coconut oil over low heat or use a double boiler until the chocolate is nice and smooth.
Pour the melted chocolate over the caramel layer and sprinkle your chopped white chocolate and any other goodies on top. Return to the refrigerator to cool completely. About 1 hour.
 Try these too: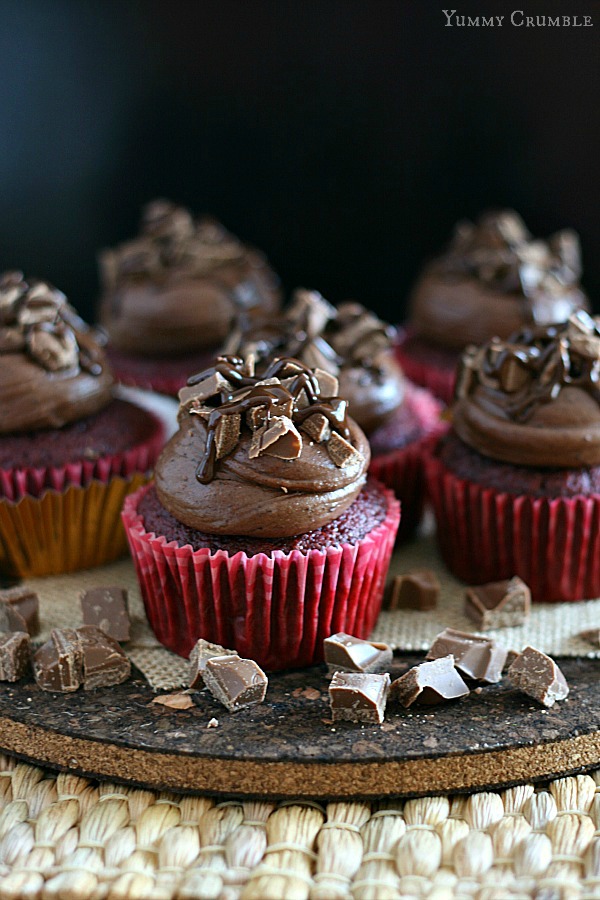 Nutella Red Velvet Cupcakes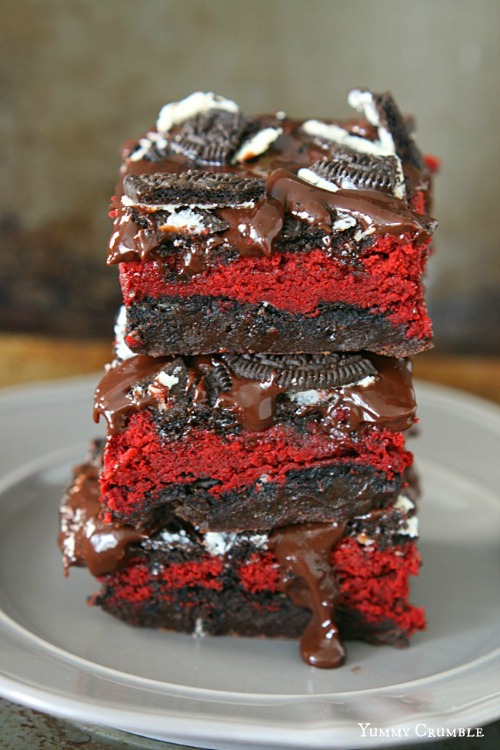 Red Velvet Oreo Brownies