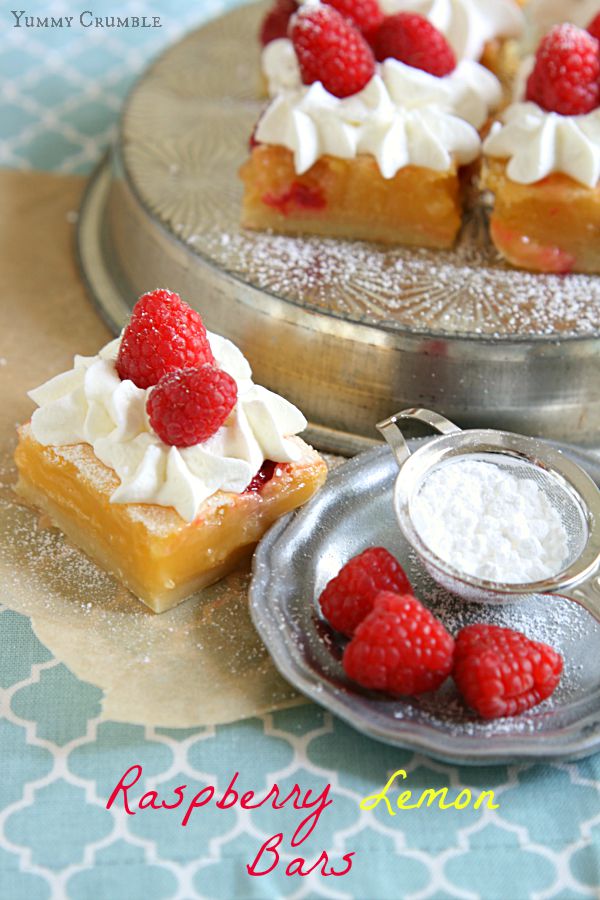 The bright and sunny flavors of raspberry lemonade baked into tart lemon bars.  Let these Raspberry Lemon Bars be your last summer treat you will always remember.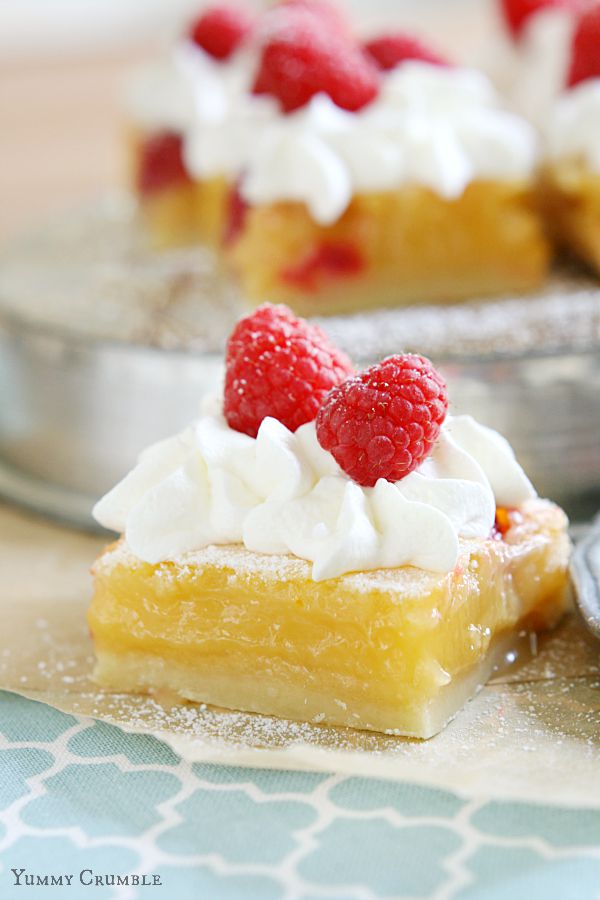 It has been quite an emotional week for me.  My little four year old started Kindergarten!  I'm excited about all the new things he's going to learn.  The education here in Dubai is so extensive.  His school will be teaching him Arabic and French, music lessons, and lots of creative art sessions.  I'm a little jealous!  I'm also a little bummed.  I know that once Kindergarten starts the years will just fly by.  Then I will be left with no kids in the house and lots of wrinkles and cellulite.  That sounds so depressing!
The only thing that has cheered me up a little is that I can bake these Lemon Raspberry Bars in peace.  Usually once Oliver smells even the slightest scent of my baking I start hearing this:
"Are they done yet?  Sigh…"
"Can I have another taste?  Just a little one again."
"This needs more chocolate."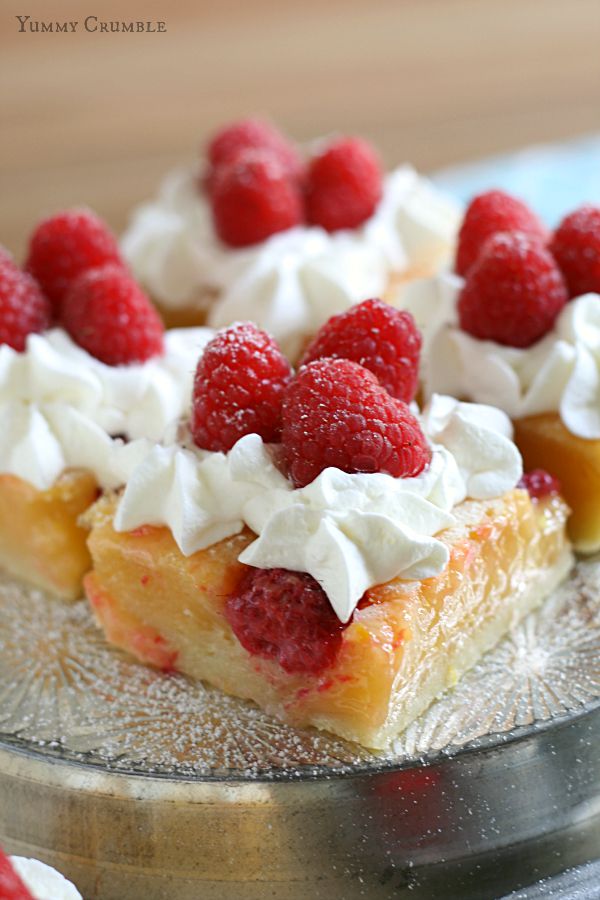 Raspberry Lemon Bars
Ingredients
Crust
1 cup of softened unsalted butter
½ cup granulated sugar
2 cups flour
⅛ teaspoon salt
Lemon Filling
6 large room temperature eggs
3 cups granulated sugar
2 tablespoons grated lemon zest (4 to 6 lemons)
1 cup freshly squeezed lemon juice
1 cup flour
1 cup fresh raspberries
Powdered sugar for dusting
Instructions
Crust
Preheat oven to 350 F. Prepare a 9 x 13 baking dish with foil or parchment paper.
Using an electric mixer, cream the butter and sugar until light and fluffy.
On low, mix in the flour and salt until just combined.
Press the dough onto the bottom of the baking dish making sure to create a ½ inch border along the sides. Bake for 15-20 minutes.
Once baked set aside to cool.
Lemon Filling
In a medium bowl, whisk together the eggs, sugar, lemon zest, lemon juice, and flour until fully combined.
Pour batter into the baking dish and drop the raspberries on top evenly over the surface.
Bake 30-35 minutes until the filling sets.
Once finished let cool slightly and then let cool in the fridge.
Once cooled, top with whipped cream and powdered sugar.
Notes
Adapted from Ina Garten
 Adapted from Ina Garten
More lemon sweet treats: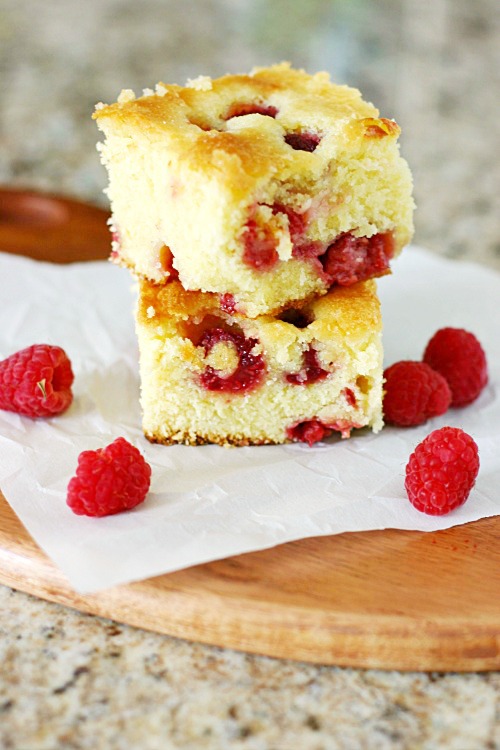 Lemon Raspberry Coffee Cake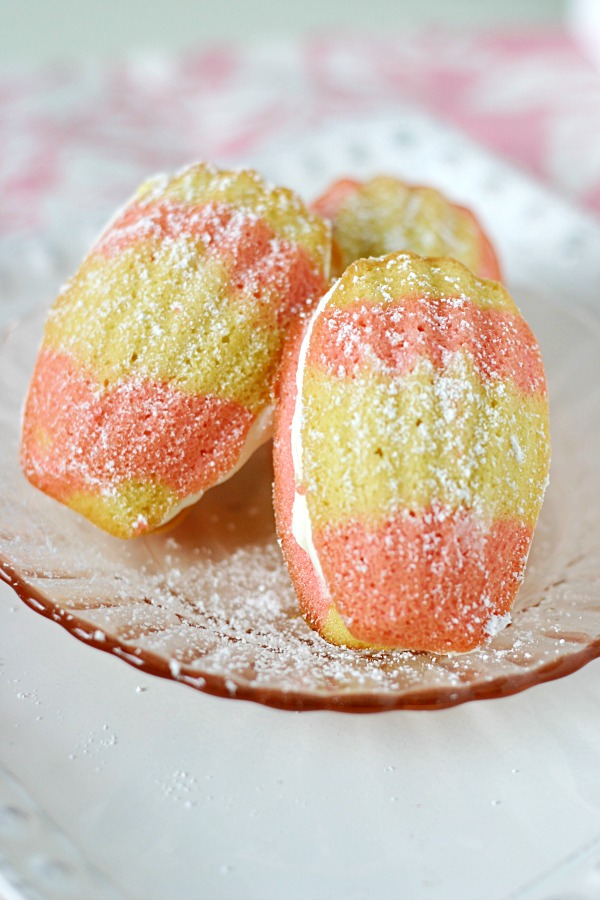 Pink Lemonade Madeleine Cookie Sandwiches