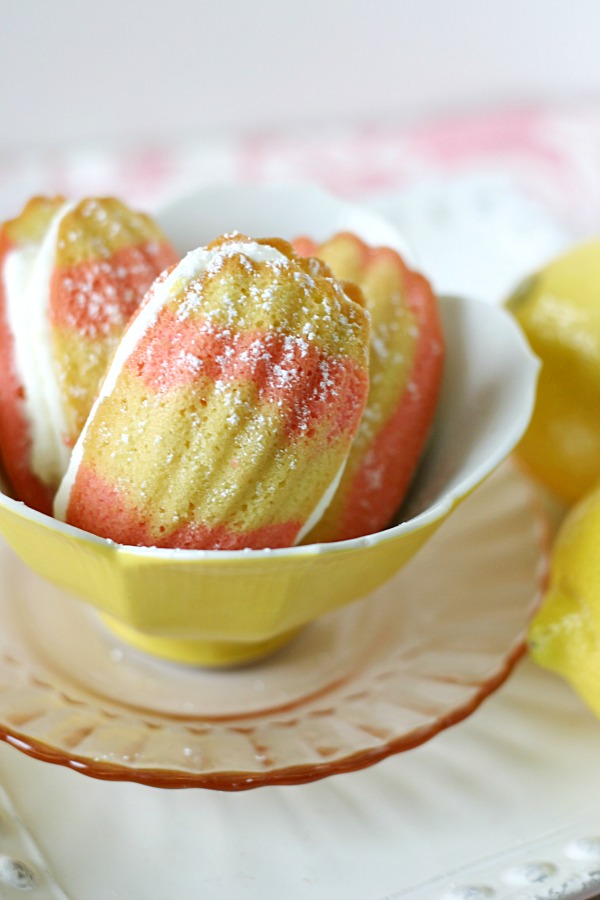 I think I have become obsessed with lemon.  I've never baked with it until I made these beauties and I'm pretty sure it was the lemon butter cream frosting that did me in.  I kind of avoided lemons because…I'm lazy and didn't want to zest 10 million lemons to make a quarter cup of frosting.  I don't know what little voice told me that zesting 10 million lemons is a reality in the baking world, but I mistakenly listened to it and missed out on so many cookies, cakes, and desserts I could have made!  So lately I've been pondering what other delights I can make with lemon.  Madeleines have always been one of my favorite cookies, so combining them with my latest obsession was really fun!  The fresh lemon make these Pink Lemonade Madeleine Cookie Sandwiches so vibrant and zesty.
Oh, and they're pretty and dainty!  Who doesn't want to eat something pretty and dainty?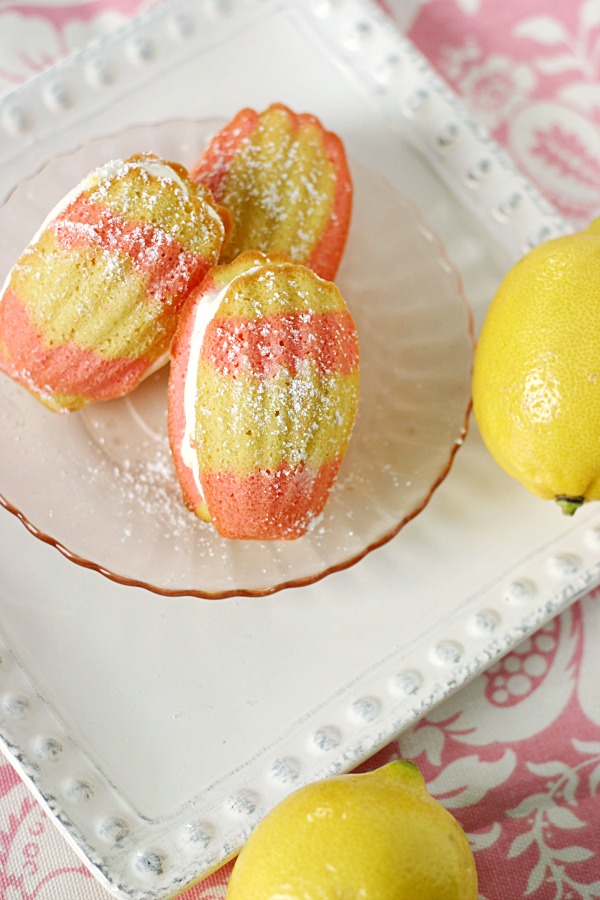 Pink Lemonade Madeleine Cookie Sandwiches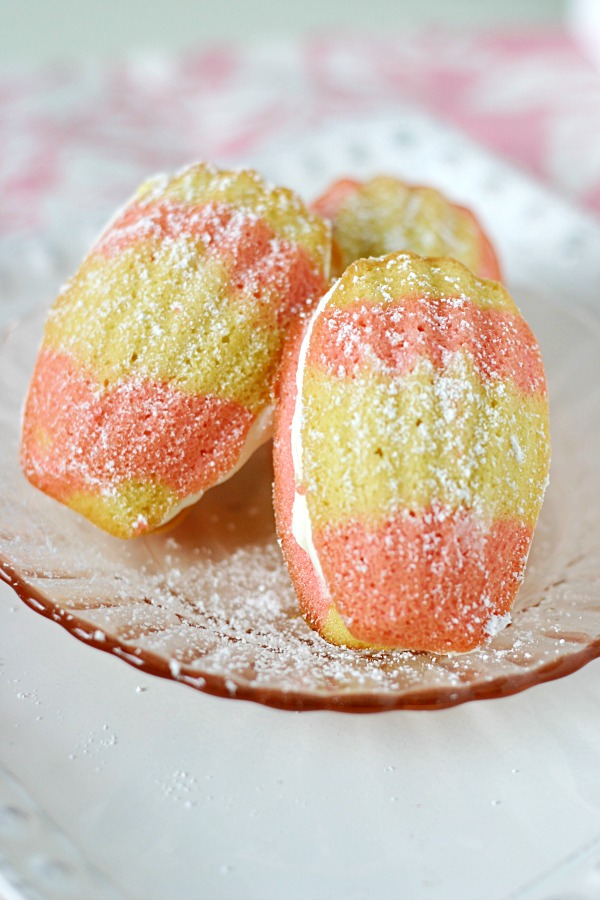 Ingredients
Lemon Madeleines

2 eggs
1 tsp vanilla
1 tsp lemon extract
1 tsp fresh lemon zest
1 cup powdered sugar
3/4 cup all-purpose flour
1/4 tsp baking powder
1/2 cup melted butter
2-3 drops of pink and yellow gel food coloring

Lemon Butter Cream Frosting

1 cup of salted butter
4 cups of powdered sugar
2 tbs lemon zest
3 tbs lemon juice
2 tsp cream
Instructions
Set oven to 375 degrees F and grease your favorite madeleine pan.
In a bowl beat eggs. lemon extract, lemon zest, and vanilla extract on high for about 5 minutes (until light in color).
Slowly mix in powdered sugar and keep beating until thick and smooth.
Sift together baking powder and flour. Gently fold in 1/2 the flour to your egg mixture. Fold in the next half.
Lastly, gently fold in melted butter.
Divide batter in half and add 2-3 drops of pink gel food coloring to one half and yellow food coloring to other half. Mix well until desired color appears.
Pour each colored portion of batter into a zip lock baggie and snip the tip off to pipe stripes of pink and yellow in the madeleine molds. Make sure you only fill them 3/4 full. Otherwise you will get what I call, monster madeleines.
While those bake, mix the Lemon Butter Cream Frosting.
Beat room temperature butter and add powdered sugar 1 cup at a time. Next mix in lemon juice and lemon zest. Add cream if you need to thin it out a little.
Once the madeleines have cooled, pipe a little frosting onto the madeleines to make cute little cookie sandwiches.
Eat.
http://yummycrumble.com/pink-lemonade-madeleine-cookie-sandwiches/
The madeleines were slightly adapted from a simple vanilla madeleine recipe found on Mochi Thoughts by adding fresh lemon zest and lemon extract.  I opted for the extract in the actual madeleines because the frosting had fresh lemon juice and zest as well.  A lot of zest here people.  So if you like pink lemonade or things that are citrus, I promise you will want these in your belly.  Make sure you watch these babies in the oven while they're baking.  If they brown too much you wont be able to see the pretty pinks and yellows!  I went through a few batches to get them just right.