Nutella Strawberry Cupcakes baked with a thick swirl of Nutella right in the batter.  Topped with sweet strawberry buttercream and a Nutella dipped Strawberry.  I'm falling in love!
Seriously guys.  Look at these cupcakes.  Someone needs to make Nutella dipped strawberries the universal symbol for love.  Are you with me?  If the strawberry dripping with melted Nutella doesn't catch your eye, well then you're a weirdo.  Now I'm definitely a dark chocolate fiend at heart.  I can chug a bowl of chocolate ganache if the challenge presents itself, but there is just something so comforting and indulgent about Nutella that get's me going.  So to keep this post G-rated, lets talk about these Nutella Strawberry Cupcakes before I get carried away 🙂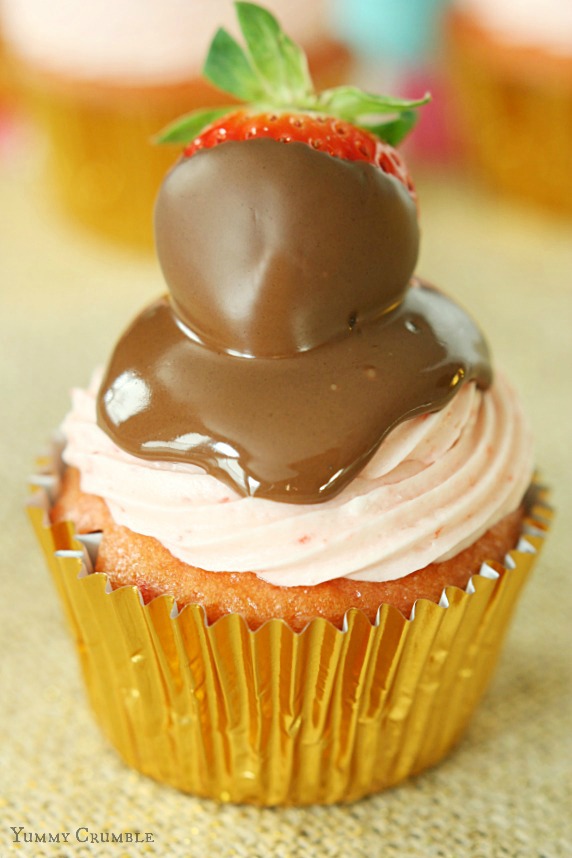 This cupcake is my favorite strawberry cupcake ever.  I first made them almost a year ago topped with a light mascarpone frosting and basil sugar.  It was love at first sight and I've never strayed from this recipe.  It uses strawberry preserves and lots and lots of chopped strawberries to really make sure you never forget your'e eating a strawberry cupcake.  Now I love box mixes, but I always wonder why on earth anyone would make strawberry cupcakes from the box.  For the love of God throw some chopped strawberries in there!  It's so worth the chopping.  For these Nutella Strawberry Cupcakes I added about a teaspoon of Nutella into each cupcake and swirled it in the batter because well, Nutella.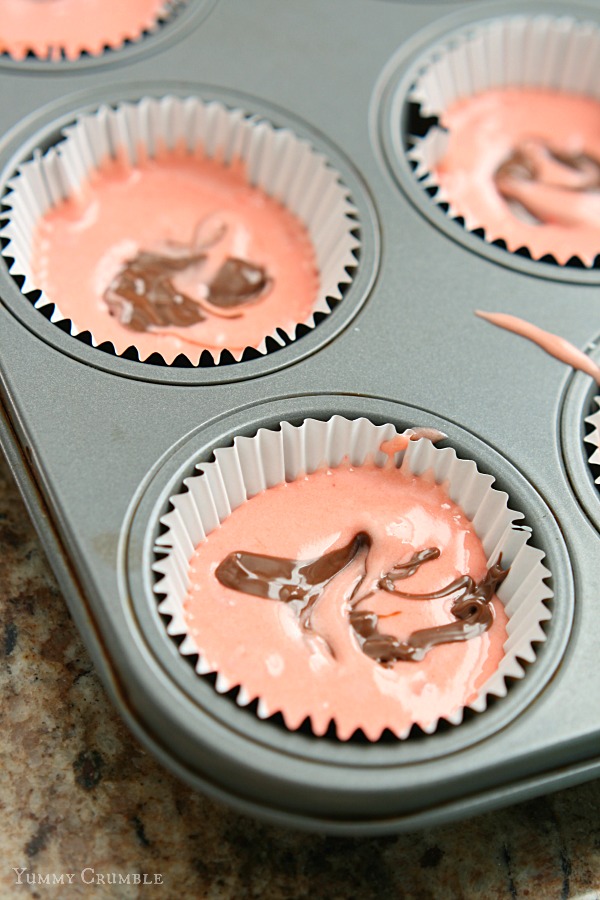 Nutella Strawberry Cupcakes
Ingredients
Strawberry Cupcakes
3 tbsp strawberry jam or preserves
⅓ cup chopped fresh strawberries
1¼ cups flour
¼ tsp salt
1¼ tsp baking powder
¾ cup of sugar
½ cup of unsalted butter, softened
3 egg whites
½ tsp vanilla extract
4 drops pink food coloring
⅓ cup milk
1 tsp of Nutella in each cupcake
Strawberry Buttercream
1 cup (2 sticks) softened butter
1 teaspoon vanilla extract
⅓ cup strawberry preserves or jam
2 cups powdered sugar
1 drop of hot pink gel dye
Nutella Dipped Strawberries
12 Large strawberries washed and dried
⅓ cup Nutella
1 tsp coconut oil
Instructions
Strawberry Cupcakes
Set oven to 350 F.
In small bowl mix together fresh chopped strawberries and preserves.
In another bowl mix together flour, baking powder, and salt.
In another bowl cream together butter and sugar.
Add egg whites, vanilla extract, and food coloring into fully incorporated.
Add dry ingredients with milk, beating on low speed.
Fold in strawberries and preserves.
Fill cupcake liners to ¾ full and add a teaspoon of Nutella in each cupcake and swirl in the batter.
Bake for 25 minutes.
Strawberry Buttercream
Beat softened butter until light and fluffy.
Add vanilla extract and strawberry preserves and beat well.
Add powdered sugar 1 cup at a team making sure to fully incorporate.
Beat until super fluffy, then add the food coloring until no more streaks appear.
Nutella Dipped Strawberries
Put Nutella and coconut oil in a microwave safe bowl.
Heat in 20 second increments until smooth and thin enough for dipping. Be careful not to burn the Nutella.
Dip each strawberry and place on a frosted cupcake. Immediately put in the fridge for the chocolate to set.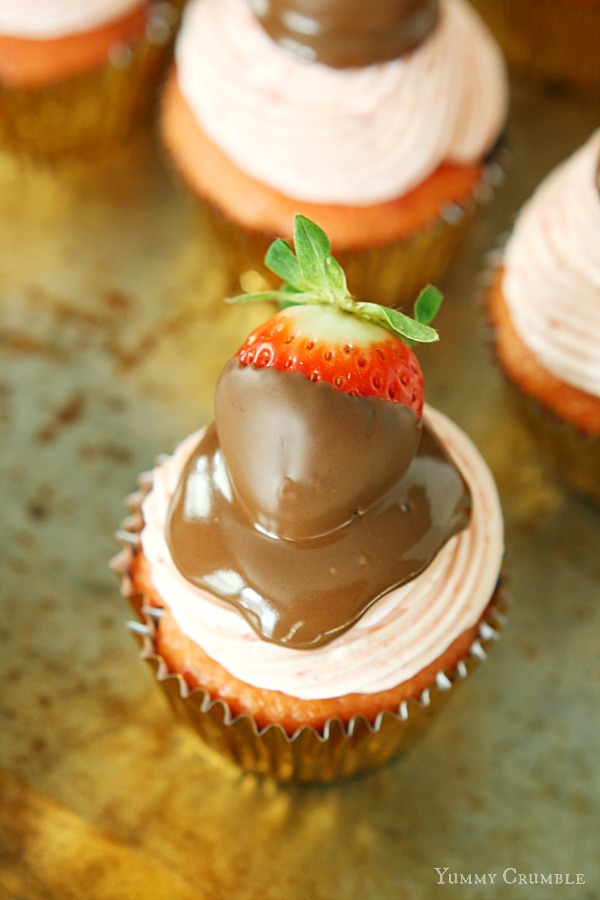 Fall in love with these: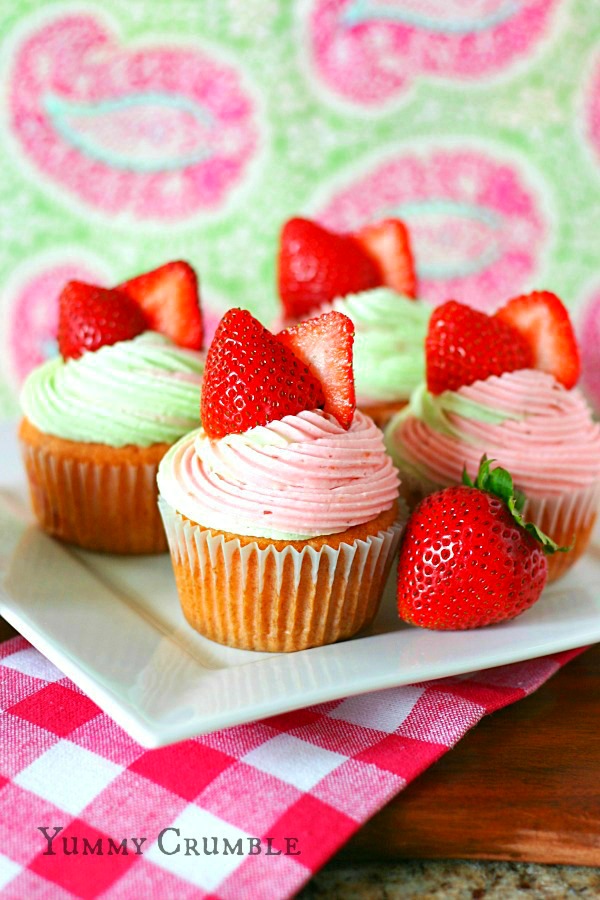 Strawberry Key Lime Cupcakes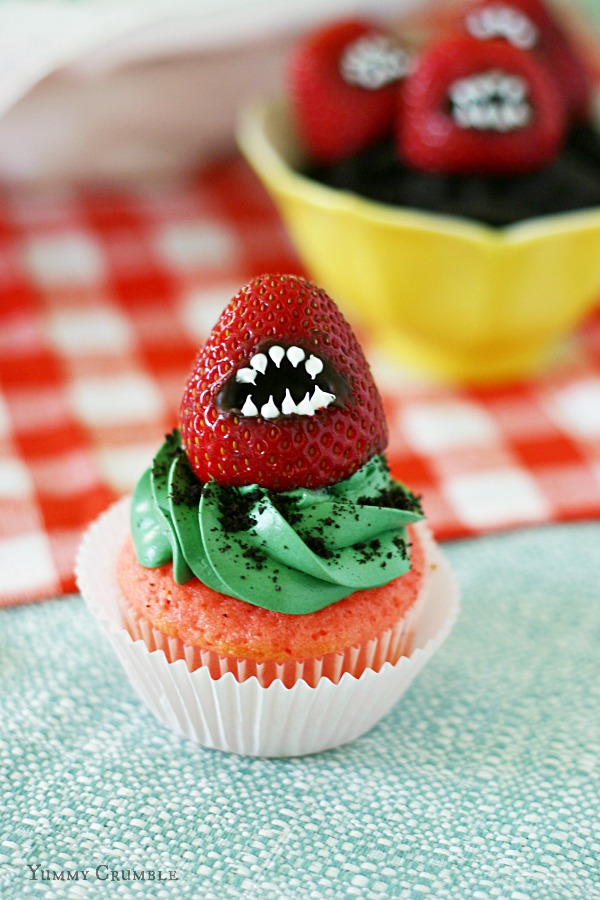 Monster Strawberry Cupcakes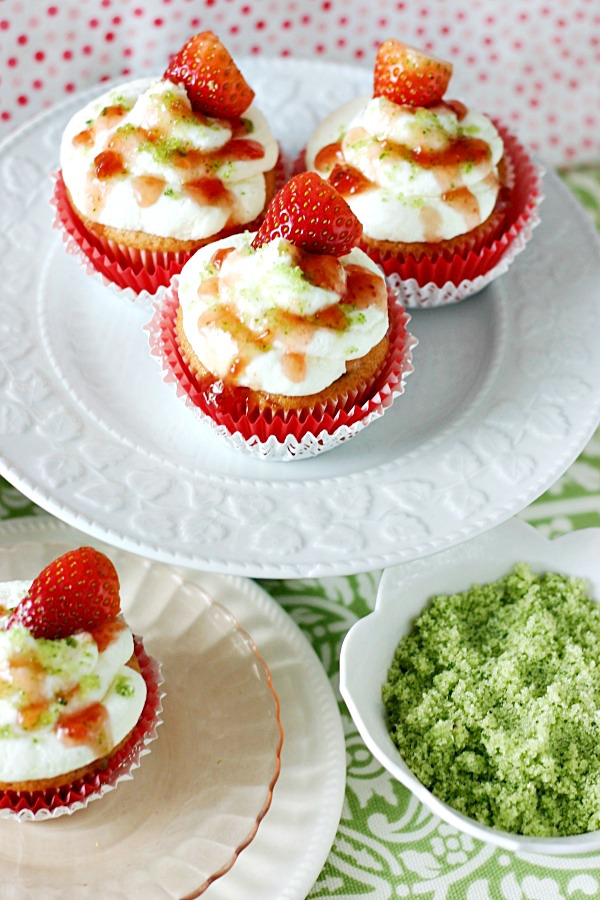 Strawberry Cupcakes with Mascarpone Frosting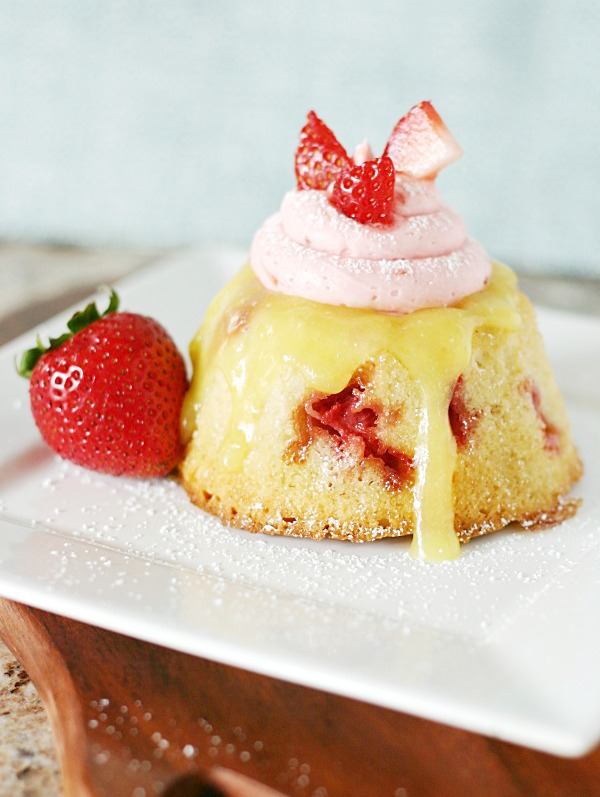 Strawberry Shortcake Bundtcake with Lemon Curd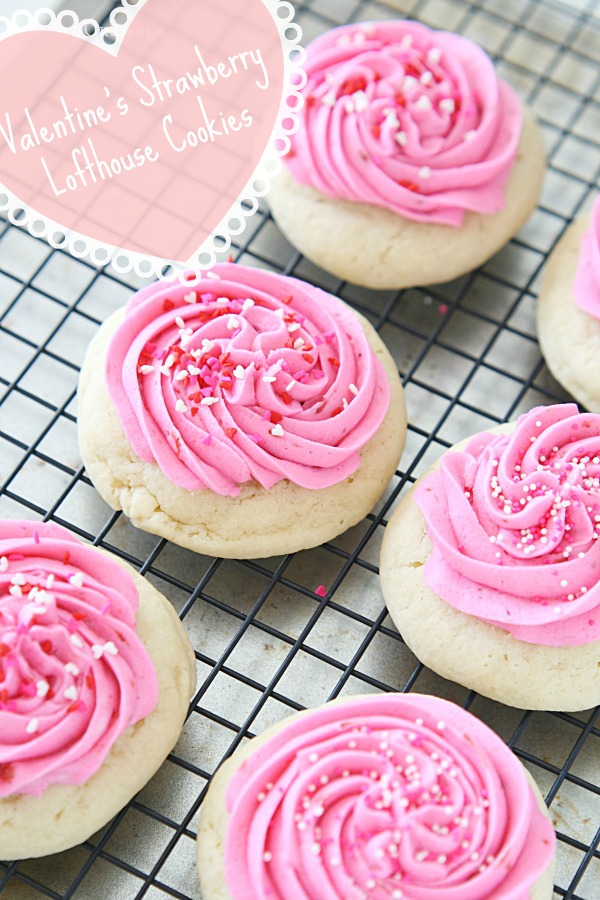 Valentine's Strawberry Lofthouse Cookies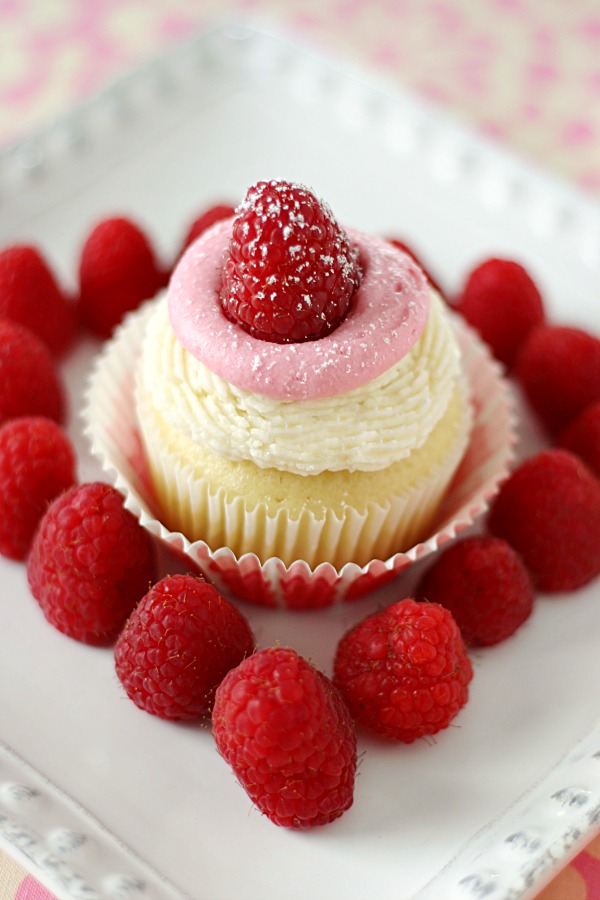 White Chocolate Raspberry Mousse Cupcakes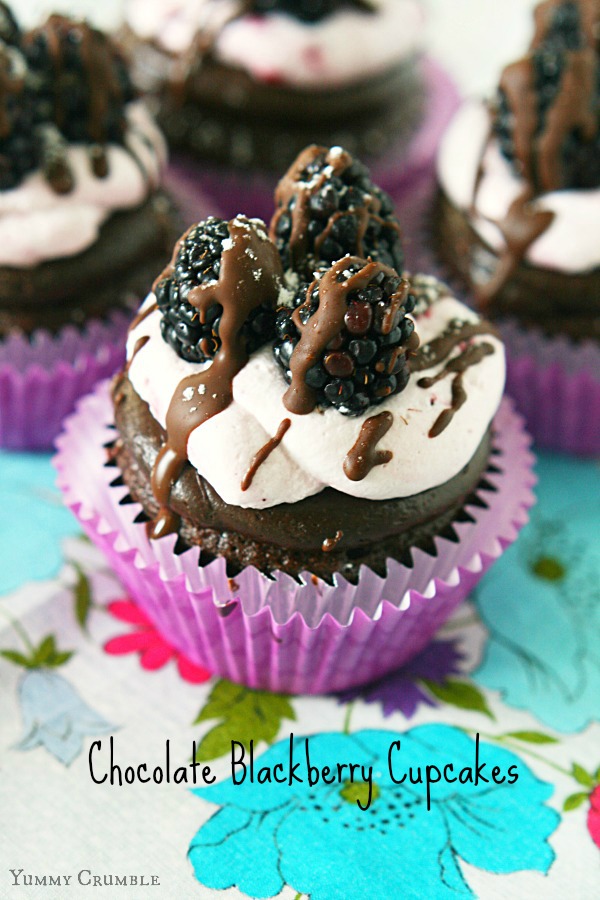 Chocolate Blackberry Cupcakes