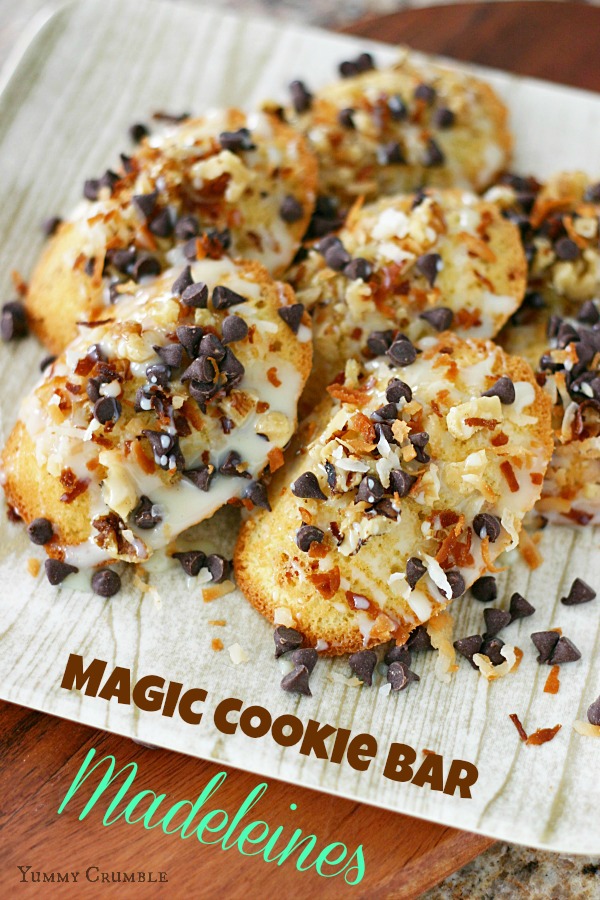 Light and airy madeleines drenched in sweetened condensed milk, toasted coconut, walnuts, and mini chocolate chips.  These Magic Cookie Bar Madeleines will be your new favorite sinful treat!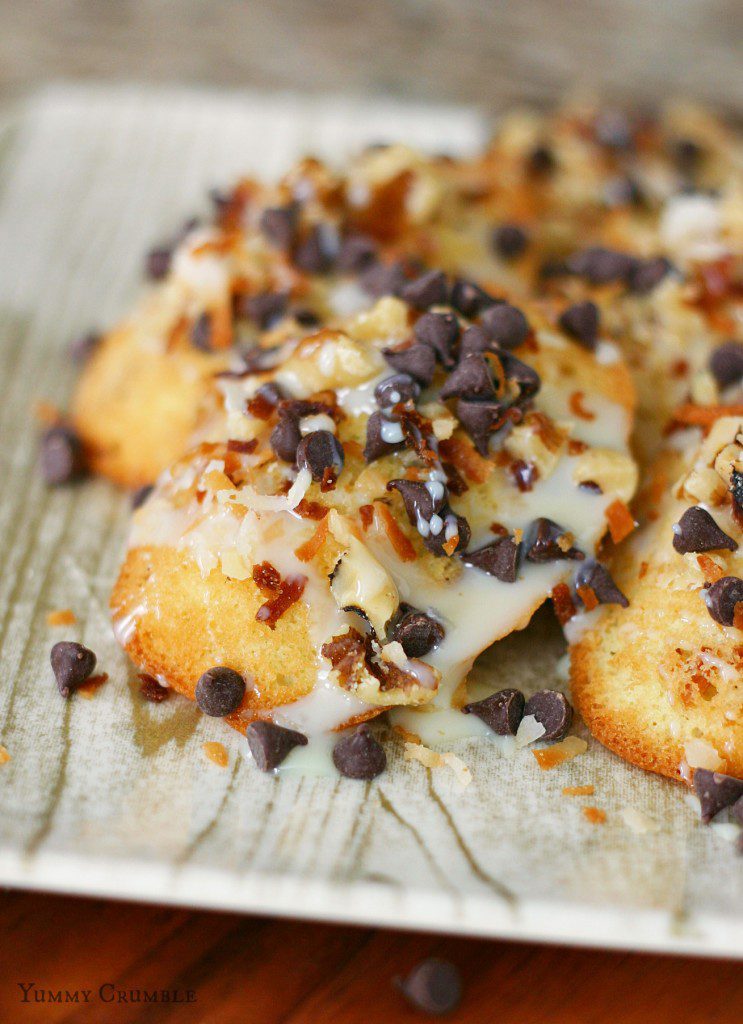 Hello everyone!  From the magical land of Dubai!  To say these past couple of months have been a crazy ride is a complete understatement.  Moving two small children across the world is pretty insane.  Most people would probably not recommend uprooting your whole family and move to the Middle East.  I say if you're young and the opportunity to immerse your kids in an amazing multi-cultural city full of adventure, DO IT!!!
I will be honest, the first thought that entered my mind when we decided to move here was "Are we going to be safe?"  I mean, it's the Middle East.  Iran is right across the Persian Gulf.  I can honestly say I feel extremely safe.  Strangely, a little safer then back home.  The crime rate is minuscule compared to the United States, especially Orlando where we came from.  Probably because they are very strict with their laws and punishment.  Remember in Aladdin when Jasmin took that apple at the market?  Yeah.  Well, they're not cutting off limbs, but they do have some pretty extreme punishments.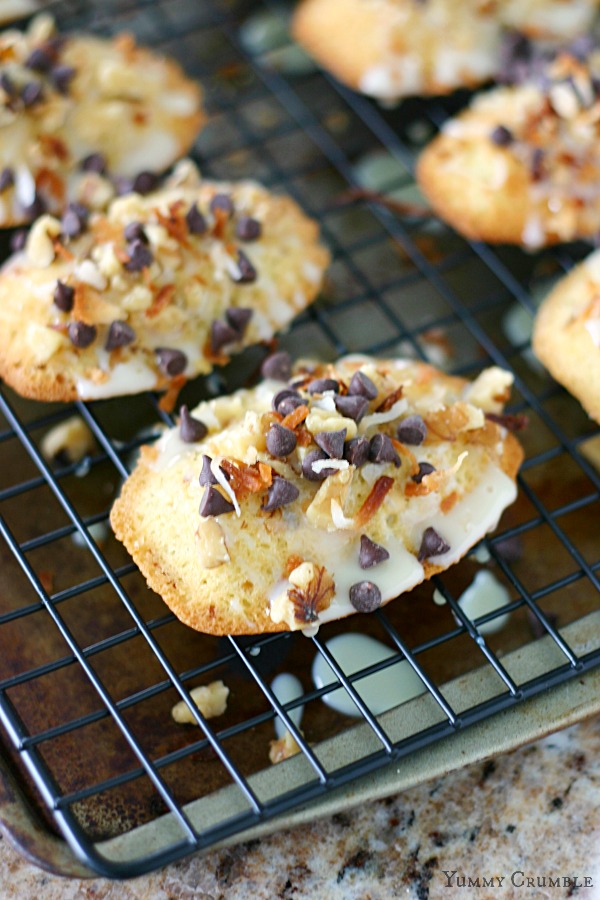 I will be writing more about my experiences in Dubai in more posts, but let's talk about these beauties.  I promise you, these will cure any homesick blues.  They cured mine!  I had to eat a whole pan, but I'm not complaining.  I used my favorite madeleine recipe with a couple of tweaks.  I mixed toasted coconut into the batter and subbed 1/2 a cup of flour with graham cracker crumbs.  Then you know, I just drowned them in sweetened condensed milk.
Magic Cookie Bar Madeleines
Ingredients
2 large room temperature eggs
⅔ cup light brown sugar
2¼ tsp vanilla extract
⅛ tsp salt
½ cup all purpose flour
½ cup graham cracker crumbs
¼ tsp baking powder
¼-1/2 cup toasted coconut
8 tbsp butter, melted and cooled (I used unsalted, but salted would work too)
Sweetened condensed milk, mini chocolate chips, chopped walnuts, and toasted coconut for topping
Instructions
Start by setting oven to 375F.
On a lightly greased cookie sheet, sprinkle your sweetened coconut. Bake until toasted and golden brown. Set aside.
Lightly grease and flour your madeleine pan.
Beat eggs and sugar together until thick.
Beat in vanilla and salt.
Sift flour, graham cracker crumbs, and baking powder into bowl and fold together until mixed.
Stream in melted butter while mixing on low.
Mix in the toasted coconut.
Spoon a tablespoon of batter into each cavity.
Bake for 12-14 minutes or until lightly golden brown. Be careful to not over bake.
Allow to cool for a few minutes before removing.
Make sure pan has cooled before baking the next batch.
Drizzle all the goodies on top.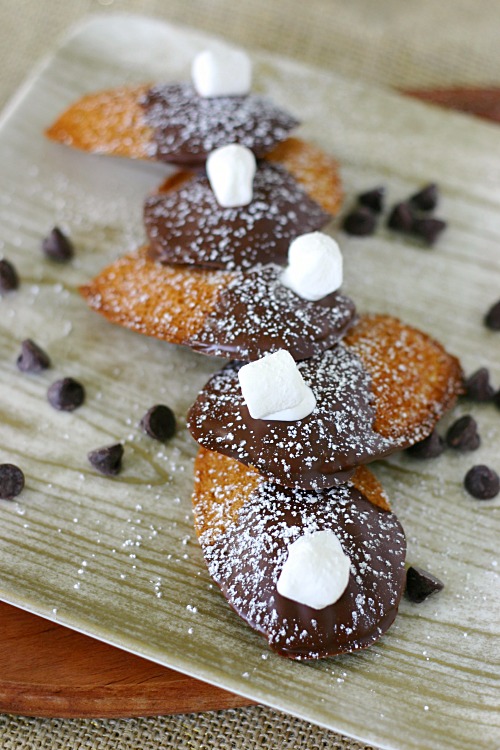 Smores Madeleines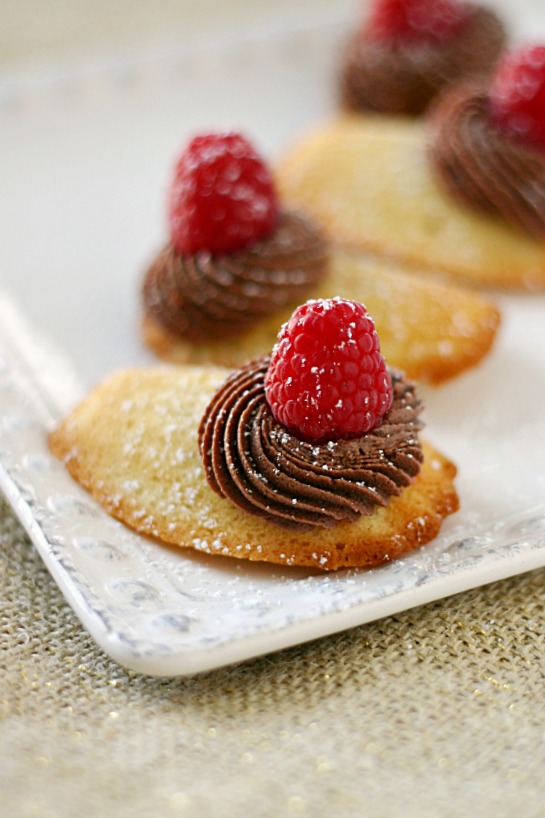 Vanilla Madeleines with Raspberry Mousse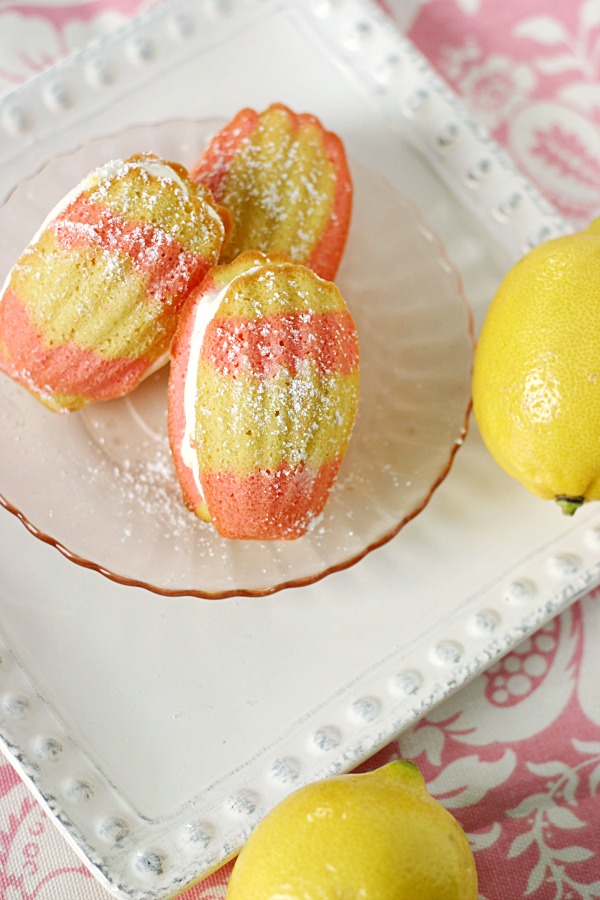 Pink Lemonade Madeleine Cookie Sandwiches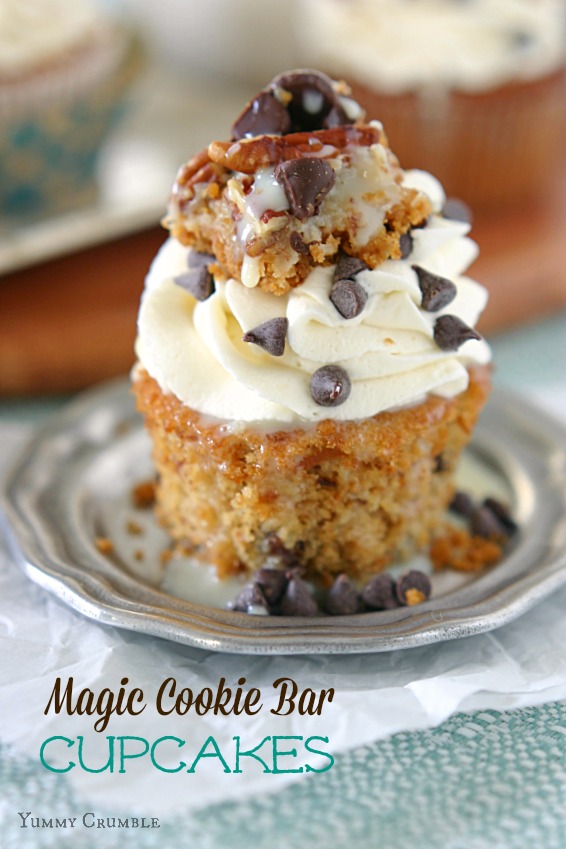 Magic Cookie Bar Cupcakes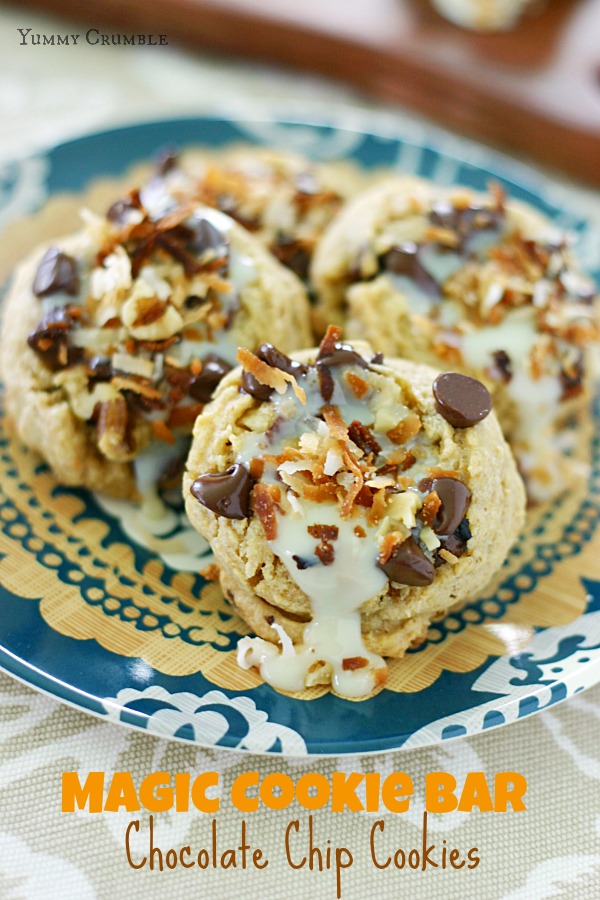 Magic Cookie Bar Chocolate Chip Cookies