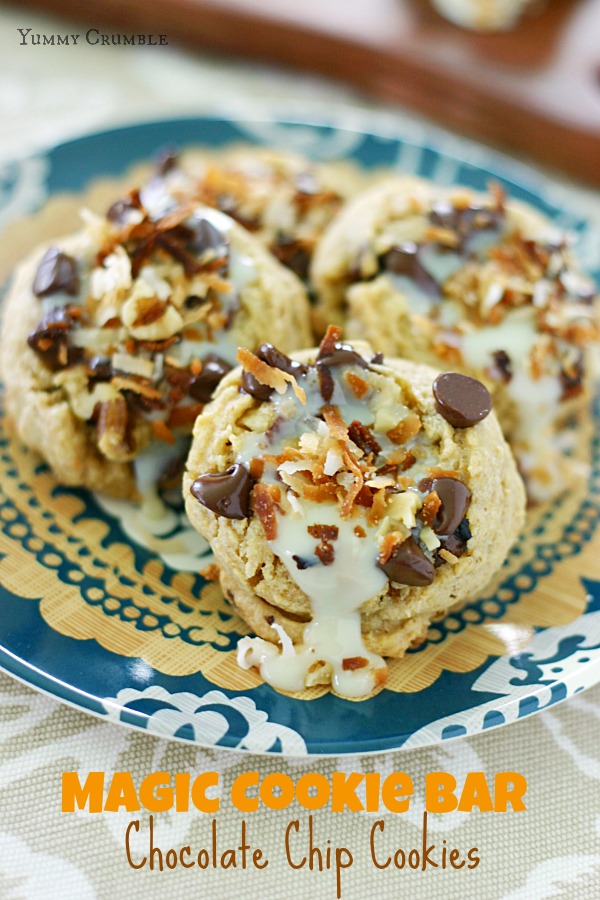 Mini chewy chocolate chip cookies drizzled with sweetened condensed milk and sprinkled with toasted coconut and extra chocolate chips.  These gooey Magic Cookie Bar Cookies are the perfect way to start the year!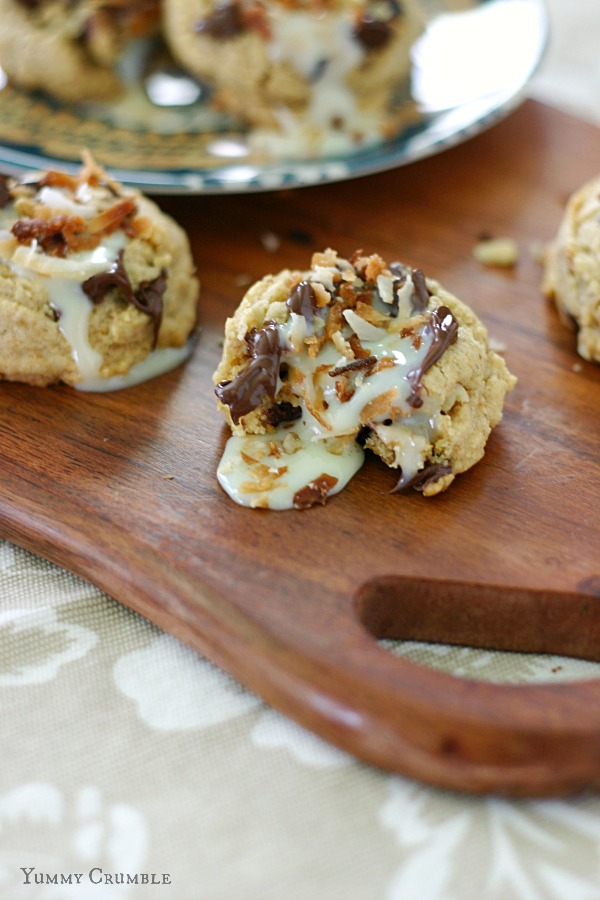 Well, here we are folks.  It's halfway into the first week of January.  I've been dreading this month.  Not because of  near impossible New Year's resolutions or being tempted at every turn with sugar.  I'm worried about what I'm going blog about!  In case you haven't noticed,  my blog is a diabetics nightmare.  Everyone is on a health kick!  I'm feeling like an outsider in this yoga pants wearing, smoothie drinking, meal replacement mentality.  A smoothie as a meal!?  That doesn't make sense, unless it's brownie batter.  Everybody is sipping on green smoothies while I'm over here licking raw cookie dough off a wooden spoon like it was my last meal.
But I'm still in yoga pants baby.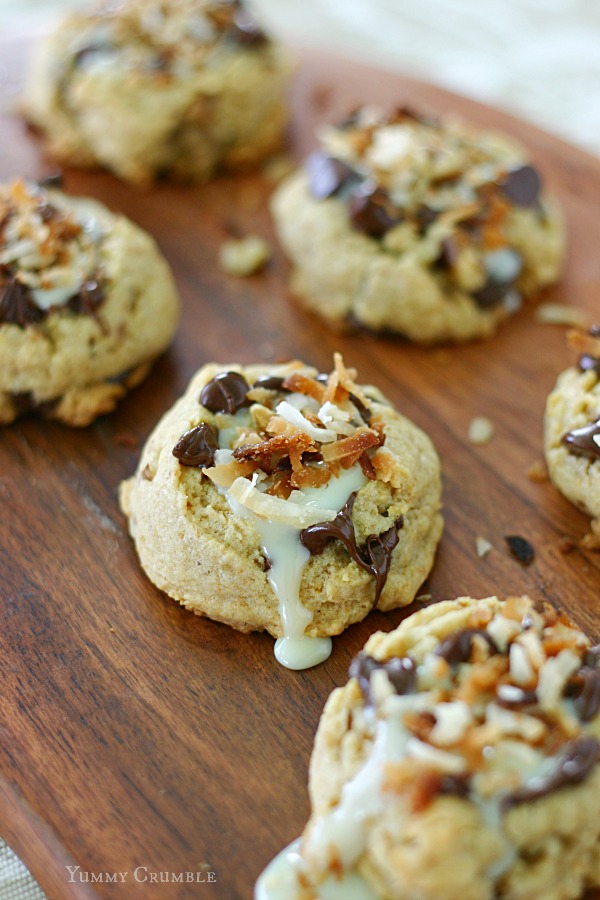 So let's talk about these cookies.  Yes you…with the green smoothie.  Pay attention.  My inspiration was the Magic Cookie Bar.  They have always been my favorite dessert.  First, from the memories they bring me since my mommy makes the best Magic Cookie Bars.  Second, they have sweetened condensed milk people.  I could drink that stuff straight from the can.  Just kidding.  Sort of.
Even though its January, I still wanted to indulge.  But have no fear!  These are bite sized!  So instead of eating a whole pan of Magic Cookie Bars, and downing them with sweetened condensed milk, you can eat one or two of these Magic Cookie Bar Chocolate Chip Cookies and not feel like you killed that diet.  There's tons of flavor in each one.  I mixed graham cracker crumbs in the dough just like the original, and topped them with condensed milk and toasted coconut.  They really do taste like the classic Magic Cookie Bar.
Magic Cookie Bar Chocolate Chip Cookies
Ingredients
½ cup sugar
¼ cup brown sugar
½ cup butter, softened
1 egg
1 teaspoon vanilla
1⅓ cups flour
¾ cup graham cracker crumbs
1 teaspoon baking powder
½ teaspoon salt
1 cup chocolate chips
½ cup chopped walnuts
Toasted coconut and sweetened condensed milk for topping
Instructions
Preheat oven to 350 F and line your cookie sheets with parchment.
In a large bowl with the paddle attachment, cream together the butter and sugars until fluffy.
Add the eggs and vanilla and beat some more.
In a medium bowl whisk together the flour, graham cracker crumbs, baking powder, and salt.
Add to wet ingredients and mix on low.
Fold in chocolate chips and walnuts.
Using a mini cookie scoop drop tablespoons of the dough on the parchment paper.
Bake for 10-12 minutes
Immediately after baking, using a teaspoon, make a small indentation on the tops of each cookie.
Once cooled, drizzle sweetened condensed milk into each indentation and sprinkle with toasted coconut.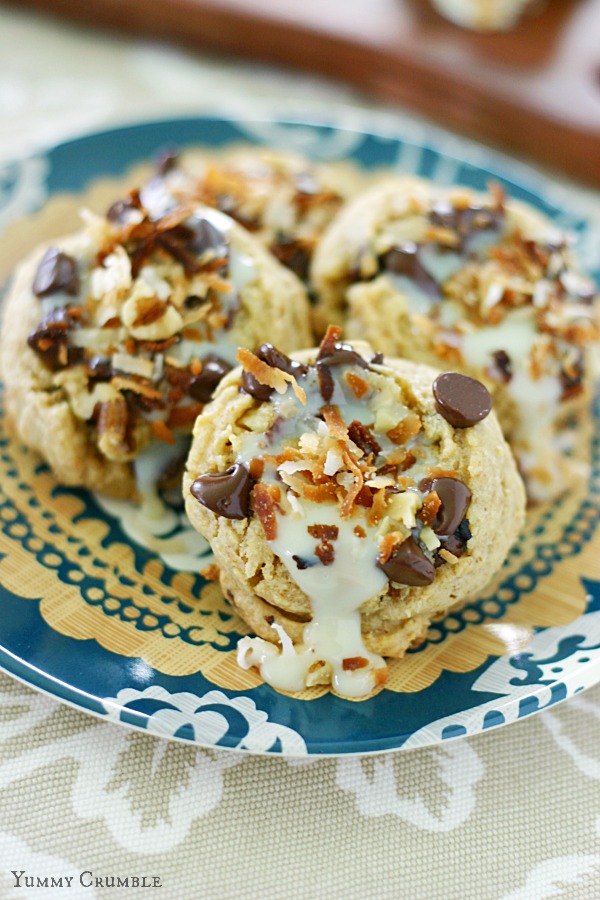 Sweets are my life and in order to squeeze those sweets into my New Years resolution diet, my new motto is "Everything in moderation".  Moderation is always open for interpretation.
Some more New Years Resolution wreckers: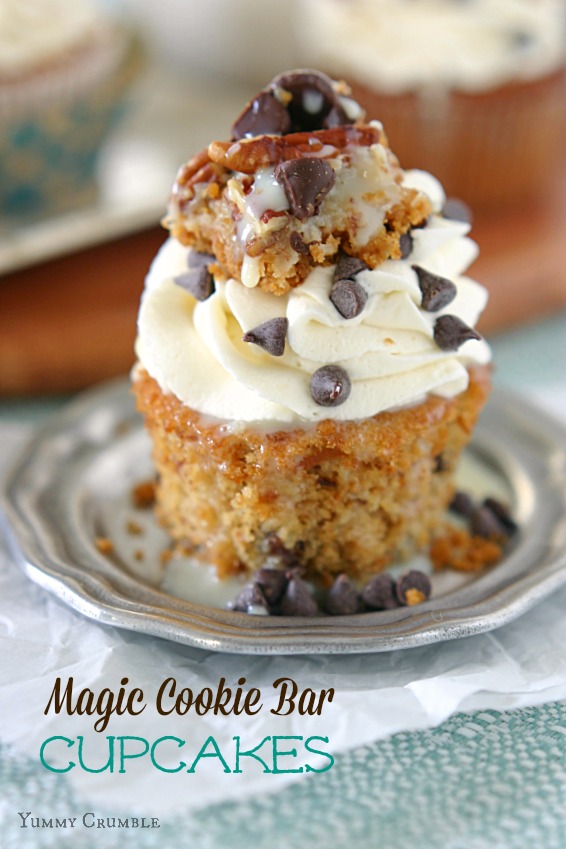 Magic Cookie Bar Cupcakes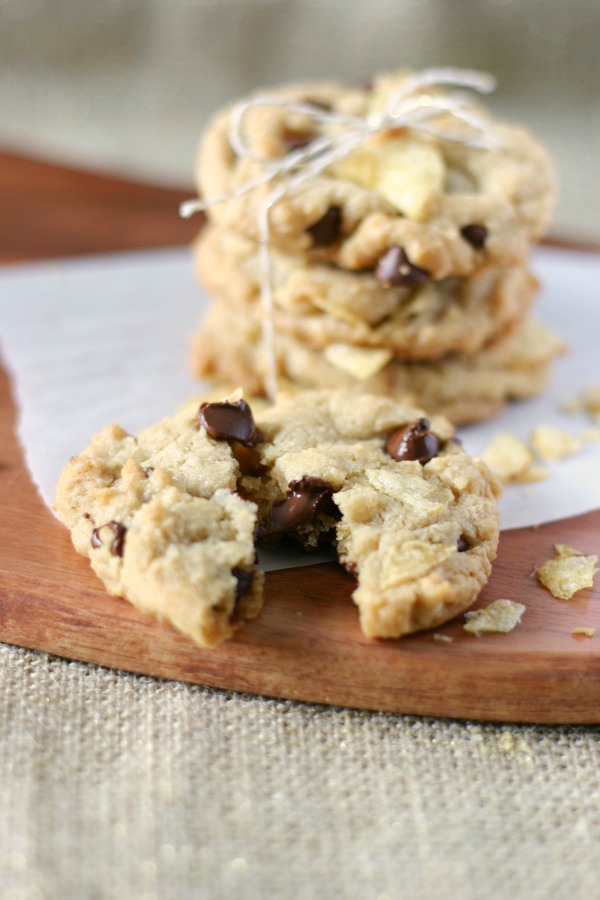 Vegan Chocolate Chip Potato Chip Cookies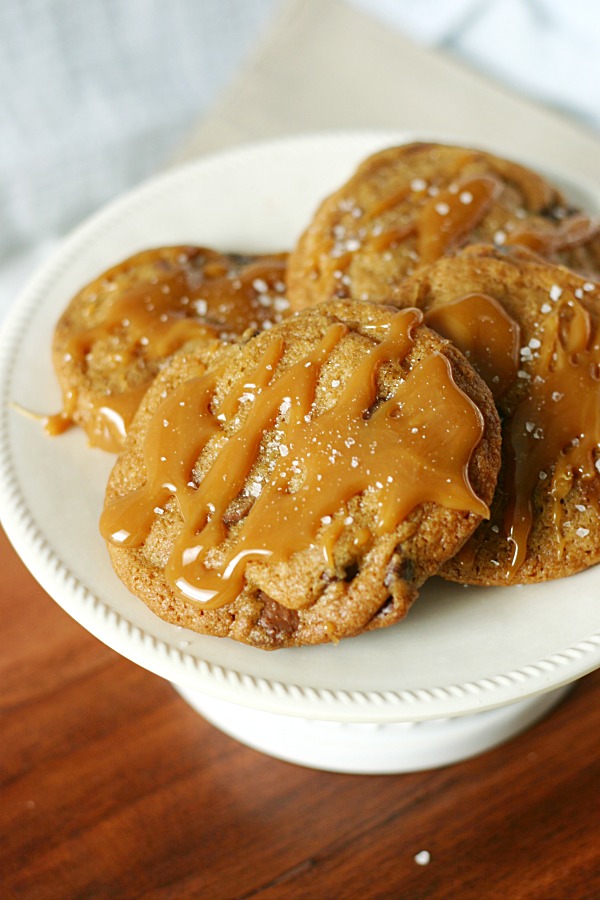 Caramel Triple Chocolate Chip Cookies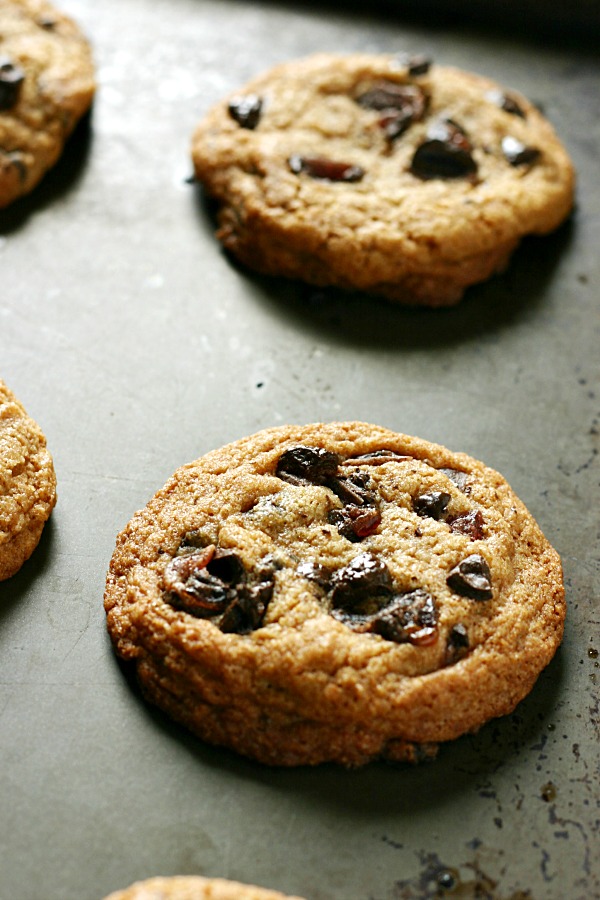 Pomegranate Chocolate Chip Cookies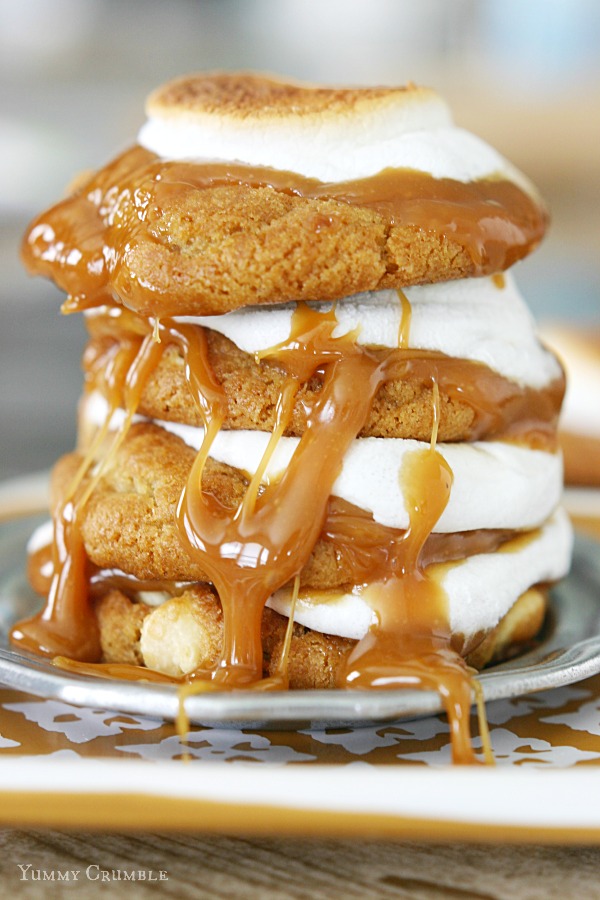 Caramel White Hot Chocolate Chip Cookies
Smores Madeleine Cookies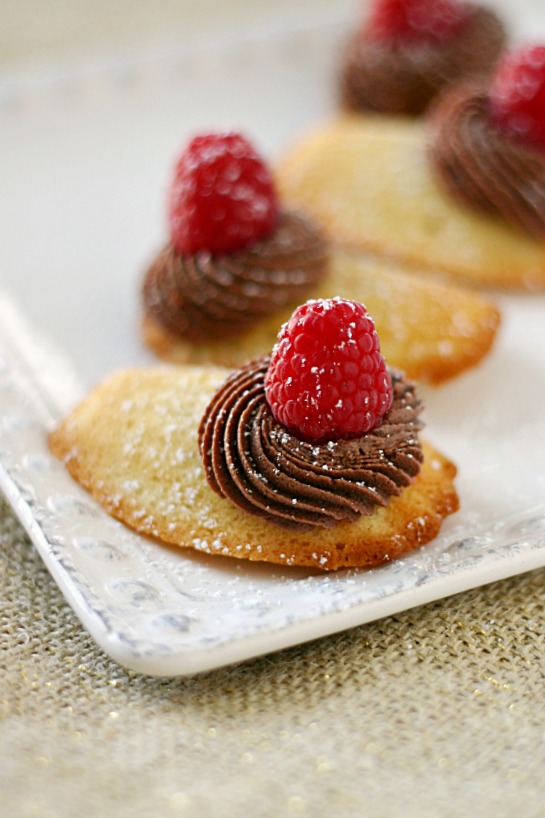 Vanilla Madeleines with Raspberry Mousse