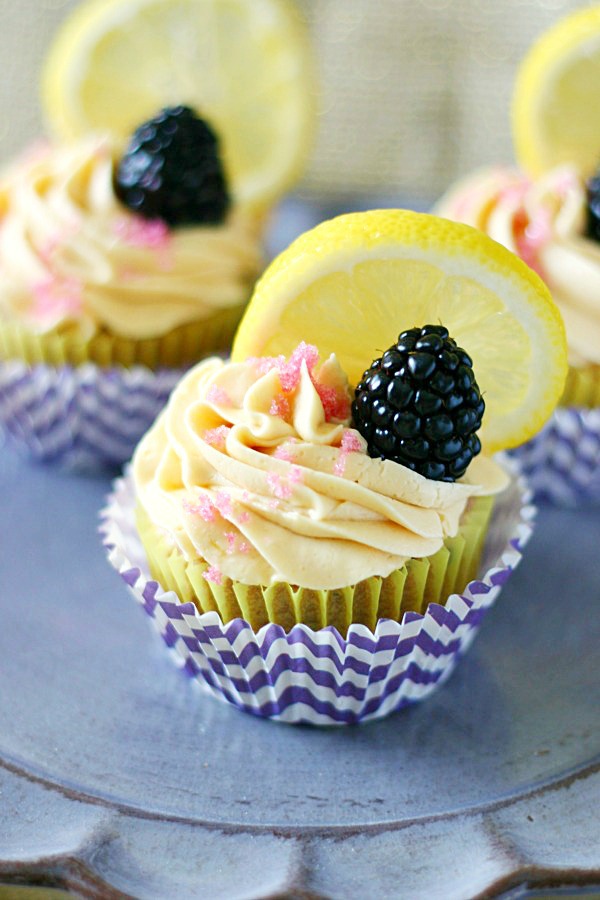 Lemon Blackberry Cupcakes with Sweet Tea Frosting and garnished with blackberry sugar.  My delicious twist on an Arnold Palmer in cupcake form.
Arnold Palmer you wonderful man you.  You created my favorite beverage of all time and I thank you.  So, cheers to you…here is my version of your sweet drink in a little yummy cupcake.  Don't be fooled though.  This little cupcake has so much tart citrus flavor its like a lemon punched you in the mouth.  And then a sweet little blackberry gave you a kiss to make it feel better.
All silliness aside, this really is a delicious cupcake.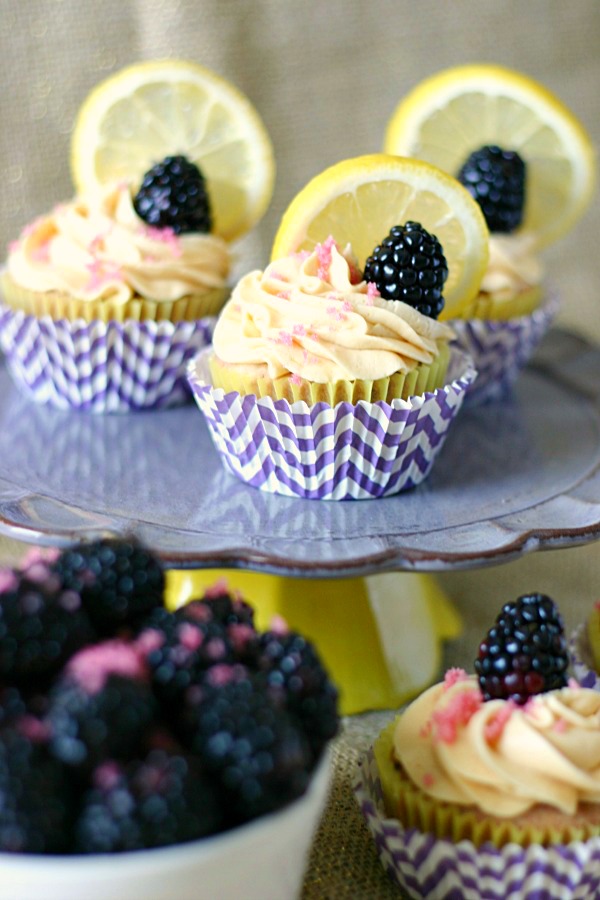 I used a simple lemon cupcake recipe from Sally's Baking Addiction, and revved it up with some fresh blackberries and my favorite blackberry preserves.  I topped it off with sweet tea frosting from Confessions of a Cookbook Queen (the tea element for the "Arnold Palmer").  To garnish, I sprinkled some beautiful (and super simple to make) blackberry sugar with a fresh blackberry nestled against a bright slice of lemon.  So pretty!  I think Mr. Palmer would be quite pleased.
Lemon Blackberry Cupcakes with Sweet Tea Frosting
Ingredients
Lemon Blackberry Cupcakes

3 tablespoons blackberry preserves
2 tablespoons chopped blackberries
1/2 cup softened unsalted butter
1 cup granulated sugar
2 large eggs
2 teaspoons vanilla extract
1 and 1/2 cup all-purpose flour
2 teaspoons baking powder
1/2 teaspoon salt
1/2 cup milk
zest and fresh juice of two medium lemons

Sweet Tea Frosting

3 regular sized tea bags
1/4 cup boiling water
1 cup butter, softened
3 cups powdered sugar

Blackberry Sugar

1 fresh blackberry
1 cup granulated sugar
Instructions
Preheat oven to 350 F.
In a small bowl, mix fresh chopped blackberries and blackberry preserves. Set aside.
In a medium bowl using a mixer, beat sugar and butter until light and fluffy. Beat in eggs and vanilla until well incorporated. Set aside.
In a medium bowl whisk together flour, baking powder, and salt.
Add dry ingredients to wet in increments until fully incorporated (the batter will be thick)
Add milk, lemon zest and juice and mix until combined (don't over mix)
Fold in blackberry mixture.
Pour into cupcake liners 2/3 full and bake for 18-20 minutes.
For the frosting, seep 3 black tea bags in the 1/4 cup of boiling water. After it has cooled, squeeze the water from the tea bags into a large bowl.
Add butter and slowly beat until creamy and smooth.
Slowly add sugar and once combined beat on medium-high for 1 minute until light and fluffy.
For blackberry sugar pulse sugar with one fresh blackberry in a food processor until desired color. Add another blackberry if needed.
Frost cupcakes and garnish.
Devour maniacally.
http://yummycrumble.com/lemon-blackberry-cupcakes-sweet-tea-frosting/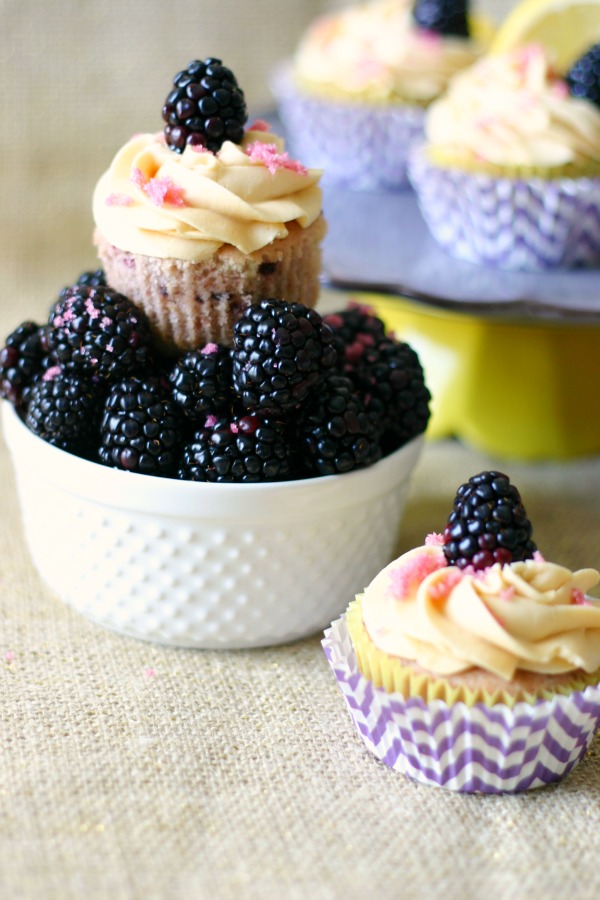 Looking back, I wonder if I should have taken the time to actually strain the blackberry seeds from the preserves and fruit mixture, but I think it adds a fresh element to the cupcake.  Totally lemony, totally delicious, and totally worth picking the seeds out of your teeth.
I promise.
Here is another delicious lovely:
Blueberry Cornbread Cupcakes with Lemon Butter Cream Frosting