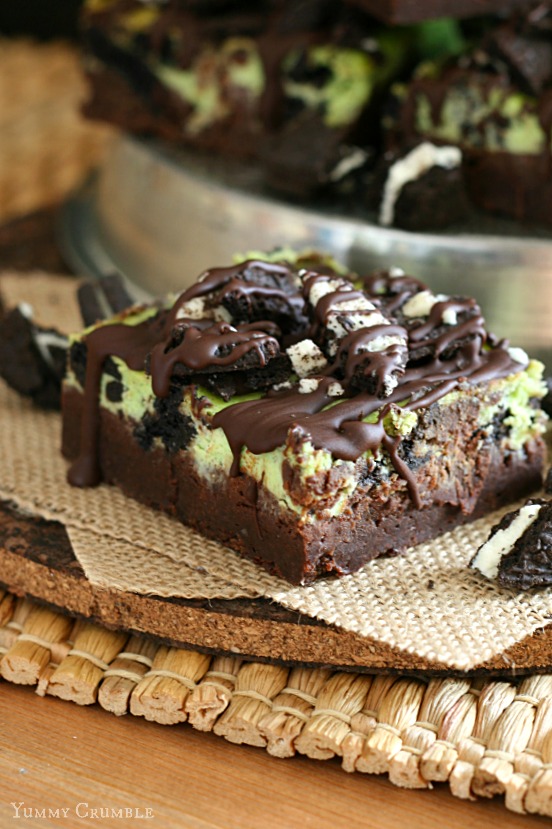 Dark chocolate fudgey brownies with bright green minty oreo cheesecake then smothered in melted dark chocolate and crushed Oreos.  Grasshoppper Cheesecake Brownies are my introduction to Spring!
Anyone else dreading summer?  I think most moms will agree that summer vacation ain't a vacation when you have stir crazy, abnormally hyper children who need constant entertaining.  Thank God for summer camp, right? I'm hanging on to Spring as long as I possibly can. Spring has been absolutely wonderful here in Dubai.  We've gotten some crazy bouts of rain and even flooding!  Rain here is not very frequent so roads are not really equipped to deal with the excess amounts of water.  We were "rained in" our villa and couldn't leave because the water was too deep to drive through in our neighborhood.  We had to wait for the water trucks to come and pump out the water.  That has been just one of the many adventures my family and I experience here in Dubai.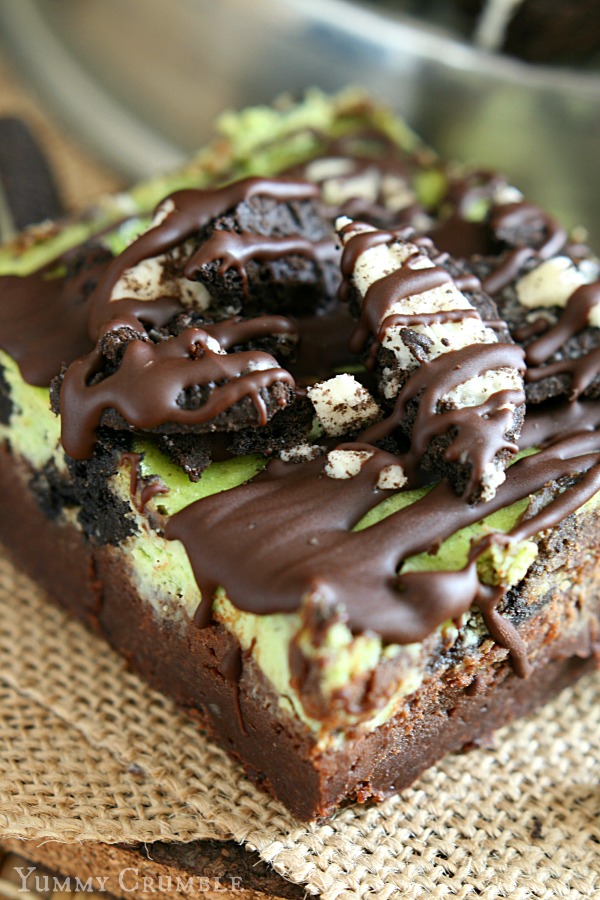 To help me hang on to spring I've made these Grasshopper Cheesecake Brownies.  They have the perfect ration of cheesecake and brownie and are super decadent.  I've added a little mint to the cheesecake to give it a little grasshopper kick.
Grasshopper Cheesecake Brownies
Ingredients
For the Brownie Layer
1 cup all purpose flour
¾ cup cocoa powder
2 cups sugar
¼ tsp salt
¼ tsp baking powder
3 large room temperature eggs
½ cup melted salted butter
¼ cup vegetable oil
2 tsp vanilla extract
For the Cheesecake
12 oz. softened cream cheese
6 tbsp. sugar
6 tbsp. sour cream
½ tsp. vanilla extract
¼ tsp. salt
1 large egg plus 1 egg yolk
¼-1/2 tsp peppermint extract
green food coloring
1-15 chopped Oreo cookies
Instructions
For th brownie layer
Preheat the oven to 350 F and line a 9 x 13 baking dish with foil.
In a large bowl, blend all the ingredients until the batter is smooth. (Before mixing, place all ingredients in the bowl the order it is written.) Spread onto the bottom of the baking dish.
For the cheesecake
For the cheesecake, beat the cream cheese on medium high in your stand mixer.
Beat in sugar until combined.
On medium, beat in the sour cream, vanilla, and salt.
Next beat in the egg and egg yolk until just combined. Mix in the peppermint extract and food dye. Fold in the Oreo cookies.
Pour the batter on top of the brownie batter. Swirl if you wish.
Bake for 40-50 minutes or until an inserted toothpick comes out clean.
Allow to cool completely (in the fridge)
Drizzle with melted chocolate and more chopped oreos.
 Adapted from Chocolate Chip Cookie Cheesecake Bars and from Table for Two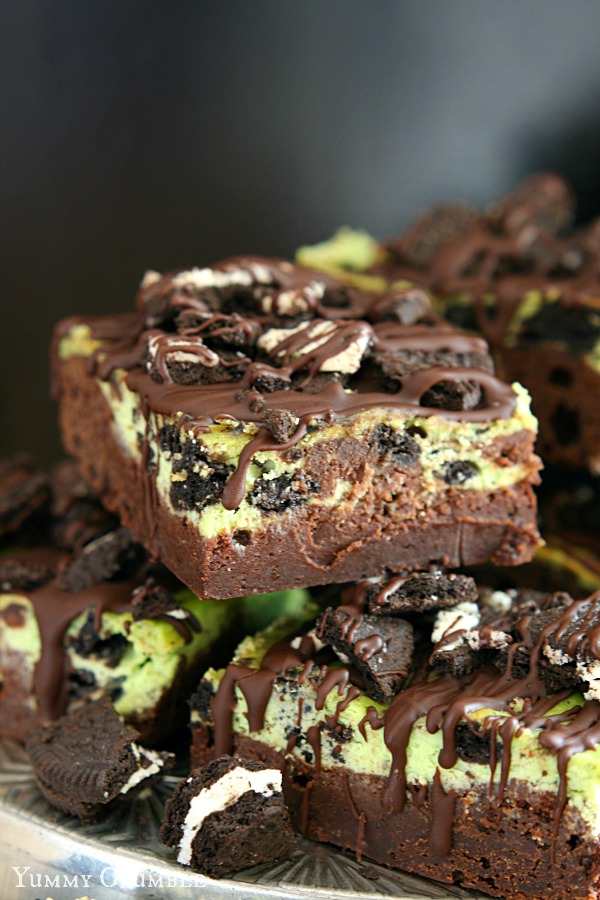 You might like these: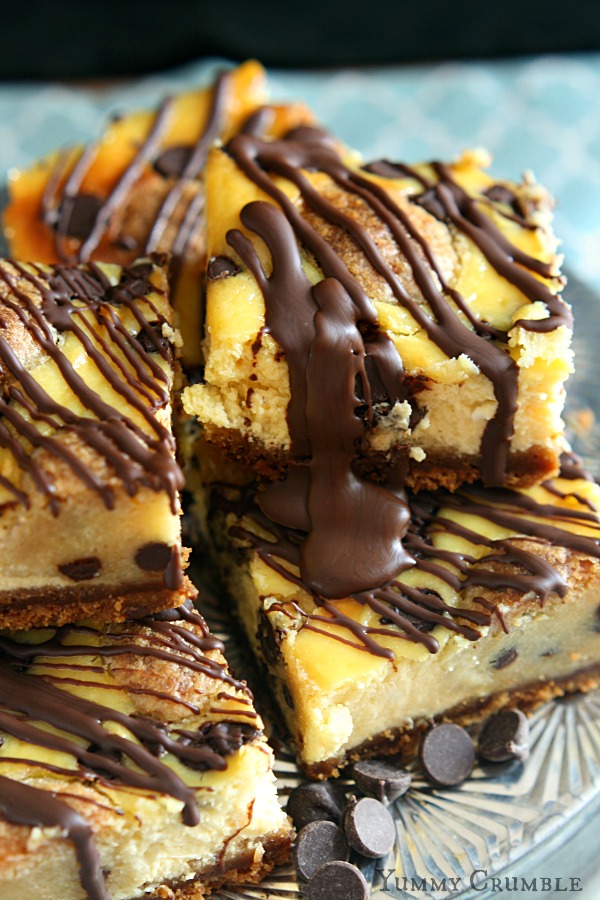 Chocolate Chip Cookie Cheesecake Bars
Oreo Brownie Swirl Cheesecake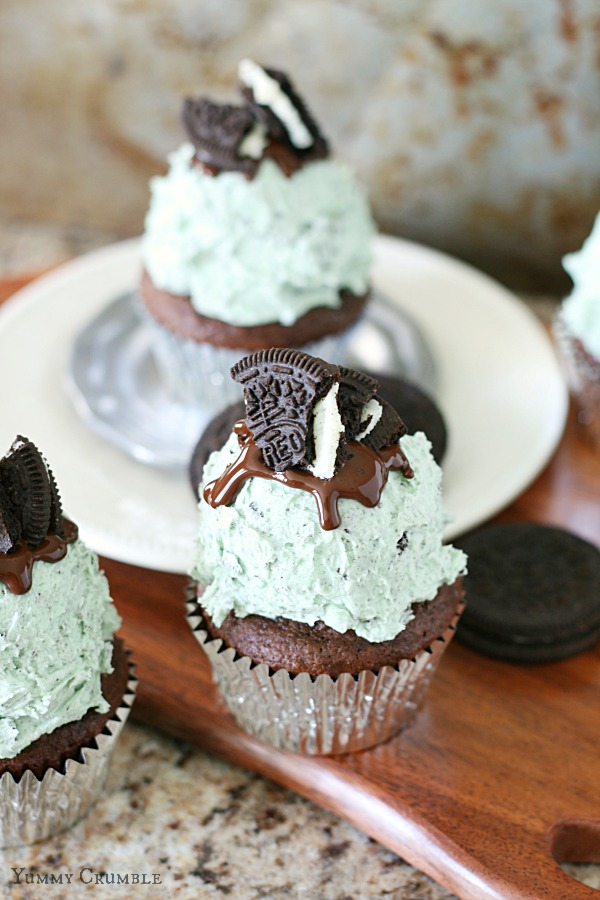 Mint Cookies and Cream Oreo Cupcakes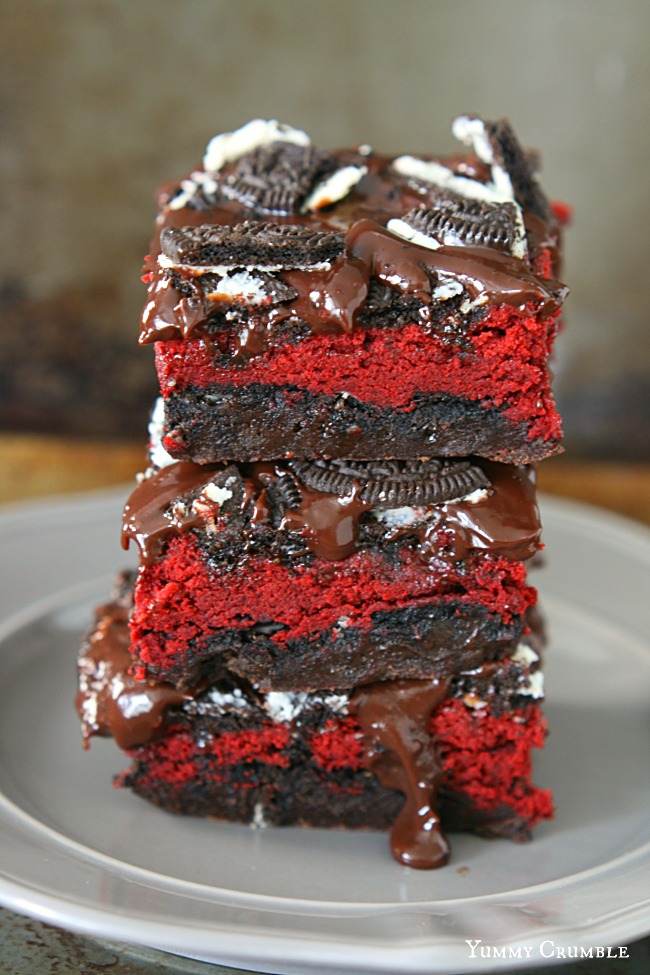 Red Velvet Oreo Brownies