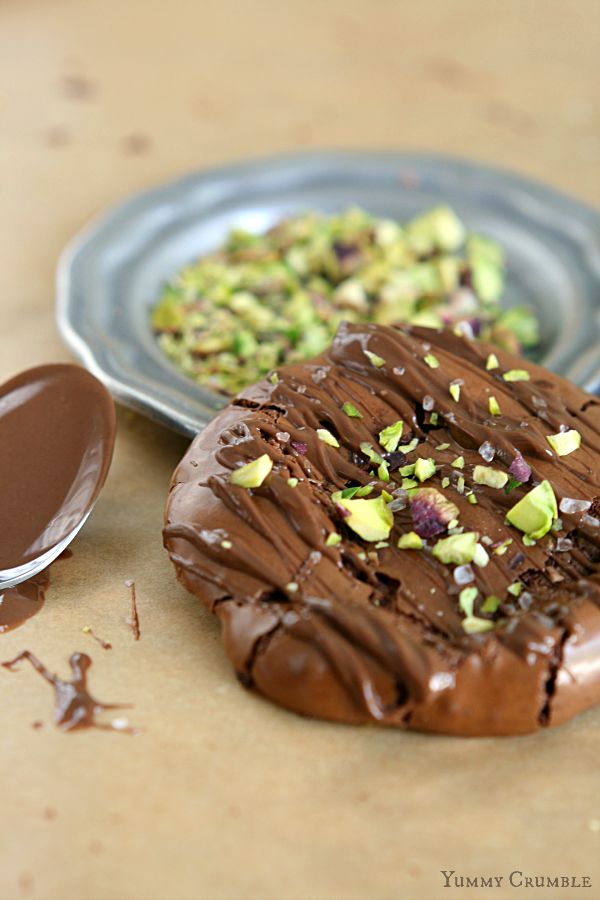 Rich dark chocolate, sea salt, Nutella and pistachios all packed into a flourless perfect little cookie.  Don't let the title fool you. These Gluten Free Chocolate Pistachio Cookies will satisfy everyone's sweet tooth.
 You know that perfect crispy edge to a brownie?  And what about the chewy dense center after that first bite?  Think of all your favorite parts of a brownie magically squeezed into a gluten free, butter free cookie.  Yes, no gluten or butter!  Oh, and one more thing.  Only one bowl!  These are so decadent and so delicious, you wouldn't even guess that the flour and butter are missing.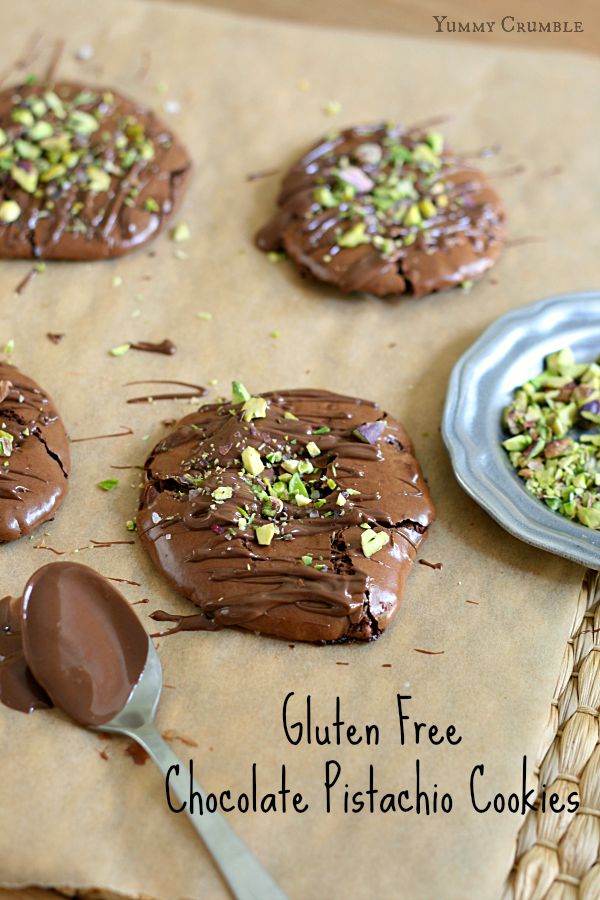 I was so excited this morning.  I had brownies on the brain.  I dropped off my little man at Kindergarten and raced home to start my favorite part of the day.  Baking ridiculous and unnecessary sweets.  I started to line up all my ingredients.  Extra dark cocoa powder, dreamy vanilla extract, silky chocolate chips.  Then the essential stuff next.  Eggs, salt, flour…flour, flour, flour.  I know I saw you somewhere in here yesterday.
What?!  No flour?
Sigh…This happens to me more than I  would like to admit.  No worries though!  I heard about this mystical chocolate cookie that was flourless, gluten free, and tasted like the brownie of the Gods.  So with a little searching, I found this recipe from As Easy As Apple Pie.  A little tweaking, and I'm positive it is a cookie that the Gods would totally eat.  Definitely the gluten free Gods.
Gluten Free Chocolate Pistachio Cookies
Ingredients
1½ cups powdered sugar
⅓ cup unsweetened cocoa powder
a pinch of salt
2 large egg whites, at room temperature
1 teaspoon vanilla extract
½ cup dark chocolate chips
sea salt
chopped pistachios
warm Nutella for drizzling
Instructions
Start by preheating your oven to 350 F and lining your cookie sheets with parchment paper.
In a medium bowl, whisk together the sugar, cocoa powder, and salt.
Add in the egg whites and vanilla extract and mix until a thick brownie like batter forms.
Fold in the chocolate chips.
Using a cookie scoop, drop spoons of dough onto the cookie sheet about 2 inches apart. The cookies spread as they bake.
Bake for 12-14 minutes, or until the tops begin to crack.
Once you take them out of the oven, make sure they completely cool before removing from the parchment. If they are still warm, they will stick.
In a small bowl, warm the Nutella in the microwave for a few seconds until smooth enough to drizzle.
Drizzle the Nutella on top of each cookie, then sprinkle on the sea salt and pistachios.
Notes
Adapted from As Easy As Apple Pie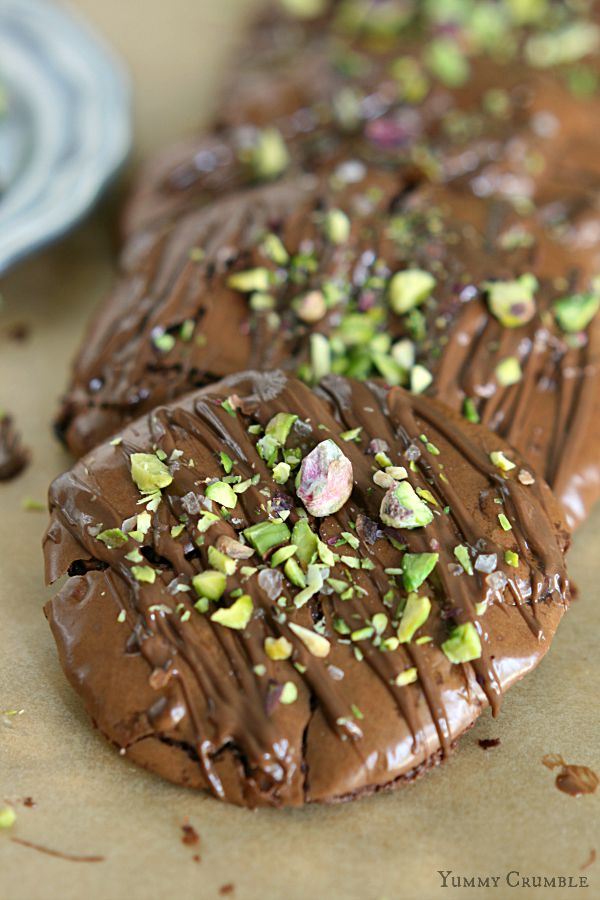 Adpated from As Easy As Apple Pie
Some more chocolate treats: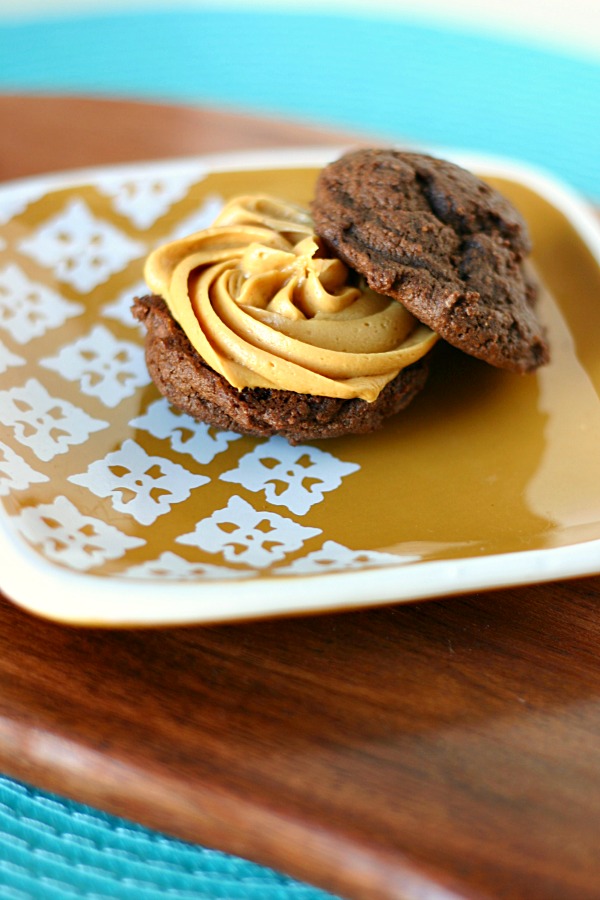 Double Chocolate Chip Cookies with Dulce de Leche Frosting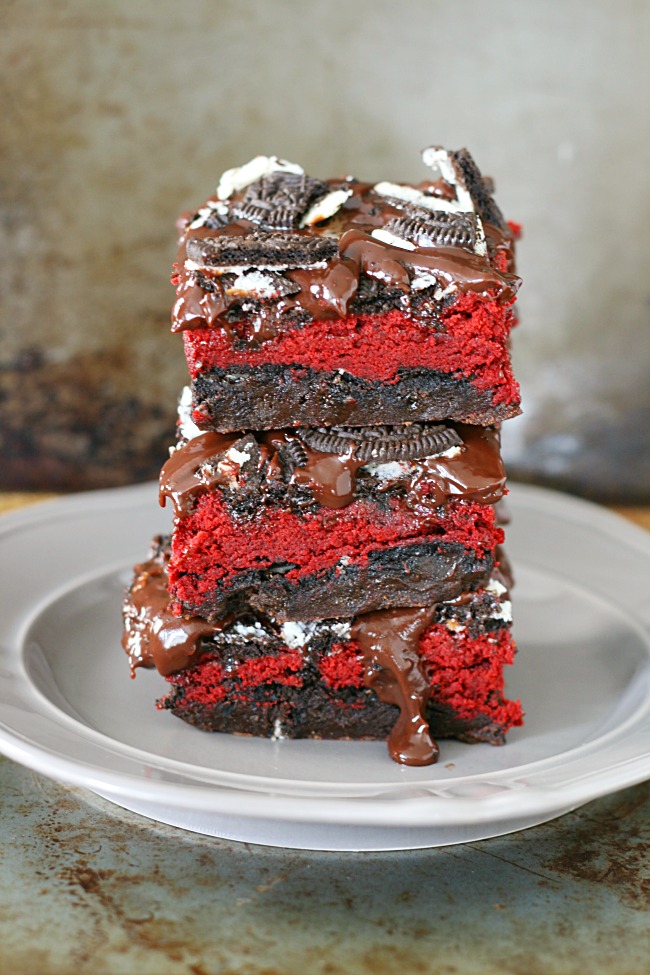 Red Velvet Oreo Brownies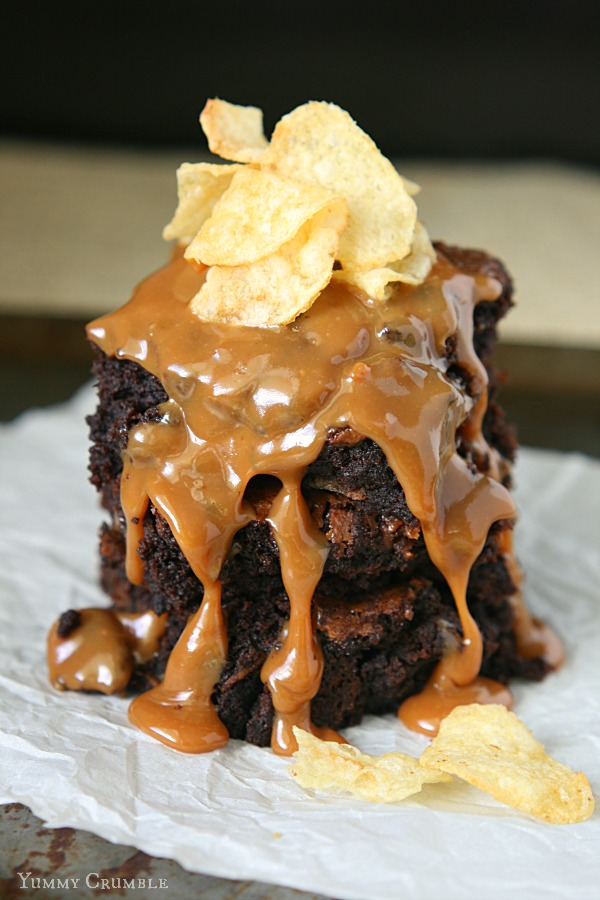 Caramel Potato Chip Brownies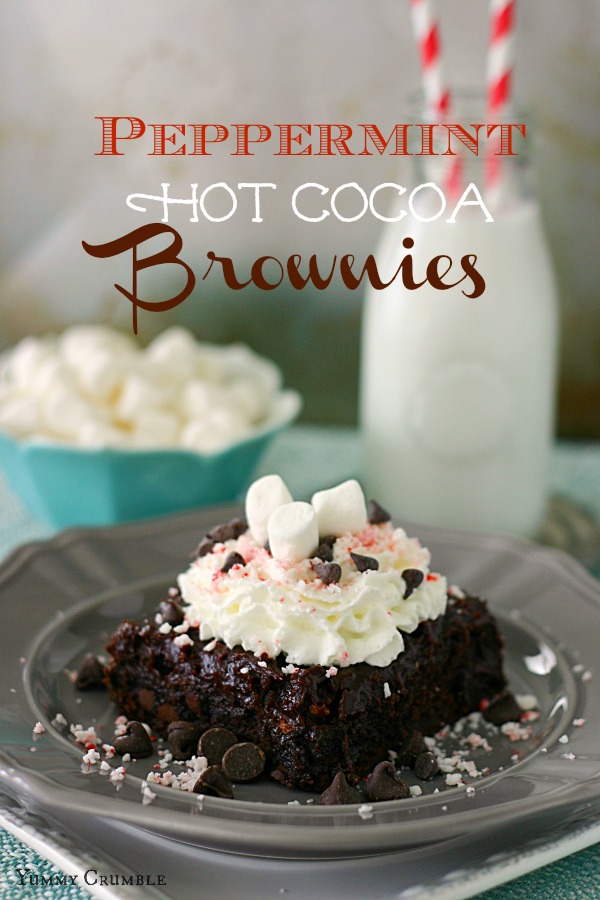 Peppermint Hot Cocoa Brownies