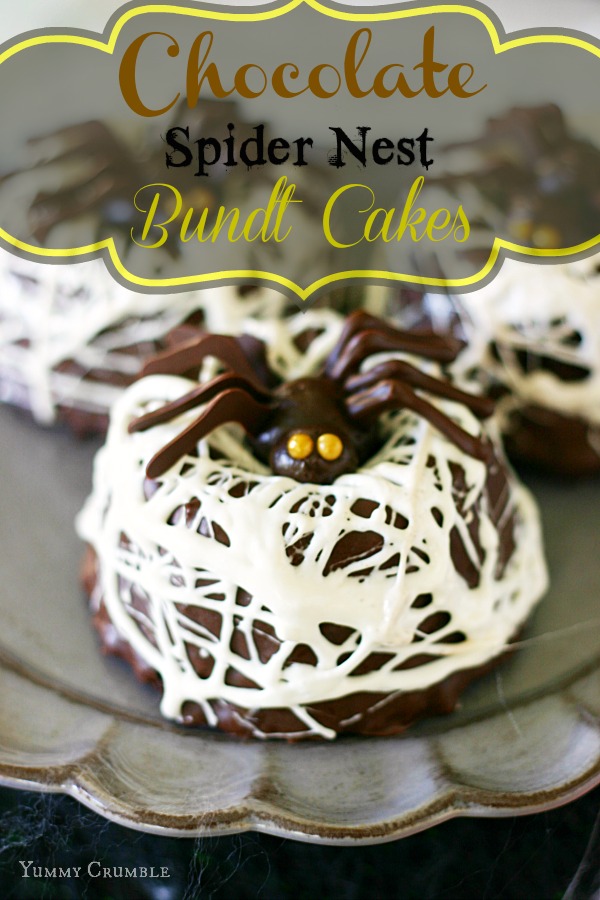 Miniature chocolate bundt cakes covered in a hard chocolate ganache shell, then smothered with melted marshmallow spider webs.  The perfect little home for a friendly little chocolate spider! 
Blogging this October has been so much fun!  Halloween and all her spookiness has sparked my baking imagination.  First came the Ferrero Rocher Spiders which turned into Chocolate Tarantula Cupcakes, and then my Monster Strawberry Cupcakes (my favorite so far).  I'm a Christmas girl through and through, but I gotta say I'm kind of sad to see Halloween go.  There's only a little under 2 weeks left of October and it will all be over.
These little Chocolate Spider Nest Bundt Cakes were incredibly easy to make!  A tiny bit messy, but if you have little kids they would have a blast getting their little hands dirty with you.  It's the perfect fall kiddie afternoon project, and the end result is edible.  Win win!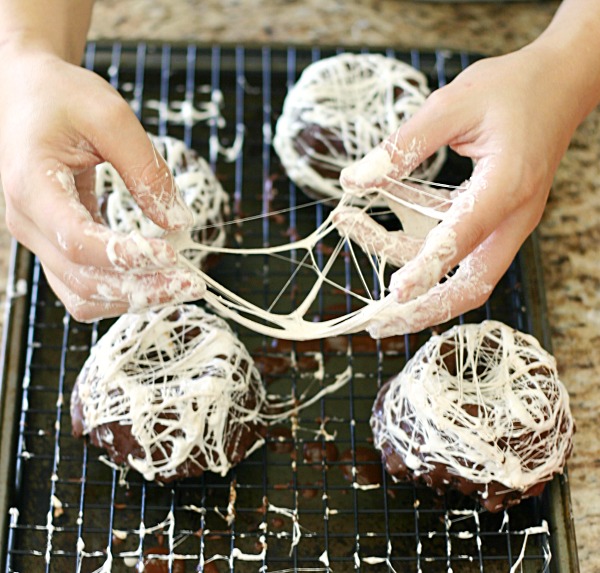 When I mean messy…I mean messy.  But all in good fun!  I got the idea from The Cake Blog.  You just microwave the marshmallows for 30 seconds and stir until they're cool enough to touch.  Then just stretch thin strands all over the little cakes.  Easy!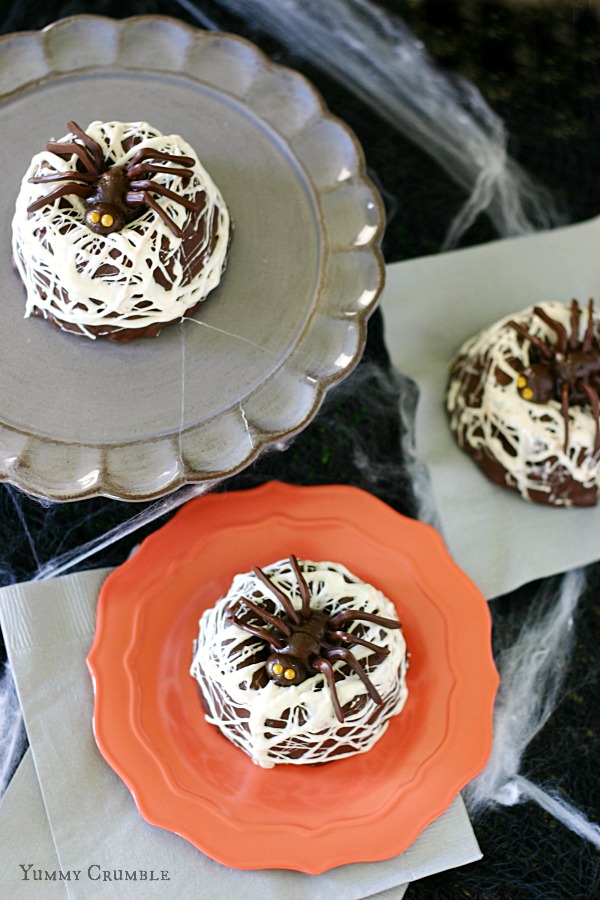 Chocolate Spider Nest Bundt Cakes
Ingredients
Chocolate Bundt Cakes
2 cups sugar
1-3/4 cupsall-purpose flour
¾ cup HERSHEY'S Cocoa
1-1/2 tsps baking powder
1-1/2 tsps baking soda
1 tsp salt
2 eggs
1 cup buttermilk
½ cup vegetable oil
2 tsps vanilla extract
1 cup boiling water
Chocolate Ganache
1 cup semi sweet or dark chocolate chips
1-2 Tbs coconut oil
Spider Webs
Chocolate Spiders
Dark chocolate frosting for bodies
Melted chocolate for legs
Candy pearls for eyes
Instructions
Chocolate Bundt Cakes
Preheat oven to 350 F. Grease your mini bundt cake pans.
In a large bowl attached to your mixer, whisk together the sugar, flour, cocoa, baking powder, baking soda and salt.
Add eggs, milk, oil and vanilla and set the mixer on medium and beat for about two minutes.
Next slowly pour in the hot water and mix on low until everything is combined. The batter will be super runny, but don't worry. The cakes bake up nice and fluffy.
Pour into your prepared pans half way or just under. If you fill them to high, they will overflow and have a horrible mess.
This is also a lot of batter. I made about 5 mini cakes and used the rest for chocolate cupcakes.
Bake for about 30-35 minutes or until a toothpick comes out clean.
Let cool on a wire rack.
Chocolate Ganache
In a microwave safe bowl, pour the chocolate chips in with the tablespoon of coconut oil.
Microwave in 20-30 second increments until the chocolate is nice and melted.
Add more coconut oil if it needs to be a little thinner.
Pour over cooled mini bundt cakes. Place in freezer or fridge to harden the shell.
Marshmallow Spider Webs
Place marshmallows in a large bowl and microwave for 30 seconds.
Stir and keep stirring until it's cool enough to touch. Be careful! Hot marshmallow burns!
Create thin strands by stretching the gooey marshmallows between your hands and wrap in different directions around the bundt cakes.
Chocolate Spiders
Put the chocolate frosting in a piping bag and snip the tip off about ½ an inch. Pipe a large circle and a little circle for the spider's head.
Chocolate spider legs can be piped before hand with melted chocolate (tutorial)
Place four legs on each side of the body and add two little pearl eyes.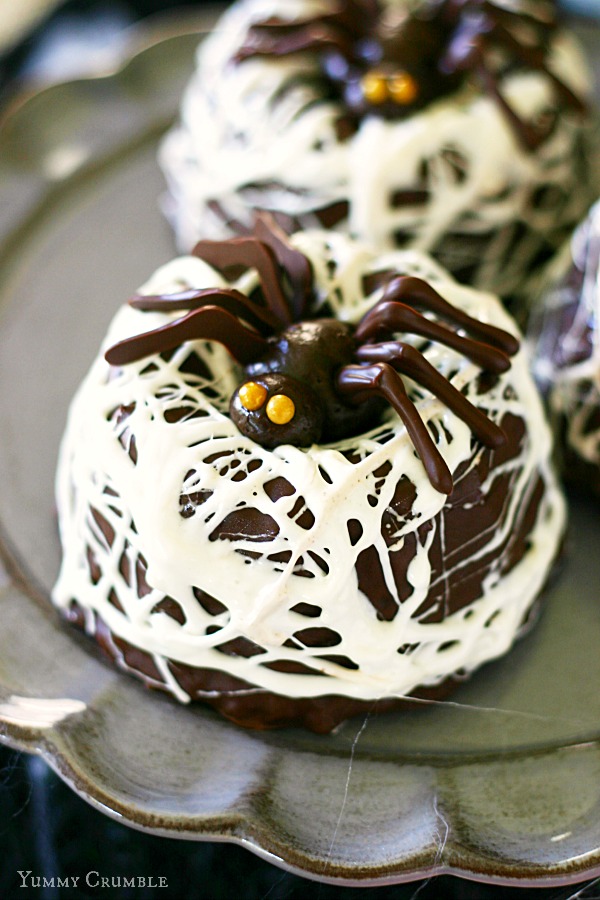 Some more Halloween treats: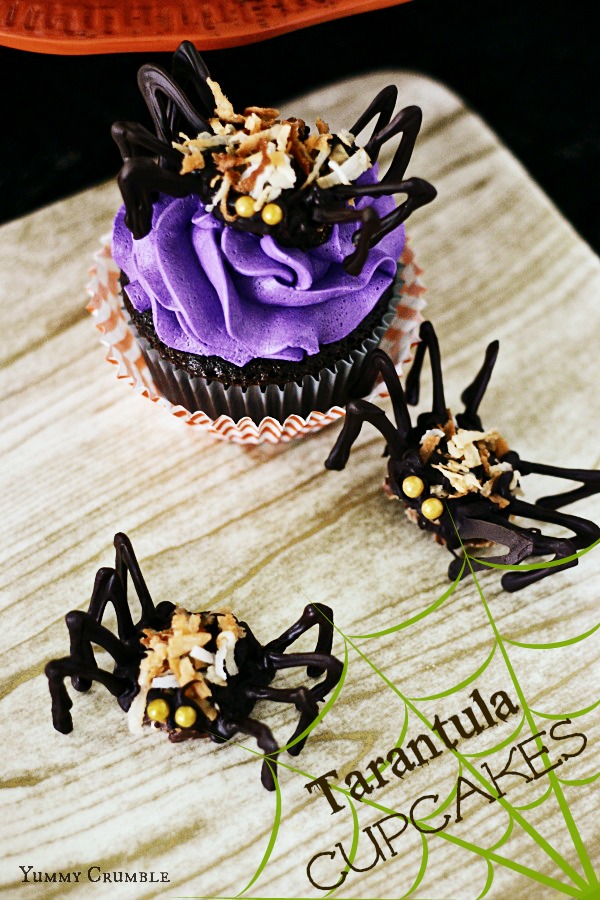 Chocolate Tarantula Cupcakes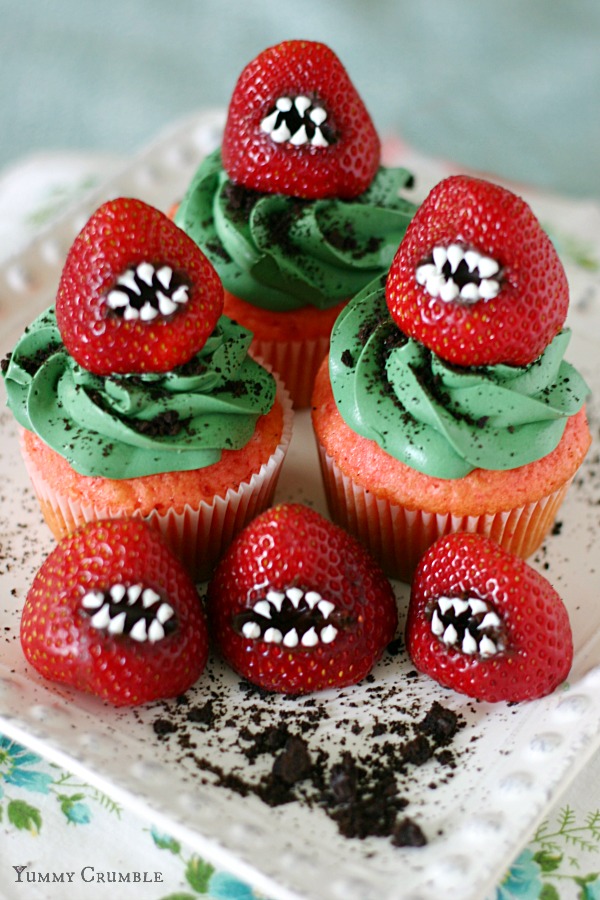 Monster Strawberry Cupcakes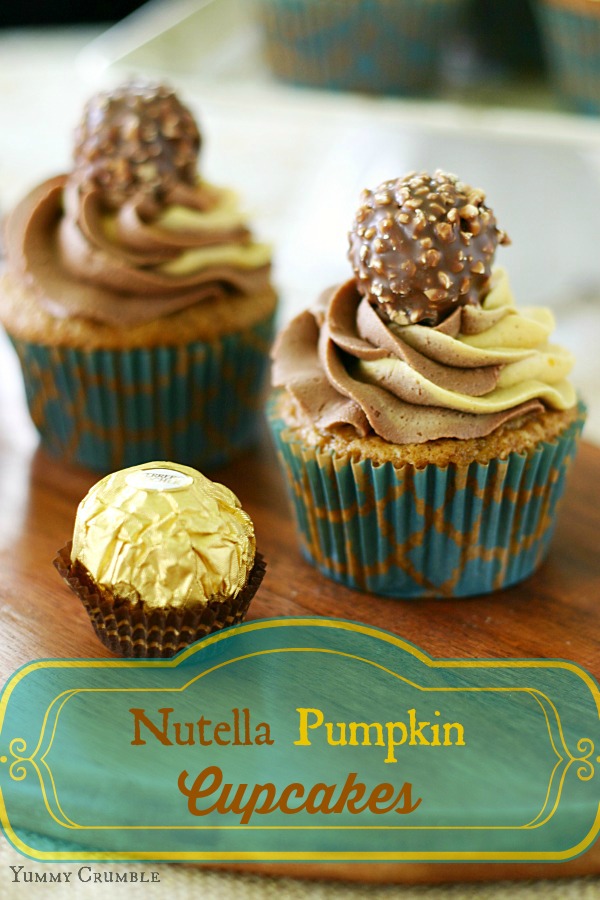 Nutella Pumpkin Cupcakes