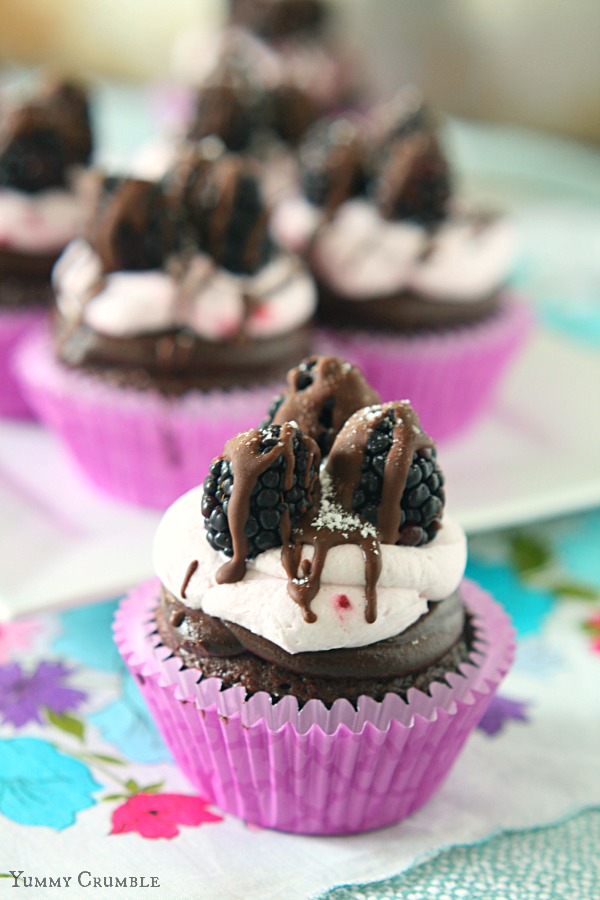 Chocolate Blackberry Cupcakes with dark chocolate cream cheese frosting, blackberry whipped cream and topped with luscious fresh blackberries and chocolate ganache.
I feel the blackberry doesn't get enough love.  If your'e not a fan I suggest you grab a big bowl.  Fill it with fresh blackberries.  Melt some dark chocolate.  Drizzle said chocolate all over the berries.  Put the bowl in the freezer for about…ummm…3 minutes.  Take that bowl out and put an obscene amount of whipped cream on top.  After that first bite I promise you will become a blackberry fiend.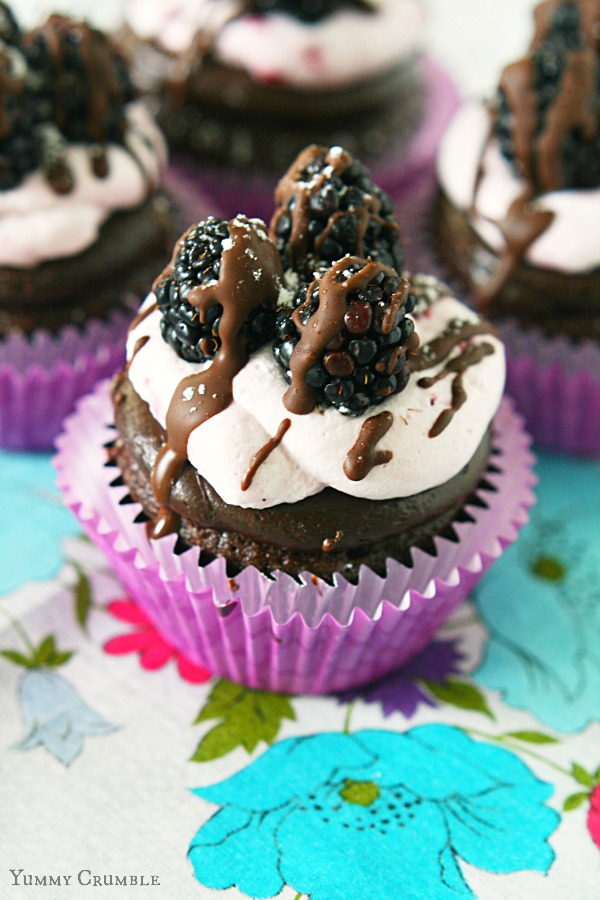 So that bowl of chocolate covered blackberries with the unnecessary amount of whipped cream? These Chocolate Blackberry Cupcakes taste just like that.  It's quite magical.  It may seem like a simple chocolate frosted cupcake, but that blackberry whipped cream and the ganache covered blackberries take it to a whole new level.  And it's got fruit you yoga people.  Fruit.
Chocolate Blackberry Cupcakes
Ingredients
Chocolate Cupcakes
1 cup all-purpose flour
½ cup packed light-brown sugar
⅓ cup granulated sugar
⅓ cup cocoa powder
1 tsp baking powder
½ tsp baking soda
½ tsp salt
⅓ cup vegetable oil
⅓ cup cream
1 large egg
1 tsp vanilla extract
⅓ cup brewed coffee
¼ cup buttermilk
Chocolate Cream Cheese Frosting
8 ounces cream cheese, room temperature
¼ cup unsalted butter, room temperature
3 cups sifted powdered sugar
½ cup cocoa powder
Blackberry Whipped Cream
1 cup heavy cream
2 tablespoons powdered sugar
1-2 tablespoons blackberry preserves
Chocolate ganache
½ cup dark chocolate chips
1 tsp coconut oil
Instructions
Chocolate Cupcakes
Preheat oven to 350 F and line your cupcake pan.
In a large bowl whisk together the flour, brown sugar, granulated sugar, cocoa powder, baking powder, baking soda and salt.
With an electric mixer on low, add in vegetable oil, cream, egg and vanilla extract and mix until fully incorporated.
Pour in coffee and beat some more.
Add in buttermilk and mix until just combined.
Fill your cupcake liners ⅔ full and bake for 16-18 minutes or until an inserted toothpick comes out clean.
Set aside to cool.
Chocolate Cream Cheese Frosting
Beat cream cheese and butter until light and fluffy.
Slowly mix in powdered sugar one cup at a time.
Mix in cocoa powder.
Beat for a few minutes until light.
Blackberry Whipped Cream
Using a chilled metal bowl and whisk attachment on your mixer, whip the cream and sugar together until stiff peaks form.
Gently fold in the blackberry preserves.
Chocolate Ganache
In a bowl, microwave the chocolate chips and coconut oil in 30 second increments until smooth.
Assembly
Once the cupcakes have cooled, pipe the chocolate cream cheese frosting, then the blackberry whipped cream.
Place 3 blackberries on top and drizzle with the melted chocolate.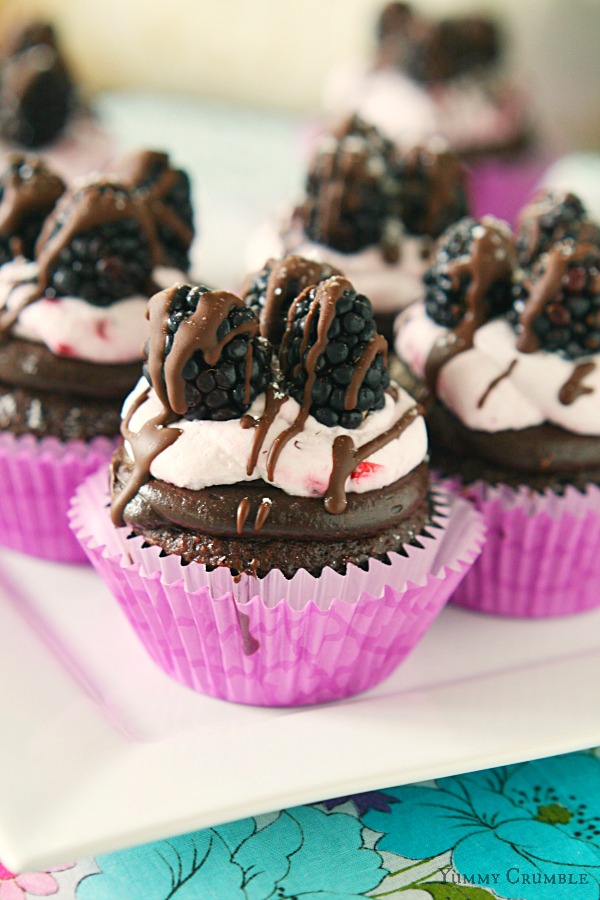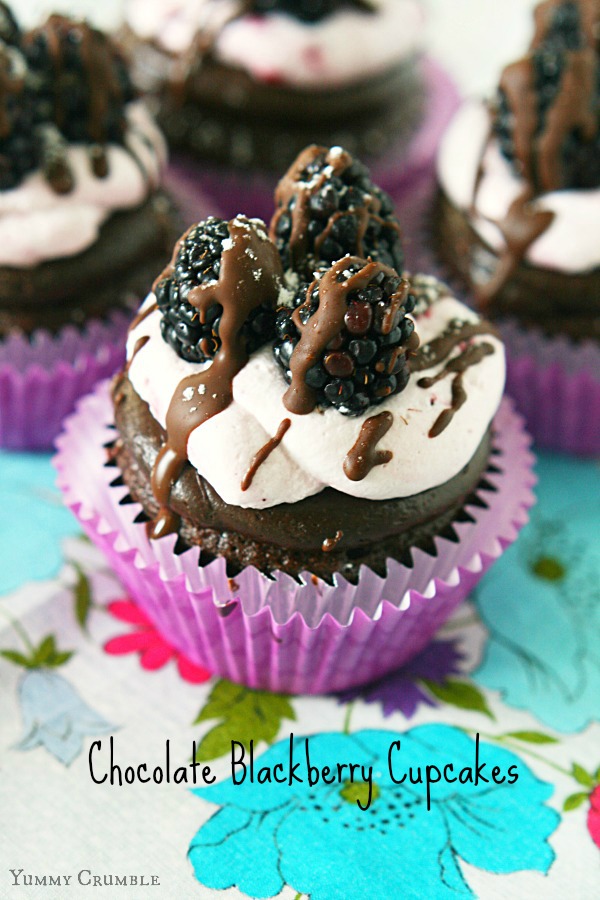 Some more berry goodies:
Blackberry Pie Bars