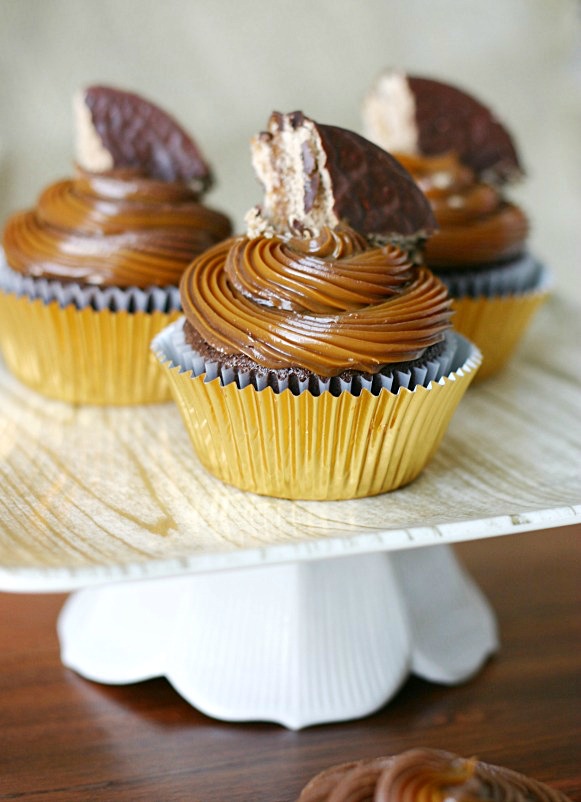 So…these cupcakes are no joke.  Evident by the rich chocolate frosting swirled with straight dulce de leche, it's definitely not for the faint of heart.  Shield your eyes New Year's resolutioners!  This little treat is going to make you cheat for sure.  I don't know if you've baked much with the Alfajor cookie or if many of you have tasted one.  My father is from Buenos Aires, Argentina so I grew up on these things.  Along with dulce de leche and comforting Yerba Mate tea.  The utterly delicious Alfajor is two soft cookies sandwiched with dulce de leche.  The best kind are dipped in dark chocolate, just like the ones I used.
The particular brand I used for these Chocolate Alfajor Cupcakes was Havanna.  They come wrapped in this beautiful gold foil like a little gift waiting to be unwrapped.  Trust me, these will not stay wrapped once you get your hands on these.  Of all the Alfajor cookies I have tried, these are by far the most delicious and moist.  They bake perfectly in a cupcake.  I purchased them from Gaucho Direct, an online marketplace for Argentinian goods.  Here you can buy these cookies along with other goods including Yerba Mate.  It's also very easy to browse different types of Yerba Mate plucked from different regions.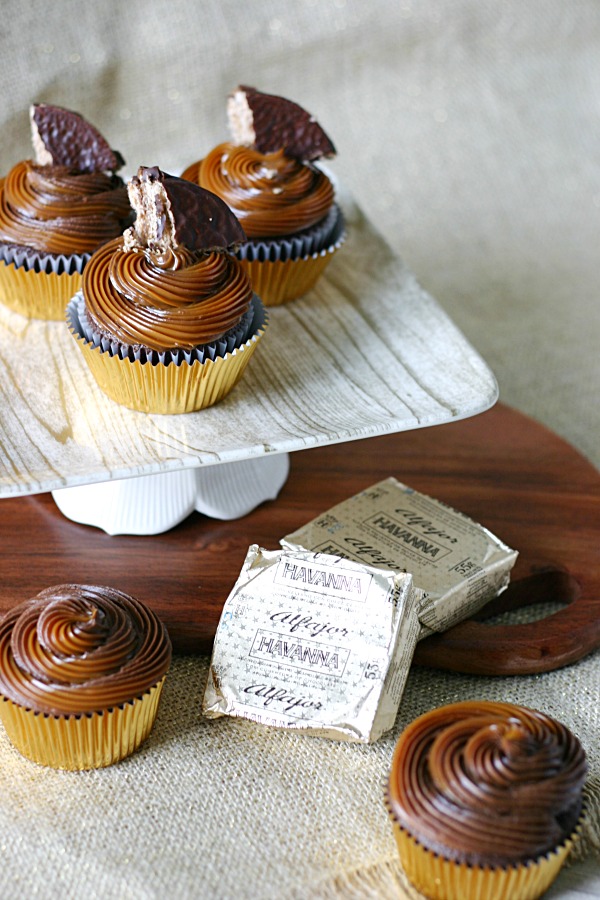 The chocolate cupcake came from Cupcake Project.  Its her best chocolate cupcake recipe tested by 50 bakers.  Let me just say, its pretty amazing.  I thought it would be perfect in my Chocolate Alfajor Cupcakes.  I didn't want a cupcake that was too fudge-like or too chocolatey that would take away from the flavor of the Alfajor or dulce de leche swirled frosting.  It was very light, very fluffy and oh so yummy.  Just like I prayed, the Alfajor stayed light and delicate inside the cupcake.  It turned out perfect.  I also followed the advice of Cupcake Project and made her Chocolate Cream Cheese Frosting and swirled it with the dulce de leche. Incredible.
Chocolate Alfajor Cupcake
Ingredients
1/4 cup unsalted butter, softened
1 cup white granulated sugar
2 ounces of dark chocolate, melted
2 large eggs, room temperature
2 large egg yolks, room temperature
1/2 cup + 1 tablespoon vegetable oil or canola oil
2 teaspoons vanilla extract
1/3 cup regular sour cream
1 cup all-purpose flour
1/2 teaspoon salt
1/2 teaspoon baking soda
1/2 cup cocoa powder
1/2 cup room temperature water
6 chocolate covered Afajor cookies cut into quarters.
1 can or jar (13 ounces) of your favorite dulce de leche
1 batch of chocolate cream cheese frosting (also on cupcakeproject.com)
Instructions
Set oven to 350 F.
In a medium bowl mix softened butter and sugar until fully combined.
Melt chocolate in microwave or double boiler and once cool to the touch mix into butter and sugar mixture.
Mix in eggs and egg yolks one at a time until just combined.
Mix in oil, vanilla extract, and sour cream.
In a separate medium bowl, sift together flour, salt, baking soda, and cocoa powder.
Add dry ingredients to wet in 1/3 cup increments.
Last mix in water just until combined.
Place Alfajor cookie piece on bottom of cupcake liner.
Fill cupcake liners and put in oven for 18 minutes.
Fill piping bag with half chocolate cream cheese frosting and half dulce de leche.
Once cupcakes are cooled pipe frosting on the tops.
Decorate with Alfajor cookie.
http://yummycrumble.com/chocolate-alfajor-cupcake/
Cupcakes slightly adapted from Cupcake Project.  Chocolate cream cheese frosting recipe also from Cupcake Project.