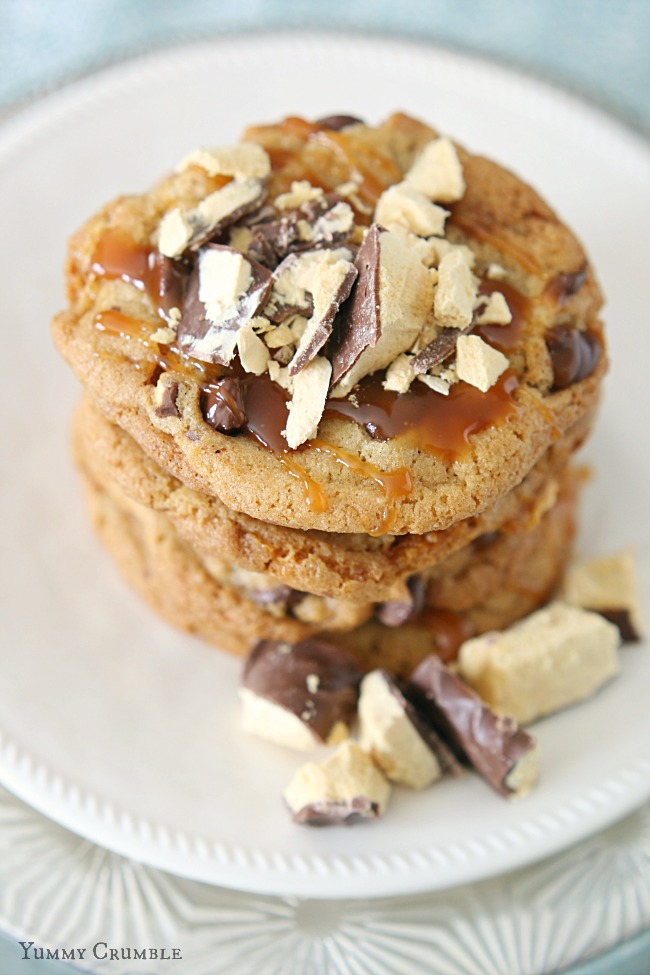 My favorite chocolate chip cookie full of Violet Crumble pieces,  smothered with salted caramel and topped with more crushed Violet Crumble.  It's the perfect combination.  Just ask an Aussie.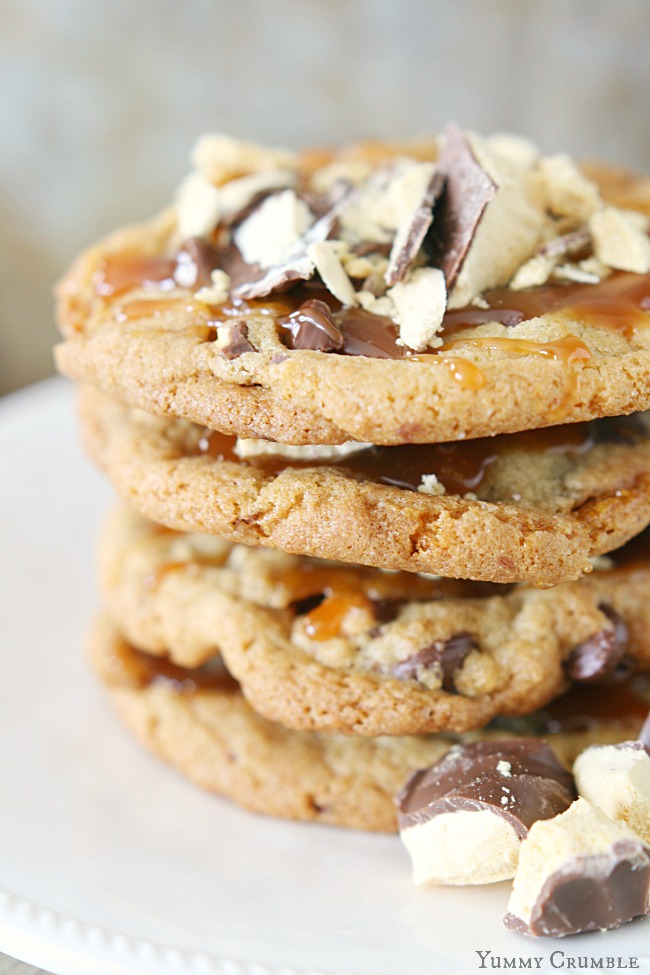 Now, I know that Caramel Violet Crumble Chocolate Chip Cookies is an obnoxiously long title for a little 'ole chocolate chip cookie.  I get it.  You're probably thinking, "why not paste with Fleur del sel on the end while your'e at it?"  Well, smarty pants…it's already mixed in the salted caramel. 🙂  These cookies are so good they deserve that extra long title.  They're so good that even if I ended up naming them Ebola Cookies, you'd be raving about Ebola Cookies to all your friends and not even care.  Too soon?  Too soon…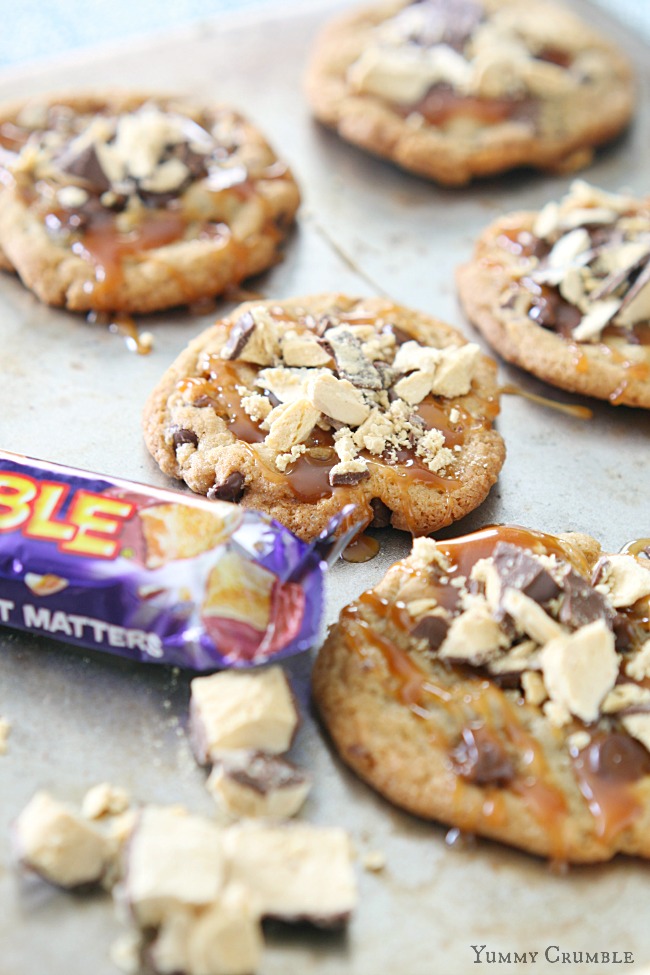 Are you lost on what Violet Crumble is?  If you are, it's okay.  The only reason I know about it is because my mother hails from the land down under.  I grew up on strange candies and of course coconut covered Lamingtons and Anzac Cookies.  No Vegemite though. *shudder*… Not all Australians enjoy the taste of straight up salted yeast paste.
On to my newest favorite chocolate chip cookie!  It's full of dark chocolate chips and bits of the best candy bar ever.  The basic chocolate chip cookie recipe is from Williams and Sanoma and I've been using it for quite some time.  They always come out a little crispy on the outside and super chewy on the inside.  The Violet Crumble adds extra crunch and the salted caramel gives incredible texture and a hint of salty sweet.  Like I said, this cookie is awesome.
Caramel Violet Crumble Chocolate Chip Cookies
Ingredients
1¼ cups unbleached all-purpose flour
1 tsp. baking soda
2 tsp. cornstarch
½ tsp. salt
½ cup softened unsalted butter
½ cup light brown sugar
6 Tbs. granulated sugar
1 large egg
1 tsp. vanilla extract
1 cup dark or semi sweet chocolate chips
1 cup crushed Violet Crumble
Your favorite salted caramel for drizzling
Instructions
Set your oven to 350 F and line a cookie sheet with parchment paper.
In a bowl, whisk together the flour, baking soda, cornstarch, and salt.
With your electric mixer, beat the softened butter and sugars together until light and fluffy.
Add the vanilla and egg and mix on low. Scrape down the sides of the bowl.
Slowly add in the flour mixture and continue to mix on low.
Using a wooden spoon, fold in the chocolate chips and Violet Crumble.
Using a cookie scoop, place dough on cookie sheet 2 inches apart.
Bake for 10-13 minutes or until golden brown.
Let cool before drizzling with caramel and topping with more Violet Crumble.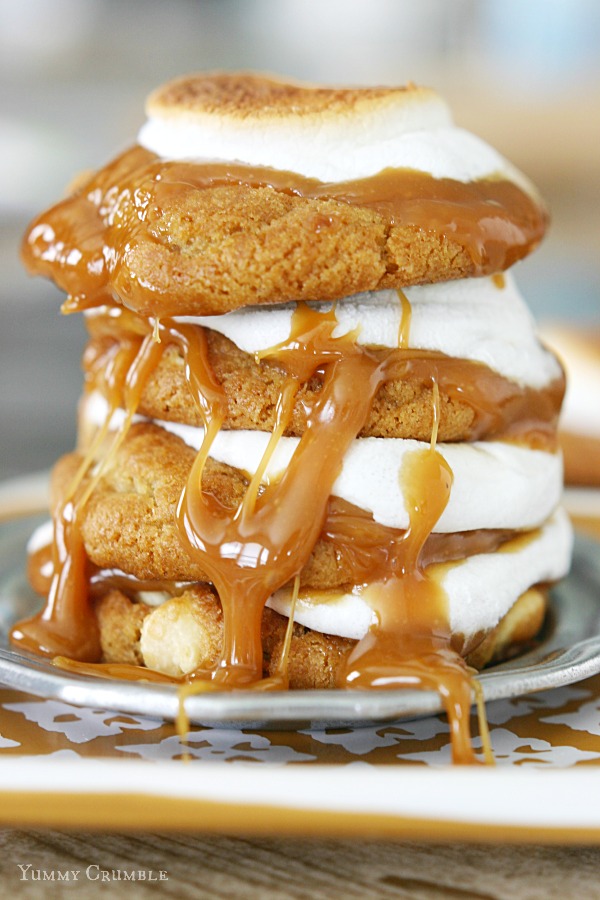 Caramel White Hot Chocolate Cookies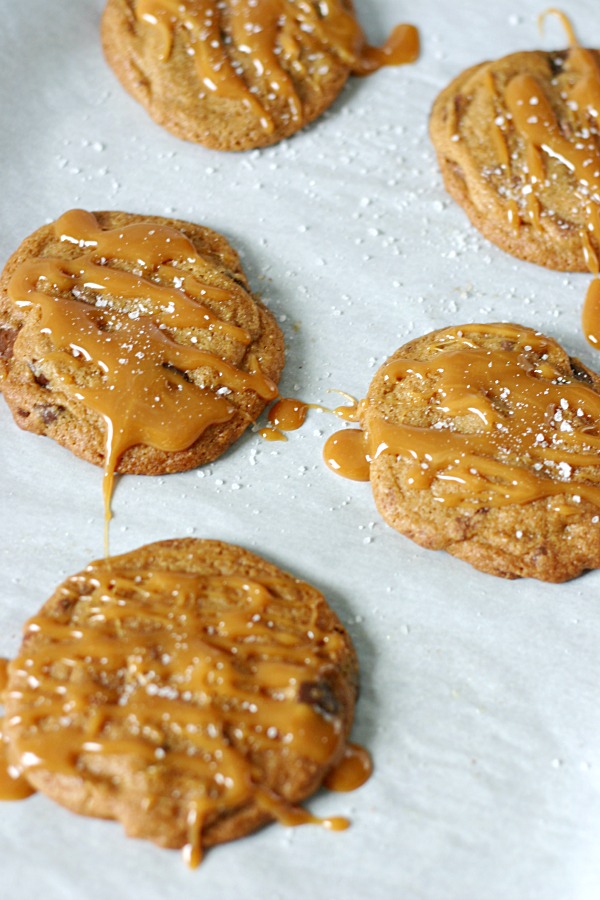 Caramel Triple Chocolate Chip Cookies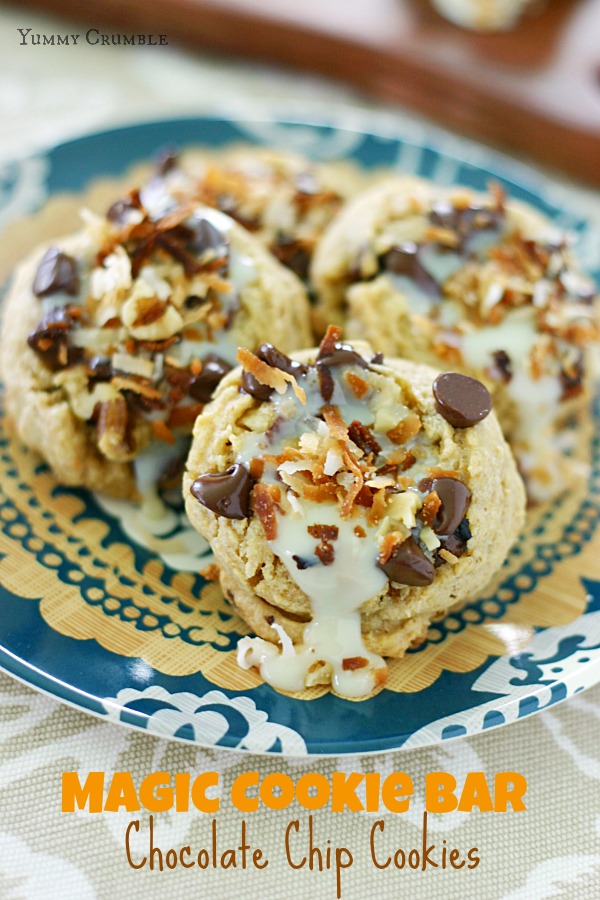 Magic Cookie Bar Chocolate Chip Cookies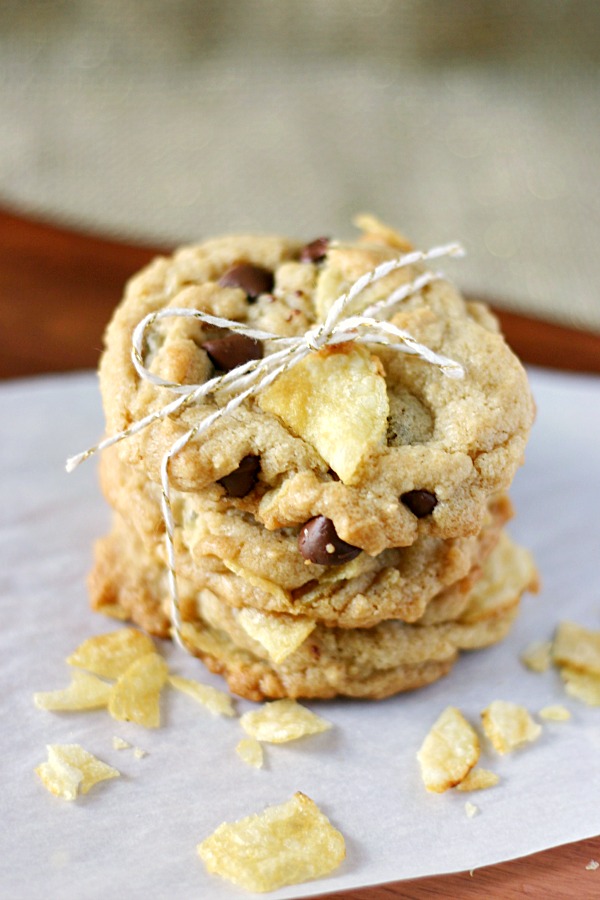 Vegan Chocolate Chip Potato Chip Cookies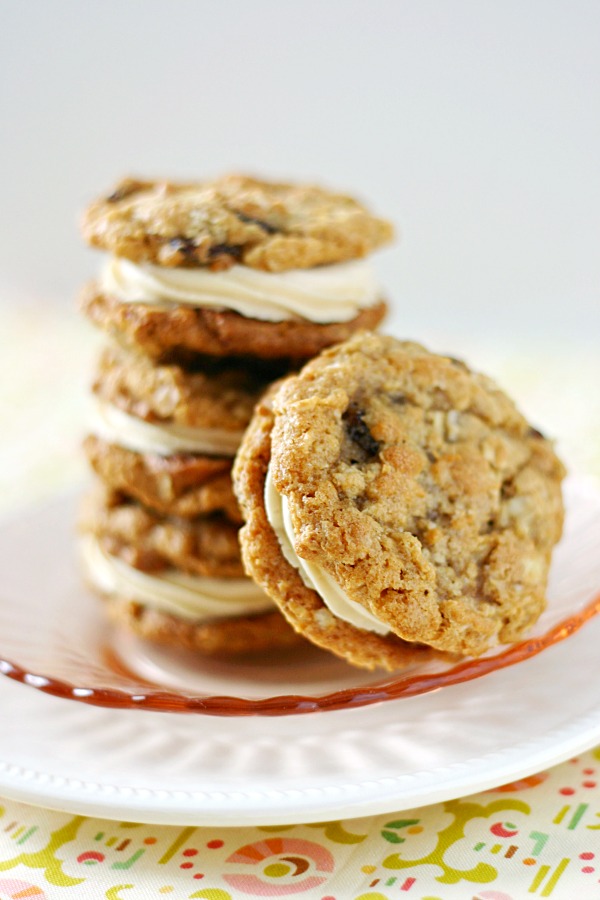 Oatmeal Raisin Cookie Sandwiches with Sweet Tea Frosting