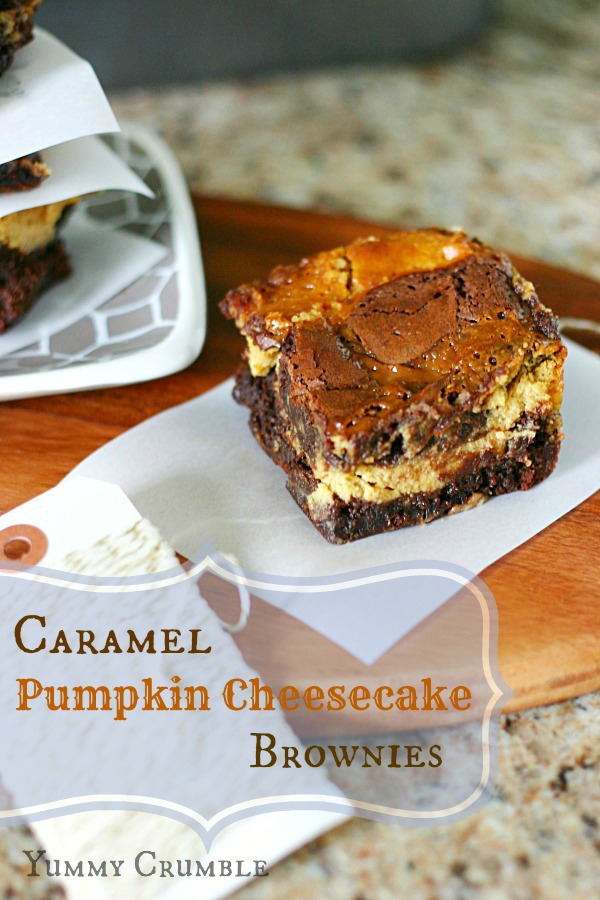 Dark chocolate brownies swirled with spiced pumpkin cheesecake and thick buttery caramel.  The only thing better than a Pumpkin Spiced Latte are these Caramel Pumpkin Cheesecake Brownies!
Brownies are hands down one of my most favorite desserts ever, so I adore mashing them with different flavors.  I always make these Caramel Pumpkin Cheesecake Brownies in the Fall, because well, they're pretty amazing.  There are lots of pumpkin cheesecake brownie recipes floating around on the internet and I've found this one to be my favorite.  I adapted it a teensy bit from Bake at 350, and the results were truly scrumptious.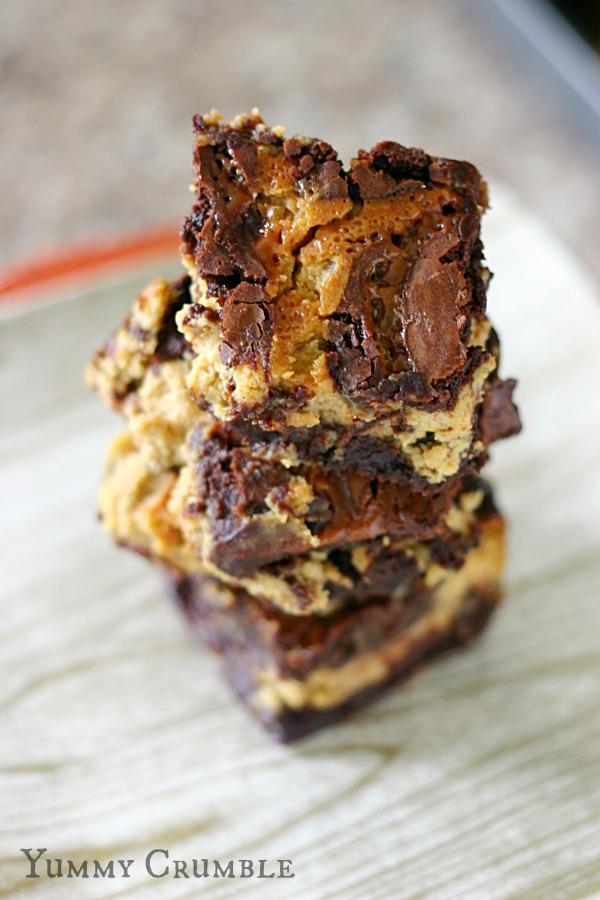 I just poured the dark chocolate brownie batter on the bottom of the pan, then layered the pumpkin cheesecake batter on top.  Lastly, I plopped big gooey spoonfuls of brownie batter and thick caramel on top and swirled with a thin knife.  Pretty simple, if you don't run into the problem of licking too much brownie batter off the spoon and your left with minimal "plops".  So lick sparingly!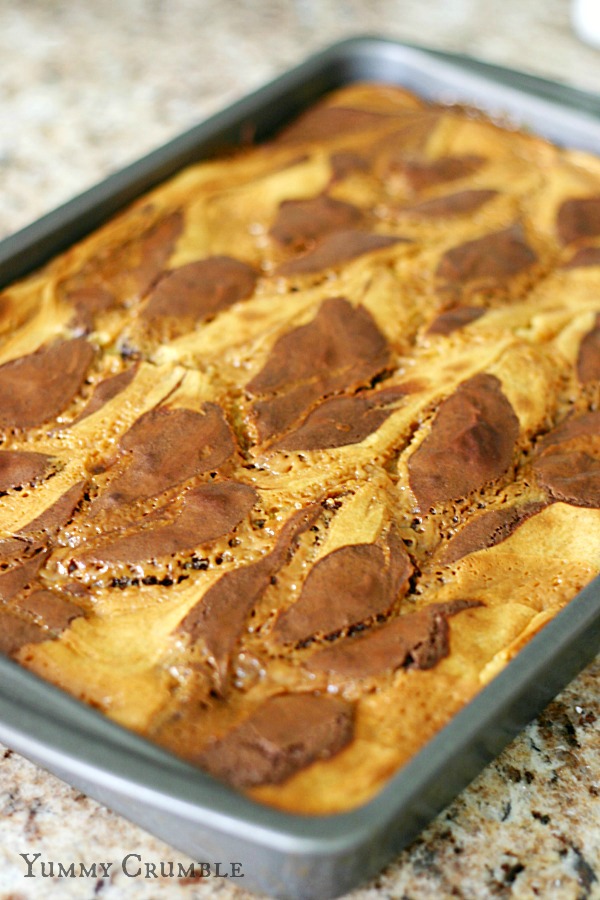 Caramel Pumpkin Cheesecake Brownies
Ingredients
Pumpkin Cheesecake Layer
2 (8 oz.) packages cream cheese softened
½ cup pumpkin puree
¾ cup sugar
2 teaspoons vanilla
1 teaspoon cinnamon
½ teaspoon pumpkin spice
¼ teaspoon freshly grated nutmeg
¼ teaspoon allspice
¼ cup vanilla greek yogurt
2 beaten eggs
Brownie Layer
¾ cup (1½ sticks) unsalted butter melted
2 cups sugar
1 cup Cocoa Powder
1 teaspoon salt
½ teaspoon baking powder
1 Tbs vanilla extract
3 Tbs cooled espresso or your favorite coffee
3 eggs
1 cup unbleached, all-purpose flour
Instructions
Preheat oven to 325 F. Grease a 9 x 13 pan and set aside.
Pumpkin Cheesecake layer:
With an electric mixer, beat the softened cream cheese until smooth.
Beat in the pumpkin, sugar, spices, and vanilla extract. Mix until smooth.
Mix in eggs and yogurt on low.
Brownie Layer
Microwave butter or in a saucepan on low heat, melt the unsalted butter. Pour into large bowl when cooled.
Add sugar and whisk until smooth and shiny
Next whisk in cocoa powder, salt, baking powder, vanilla extract, and coffee.
Whisk in eggs until fully incorporated.
Mix in flour until smooth.
Assembly
Pour ¾ of brownie batter into greased pan.
Pour Pumpkin Cheesecake batter on top and smooth out with a spatula.
Using a spoon or cookie scoop, dump dollops of brownie batter onto pumpkin cheesecake batter.
Pour melted caramels in lines around brownie drops.
Using a thin knife swirl the batters and caramel into a pretty pattern.
Bake for 45 minutes or until cheesecake sets.
Let completely cool in refrigerator before cutting.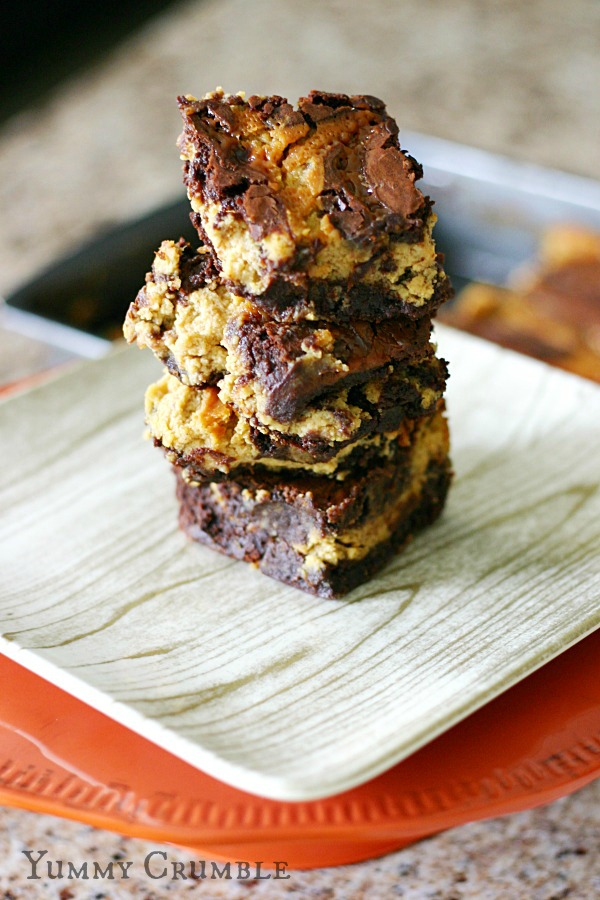 Just had a thought.  I mentioned these were the only thing better than a Spiced Pumpkin Latte…What if you munched on these WHILE drinking a Spiced Pumpkin Latte.  Oh my Lord.
More Pumpkin and Fall Goodies: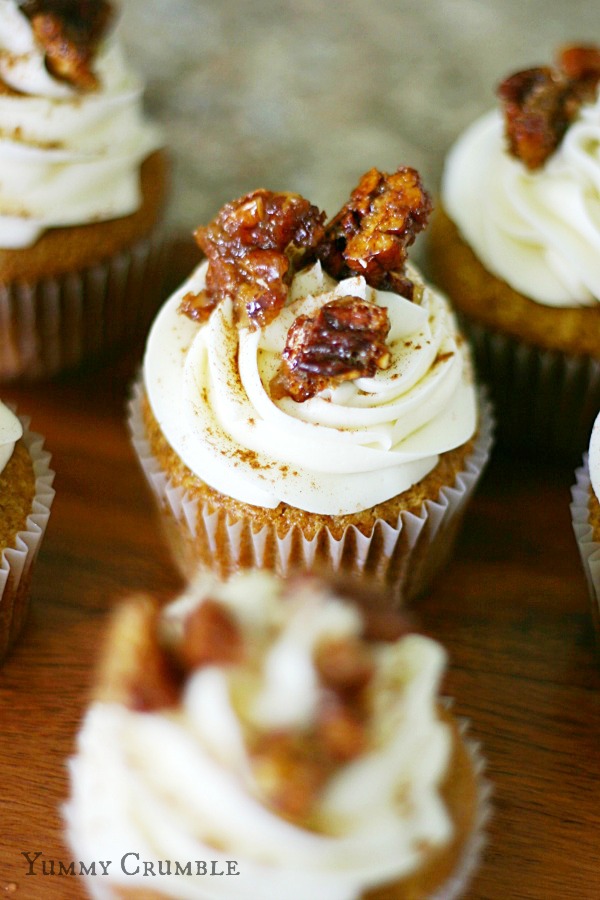 Pecan Pie Pumpkin Cupcakes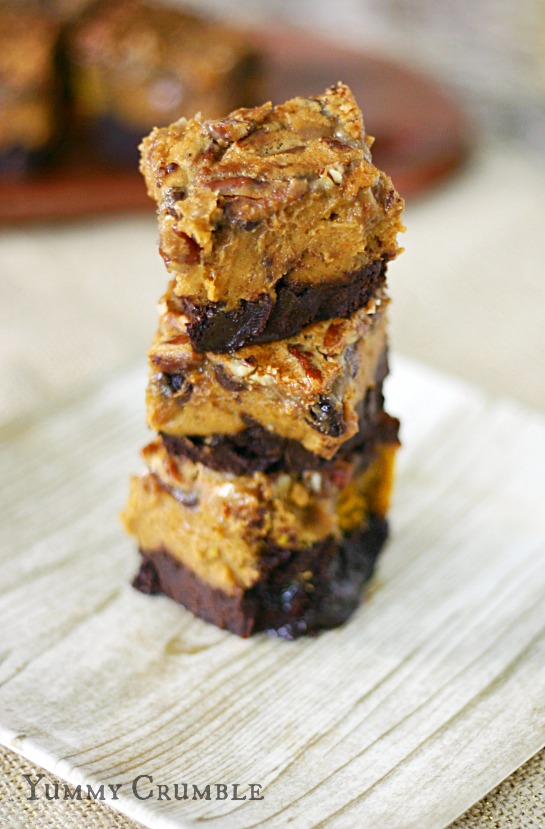 Chocolate Pecan Pie Pumpkin Blondie Bars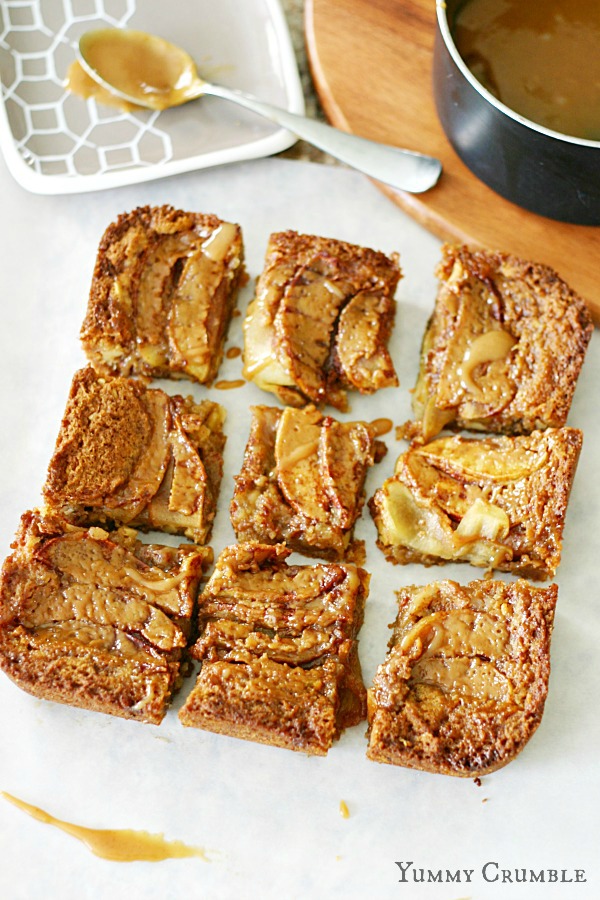 Salted Caramel Apple Cider Blondies