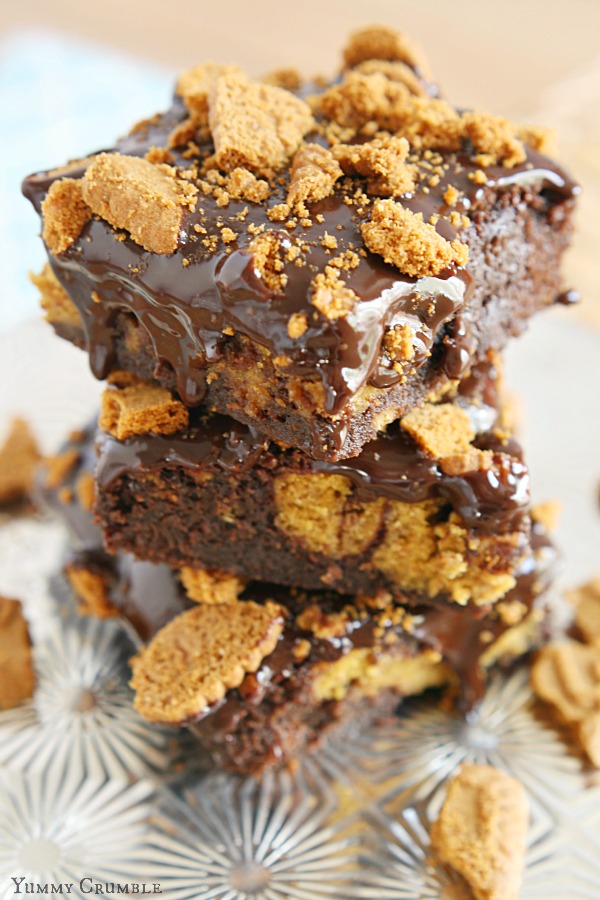 Dark chocolate brownies swirled with moist pumpkin blondies, then smothered in a Biscoff chocolate ganache. These Biscoff Pumpkin Brookie Bars are the perfect way to indulge this November.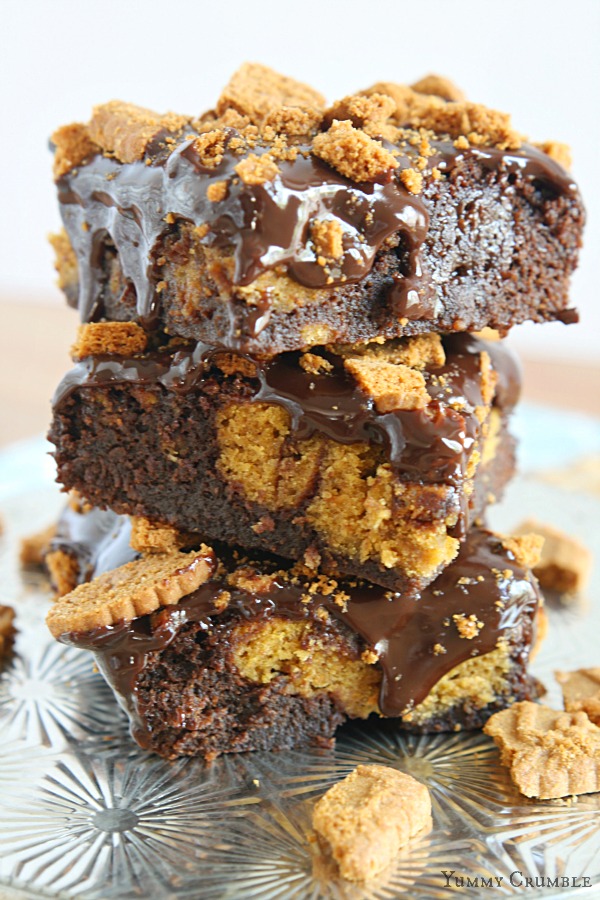 I think I may be an idiot.  I decided last week to start intermittent fasting.  In November.  The start of the most indulgent time of the year.  Where there's not only sugar plumbs dancing in my noggin, but brownies, cookies and pies oh my.  Intermittent fasting you ask?  What kind of fad nonsense is that?  It's actually a really safe way to coax your body into burning reserved fat…if done right.  There are a lot of details and sciencey talk involved, but basically you fast from the morning you wake up to about 1 p.m.  Then from 1 p.m. to 7 p.m. is that glorious window of time that you eat, making sure you eat enough calories to sustain your day.  (So just to be clear…it's not starvation dieting).  So far I've done really well.  It's day six and I haven't felt deprived once or crazy hungry.  I can still indulge.  A.k.a – stuff my face with these Biscoff Pumpkin Brookie Bars.  In moderation though.  Moderation.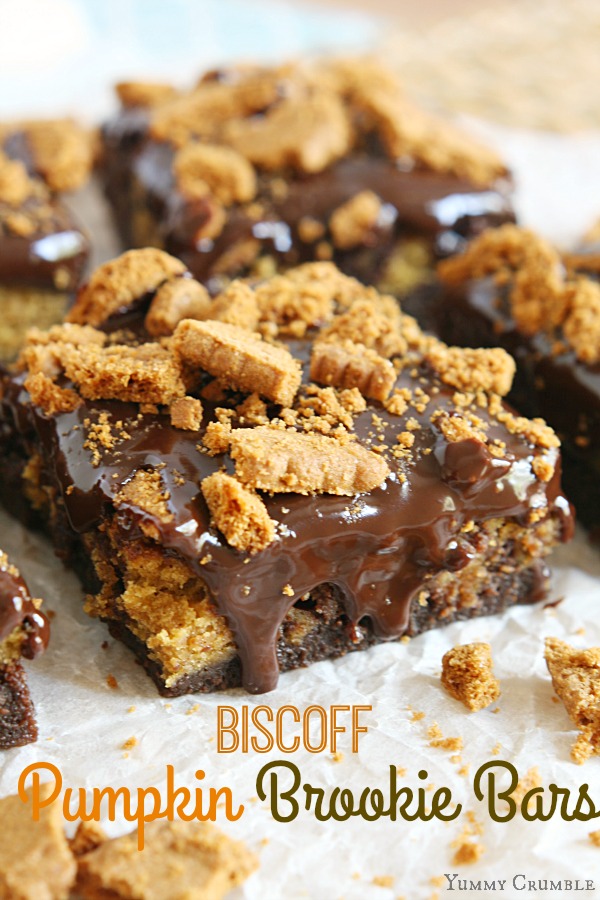 So on to these Biscoff Pumpkin Brookie Bars…basically heaven.  Its my favorite brownie recipe and pumpkin blondies morphed into the perfect mashup dessert.  Technically they are brondies because I used blondies instead of cookies, but is anyone going to complain?  It's dessert.  Relax 🙂
Biscoff Pumpkin Brookie Bars
Ingredients
Brownie Layer
¾ cup unsalted butter cut into 1 inch cubes
10 oz dark chocolate chips
4 eggs at room temperature
1 tsp vanilla extract
1 cup granulated sugar
½ cup all purpose flour
3 tbs dark cocoa powder
¾ tsp salt
Pumpkin Blondie Layer
½ cup butter, softened (1 stick)
1 cup dark brown sugar, firmly packed
1 egg
2 tsp vanilla extract
¼ cup pureed pumpkin (not pie filling)
1 cup all-purpose flour
½ teaspoon baking powder
½ teaspoon salt
½ teaspoon cinnamon
¼ tsp nutmeg
¼ tsp all spice
¼ tsp cloves
Biscoff Ganache
1 cup heavy cream
1 bag dark chocolate chips (1½ cups)
3 tbs Biscoff cookie spread
crushed Biscoff cookies
Instructions
Brownie Layer
Preheat the oven to 350 F and line a 9x13 baking dish with foil. Spray the foil with cooking spray and set aside.
In a medium pot on low heat, cook the butter and chocolate chips until melted and smooth. Remove from the stove and let slightly cool.
In a medium bowl, whisk together the flour, cocoa powder, and salt. Set that aside.
In a large bowl, whisk together the eggs, vanilla, and sugar. Use a whisk just for this part and switch to a wooden spoon or spatula to finish the rest of the mixing. You want to fold the rest of the ingredients to reduce incorporating air into the batter. This ensures super fudgey brownies!
Slowly stream the melted butter and chocolate into the egg mixture while continuously stirring.
Fold in the flour mixture until everything is just combined.
Pumpkin Blondie Layer
In a medium bowl, whisk together flour, baking powder, salt, cinnamon, nutmeg, all spice, and coves. Set aside.
With the paddle attachment on your mixer, beat together softened butter and sugar until light and fluffy. Mix in egg and vanilla extract and blend well.
Beat in pumpkin.
On low, mix in dry ingredients.
Assembly
Spread brownie batter evenly in the 9 x 13 baking dish. Using a cookie scoop, drop spoons of the pumpkin blondie batter on top of brownies. Swirl with a knife.
Bake for 35-40 minutes and try not to over bake.
Biscoff chocolate ganache
In a large bowl, pour in the chocolate chips.
In a small pot, heat the cream on medium until it starts a low bowl.
Pour the heated cream onto the chocolate chips and let sit for 5 minutes.
Whisk the chocolate and cream until smooth.
Once smooth, add the biscoff cookie spread and whisk until smooth again.
Pour on top of cooled brookies and sprinkle with crushed Biscoff cookies. Let set in refrigerator.
 These were adapted from my Red Velvet Oreo Brownies and Chocolate Chip Pecan Pie Pumpkin Bars.  The brownies were adapted from Baker Bettie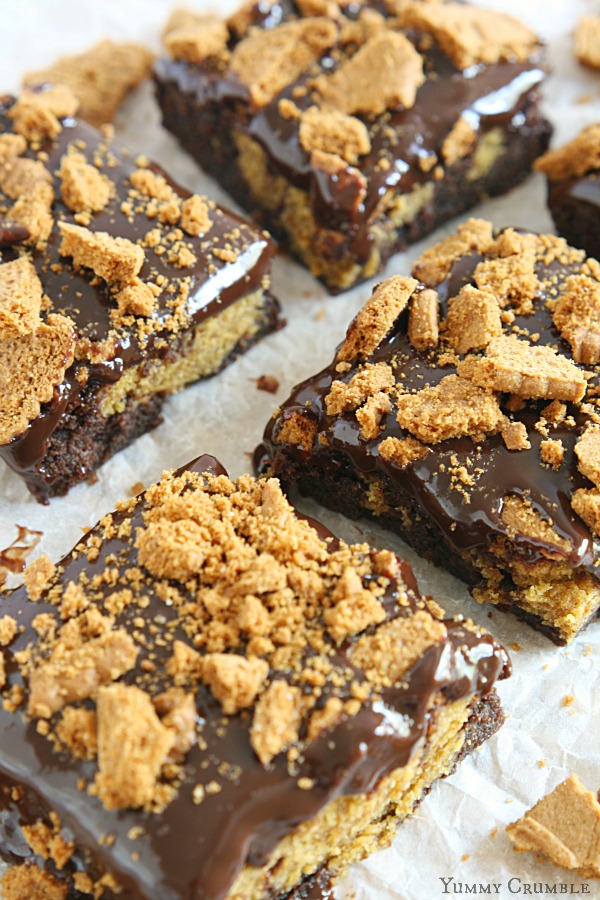 You might like these too: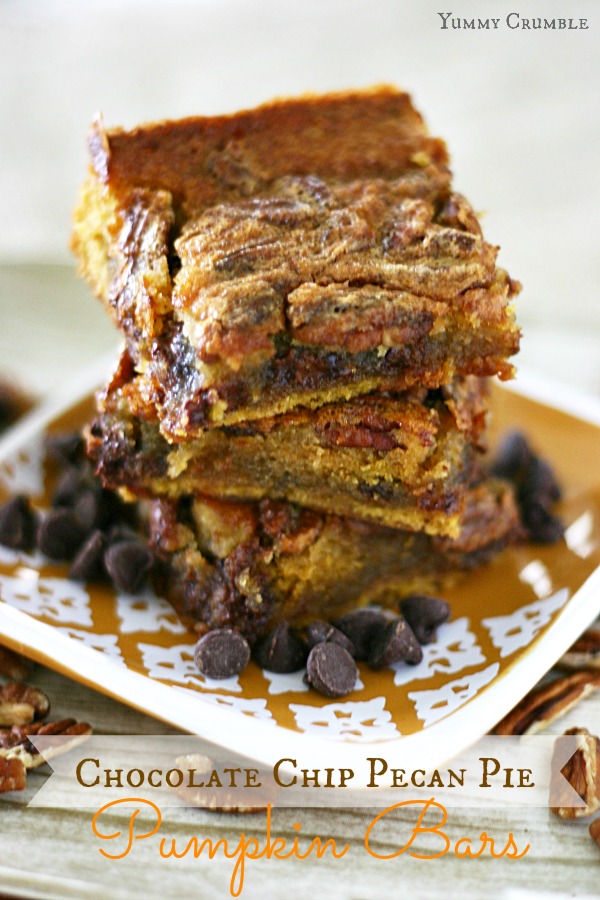 Chocolate Chip Pecan Pie Pumpkin Bars.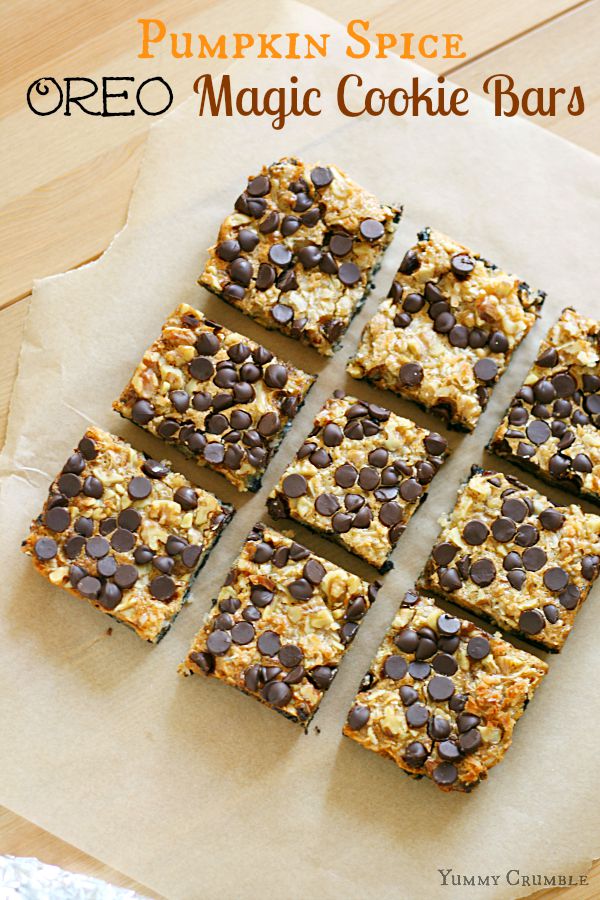 Pumpkin Spice Oreo Magic Cookie Bars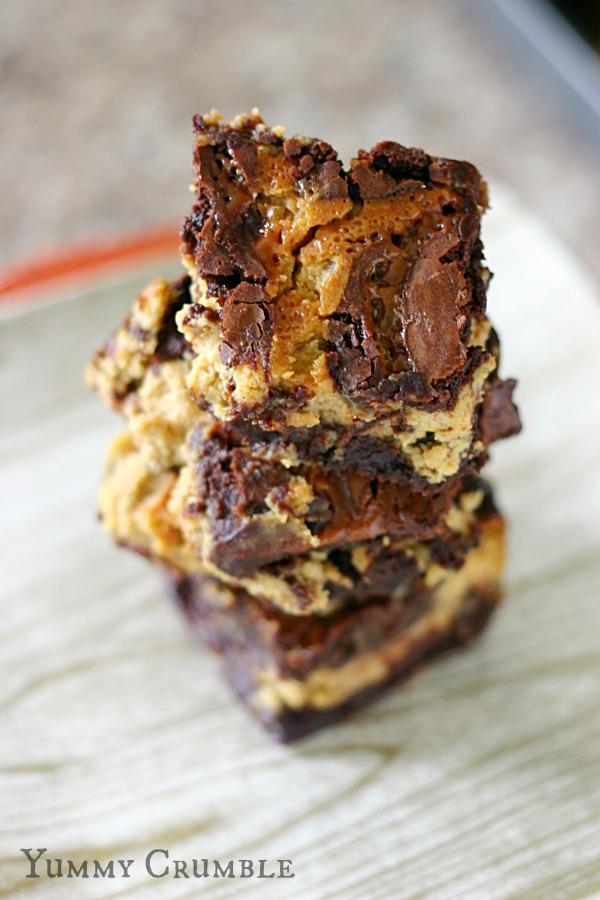 Caramel Pumpkin Cheesecake Brownies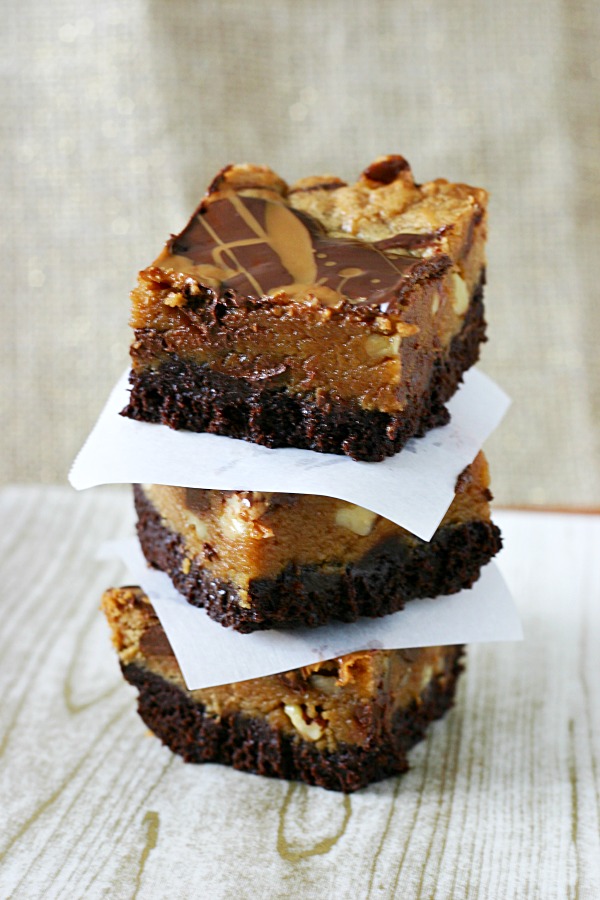 Biscoff Blondie Brownies