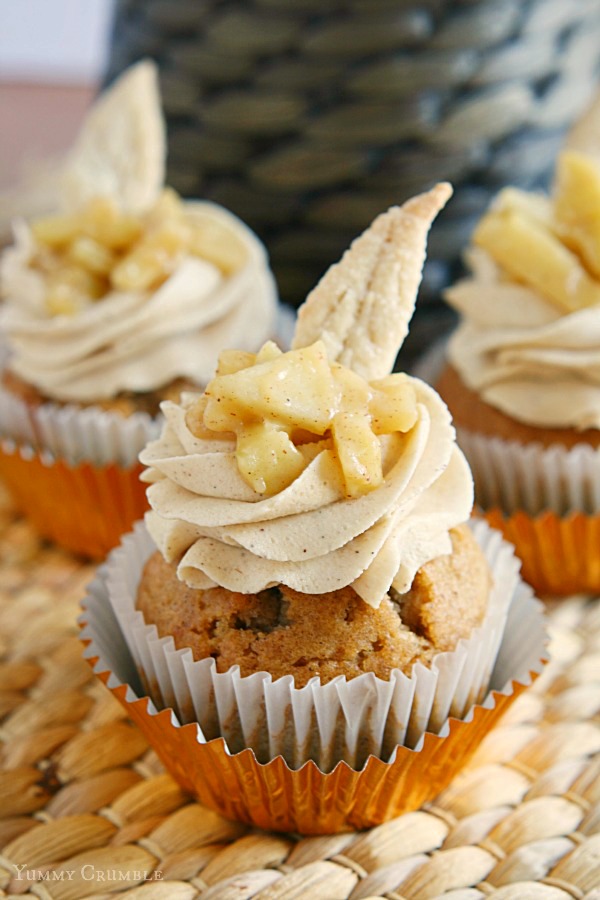 Soft and fluffy spiced apple cupcakes topped with brown sugar buttercream and tart apple pie filling.  It's America's favorite pie turned into perfect holiday cupcakes.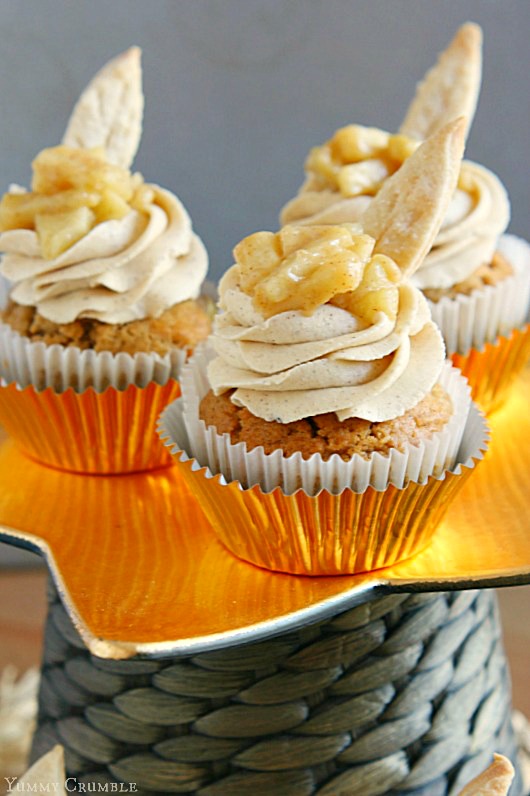 Today the weather in Dubai has finally hit the perfect temperature!  It has been so beautiful lately and taking a walk doesn't render you useless for the rest of the day.  I usually feel like I need a 3 hour nap after a stroll due to the heat.  Not anymore!  Oh, and the breeze doesn't feel like a hot blow dryer.  We don't get those gorgeous red and orange Fall leaves, but we get perfect beach weather.  I think that's a good trade.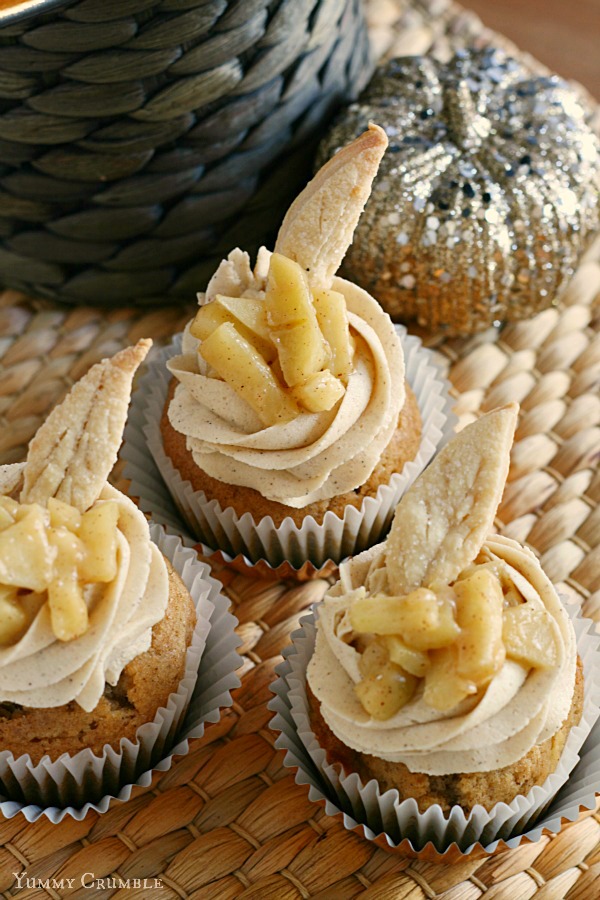 So since Thanksgiving is just around the corner, I wanted to make some holiday inspired cupcakes that would be perfect for a party.  I love pie, but sometimes cupcakes make a much more elegant impression at a holiday dinner.  Who doesn't love beautifully swirled frosting and indulgent toppings?  Initially I wanted to stuff these Apple Pie Cupcakes with Brown Sugar Buttercream, but I thought placing the filling on top would look much more indulgent.  I didn't want to hide that gorgeous filling!  I want you to know what your'e getting into 🙂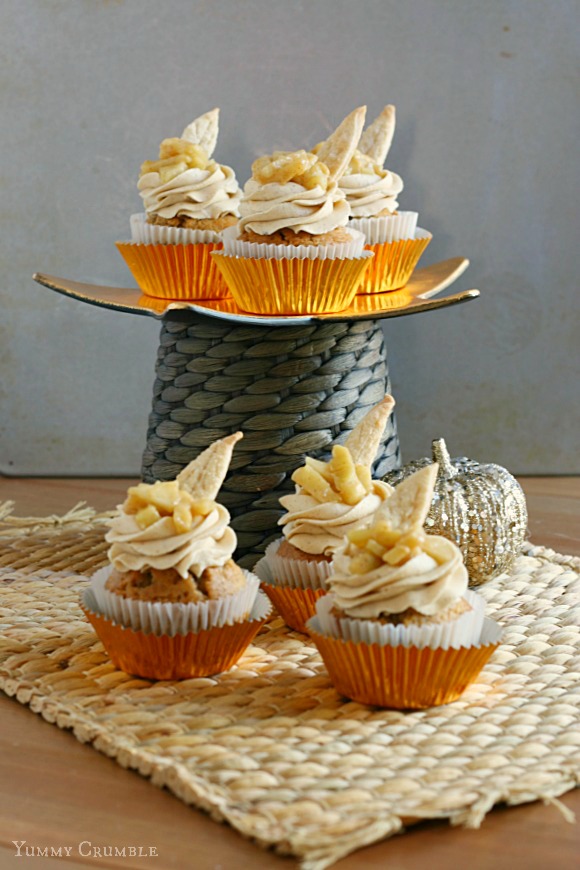 Apple Pie Cupcakes with Brown Sugar Buttercream
Ingredients
Apple Cupcakes
3 cups all-purpose flour
1 cup granulated sugar
½ cup light brown sugar
2 tsp baking powder
½ tsp baking soda
1 tsp salt
2 tsp cinnamon
½ tsp ground nutmeg
3 eggs
1 cup vegetable oil
½ cup sour cream
2 tsp vanilla
2 cups peeled and chopped green apples (1/4 inch cubes)
Apple Pie Filling
2 green apples, peeled and chopped into ¼ inch cubes
1 Tbsp unsalted butter
2 Tbsp light brown sugar
1 tsp lemon juice
¼ tsp cinnamon
1 tsp flour
Brown Sugar Buttercream
2 sticks unsalted butter softened
½ cup light brown sugar, packed
1 teaspoons ground cinnamon
4-6 cups powdered sugar
1 teaspoon vanilla extract
¼ teaspoon salt
¼ cup of milk or half and half, plus more if needed
Instructions
Apple Cupcakes
Preheat oven to 350 F and line your cupcake pans with liners.
In a medium bowl whisk together the flour, sugar, brown sugar, baking powder, baking soda, salt, cinnamon, and nutmeg. Set aside.
In a large bowl, whisk together the eggs, oil, sour cream, and vanilla.
Add the dry ingredients to the wet and mix until just combined.
Fold in apples, and using a cookie scoop fill each cupcake liner ⅔ full.
Bake for 18-20 minutes.
Set aside to cool.
Apple Pie Filling
In a medium bowl, toss the apples, lemon juice, brown sugar, cinnamon, and flour.
In a sauce pan, heat the butter over medium low.
Cook the apples in the butter until caramelized and thickened.
Set aside to completely cool.
Brown Sugar Buttercream
Beat the butter until light and fluffy. Add the brown sugar and cinnamon and beat until incorporated.
Add 3 cups of the powdered sugar on low until mixed.
Beat in vanilla and cream until fully incorporated.
Then add the remaining powdered sugar to the desired thickness.
Beat on high until super light and fluffy.
Swirl the frosting onto each cupcake and top with cooled apple pie filling. Decorate with pie crust leaves if you wish.
 These cupcakes were adapted from The Cake Blog and the Brown Sugar Buttercream was from Craftsy.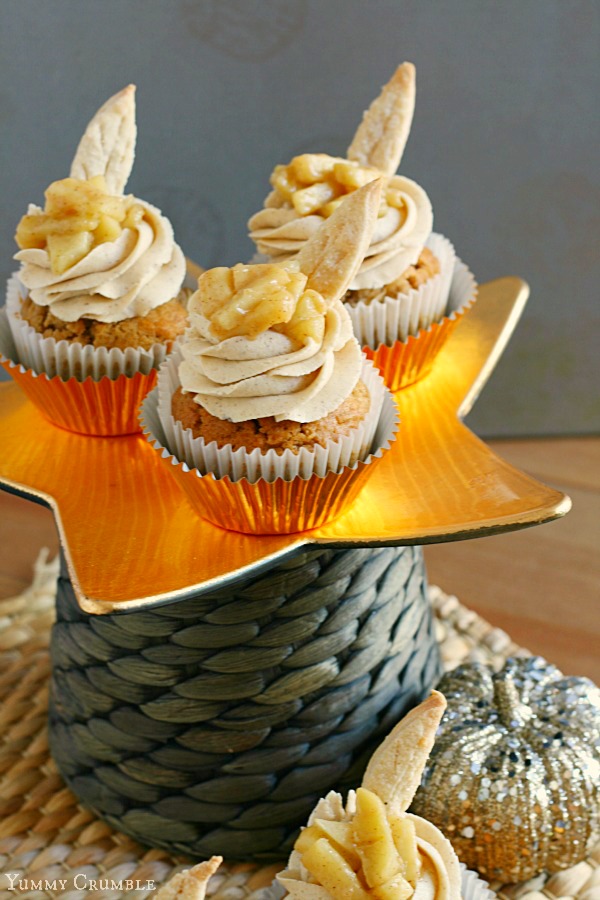 More desserts perfect for the holidays:
Apple Cinnamon Baklava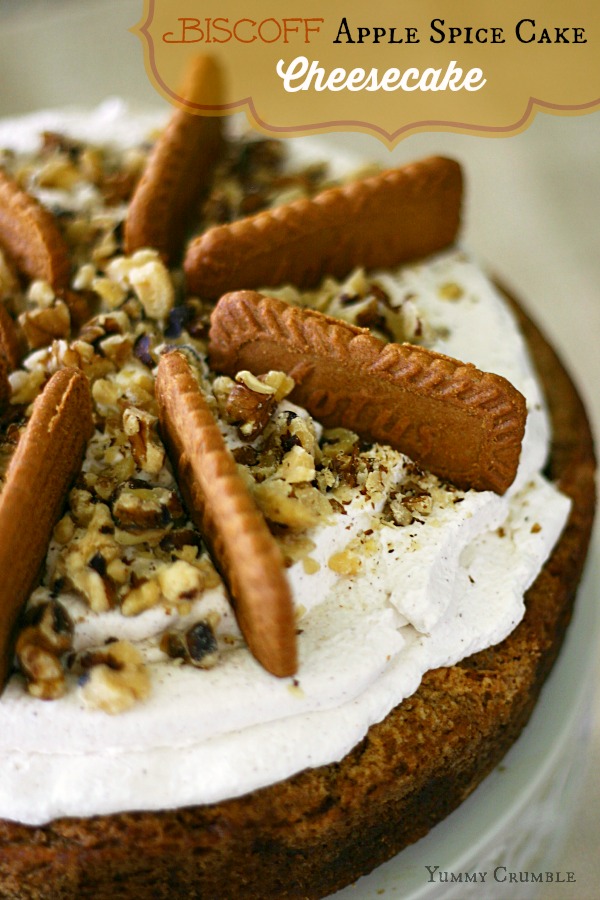 Biscoff Apple Spice Cake Cheesecake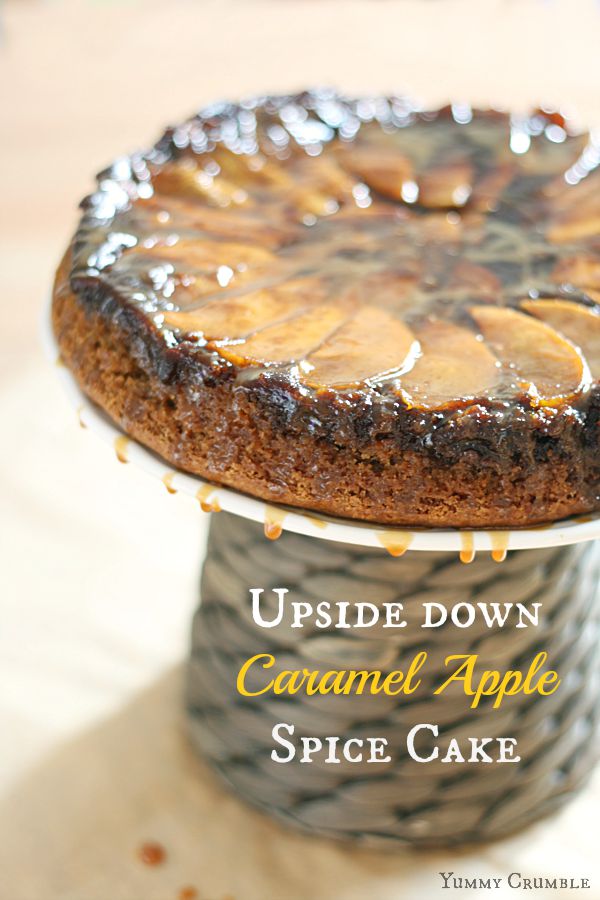 Upside Down Caramel Apple Spice Cake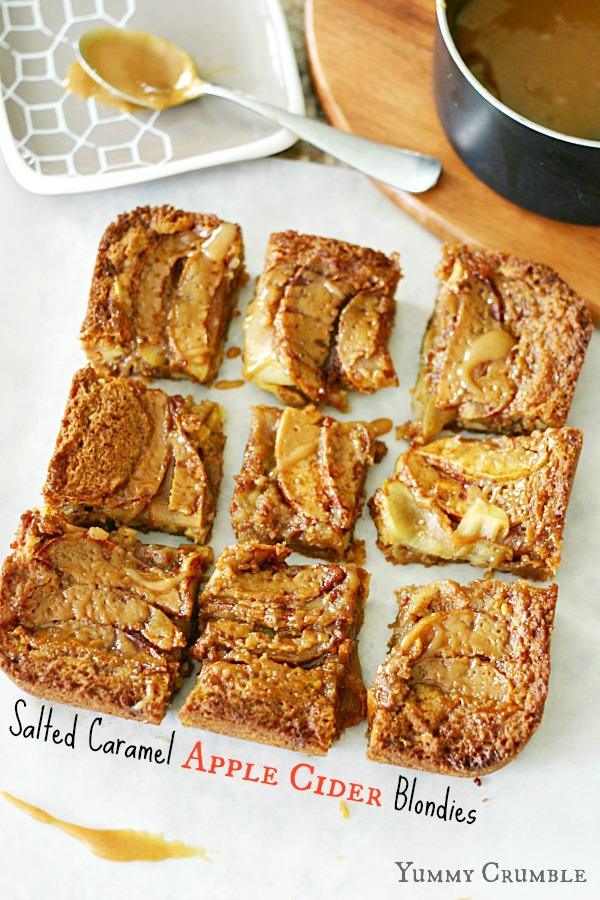 Salted Caramel Apple Cider Blondies